A cabinet bed allows you the convenience of moving a bed from one place to another, whether it may within your home or someplace else, that can also double as a piece of furniture you can place your things on top. The storage keeps a mattress hidden inside while a drawer on the bottom can be pulled take out the base of the bed and extend it when fully drawn. Fortunately, this does not take away the functionality to store items inside,and it also allows you to save a lot of floor space when you're provided only so little.
Cabinet beds work great for small and studio-type apartments that have limited floor space. So when you're not using the bed in the daytime, you can use it to put your things on top of it and allow it to just sit there in a corner, saving floor space. The best cabinet beds combine the best aesthetic and functionality it can offer, but how big or small it depends entirely on how much floor space you can spare.
Top 7 Best Murphy Cabinet Beds Reviews
1. Atlantic Furniture Nantucket Murphy Cabinet Bed Chest
The timeless design of the Atlantic Furniture Nantucket Murphy Bed Chest is perfect for any type of room. Not to be confused with its name, but this is a cabinet bed that hosts a folded mattress inside that big burly top compartment.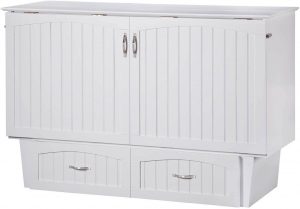 Features
Sporting an ageless yet elegant design painted in white, the first you'd notice with the Atlantic Furniture is its bigger top compartments. It kind of resembles a man's robust chest, but none of the testosterone in its overall design. Inside the huge compartment is the folded mattress. The smaller chamber can be used as a functional storage space, and it can overextend to form the base of the bed where you can lay down the folded mattress when you convert it to a bad.
When converted into a bed, the two doors of the top compartment serve as support to your pillows so they won't fall off whenever you're sleeping. When used as a cabinet, it can hold several items on its spacious top surface. It's large and sturdy enough to keep your television and even a small desktop computer.
The Atlantic Furniture has the following measurements:
Product size of 24.5″ x 63.8″ x 41″
Weighs 332 lbs
Drawer dimensions of 40.25″ x 17.125″ x 8″
Mattress height of 6 inches
The Atlantic Furniture is equipped with a CoolSoft premium gel-infused memory foam mattress, an extra-large storage drawer on the bottom, and 2 built-in 5V, 2.1amp USB charging ports for the tech-savvy. It is also satin finished.
Pros
A timeless design with a modern twist
Mattress uses premium quality memory foam
Has an extra-large drawer for storage
Has a large and generous top surface
It is equipped with 2 USB charging ports
Cons
It's heavy and not easy to move around because of its size
It can be challenging to assemble alone
---
2. Night & Day Furniture Murphy"Cube"
The Night & Day Furniture Murphy Bed Cube is an exciting piece of furniture. Despite its name, it's a cabinet bed that transforms from a cabinet into a bed quite differently than your usual cabinet bed. It gives an impression of a classic design, but the truth is, it's just a facade.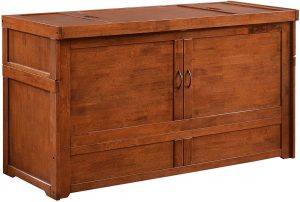 Features
This large cabinet bed does not convert into a bed, unlike other murphy cabinet beds. The reason why it was named a "Murphy Cube" by its manufacturers is that it sort of resembles a puzzle cube that you take apart and put together because that is the case with this cabinet bed.
Conversion starts by taking the top completely off and align it with the base. After this, you pull down the "front doors" that are actually a single piece of a wooden frame that you attach to the detached top. By merging these two together, you form the framework of the bed that will support your mattress. Simply unfold the mattress afterward, and then you're all set. After you're finished converting this to a bed, you'd start to wonder how that simple, classic-looking cabinet turned into this comfy bed.
This beautiful cherry-color painted furniture measures 81″ x 64″ x 37″ and it's constructed with hardwood made from the rubber tree.
Pros
It is easy to assemble
It converts to a bed easily
It has a gel-infused memory foam mattress
It is made from rubber tree hardwood
It's not too large when converted to a bed
Cons
It has a very low headrest
It does not have any functional storage compartments
---
3. BESTAR Queen Wall Bed – Pur
The BESTAR Pur Wall Bed looks remarkable both on the outside and inside. If you can spare more space in your room, then this is an excellent alternative bed to have around, hidden until you need its use.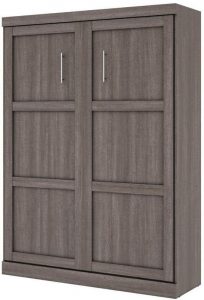 Features
The BESTAR features a nice-looking cabinet facade that looks gives off a creative and fashionable vibe to your room thanks to its modern design and Bark Grey finish. It works great as a piece of decor to your room, blending smoothly well when not in use as a bed. It could easily fit in with other pieces of furniture. It is made of high-quality solid wood and chrome handles. It has a Euroslat mattress foundation that can enhance your sleeping experience. You don't even need to have a boxspring using this.
The BESTAR is excellent for small spaces and multi-functional rooms. It measures 64.6″ x 20.3″ x 89.1″ and can accommodate most standard queen-sized mattresses, usually around 80″ x 60″ with a thickness between 8″ and 12″ weighing somewhere between 60 and 90 lbs.
When converted into a bed, it can extend to 91.5″ from the wall. It can support up to 1000 lbs in weight, in which the mattress is included. The minimum height of the anchoring wall is 91″ and the minimum floor clearance is 120″. The BESTAR is equipped with a calibrated dual-piston lift mechanism, and thanks to this it can safely fold up and down with little effort.
Pros
It uses high-quality materials
Beautiful cabinet design with chrome handles
It uses a smart and calibrated dual-piston lift mechanism
The Euroslat mattress foundation enhances your sleeping comfort
It is capable of supporting weights twice of what cabinet beds are capable of
Cons
At least 2 people are required for assembly
It does not come with a mattress
---
4. Arason Enterprises Creden-ZzZ Cabinet Bed
The Coffee-colored Arason Enterprise Creden-ZzZ Cabinet Bed is an excellent addition to any modern home setting. It has the aesthetics and visual appeal to make it easily fit in.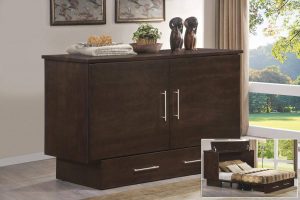 Features
The Arason Enterprise cabinet bed features a conventional design shared by several other murphy cabinet beds from different manufacturers. The large, front compartment that hides the mattress inside looks as if it contains a large tv inside. The drawer below is fully functional storage space. You can store your pillows and beddings that can also extend when used as the base foundation for the mattress. When converted into a bed, it gives off a piano-like visual aesthetic due to its coffee-colored finish and foldable top surface.
When not in use, the Arason Enterprise cabinet bed is a nice-looking room decor that you can put several items on display on its top surface. When used as a bed with the folded memory foam mattress popping out from its hidden chamber, it looks exquisite and feels as if a bed came out of a tv cabinet. It's less imposing than a wall bed and fits in on any room quite nicely.
The Arason Enterprise cabinet bed has the following measurements:
Product size of 43″ x 64″ x 24″ when used as a bed
Cabinet height of 39″
It weighs 240 lbs and can support 500 lbs in weight
Pros
It converts to a bed easily
It has a subtle coffee-colored finish giving it a great visual appeal
It comes with a memory foam mattress
It has foldable hinges on the top surface
It has a generous amount of space for the headrest
Cons
It's pricier than other products on this list
It is made with particleboard
---
5. Coaster Home Furnishings Twin Chest Bed
The Coaster Home Furnishings Cabinet Bed is another exciting piece of furniture. At first glance, you will be confused about what kind of furniture this is. Is it a kitchen cabinet, a display cabinet, or something you'd find in a fantasy setting in movies? Whatever you're thinking about, it's quite reasonable because this different design can confuse just about anyone.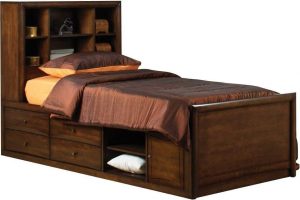 Features
The first thing you'll notice about the Coaster Home cabinet bed is that it looks like a hybrid between a display cabinet and a mattress. If only it were higher, you could even use this in your kitchen thanks to its spacious surface.
The Coaster Home cabinet bed also has that classic, medieval vibe around it thanks to the warm brown color finish and the overall design that doesn't quite fit the modern period. This would definitely fit in with retro and antique room type settings. Nonetheless, it offers a lot of functional drawers and storage spaces. However, you might get uncomfortable using the top portion, the display cabinet, as a headboard. This can be easily solved by vacating the areas when you're using the cabinet bed to sleep on but it can be a hassle of removing and putting back the items every time during and after use.
The main advantage of this cabinet bed is that you only need to put a mattress on top of the surface and, proof, you have an instant bed. Without a mattress, you can simply use it to display other items or use it as a table. The Coaster Home cabinet bed measures 88.5″ x 41″ x 50″, weighs 151.9 lbs, and can support up to 300 lbs in weight.
Pros
It is the cheapest item on this list
It has a rather unique look for a cabinet bed
It has a large surface area you can use
It has a lot of drawers and shelves to be used as storage spaces
There is no need to "convert" the cabinet bed
Cons
It has a low weight capacity
It can be a hassle taking items in and out
---
6. Night & Day Furniture Murphy Cabinet Bed 
Just like the Night & Day Murphy Bed Cube, the Night & Day Cabinet Bed does not convert like other cabinet beds. But unlike the Murphy Bed Cube, this cabinet bed is more like a fusion of typical cabinet beds with an extension mechanism that extends the lower drawer into a base foundation for the mattress and cabinet types like the Murphy Bed Cube.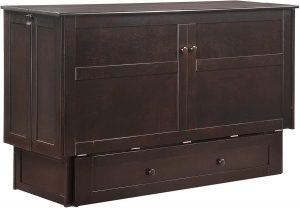 Features
The functional drawer on the lower part of the cabinet bed needs to be removed and separated from the rest of the cabinet extension. The sizeable front drawer is actually a separate piece that can be folded by detaching the safety latches that hold it in place. It is used as the base and foundation of the mattress. After the mattress is laid out, the separated drawer can then be placed beneath the bed although it still doesn't attach itself to the rest of the furniture in this form.
Despite not being as convenient in converting from cabinet to bed mode like other products, the Night & Day Cabinet Bed can still convert fast with little effort. Aside from a fully functional drawer, it also has a decent amount of space for the headrest. It is equipped with a gel-infused memory foam mattress.
The chocolate-colored Night & Day Cabinet Bed weighs only 205 lbs, making it feasible to be moved around the room with some effort by a single person. The weight is just right, preventing the cabinet bed from moving during sleep. It measures 83″ x 64″ x 41″ and can support up to 500 lbs of weight. Furthermore, it is quite sturdy since it is almost entirely made up of solid hardwood. As a bonus, it also comes with an electric socket installed and a USB port.
Pros
It is made with sturdy solid hardwood
Converts into a bed easily like other cabinet bed types
It weighs less than other queen-sized murphy cabinet beds
It has a functional and removable drawer
It comes with a USB port and power socket installed
Cons
It's the most expensive item on this list
Although easy and convenient, it's not as fast as cabinet beds using extendable mechanisms that provides less hassle in bed conversion
---
7. Bestar Versatile Queen Wall Bed with Storage
When it comes to furniture, factors such as safety and security may come into mind. All the more is safety important when you're using said furniture to sleep on. Wall beds have the infamy of causing injury in the past decade due to negligence and flaw in the product designs. And this is what BESTAR is aiming for: a safe, secure, and comfortable space saving bed alternative.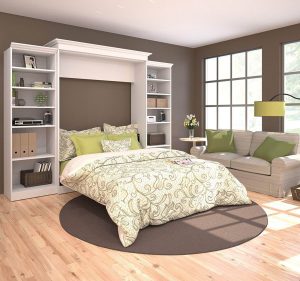 Features
Safer and more versatile, the BESTAR Versatile Wall Bed is designed to feature a scratch, stain, and burn-resistant melamine finish. It stands as a white and classical designed facade with an attractive crown molding. It also comes with two storage units with 2 fixed and 4 adjustable shelves, allowing you to accommodate your items freely in whichever arrangement you prefer.
The BESTAR comes with a new mechanism that provides a simplified assembly of the wall bed. Although it does not come with a mattress, it can accommodate any standard queen-sized mattress of up to 12″ thick, meaning you can use any compatible mattress you can easily find in the market of your choosing. As a bonus feature, it also comes with a wire grommet in the back panel to allow access to electrical outlets.
The BESTAR Versatile Wall Bed comes with the following measurements:
Product dimensions of 114.8″ x 22.6″ x 89.9″
Wall Bed dimensions of 69.4″ x 22.6″ x 89.9″
Storage units each having dimensions of 25″ x 20″ x 85″
Product weight of 654 lbs
Pros
It uses high-quality materials in its construction
It has a scratch, stain, and burn resistant melamine finish
It has an attractive crown molding finish
It comes with two storage units with fixed and adjustable shelves
It makes a functional centerpiece for the room
Cons
It's among the most expensive item on this list
It's heavy, and it needs to be fixed on the wall
---
What is a Cabinet Bed?
A cabinet bed is a piece of furniture that can function as a cabinet and a bed. It is designed to provide functionality and aesthetics. It can be used as a beautiful display for the living room that can also serve its function by providing a surface you can place your things on top. It can convert into a bed easily through mechanisms designed to make it expand and releasing a hidden mattress within.
Murphy Cabinet Beds are a great solution when you have limited floor space. Some models have the mattress low, so there isn't an issue with a limited height ceiling, and you can quickly convert it into a comfortable bed with an elevated mattress. When not used as a bed, it can be used as a side table or a TV stand. Cabinet Beds are also made to be mobile and portable, so you can freely place it within any part of the room as you like.
What is the difference between Cabinet beds and Murphy beds?
Murphy beds were the premiere solution on saving floor space while using storable beds. The Murphy bed is also commonly known as a wall bed or a fold-down bed. It is designed to be hinged at one end to store vertically against the wall. It allows you to use a room alternatively as either a guest room or a place to sleep in whenever you wish. Murphy beds usually offer a bigger space to sleep on compared to cabinet beds, and they can be as large as you want them considering you can simply just pull them down from the side.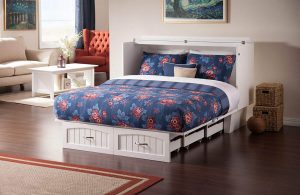 Convenient and a great space saver this type of bed may be, however, it has several drawbacks. For one, Murphy beds will require a great deal of work, planning, and effort to have it fit in any room. You would need to plan in advance where to place it, and, depending on the designs, these are usually semi-permanent installations. You would need another great deal of work and effort to uninstall it and move it from one location to another.
One major issue is that these beds require to be appropriately secured, otherwise it can collapse on whoever is beneath it and may cause injury. Another downside to this bed is the price it usually costs. But on the upside, you can leave your bedding and sheets on the mattress when it folds up.
Cabinet beds are usually smaller than Murphy beds, but they are very portable. There is no need to plan in advance where to place them since you can arrange them anywhere in the room wherever you like and you can do it as much as you want with little effort. They also enjoy the convenience of not having a tedious conversion feature since they are designed to be easily convertible without the need to install it in the room. You can just simply pull out the drawer to expose the bed frame and take out the hidden folded mattress inside the primary cabinet storage.
Cabinet beds are also less risky compared to Murphy beds. Murphy beds need to be secured to avoid accidents while cabinet beds are entirely safe to use since there is no risk of the entire bed falling down on you or trapping you inside a closed Murphy bed. But despite their numerous advantages, cabinet beds do have some minor downsides. The mattress that comes with the cabinet bed is pre-made so that it can perfectly fit and fold-out comfortably. You also need to put away the sheets and bedding after use.
Benefits of using High Quality Cabinet Beds
Despite being safer to use than Murphy beds, it doesn't mean that Cabinet bed builds shouldn't guarantee safety to its user. Flawed design or a weaker construction could still injure someone when the quality is lacking. Just because Cabinet beds are cheaper doesn't mean you have to buy the cheapest ones out there in the market.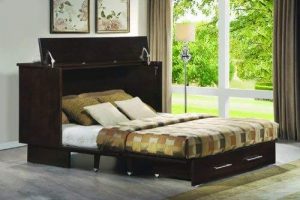 Here are the following benefits why you should buy high-quality cabinet beds:
Cabinets are made up of solid wood and this applies for cabinet beds as well. Since you are going to use it as a bed, you should make sure the quality of wood that the cabinet bed is made is top-notch or adequate to support your weight. To get your money's worth, quality material like 100% solid hardwood is advisable. It may cost more, but it's better than dishing your cash out to low-quality wood materials that not only isn't durable enough to support your weight but is also susceptible to irreparable damage once exposed to moisture and other elements.
High-quality solid wood would always guarantee better durability and longevity.
Design is most important when it comes to furniture. It is also responsible for giving some products more functionality and practicality than the others. High-quality cabinet beds can provide more storage space thanks to their superior design that utilizes the maximization of space.
Due to the fact cabinet beds come with pre-set mattresses, it is essential to know if the mattress that comes with the cabinet bed you want is up to your standards. Although cabinet beds usually have comfier and thicker mattresses than murphy beds, higher-quality cabinet beds take it up a notch since they typically have a better quality mattress that is thicker and comfier than their standard quality competitors.
Since cabinet beds can also function as cabinets, they should also serve an aesthetic function that allows them to blend in with the theme of the room and its ambiance. The most important thing for a high-quality product, however, is what type of finish it has and which type do you prefer. Do you want it plain or do you want it in varnish or glossy lacquer finish? Either way, you might not want to settle with an unprotected paint finish.
Aesthetics also apply to the overall exterior and the looks of the cabinet bed at both times when used as a cabinet and as a bed. An inviting bed that can make you feel comfy enough to sleep just by looking at it already does wonders as is.
What Key Features to Look For When Buying Murphy Cabinet Beds
When you're looking for the perfect cabinet bed for your place, there are several things to consider. Although they are cheaper than Murphy beds, they aren't cheap items as you would think. Based on the fact cabinets are made from wood, it is already given that they would fetch a high price given the craftsmanship required on producing both a cabinet and a convertible bed.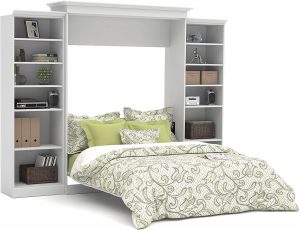 Cabinet beds are mostly made up of wood. You have to consider what type of wood is used in its construction and its quality. One of the best quality materials used in the best cabinet beds in the market is 100% solid hardwood. It is because solid hardwood is utilized in many applications and constructions so its quality and durability are tried and tested. Inferior quality wood used in the creation of the cabinet bed would only mean it would be far more susceptible to damage than the sturdy solid hardwood.
Some cabinet beds are painted while some come as is and are not painted. The paint finish adds a layer of protection to the paint job, making the paint less prone to scratches, fading, and cracking. It also improves the aesthetics of the furniture, with lacquer and varnish giving it a beautiful sheen.
Every room has several themes – it can be minimalist, modern, retro, antique, or neutral, to name a few. Finding the fitting design for your cabinet bed that would work best with your room's theme could be influenced by the following:
This affects the overall aesthetic of your room. You should know your Color Theory 101, so you can get a grasp of what colors compliment each other and how contrasting colors work. Accent color automatically directs the attention to whatever object has that color. Knowing what item in your room you want to highlight is essential. If you wish to make your cabinet bed stand out or just subtly sit there in the corner is entirely up to you.
Glossiness can make furniture look brand new. So if you went with an antique setting with your room, it would be better to have the paint job look plain. Glossy finish works best with rooms featuring modern design.
Minimalist themes would opt for a small but adequate cabinet bed compared to other themes that have flexible size choices.
The theme on which the cabinet bed looks good is mostly influenced by its overall look. Modern and minimalist ideas usually go with simplistic looks that focuses more on functionality. Meanwhile, old or retro themes can look extravagant, focusing more on aesthetics than a feature, or even focusing on both.
As a cabinet in the daytime, the cabinet bed must also provide storage space so that they can serve that purpose. The more storage space you are provided with, the better.
When converting the cabinet bed between modes, there should be adequate safety mechanisms to ensure no accident or injury would occur in the process.
The mattress that comes with the cabinet bed comes pre-set so it's crucial to find a product with a mattress you are most comfortable with.
Frequently Asked Questions
Are Cabinet Beds sturdy, and how much weight are they able to support?
Cabinet beds are designed to be capable of supporting the weight of both the mattress and the person lying on top of it. However, how sturdy a cabinet bed is and how much weight it is capable of supporting depends on its manufacturer. It all depends on the material and the quality used in its construction. If a high-quality material is used, it is capable of supporting the weight of two persons and the mattress.
Do Cabinet Beds come in different sizes?
Cabinet beds do come in different sizes. They are available in single to queen-sized units. Of course, single size cabinet beds are overall smaller compared to the queen-sized units that take up more floor space.
What can you use the Cabinet Bed for when it is not used as a bed?
Cabinet beds are equipped with drawers that are capable of storing items, except for the more massive storage that houses the mattress inside of it. Nonetheless, the smaller drawers are fully functional and the items inside are also protected even when the furniture is used as a bed.
The top surface can also be used to place some decorations, figurines, other smaller items, and even bigger items such as a Television. You can also use the top surface as a side table.
How easy is it to use Cabinet Beds and move them around?
Cabinet beds require no installation, and they come equipped with mechanisms that allow conversion between modes. Unlike Murphy beds, there is no need to plan in advance a location in the room to affix them to. They are also easy to move around but they're grounded with just enough weight to prevent it from moving or shaking while you sleep.
Conclusion
A Cabinet Bed is the perfect alternative bed to have around a room with minimal floor space. Not only is it the cheapest, but it is also the most portable, and the smallest option in terms of occupying floor space. Compared to a Murphy bed, it is more convenient to convert, safer and more secure, and it is also hassle-free. You can also move it around in your room and even transfer it from one place to another.
Cabinet beds provide storage space and a surface to place some of your items on top, aside from hiding a mattress within to conserve floor space when it's not in use.