We may earn a small commission if you buy something via a link on this page. This doesn't impact our rankings or cost you extra. See
our advertising disclosure
for details.
If you have a small room and want to add a luxurious piece to make it look elegant, then you might need a fabric headboard. The headboard is an incredible furniture piece that you can attach to your bed frame. It keeps the pillows stay in place and avoid falling off the bed.
The best thing about headboards is that they provide a good aesthetic to your room. The headboards come with nice upholstery to add luxury in your bed. They also come heavily padded to make you feel comfortable when you lean against it while watching movies and reading a book.
Finding a good fabric headboard may be a bit difficult given the many options available on the market today. To make a wise purchase decision, we';ll review 10 of the best fabric headboards around and provide a helpful guide.
Let';s get started!
Top 10 Best Fabric Headboards Reviews
1. Modway Lily Tufted Linen Fabric Upholstered Headboard
The Modway Lily Tufted Headboard adds an elegant piece in your bedroom. It boasts a gray color tone that adds a serene and calming ambiance to your room. This rectangular headboard is also available in four sizes (twin, full, queen, and king) and three other colors (beige, blue, and ivory).
This lovely headboard is made of durable fiberboard and plywood for reliable, daily use. It';s upholstered with soft linen fabric adding more comfort to your sleep. The tufted checkered design is very stylish while the subtle details make this headboard a classic piece that will highlight your bedroom.
No matter what type of bedding and pillow sham you have, the Modway headboard still stands out with its classic tufted design. Another great thing that I love about this headboard is its customizable height. You can adjust the height to fit your specific needs.
Pros
The height is customizable to fit your needs
The headboard boasts a classic design
The subtle details creates a stunning backdrop
It';s made of durable fiberwood and plywood
It';s upholstered in soft and comfortable fabric
Cons
It may come without screws or hardware
A bit difficult to assemble with some missing pieces
---
2. Flash Furniture Cambridge Tufted Upholstered Headboard
If you want a modern look in your room, then the Flash Furniture Cambridge Headboard might be your best choice. This camelback headboard features button tufting to add luxury to your bedroom. The diamond stitch pattern design is nicely woven to make this headboard even more elegant.
This panel headboard is made of fabric upholstery and black metal stands with adjustable bed rail slots. That means you can adjust the height of the headboard according to your preference. It';s available in 10 colors including dark gray, orange, and red, and the size may range from twin, full, queen to king.
Thanks to its slim panel, you can make your small room feel more spacious. The headboard will give the floor space that you';ll need to make up the bed. Whether you';re remodeling or constructing a new room, this contemporary headboard will bring the freshness and elegance that you';ll always desire.
Pros
The height is adjustable
The slim panel offers more space
The panel board is nicely constructed
The modern design looks elegant
It';s available in 10 attractive colors
Cons
It may come with a strong smell
It doesn';t include instructions
---
3. AmazonBasics Faux Linen Upholstered Tufted Headboard
The AmazonBasics Headboard makes a nice accent to your boring bedroom. It';s made of a sturdy metal frame and an upholstered headboard. The upholstery is made of soft polyester faux-linen in beige or gray colors. You can choose from three sizes: full, queen, and king.
The faux linen upholstery appears more expensive than it is. It feels textured and thick to make you comfortable when you lean against it. It';s so easy to assemble when you have all the hardware required, like nuts, bolts, and washers. For assembly, you need to buy four bolts/nuts and washers to attach the headboard to the bed.
What we love about this rectangular headboard is its tufted design which makes a strong impression of neat squares for a polished contemporary appearance. The height of the mounting options is adjustable so you can tweak it according to your needs. Best of all, it supports a limited 1-year warranty for a risk-free purchase.
Pros
It';s built with tough reliable metal legs
The mounting options offer an adjustable height
It supports a limited 1-year warranty
It';s made of durable and soft faux linen upholstery
It impresses with a modern style
Cons
It doesn';t come with bolts, nuts, and washers
It comes in two limited colors
---
4. Pulaski Mirabella Tufted Panel Headboard with Wings
The Pulaski Mirabella headboard fits perfectly for your standard king and California king-size beds. It';s padded and tufted to last for a very long time. The diamond-shaped button tufting complements well with the thick padding to make you feel cozy when you lean against it while relaxing or watching a movie.
The wing-back design reminisces of that mid-century style bringing a more sophisticated look in your bed space. The upholstery is made of linen-like fabric that feels soft and durable. It';s easy to clean with a damp towel plus the neutral greyish cream color mixes well with other decors.
If you';re not happy with the quality of the product, you can always get it replaced or refunded with its 1-year manufacturer warranty. The assembly is only minimal because all the required tools are provided. There are slots on the metal legs so simply screw the rectangular headboard on your bed accurately.
Pros
It offers a 1-year manufacturer warranty
The padding is generous for comfort
It';s easy to clean with a damp cloth
The neutral color matches well to any decor
The tufting design looks elegant
Cons
You may need an extra hand for the assembly
The price is a bit expensive
---
5. LUCID Bordered Upholstered Headboard with Diamond Tufting
The LUCID Upholstered Headboard gives that classically modern look to your bedroom. It makes a wonderful statement piece with its linen-inspired upholstery and sophisticated buttonless tufting. This timeless designed headboard is precisely what your bedroom needs.
The linen-inspired fabric upholstery isn';t only beautiful but very durable and adaptable to any decor. It';s designed with diamond-patterned tufting creating a stunning centerpiece. The buttonless tufting gives the headboard a fresh look that your bedroom is lacking.
The frame is made of sturdy Siberian Larch wood. The legs come with pre-drilled holes to adjust the height accordingly. Modification plates, drywall anchors, and modification plates make this headboard fully customizable to fit your needs.
LUCID is available in rectangle or scooped style. The color options are stone, charcoal, cobalt, and pearl. The size starts from twin/twin XL to full/full XL, queen, and king/California king.
Pros
It';s available in two styles, four sizes, and four colors
The frame is made of solid wood
The headboard feels comfortable
The timeless design fits any room
It offers full customization options
Cons
It doesn';t come with instructions
It may easily attract dirt from the vents
---
6. GDF Studio 298919 Soleil Queen Headboard
The GDF Studio 298919 has a minimalistic yet elegant design that will transform your bed into a comfortable and stylish bedroom piece. It features a stepped headboard shape with nailhead accents surrounding the edges. The nailhead is more of a brass color, and each of them is individually installed for a pretty, hand-crafted touch.
The 298919 is upholstered with linen-like fabric and a little bit of padding for comfort. The button-tufted stitching in the headboard is nicely made and adds elegance to its modern design. The diamond stitch gives a little texture without compromising any comfort. You can adjust the headboard to match the height of your mattress.
We love 298919 because of its iron legs which offer durability and compatibility to any bed frame. This headboard only requires minimal assembly. It already includes the complete instructions and tools necessary for assembly. All it takes is 15-20 minutes.
Pros
All instructions and tools are provided for assembly
It has stunning nailhead accents
The iron legs are durable
The button tufted diamond stitch add elegance
It';s upholstered with a comfortable fabric
Cons
It';s not available in many sizes and colors
The ivory-colored upholstery easily gets dirty
---
7. Christopher Knight Home Lidia Tufted Fabric Headboard
The Christopher Knight Home 238912 Lidia is a rectangular headboard that looks high-end but costs only a fraction of what you usually pay. The headboard legs are made of iron making them durable and strong. It';s upholstered with a beige fabric that easily cleans with a damp washcloth. It';s sufficiently padded to make you feel comfortable.
The 238912 Lidia is a queen size headboard measuring 49.38'' x 61.80'' x 5.51''. It';s designed with button tufts to add texture and dimensions to the bed. Tufting also reinforces the fabric in every few inches preventing the headboard from sagging over time.
This beige-colored headboard also features a quilted wingback to create a charming point in your bed. It comes with pre-drilled holes so you can easily install it to any queen and full metal bed frames. The height isn';t adjustable so make sure that the headboard perfectly fits your mattress.
Pros
The upholstery is easy to clean
It sits atop strong iron legs
It looks high-end and charming
Assembly is easy with the instructions
The frame feels solid and durable
Cons
The height isn';t adjustable
The color and size options are limited
---
8. Baxton Studio Upholstered Button-Tufted Scalloped Headboard
The Baxton Studio Scalloped Headboard features adjustable headboard legs to match the height of your mattress. The legs are made of solid wood to ensure durability for many years to come. They';re pre-drilled with five holes on top and two holes at the bottom for easy attachment.
The upholstery is made of fabric, almost like tweed. It';s thick, hard-wearing, and fairly soft to the touch. It';s designed with button tufting creating light depressions in the headboard for that distinct style. The color of the buttons matches the fabric to provide a clean and neat design in your bedroom.
This scooped headboard shape shows elegant lines to create a soft and sleek feel in your bedroom. It';s available in four colors: beige, black, gray, and white. The available sizes are full and queen. This elegant headboard is greatly compatible with any Leggett and Platt bed frames.
Pros
The scooped shape looks sleek
It';s available in four different colors
The button-tufting design creates a charming point
The fabric upholstery is adequately padded
The headboard legs are adjustable
Cons
It doesn';t include hardware
A bit hard to attach to the bed frame
---
9. LAGRIMA Tufted Upholstered Linen Headboard
The LAGRIMA Headboard gives a sleek design and high-quality upholstery to make your bedroom look elegant and spacious. This headboard fashions three different styles and colors. The blue one has a camelback shape, the brown one is scooped while the gray one is a rectangle.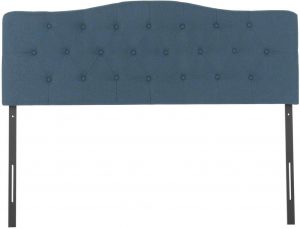 The upholstery is made of fine linen fabric that provides the right amount of texture. It features the classic button design tufted with the diamond pattern to create stunning centerpieces in your headboard. Each tuft is padded with extra cushion making it very comfortable to lean on.
The legs are made of metal and adjustable in three different heights between 44-51 inches. You can adjust the legs in 4-inch increments. The frame is made of sturdy fiberboard and plywood. It already comes with screws so attaching it to the mattress is easy.
Pros
The legs are adjustable in 4-inch increments
Available in three colors and shapes
The extra cushioning in every tuft is comfortable
Upholstered in durable fabric
The frame is sturdy and lightweight
Cons
It';s only available in two sizes: full/queen and twin
The legs wobble a little when you stand it up
---
10. Better Homes & Gardens Classic Arched-Silhouette Headboard
The Better Homes & Gardens Classic Arched is a camelback style headboard that creates a fashionable look in your bedroom. The upholstery is made of luxurious faux linen fabric that';s soft to the touch and has the right texture to make this headboard lasts for very long. It';s also padded to give you an extra cushion when leaning against it in bed.
What we love about Better Homes & Gardens headboard is the nailheads that surround it. The nailheads bring a stunning accent to the plain upholstery. There are three colors available: blue, beige, and gray. The available sizes are full/queen and king.
The headboard is adjustable so you can match the height of your mattress accurately. It';s easy to put together because it already comes with nuts and bolts. All you need is about 30 minutes and you can have the headboard installed in your bed frame in no time.
Pros
The nailheads give a nice accent to the headboard
The upholstery is made of good fabric
The height of the headboard is adjustable
It';s easy to assemble and install
Cons
It doesn';t have a tufting design for fabric reinforcement
The color maybe a little different from the picture
---
Types Of Fabric Headboards
Fabric headboards are probably the most comfortable headboards around. Although they serve the same purpose, they may come in different types. Here are the many different types of fabric headboards according to the installation method, shape, design, and material.
Freestanding headboards don';t need any attachment hardware to be installed. They give you two options whether to mount it to the wall or straight to the bed frame. Its best aspect is that you can easily replace and move it.
This type of fabric headboard requires a flat surface to be installed. The mounting procedure is quite easy. All you need is a tape measure, stud finder, drilling machine, and level.
One of the best aspects of this headboard type is that you can arrange the accent in different aesthetic ways. You could be fixed it on the wall, with the bed frame, or in the room. The installation options are limitless as long as you have a flat, bare surface.
Some headboards offer the option of mounting the headboard directly to your bed frame. This makes an all-in-one independent bed set up once they';re correctly screwed in position. To make sure that the bed frame suits well in your existing mattress, check if the frame has compatible brackets.
Rectangular headboards have four straight corners making them look very simple. Other rectangular headboards have round corners to add more flair to the design. They usually highlight a distinct print or make the bed looking elegant and clean.
When you begin cutting corners in a rectangle or basic camelback headboard, you';ll get a scooped headboard. A scooped headboard features a concave chunk out of every corner. Once the square section is taken off of the corners, you can have an inset style.
This type of headboard has rectangular or square steps'' on both sides. A couple of curves are sometimes added to make it look even more stylish. If it';s designed with a triangle on top, then it becomes a peaked headboard.
Camelback headboards add a little bit of class into your bed. They have a flat curve on either side and creates a taller curved arch midway. Having a wing or two makes the camelback looks even better.
A tufted headboard has layers of fabric closely stitched into a pattern creating indents that are evenly placed throughout. Normally, these depressions are fastened with a button or knot. This results in raised parts of fabric known as tufts''.
This type of design adds texture and dimension to your bedroom. Besides the aesthetics, tufting helps reinforce the fabric in every couple of inches. This helps the headboard retains its shape for a long time.
This type of headboards has extended arms that look like wings on the side. They look stylish and elegant to any bedroom. The wings on the bed are also functional because they can trap in warm air to make you feel cozy during the cold nights.
Velvet headboards are upholstered with velvet fabric. They';re soft to the touch and give out a luxurious look. They blend well with different decors and adds an aesthetic value in your bedroom. They can keep you warm during the cold seasons but they can easily wear out and a bit challenging to clean.
Microfiber headboards use microfiber fabric as upholstery. They';re ultra-soft and stain-resistant. They';re easy to clean but they can be a hair magnet and they tend to lose its visual appeal over time.
Linen upholstered headboards are a popular choice because they';re hypoallergenic and durable. The linen fiber is very compact, hence it prevents the dust particles to settle on the headboard. It feels cool and soft to the touch but it easily gets wrinkles when bent.
Advantages Of Using Fabric Headboards
Unlike wooden and metal headboards, fabric headboards are more comfortable because they';re mostly heavily padded. The extra cushion provides a lot of comfort when you lean against it for long periods.
The varying firmness of the fabric headboards also gives proper support to your back. Firmer fabric headboards help align your spine while the softer ones make you feel comfortable even when you lean on it for very long.
They Offer Many Fabric Options
Most wooden headboards are available in neutral colors. But fabric headboards offer many choices in fabric colors, design, and material. The color can range from dark to neutral and bright colors. There are even graphic prints on some best upholstered headboards.
This multitude of great color options offers you the opportunity to get creative with your bedroom interior design. Additionally, the light shades of fabric color can make your room look spacious.
The material may also vary. Some popular fabric materials are linen, velvet, and microfiber. Your choice of material, color, and design may depend on your personal preference.
They';re Easy To Maintain
Most fabric headboards are easy to clean. They don';t collect dust like linen headboards because they';re slightly textured. You can also easily clean them with a damp cloth.
Unlike metal headboards, fabric headboards don';t rust over time. They also don';t rot compared to wooden headboards. The tightly woven fabrics, like linen, absorb any impact and tend to be very durable.
Besides bringing you comfort, fabric headboards also help shield the quality of the wall behind your bed. Your pillows will certainly rub-down the paint or tore down the wallpaper in your wall if you don';t use a fabric headboard entirely. All types of headboards act as a buffer between your back and your wall and offer complete protection.
Fabric headboards are usually made quite large and they cover the whole wall behind them. The filling will only absorb any bumps leaving your wall scot-free.
You know how unsettling it is to feel the cold headboard when you sit in the bed. A layer of padding in the fabric headboard can help you keep warm during the cold weather.
Several fabric materials, like velvet and polyester, can also help keep you warm. The tight weave of fabric traps the heat inside giving you warmth.
Things To Consider When Choosing A Fabric Headboard
Fabric headboards create a center piece in your bedroom so it';s significant to do the best choice. There are many too things to consider before you purchase a fabric headboard. Here are some of them:
From classic to modern and elegant, fabric headboards are available in different styles. Your style choice may depend on your personal preference. If you want a classic yet elegant look, consider headboards with curves.
Rectangular headboards suit best for those who want a modern look. Look for fewer embellishments if you';re aiming for a minimalist design.
When choosing for the best fabric headboards, consider the material of the upholstery, frame, and legs. The upholstery should be made of durable fabric. Linen is a durable fabric and it can keep you cool during the hot weather.
Velvet is perfect for cold weather because it keeps you warm. Microfiber is a super soft material so it';s a perfect choice if you want to sit up in bed for too long. Other fabric materials that you can consider are polyester and cotton which may need extra pillows to improve your comfort.
For the frame, look for sturdy fiberwood and plywood. This type of frame is both lightweight and durable. For the legs, solid wood is better than iron because it doesn';t rust over time.
One of the main problems of fabric headboards is sagging. To prevent this problem, consider looking for a headboard with a tufting design. Tufting helps strengthen the fabric in every few inches.
Diamond and button are two main techniques to accomplish a tufted look. The diamond tufting technique pulls and secures the fabric to create a pattern similar to a diamond. It provides the best comfort because each tuft has an extra cushioning.
Button tufting features a distinct button midway of every indentation. Compared to diamond tufting, button tufting has shallower stitches. This results in light depressions in the upholstery.
The padding determines the comfort level of the headboard. You';ll want a headboard with generous padding so you can lean against it more comfortably. If you shop online for a fabric headboard, check the thickness or the padding details.
The padding could be soft or hard. Look for medium- firm padding to give proper support to your back. If you want better support, choose firmer padding because they keep your spine properly aligned. Again, the softness or firmness of padding may depend on your preference.
Size matters when it comes to headboards because you might end up with an undersized headboard if you';re not careful. You can get a larger headboard than your bed size but not a smaller one.
To make sure that you get the right size, choose a headboard with a size that matches your bed (single, full, queen, king, California king). Consider getting a fabric headboard with adjustable leg height so you can match the height of your mattress to the headboard.
The color is significant for your choice if you want to add interest in your bed space. Choose darker colors if you want to highlight the headboard in your bed space. Lighter colors are a great choice if you want a more soft look.
A neutral-colored headboard makes a nice backdrop to bold bedding colors. Choose bold or graphic prints if you want the headboard to become a visual focus in your bedroom.
Frequently Asked Questions
If you think that buying the right fabric headboard is the end of your responsibilities, you may be shocked on the other things that you may need do. Here are some of the popular questions regarding the cleaning, maintenance, and installation of fabric headboards.
How to clean and maintain my fabric headboard?
You can wipe your fabric headboard with a damp cloth. If you spot some stains, blot the stained area with a white cloth. Mix water with a detergent and clean the stains in straight movements. Don';t rub because it might damage the fabric.
A fabric cleaner spray is another effective solution in removing stains from your fabric headboard. Once the stains are gone, dry off the wet area thoroughly. Open your windows to let the air in or use a hairdryer to speed up the drying process.
Vacuuming also works in removing the collected dust and particles on your headboard. If you think that the fabric has greatly deteriorated, consider getting it reupholstered.
How to attach the fabric headboard to my bed?
The basic installation of the fabric headboard to the bed frame is quite easy. First, stand the headboard at the back of the bed frame. You may ask another person to help you hold the headboard steadily.
Align the bolt holes of the legs and the bed frame. Put a washer onto a bolt and another onto the other side of the bolt. Screw the nut and do the same process with the next set of bolt holes on the other side of the bed. Use a wrench to tighten the nut.
Do I need a bed frame to have a headboard?
You don';t necessarily need a bed frame to have a headboard. Some fabric headboards have a platform or slats to attach to your beds. Other models can also be attached directly to the wall.
How high should a headboard be above the mattress?
The height of standard headboards may range from 14-29 inches above the top of the mattress for short and twin-sized headboards. The height of the headboard can go as high as 29 inches above the mattress for king or queen- sized headboards.
Conclusion
All the products that we mentioned above in the best fabric headboards review are great on their own. But if we have to pick only one, we recommend the Modway Lily Tufted Linen Fabric Upholstered Headboard.
The Modway headboard is made of a padded and high-quality linen fabric upholstery. It features a tufted checkered design to create a stunning detail for that chic look. The frame is made of fiberboard and plywood making it super durable to last for a very long time.