We may earn a small commission if you buy something via a link on this page. This doesn't impact our rankings or cost you extra. See
our advertising disclosure
for details.
According to statistics, you will spend about 1/3rd of your life sleeping. That is a very long time to be sleeping in an uncomfortable bed. Every day, we all retire to our beds with our loved ones to relax or enjoy the night. This can quickly become annoying, especially if your bed is shifting, squeaking, or sagging. If you have experienced any of the above, it might be time to change your bed frame.
You see, bed frames are among the most vital pieces of furniture. Getting the right bed frame and mattress will be integral to getting a good night';s sleep. Every time you buy a mattress or a bed frame, remember that you are investing in your sleep. Regardless of whatever you choose, ensure that it';s the best rated King size platform beds.
10 Best King Size Platform Beds Reviews
1. Simple Houseware 14-Inch King Size Platform Bed Frame
Are you in search of a heavy-duty bed that can support up to 500 pounds? The Simple Houseware 14-inch offers all that and more as it';s easy to assemble and move around. It features a sturdy frame that is foldable and has enough storage space underneath. In case your bedroom also serves as the living space; you can fold the frame for easy storage.
Being a black frame, the Simple Houseware should blend in easily with your décor. It also features a unique slat design that allows it to support any mattress without ripping the foundation. If you have memory foam, a spring or latex mattress, the Simple 14-inch is the right bed frame for you.
Among your top priorities when buying a frame should be durability. A feature that this bed offers since it is made of reinforced steel. Also, the bed frame is very sturdy and affordable; this makes it the right for someone on a budget.
Pros
Easy to assemble
Support rods have been welded for durability
Easily supports heavyweight up to 500 pounds
Compatible with different mattress types
Solid construction and great height
Cons
Instructions are hard to understand
Seems to squeak under heavyweight
---
2. DHP Dakota Upholstered Faux Leather Platform Bed
The DHP Dakota platform bed is arguably the best pick when it comes to contemporary styles. It';s a frame that stands out due to its elegant look. This is your product, especially if you need a bed frame that complements your décor.
The contemporary style bed comes with sturdy wooden slats; thus, it';s able to provide that extra support. The bed has four built-in drawers that should have enough storage space for all your bedroom accessories. As its name suggests, the DHP Dakota bed frame comes with faux leather that features a diamond pattern; this gives it a premium look. On the sides, it has metal rails for improved stability and durability.
Since the bed has 24-bed slats, you will not need a box spring. This ensures that you enjoy all the coziness that the bed frame has to offer. Also, the bed frame is designed with optimal airflow in mind to ensure that your mattress is well aerated for comfort.
According to the manufacturer, the frame is compatible with coil and memory foam mattresses. There is no mention, however, if the frame is compatible with other mattresses. The frame is decently priced, looks, and feels like a premium frame.
Pros
Comes with drawers for additional storage
It is durable and stable
The faux leather and stylish design provides a premium feel
The 24 wooden bed slats offer sufficient support and comfort
Drawers can store blankets and linens
Cons
Not ideal for box spring mattress
Assembly is quite difficult
---
3. Flash Furniture Brighton King Size Tufted Upholstered Platform Bed
Are you tired of sleeping on a high-seated bed? If yes, you can try your luck with the Flash Furniture Brighton Platform Bed. This bed works just as good as a high-seated bed. The bed comes with a modern design and a light gray fabric.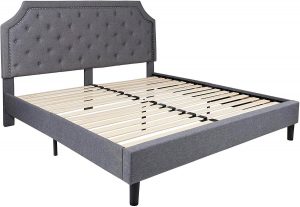 The Flash Furniture offers something that most high-seated beds do not provide, and that is stability. What the Flash furniture bed lacks in height, it makes up for instability. It comes with the usual four legs, which typically offers excellent balance. However, to ensure that you are stable and comfortable, the king-size bed has three extra legs. These legs are located at the center, which, when combined with the wooden frame offer additional stability.
Also, the bed has 15 wooden slats that not only allow for better air circulation, but they also provide much-needed support. Since the wooden slats offer sufficient support, you don';t need box springs.
When it comes to appearance, the Flash Furniture is a modern looking bed that features tufted button upholstery that gives it a premium feel. It also has beautiful nailhead trimming which when combined with the perfectly crafted headboard gives it a refined look.
Pros
Sturdy and durable
Easy to assemble in about 30 minutes
The buttoned upholstery gives it a premium feel
The three extra legs at the center provide extra stability
The bed is not squeaky
Cons
The low height means less space below the bed
The quality of the polyester fabric could be better
---
4. Kings Brand Furniture – Upholstered Platform Bed
Looking for an upholstered platform bed that comes with a high headboard? You are in luck for the Kings Brand Furniture bed offers all this and more. It comes with a beautiful fabric with crystals embedded into the tufts to accentuate its fantastic design.
The bed features a solid build that';s easy to assemble. It';s arguably the best quality King Size Platform Bed for under $500. The King Size bed features an elegant design that you typically wouldn';t find in most king size beds. Also, the bed is very comfortable thanks to the wood slat support system. The wood slat not only provides excellent support, but it also offers excellent ventilation. The improved ventilation ensures that air passes through which in turn keeps your mattress fresh.
Aside from the elegant design, the Kings Brand Bed is made of sturdy materials which include the incredible fabric. Even more impressive is the price as you would expect it to cost about $1000 for such quality. The assembly is easy but takes about an hour. The finish and quality are just as pictured. Overall, the Kings Brand bed is a great choice and offers excellent value for money.
The only complaints are the space underneath which stands at a measly 8 inches. The area is enough to let air pass through but not sufficient for storing anything under the bed.
Pros
Features a stunning design
Allows for air circulation thus keeping the mattress fresh
Blends well with your décor
Offers value for money
Has a unique design
Cons
Not as sturdy as you would expect for the price
The assembly is significantly harder
---
5. Zinus Adrian Wood Rustic Style Platform Bed
Having a rustic wooden style bed in your bedroom will undoubtedly improve the look and feel of your house. If that';s precisely what you prefer, then the Zinus Adrian should be an excellent choice. This bed is made by a company that prides itself in making beds that are not only easy to assemble but also comfortable. This is a bed that offers you the ideal platform to relax and rest. Speaking of assembly, the Zinus Adrian doesn';t require the use of a box spring.
It takes about thirty minutes to assemble and doesn';t require the use of many tools. The bed comes with a rustic headboard that provides support for your head or back, especially when you are resting.
In addition, the bed comes with a five-year warranty which makes it your best bet, especially if you want a bed that will serve you for long. Its dimensions ensure that you are comfortable and stable. It has a height of 41.5 inches and assembled length of 81.77 inches plus an assembled width of 76 inches.
While the wooden frame provides support, the wooden slats offer most of the support. They also ensure that your mattress will last for long. The spaces between the slats allow for improved ventilation.
Pros
Affordable and stylish
Compatible with different types of mattresses from latex to spring mattress
Provides sufficient support
Easy to assemble
5-year warranty
Cons
Doesn';t have cushioned legs
The stain is quite thin
---
6. Best Price Mattress King Bed Frame
In most cases, the price often correlates with quality. Such that premium products usually mean that the products are high quality. This, however, does not apply every time, especially if you consider the Best Price Mattress, which is priced under $150 but offer unrivaled quality. Its quality is similar to that of the high-end platform beds.
It';s arguably the most durable and most reliable of the beds on this list. It can support up to 1500 pounds. Compare this to other King size beds. Typically, the average king size bed has a weight capacity of 500 pounds. The Best Price Mattress bed frame boasts of three times the average weight capacity.
This can be attributed to its design and the material used. Instead of wood, the manufacturer used steel all through. This means that even the slats are made of steel. It';s available in one color and measures 76 inches by 80 inches by 14 inches. It weighs 40.08 pounds when fully assembled.
The steel slats not only come in handy during support, but they enhance the life of your mattress by facilitating airflow. The slats also prevent your mattress from sagging.
Pros
Comes with the Fit2Lock feature for easy assembly
12-inch under bed clearance
Assembly doesn';t require tools
No squeaking
Compatible with most mattress types
Cons
There have been complaints that the frame is slippery
It';s quite challenging to find brackets that are compatible with the frame
---
7. Novogratz Her Majesty Upholstered Linen Bed
Novogratz King Size Bed is a product made by Cortney and Robert Novogratz- a couple who have been creating masterpieces around the world for 25 years. This is a couple that has been involved in renovating and rebuilding entire city blocks. They are renowned for their high-end designs and their ability to breathe life and comfort into a home with their incredible designs.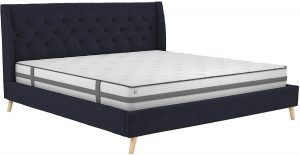 Among their many products is the Novogratz Upholstered Linen Bed which offers you the royal treatment. Its frame is made of both metal and manufactured wood. It measures 43.5 inches by 80 inches by 85.5 inches. In addition, it has a headboard that measures 29 inches from the bed frame to the top. It';s ideal for a 12-inch mattress and has a 14-inch distance that runs from the slats to the floor. Speaking of slats, the Novogratz Upholstered bed has 13 slats. Each of these slats is made of wood and can support 500 pounds.
The bed comes in 7 colors- Blue linen, Light Green, Grey Linen, Light Pink, Blue, Pink, and Gray. It has slanted wood legs and an additional four metal legs. The extra legs ensure that the bed is stable and comfortable. As for the Upholstery material, it comprises of 100% linen while the fill material includes of foam and polyester.
Pros
Elegant finish that blends with the bedroom';s décor
Doesn';t require foundation or box spring
Comes with a soft headboard
Provides excellent support by distributing the weight pressure equally
The unique slat system allows better ventilation
Cons
Takes two people to assemble the bed
The headboard is quite short
---
8. Modway Tracy Mid-Century Modern Wood Platform King Size Bed
With its unusual but simple design, the Modway Tracy Mid-century bed offers a comfortable place to sleep on that doesn';t make noise. It';s designed to secure your mattress such that it does not slip regardless of the number of times that you are likely to turn and toss. Its simplicity makes it the ideal pick for any décor. It will blend in perfectly with your bedroom décor.
Although the bed features an open design, it';s still among the best king size bed frames available today. It is also a low-profile bed that measures 79 inches by 53 inches by 43 inches. Also, it has rounded corners and slanted wooden legs. This contemporary design allows it to support 600 pounds which makes it ideal for couples.
Being a heavy-duty bed frame, the Modway Tracy can support even the bulky mattresses. The splayed legs might seem inadequate for the weight capacity, but they have proven to be very durable and stylish. The Modway platform is more than just a frame as it is also a design statement. The polyester fabric and foam padding give the beds a premium feel. In terms of comfort, the Modway bed is very comfortable and offers substantial support making it an ideal spot to watch a movie.
Pros
Sturdy and comfortable
Easy to assemble although you';ll at least 3 helping hands due to its weight
Well-constructed frame
Ample storage space under the bed
Doesn';t require box spring
Cons
Doesn';t have center legs
Heavy bed frame
---
9. Olee Sleep VC14WF03K 14 Inch Wood Platform Bed
When shopping for a bed frame, the two main aspects you ought to consider are comfort and durability. The Olee Sleep Bed frame offers precisely that as it has four legs plus five extra legs. It may not have the same features as high-end models, but it serves the purpose. For example, it doesn';t come with a headboard, but it has a steel slat foundation that not only provides support but also prevents your mattress from sagging.
The Olee Sleep bed frame is on the lighter side; it weighs 64.6 pounds. It measures 81 by 77 by 14 inches. This means it has a 14-inch storage space underneath which is enough storage space for you and your partner.
Interestingly, the Olee Sleep Bed costs less than $200, which is about half the price of similar-sized beds with similar features. For such a price, you get a quality frame that isn';t too high or too low. It';s just the right size.
Pros
Ease of assembly
Comes with a sturdy frame
A quiet frame that doesn';t squeak
Steel slat offers additional support
Comes with a total of 9 legs
---
10. intelliBASE King Size Wooden Slat Black Metal Platform Bed Frame
For less than $200, you get a bed frame that is low profile and requires minimal assembly. The hardest and most annoying part of buying a bed is always the assembly. Fortunately, intelliBASE ensures that their products don';t need tools to assemble and provide the tools where necessary.
The bed has many features, but the most impressive is the wooden slats. According to the manufacturer, the wooden slats can hold up to 2,400 pounds. That';s close to 5 times the weight capacity of the average king size bed.
The bed offers the best combination of support, comfort, and functionality. Also, you can fold the frames for easy transportation. Both the unfolding and setup is effortless and doesn';t require tools.
Pros
14-inch space underneath
Effortless assembly
Ideal for tall people
Simple design that looks good with any décor
Sturdy and well-constructed
Cons
The slats cannot support more than 300 pounds without the middle leg
Some of the screw holes don';t align
---
Benefits of King Size Platform Beds
For someone who has an appetite for the most beautiful things in life, a king size platform bed is an item that will give you value for money. Other than they come in different styles and designs, they are quite versatile, and they can be incorporated into your modern or traditional décor. They have a great visual appeal, and they transform a bedroom';s general look. Other advantages of king size platform beds are: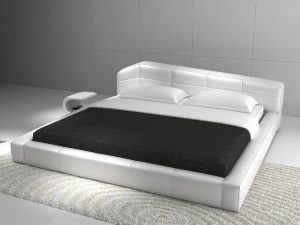 King size platform beds have a modern, clean and sleek look that';s easy to incorporate into whatever décor in your house. They need little or no accessories to upgrade their look because they are already streamlined and clean cut. Platform king size beds don';t need bed skirts because they look good with or without. They come in different styles and designs. Depending on your tastes and preferences, you will be sure to find one that checks everything on your checklist. Some people prefer beds that are close to the ground while others prefer the ones that are raised a little; there';s everything for everyone.
King size platform bed frames provide the best support because they are more stable as compared to other bed frames. For people who are a bit on the heavier side or people who toss quite a lot, this bed is quite sturdy. The fact that these king-sized platform beds are low in terms of height makes them more stable. This bed is perfect for short people or for people who co-sleep with their kids since the kids can hop on to the bed and get out of bed with ease and with fewer accidents.
Additional functionality:
The best thing about these king size platform beds is that they can be customized, thus increasing their functionality. For example, it is possible to add drawers on the sides or even beneath the bed, thus increasing one';s storage space. This space can be used to store clothes, bedding, toys, and other tiny things that might litter the bedroom.
King size platform beds offer the best support, especially for people who love sleeping on their sides. Placing a mattress on the platform king size bed also provides a firmer sleeping option as compared to other mattresses like box spring mattresses.
The icing on the cake on these king size platform bed is that you get to save some money. Once you buy this bed, you will not need to get extra box springs since the whole bed frame is stable and sturdy.
Different Types of King Size Platform Beds
King size beds come in various types, and it all depends on your preferences and bedroom space. They have the most comprehensive standard size bed with most of them measuring 76 inches from side to side. King size beds offer the same size of that two standard beds provide when they are placed parallel to the side. Each king-size bed depending on the buyer';s preference, can give the buyer with comfort, good sleep, as well as rest. The most common king size platform beds are of 3 types, and these are:
Western-style king size platform bed
Western king size bed is also known as the California King size bed, and it measures 84 inches by 72 inches. This bed is longer by 4 inches but also narrower by 4 inches in comparison with the Standard king size bed. California king size bed is for people who are taller and heavier than the average man because they cannot fit on a regular standard size king platform bed.
California king size beds can use the standard king size comforter, but the sheets need to be a bit longer so that they can sit and fit well on the bed when tucked. These beds tend to be more comfortable as compared to the Eastern and Split king size platform beds. California king-size beds are mostly made for master bedrooms, and they are larger than queen size beds.
Standard or Eastern King size beds
These are the most common king-size beds; they measure 80 by 76 inches. These beds are suitable for only two people, and they are almost the same as queen size beds, although they are wider by 16 inches. When sleeping on this bed, the occupants can have about 38 inches between or among them in the event it accommodates 3 people. When compared to queen size beds, standard king size platform beds are more costly, and so are the mattresses.
Split king-size or extra-functional king size
Split king-size or extra-functional kings sizes are more functional just like the name suggests because one can add some functionality like extra storage. These beds can be used in master or guest bedrooms because they are quite versatile. They have been designed to have extra-long size twin mattresses. They measure 80 by 76 or 78 inches which makes them almost similar to standard king size platform beds.
See Also: Best Platform Bed For Sex Reviews
Features To look out for in a King Size Platform Bed
When shopping for the top rated king size platform beds, some features should not be ignored. Some of these features are;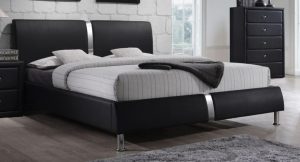 This is very important because picking the wrong structure can get you into serious problems. You don';t want to get a frame that squeaks even with the slightest movement. A frame is not just an aesthetic to your room; it is the most essential part of the bed. A reasonable and sturdy bed frame is just as important as a firm and sturdy mattress. Therefore, choose wisely.
Before buying the king size platform bed of your choice, it is crucial to consider the area in your bedroom. Calculate the available space in your room and make sure there will be enough space for moving around the room freely. Ensure there';s enough room on both sides of the bed as this makes the room look and feel spacious.
When buying a king size platform bed, ensure that you check the distance between the slats. Slats make the base of the bed, and the distance between these slats determines your mattress'; lifespan. If the gaps between the slats are quite massive, your mattress will not have much of a life as it';ll tear easily.
The best space between the slats should be 2.5 inches and below. If the area is more than that, be sure to keep replacing your mattress often. Slats are of two types, and these are; the sprung and the flat ones. Flat slats are mostly used in cheap bases, but they offer tremendous and firm support. Sprung slats have curved wooden slats, and they provide a natural bounce. The thicker the slats, the better the support for your mattress; this means a longer life span for your mattress.
There are three main types of bed frame materials. The first is wooden bed frames which have been around since the 14th century. Initially, the carved wooden frames were made for the rich while the simple wooden designs went to the poor. This changed in the 19th century when the trend gravitated towards iron and steel as they come with insects and mice. Today the preferences are diverse; with some preferring wooden frame, other metal while the remaining few choose leather.
If your main focus is durability, then metal frames should be your top pick. This is because the metal is known for its strength and durability. Since metal is strong and sturdy, there is little to worry about.
Wooden frames, on the other hand, tend to come in a wide range of designs. You can opt for a wooden frame that has carvings. You also get to choose the type of wood you want. It can be walnut, pine, maple, oak, mahogany, etc.
The last option is leather which can either be faux or original leather. Typically, the frame is made of wood and wrapped in leather. The leather can either be black, beige, or brown.
The style will depend on your preferences. For example, do you want a bed frame with a headboard? Do you prefer high seating or low-seating beds? If you prefer headboards, then look for a bed frame that either has a headboard or allows you to attach one.
Conclusion
Each day you spend a significant part of your day sleeping. You should enjoy you a good night';s sleep before going to work, school or wherever else you go. To enjoy all this, you need a comfortable mattress but most importantly, a comfortable bed. You want a bed that satisfies not only your needs but also the needs of your partner. A bed that doesn';t squeak and can support your weight. Knowing what you want in terms of size, material, style, and storage space will help you get the perfect bed frame.