We may earn a small commission if you buy something via a link on this page. This doesn't impact our rankings or cost you extra. See
our advertising disclosure
for details.
Bed frames are very important parts of your bedroom because they provide strong support for your mattress so that you can have some elevation for your bed. Of course, most people consider the metal bed frame type these days because these are the most durable.
Now, when most persons select metal bed frames, they';re often overwhelmed with the choices with different features. So that you won';t have such as hard time, we provided you with a nice list of the best metal bed frames brand in the market. We';ve also provided a buying guide so that you';ll know which is the best for your own needs.
Top Rated Metal Bed Frames Comparison Chart
10 Best Metal Bed Frames Reviews On The Market
1. Zinus 14 Inch SmartBase Platform Bed Frame
This is one of the few bed frame brands that can replace the need for a box spring as a foundation for your mattress. It provides the same type of support like springs but with higher stability. With regard to durability, it makes use of very steel slat material to hold the mattress up and prevent it from sagging. If you';re looking for a popular bed frame that has very strong mattress support, then this brand is definitely something that you might be interested in.
Features
Strong stainless steel design
Bed frame height of 14 inches with 13-inch clearance under the frame
Foldable design
Strong plastic caps on the ends of your bed';s legs
5-year limited warranty
Pros
High clearance of 13 inches under the bed for storing other things
Easy assembly and storage through folding design
Strong and sturdy build for average-weight individuals
Comes with drilled holes for fitting headboard brackets
Flexible plastic caps that can protect the floor
Built with support that is on a par with the average box spring type frame
Cons
May not be able to take the weight of 400 pounds or more
Does not already come with a headboard or headboard brackets
Difficult to put the bed skirt or the bed sheet
Mattress tends to slide all over the frame
---
2. Olee Sleep 14 Inch Heavy Duty Bed Frame (QUEEN)
Olee Sleep prides itself with an extremely sturdy bed frame. As compared to the previously mentioned bed frame, this one is fastened very tightly preventing any squeaking noises that most people with metal frame experience. Another unique feature of this bed frame is that it is non-slip– meaning the metal frame is built in such a way that it prevents the mattress from sliding off. This allows you to have a peaceful sleep without any sound or shaking.
Features
Tight and secure build
Strong stainless durable steel frame
High support mattress design
13.5-inch space under the bed
59.5-inch height
20 steel slats in total
5-year limited warranty
Pros
Comes with necessary toolkit and hardware for assembly
Can hold up to 1,200 pounds
Can be used along with box springs too
Very easy to assemble
Very sturdy and solid design complete with screws for all corners
Anti-sagging feature
Cons
Parts are not labeled and requires studying of the instruction manual
The end of the frame sticks out and may cause accidents
Tools are not that high-quality so you may need to use your own
Space between the bars make it a bit hard to put bed sheets
---
3. Best Price Mattress New Innovated Platform Metal Bed Frame
This foldable bed frame is probably one of the longest that you';ll find in the market. Because of that, it can be used as two bed frames if you want to use two separate mattresses. All you have to do is unscrew the middle portion and you';ll have two twin sized beds. Put them together and you';ll have a queen sized bed. You may also buy one twin bed frame first just to test it out, then buy another one later to connect it to the first one to form a queen bed. You';ll also notice that this bed frame can be used with a box spring if you want a little more leverage and support, but it';s not really needed.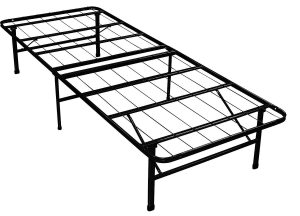 Features
14-inch clearance space underneath
Construction grade steel material used for the body
Easy middle folding feature
Box spring compatibility
Pros
Can be connected to another twin sized bed frame to double the size
Very sturdy frame and can take even heavy people
Foldable so that you can save space
Does not contain any sharp edges
Cons
Not slip-proof
Does not come with headboard or holes to fit headboard brackets
---
4. DHP Tokyo Daybed and Trundle with Metal Frame
This bed frame is a little bit more different than your average bed frame. This bed frame is designed for beds that can be found in your lounge, your living room, bedroom or your guest room. One thing that most customers rave about would be how versatile this bed is. It can be turned into a sofa by folding the other half under the frame.
If you want it to become a queen sized bed frame, then you can just unfold the trundle and attach it to the daybed. Also, there';s already a headboard installed, so you don';t need to buy one or attach one. This is the right bed to buy if you don';t like buying too many pieces of furniture. In a sense, you can have two pieces of furniture in one item.
Features
Made out of very sturdy metal material
Has metal slats for overall support of the mattress
Comes with headboard and sideboard
Daybed weight capacity of 400 pounds while total bed capacity is around 600 pounds
Space to fold and store the trundle underneath the daybed
Pros
Very sturdy and does not creak
Can act as both a daybed and a queen sized bed
Can take weight of up to 600 pounds
Has metal slats for overall durability
Lightweight built of 63 pounds for easy carrying
Cons
Rather difficult to assemble
No caps on the legs to keep the bed frame from sliding around
Sideboards aren';t too tightly attached
---
5. Classic Brands Hercules Heavy-Duty 14-Inch Platform Metal Bed Frame
If you';re a little bit overweight, then this is the bed frame that is recommended for you. Unlike a lot of bed frames, this has a very robust build that is meant for supporting weight. This is because the metal used is construction grade heavy duty metal which is very sturdy. Also, you won';t need a box spring because the leverage is enough to keep the mattress in its place. If you want to store anything underneath, there is a 14-inch space, so that';s another plus to this product. Since assembling bed frames is pretty hard for most people, this one doesn';t require it. All you have to do unfold it from the box and you get a nice bed frame.
Features
Heavy-duty steel material
14-inch clearance space underneath
Comes with non-slip leg caps
2400 weight capacity for queen sized bed
Can be used separately as two twin size beds or one queen sized bed
Separate support arms for four main legs
Foldable design
Pros
Compatible with headboard and headboard brackets
Ideal space for storage
Heavy duty slats prevent mattress sagging
Great support for overweight individuals
Versatile usage
No need for any assembling
Cons
Has tendency to creak and make noise from time to time
Screws are not properly tightened
Does not include headboard or brackets in the package
---
6. Zinus Compack 9-Leg Support Bed Frame
Most bed frames that have 6 legs would often bend toward the middle since the middle has the most space that';s on air. Due to this, the mattress would usually curve and end up being bad for the back. The only way to solve that problem is to add extra legs in the middle to give the mattress more support.
This is exactly what the Zinus Compack 9 Bed Frame does. Instead of 6 legs on the four corners and two sides of the frame, there are 9 legs where in there are 3 extra legs in the middle. Also, it';s made out of very steel slat material, so you can expect it to be able to hold weight pretty well. Overall, it';s a very robust bed frame with great support so that your mattress won';t sag or bend.
Features
9 legs with 3 extra legs in the middle
Thick and robust metal bars
Safety recessed leg design
Easy-to-use locking system
Rubber leg ends to prevent slipping
Anti-squeak design
Pros
Very solid and sturdy support
Very thick bars used for the frame
Does not make any noise
Very easy to assemble
Does not slip or slide around
Lightweight bed frame of 21 pounds
Cons
Has very low storage space underneath the bed
Size chart is a bit confusing
---
7. GreenForest Metal Bed Frame
This is a nice and modern bed frame that will look good in any bedroom. If you';re after a bed frame with a rather quaint and contemporary design, then this one is a pretty good. It comes with two headboards with one for both ends of the bed. Also, it makes use of frosted metal slats so that the mattresses won';t slide while it';s on top of the bed. It also has a storage space of 11 inches under the bed. This is an ideal bed frame for bachelors who live in condo units, dormitories, and studio units because of its compact size. It';s also the perfect size for kids.
Features
Frosted metal slats
Two headboards with respective brackets
11-inch height storage space
Comes in three colors: black, silver, and white
Pros
Sleek and compact design
Saves space in your bedroom
Prevents sliding and slipping of the mattress
Already comes with headboards so you don';t need to buy separately
Very easy to assemble
Rather affordable price
Cons
Does not come with rubber caps to protect the floor
Makes noise if not screwed properly
Does not have side bars
Not compatible with side bars
---
8. VECELO Reinforced Metal Bed Frame Queen
Vecelo is a brand that';s pretty known for making great luxury bed frames. The design in itself may be simple, but it';s quite classy because of the decorative features on the headboard. Other than that, it';s very easy to assemble. All parts of the bed frame are labeled and packaged neatly to ensure that the buyer will have an easy time assembling the bed. This bed frame is also known for its sturdiness as the material used is a imported metal. Basically, this product combines both sturdiness and beauty in one. It';s a great addition to your bedroom or guest room.
Features
Robust imported metal design
Comes with headboard on both ends
Non-slip features so that mattresses will be kept steady
Center support bar for higher level of support
Upgraded metal legs for more strength
11-inch storage space clearance under the bed
Pros
Very precise and organized instructions
Beautifully designed for sophisticated bedroom interior
Includes tools in the package for easy assembly
Very strong support with center support bar
Beautiful design
---
9. SimLife Metal Bed Frame
This metal bed frame is quite similar to the Greenforest bed frame but with different kinds of slats. The slats of Simlife Metal Bed Frame are curved downward, unlike most bed slats that are just straight. The downward curve is meant to provide the back with better support as it would adjust the mattress to your own sleeping position and body shape.
That way, you';ll not only get a very comfortable night';s sleep, but you';ll also do your back a favor by allowing it to retain a natural position. Other than that, this bed frame is also very sturdy being made of steel and has extra side legs to support the bed. There';s also a middle support beam for more sturdiness.
Features
Downward curved metal slats
Weight capacity of 280 pounds
Can easily fit in standard bed skirts
Steel frame with extra side legs
Includes middle support beam
Pros
Does not require a box spring for mattress support
Downward curved slats are good for the back
Has a middle support beam to prevent sagging and bending of the legs
Extra side legs provide more support
Cons
The mattress may slide around easily
Limited weight limit
---
10. Yanni Easy-to-Assemble Bed Frame
The Yanni Easy-to-Assemble bed frame is a very strong steel metal bed frame with a very strong foundation that offers mattress support. It has both a built-in headboard and footboard so that you don';t need to install them separately. What makes this bed frame really attractive is that it allows equal weight distribution.
This means that it is built in such a way that no side will have to carry more weight than the other. This type of feature will be able to prevent bending and deforming of the slats or the legs. The slats are also downward curved just like Simlife. This allows you to have a very comfy sleep at night.
Features
100% heavy duty steel built
Beautiful design for headboard and footboard
Enhanced downward curved slats
Box spring compatible
Sturdy built
Pros
Very comfortable and good for the back because of downward curved slats
Long shelf life because of equal weight distribution feature
Robust and sturdy support to ensure no wobbling
Does not squeak or creak
Very easy assembly
Cons
Mattress tends to slide off the bed from time to time
Small size bed which may not fit taller person
Does not come with rubber caps on the legs
---
Things To Consider Before Buying High Quality Metal Bed Frame
Now that you';re familiar with some of the best products in the market, how exactly do you choose the best one out of the 10? Well, that';s where the buying guide will come into place. With this guide, you';ll have some sort of grading criteria for your choice. With the criteria, you can at least know which one suits your needs. So if you';re vying for the best metal bed frames for your bedroom, you can use this short guide to help you:
First and foremost, you have to consider the size of the mattress. There are certain sizes of metal frames depending on the size of your mattress. For instance, if you have a queen size mattress, there are queen sized frames. If you own a king size mattress, there are king sized mattress frames. Also, it';s important to take note that there are bed frames that are twin sized individually but can be connected with other twin sized beds to form a queen or king sized bed.
This is the more economical type of bed frame, especially if you move stuff around quite often. Our list has a number of these types of bed frames to choose from. That said, always consider the size first so that you can easily transfer your mattress to the frame.
There are two types of bed frames; namely: the platform bed type or the box spring type. The ones that are platform bed types are a little lower but cheaper. However, the box spring type will give more elevation and also better support for the bed mattress. The choice will ultimately depend on your preference, but the more common ones that people buy are the platform types since these are the more comfortable alternative.
In fact, our list contains mostly platform bed frames. There are some that are compatible with box springs, but most of them don';t need to have box springs anymore in order to provide the mattress with some good support or leverage.
Now, there are many types of metals that are used to make bed frames. Depending on your own design preferences, you can buy either a brass bed frame, stainless steel bed frame, or iron bed frames. The choice you make will really depend on which one has the most suitable look for your room';s interior.
You may also want to consider wear and tear. Iron and brass rust pretty easily while the metals such as stainless steel don';t. Take note that most of the products that we';ve listed above are made out of steel because steel happens to be one of the strongest and has the longest shelf life. However, the choice is ultimately up to you and your own respective tastes.
This factor is more geared toward those who don';t know how to assemble bed frames or who don';t like to assemble bed frames. Most of the bed frames are not assembled when they are in the box, so you need to put all the parts together when you receive your product. However, there are those that are foldable and require very little assembly.
If you don';t like assembling things, then better consider getting one that is foldable as these don';t require putting together. All you have to do is unfold the frame, set it down wherever you want, and put your mattress on top. If you don';t mind a little assembling though, then you may get the type that isn';t already put together. The advantage of that is you know each part of the bed frame and you can really tighten each screw so that you';re sure it won';t fall apart.
You must also take into the consideration the style and design of the bed. You would want the overall style of your metal bed frame to match the style of your interior. The metal bed frame will look good and consistent with your design. For instance, if your bedroom haves a rustic or Victorian type of design, black metal or brass metal bed frames are the best looking ones while more modern bedrooms would look good with iron and stainless steel bed frames. You can use your creative juice to choose which style is the best.
The last thing that you have to think about would be the cost of the bed frame. When you select your bed frame, you';ll want to have the most reasonably price done. Fortunately, all of the metal bed frames in the list are not too expensive yet not too cheap to scrimp on quality. All brands are quite well-known, so you don';t need to worry about quality. So when you form your budget, you can use the price range of the products in this list of good metal bed frame products as your basis.
Conclusion
With our list for the best quality metal bed frame products and our buyers guide, you now know exactly what to look for when you go to the store to choose your metal bed frame. We came up with this list by comparing the features, the pros, and the cons of several products based on our own experience and other reviews. That way, we are able to see which ones bring the best bang for the buck.
So when you want to make your choice, take into consideration all the features, advantages, and disadvantages of the product and use this buying guide to know if the product is for you. That way, you can pick the one that gives the best value for money.
Related Posts:-
Best Leather Bed Frames Reviews