I bet you';ve heard countless times that a good mattress translates to a good night's sleep but what you haven';t heard maybe is that orthopedic pillows in addition to a good mattress give you even better sleep quality. You sleep comfortably and for longer and wake up fresh and energetic as though you never went to bed. And since you will be sleeping for a â…" of your life, why not make the sleep worthwhile with these pillows.
So why orthopedic pillows?
Orthopedic pillows offer the structural support that you don';t get with a normal pillow. Most are made of memory foam which keeps your head, neck, and spine properly aligned. This keeps you off constant backaches, spasms, fatigue, stiff neck, and shoulder pain.
There hasn';t been solid and conclusive research on the benefits of an orthopedic pillow, however, a study conducted by Tailor Francis shows that there is a significant decrease in neck pain and improved sleep with the use of an orthopedic pillow. Out of the 52 neck patients that he experimented with, 40 of them reported a change in their sleep quality and neck pain.
Aside from this study, there have been thousands of positive reviews on orthopedic pillows and this is why they come highly recommended by physicians. Before we delve deeper into orthopedic pillows, let';s look at some of the best orthopedic pillows on the market currently.
Top 10 Best Orthopedic Pillows Reviews
There are countless curvy pillows out parading as orthopedic pillows but very few truly are. Here are the genuine orthopedic pillows you should be looking out for.
1. Snuggle-Pedic Ultra-Luxury Bamboo Shredded Memory Foam Pillow
If you're looking for the best orthopedic pillow, the Snuggle-Pedic ultra-luxury memory foam pillow won't disappoint. Highly rated and offering luxurious comfort, this pillow is ideal for all sleeping positions. Additionally, it provides ample support for the neck and shoulders, making it one of the best pillows for people dealing with neck pain.
The pillow cover is made from a  blend of polyester, bamboo, and lycra. A mixture that blends so well to give a thick, soft, and plush surface. You can actually use this outer shell as a pillowcase, and it only needs to be removed and washed frequently to keep it clean and fresh. This breathable and washable cover also has a zipper that reveals the inner casing that's densely filled with shredded memory foam.
If you are health conscious, your worries will be settled with the Snuggle-Pedic luxury pillow as it is filled with CertiPUR-US®- and GREENGUARD-certified foam. This is enough to guarantee you that it is free of any toxins and harmful materials. The fillings can be added or removed to adjust the height or achieve the desired thickness and firmness according to personal preference. You will, however, need to be careful when doing so as the shredded memory foam can get real messy. Change the pillow over a trash can to reduce the mess.
A huge concern for most people when it comes to shredded memory foam is the lumpiness that tends to form. This is however not the case for this pillow, all the shredded parts are uniform and when compressed the surface remains even. Also, it does not flatten over time, it retains its shape and similarly springs back real fast when flattened.
If you tend to sweat a lot at night or wake up every so often because of heat, this pillow will change the script for you. It is constructed with a Kool-Flow technology that allows for the breathability of the cushion to promote heat loss. Another strong plus for this orthopedic pillow is their return and a 20 warranty policy. You get a cool 120 nights sleep trial period and if you are not satisfied, just send it off to the company. Their warranty period is also impressively long- 20 years!
Pros
Pillow comes with an impressively long 20 year warranty period
4-month return policy
Kool-Flow technology to keep you cool at night
Maximum orthopedic support best suited for all sleepers
May help alleviate neck pain
Fill can be removed to adjust the height, thickness, and firmness
Available in different sizes- king, queen and standard
Washable cover is pretty easy to clean
Free shipping within the U.S.
Offers a 3 month-night sleep trial period
GREENGUARD- and CertiPUR-US certified
Cons
Costs way more than pillows of same quality and features
The shredded memory foam fill can be messy to remove or add
---
2. EPABO Contour Memory Foam Pillow
The EPABO contour memory foam pillow is another of our highly rated orthopedic pillow for back and neck pain.  If you tend to have a lot of nerve tensions which radiates the pain to your shoulders, then this is one of the best pillows to consider. It also just the perfect height and firmness to align the neck and spine of a habitual side sleeper. It is neither too soft, firm, or squishy. The best thing is that it is suitable for all types of sleepers – back, side, combination, and stomach sleepers.
For those who have sensitive skin or people who suffer from allergies, the jacket cover made from a rayon polyester blend provides protection from dust mites. This EPABO contour memory foam pillow is also breathable to promote air circulation and prevent heat retention which seems to be a challenge with most orthopedic pillows.
The zippered jacket cover that comes with this pillow can be removed and washed. You will only need to machine-wash the rayon polyester cover, tumble dry on a low setting and return it. For the pillow, air drying is pretty much enough to keep it fresh.
To counter the heat retention concerns of memory foam, the orthopedic pillow is also filled with bamboo fibers to help regulate the temperatures. Bamboo is known to be moisture-wicking which is great if you are the sweaty type. If you find the pillow too high for you, you can adjust the thickness according to your personal preference by taking off the piece of foam that is located at the base of the pillow. However, most people find the height of the EPABO contour memory foam just perfect for their needs. This product also comes with a sleep trial period of 30 days for your peace of mind.
Pros
Allows for a 30-day sleep trial period where you can return the pillow for a full refund if not satisfied
Adjustable pillow height supports spine alignment when in a side sleeping position
Pillow is shaped to fit the head, neck, and shoulders to keep them all aligned
Rayon-polyester blend washable cover protects against dust mites
Constructed from breathable and hypoallergenic memory foam
Bamboo fibers to regulate the surface temperature
Helps prevent neck pain
Ideal for all sleepers, including shoulder pain sufferers
Cons
You will need to air this pillow out for the first couple of hours to get rid of the new'' unpleasant memory foam smell
Pillow may seem uncomfortable the first couple of weeks while memory foam adjusts to body shape
Not best suited for those who fancy a flatter orthopedic pillow
---
3. Xtreme Comforts Slim Hypoallergenic Bamboo Pillow
The Xtreme comfort memory foam pillow is among the few shredded foam pillows that offer exceptional head support without any lumpiness or going flat. No wonder the long 6 year warranty period is given. The Xtreme pillow is made suitable for stomach sleepers and those who fancy thinner pillows.
With the ability to adjust the thickness by removing or adding more filing, it makes it ideal for a stomach, back, or side sleeper. The shredded memory foam filling can be very messy when adding or removing the filling so make sure you do over trash or a surface that will be easy to clean. If you are worried about how safe this Xtreme adjustable orthopedic pillow is, there's no need to fret since it is made with safe materials that are not flame retardants, free of heavy metals, toxins, and ozone depleters. It is safe for both humans and the environment.
The outer cover made of bamboo is very soft, comfortable, and breathable, assuring you of a cool night. It can be removed and washed as needed. The bamboo cover is combined with a Kool-Flow technology for an even cooler and fresher night. The cover is also zippered to reveal the inner casing of the pillow where the shredded foam is. 
Pros
Ideal for back- and side sleeping positions
Machine washable
A U.S made product 
Available in standard, queen, and king sizes
Hypoallergenic
Includes a breathable cover
Pillow firmness can be adjusted
Price is mid-range
Comes with a 6 year warranty
Cons
If you want your pillow firmer, you would have to purchase more foam separately
---
4. Coisum Cervical Pillow Contour  Memory Foam Pillow
Another contour memory foam pillow that made it to our list is the Coisum Orthopedic Pillow. Manufactured using high-quality, 60-density luxury memory foam this pillow is suitable for all sleeping positions. The foam conforms to the shape of your head and neck to provide you with proper neck support to correctly align your neck, head, and shoulders. Hence, if you're looking for the best pillow for your neck and shoulder pain, this could be your ideal match.
The contoured cervical neck pillow has three distinct features, each of which has a set function. The hollow design is meant to minimize any tossing and turning during the night by relieving pressure on the head and neck. This reduces neck pain and discomfort. Once you rest your head on the hollow part, it stays put all night. The cutaway designs allow you to rest your shoulders for complete relaxation and lastly, the extended wedges are for keeping you in an intact position. The design does not affect breathing and offers maximum relief for people with severe backaches. Thus, this could be the best orthopedic pillow option not only for people with neck pain but also for those with back pain.
Unlike our other reviewed best memory foam pillows, this cervical support pillow can not be machine washed. The best way of having it washed is to use warm lathery water. Be careful not to spill any water on the center part as it can impact the feel and functionality of the pillow. Expect to feel some level of awkwardness the first few days when you start using this orthopedic pillow but this should ease off as you start adjusting to it.
The design of the Coisum Back Sleeper Cervical Memory Foam Pillow may look very awkward but it is this weird-looking design that provides an optimal alignment of your spine, neck, and shoulders. It also relieves pressure on the skull and helps in reducing symptoms such as snoring, sleep apnea, and morning body aches. 
Pros
Made from a premium 60-density slow-rebounding memory foam
Allows for neck, shoulders, and spinal alignment to reduce neck pain
Suitable orthopedic pillow for those who prefer side sleeping
Cover can be removed and washed 
''‹Hypoallergenic and free from harmful toxins and chemicals
Comes with a three area design supports the head, neck, and shoulders to support a variety of sleeping positions
CertiPur-US certified
Cons
The memory foam  pillow can not be machine washed
Takes a few days to adjust to the head and neck pillow
---
5. MARNUR 23.5×14.5×5.5 in Cervical Pillow
Another best selling orthopedic pillow on our list is the MARNUR Cervical Pillow. Made from memory foam, it takes after the shape of your head and neck to properly support and correct the alignment of your spine. Its slow rebound rate also contributes to its comfort. It takes about a  minute or two max to regain its original shape.
The design of this orthopedic pillow is very intentional, it has three distinct parts- the center, the wedge, and the cervical contour. All these parts work to make this pillow suitable for all sleepers. The high curve benefits both back and side sleepers while the lower curve is ideal for stomach sleepers who benefit from low profile pillows. Hence, it is one of the best pillows for all sleeping styles.
Another noticeable feature hardly found in other memory foam pillows is the extended edges that can be used as armrests. Perfect for resting the arms and shoulders when you are in a side sleeping position.
You should know by now that memory foam gives off a terrible smell when new but with proper aeration, this should go away in 5 days tops. Also, give it a few days before you adjust to the design and firmness of this orthopedic pillow. The outer cover of this cervical support pillow is made of polyester which is known to be resistant to dust mite, mildew, and bacteria. The casing can be removed and machine-washed to maintain its hygiene.
Pros
Easy-to-wash polyester pillowcase
3-in-1 design for all types of sleepers
Provides support to help alleviate neck pain and muscle tension
The orthopedic design includes armrests to rest your shoulders and arms when in a side sleeping position
Breathable cover is made of polyester to prevent heat build-up and mold growth
Cons
Not versatile enough for all types of neck pain
Not ideal for petite people
May have initial memory foam off-gassing smell
---
6. Royal Therapy Memory Foam Pillow
If you are looking for a side sleeper pillow to address specific pain pressure points in your body, I recommend the Royal Therapy Memory Foam Pillow. This pillow has the right height, contour, and shape to support proper neck, head, and spinal alignment when you're in a side sleeping position.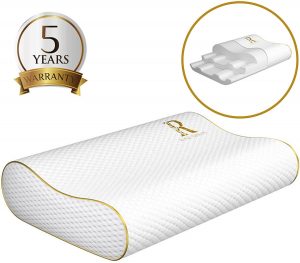 This memory foam pillow from Royal Therapy pillow is made from a blend of 100% rayon and bamboo. You should, therefore, expect that it is very breathable. Breathability is important in getting rid of the odor and preventing the pillow from retaining heat. Heat retention is the biggest challenge with memory foam pillows and that is why most brands take such steps as bamboo cover to provide cooling. 
The bamboo cover is also hypoallergenic and keeps off dust mites, mold, fungus, and bacteria. It is also made free of other toxins keeping your environment safe. The three-layer memory foam is ideal for side sleepers, however, a layer or two can always be removed to suit back or stomach sleepers. All in all, this sleep product could also be the best orthopedic pillow for a side sleeper or an allergy sufferer.
Pros
All-natural bamboo cover is dust mite-resistant
Helps address neck pain and discomfort
Breathable to prevent heat build-up
Great side sleeper pillow with adjustable height to other sleeping positions
Memory foam retains shape without flattening
Ideal for relieving pressure points
Cons
May not be as firm as other orthopedic memory foam pillows of the same quality
---
7. UTTU Sandwich Pillow
If you are looking for the best pillows on the market, this orthopedic pillow by UTTU is definitely worth considering. This sandwich pillow is made for all types of sleepers. It has a 4.7 inches high contour side that is ideal for side sleepers and a 3.9 inch lower contour that back and stomach sleepers would find perfect.
The pillow is filled with memory foam. A material that is known to conform to the natural shape of your head and neck. A very important feature that largely contributes to the comfort and supportive design of this orthopedic pillow. The quality of the memory foam is pretty decent and can last you for years without it ever coming down.
In addition, the firmness of this contour memory foam pillow can be easily adjusted to a more or less firmer thickness by adding or similarly removing the filings. The right pillow firmness will detect how fresh and alert you wake up in the morning.
The bamboo and polyester cover material has a soft to touch feel on the skin making it very comfortable to sleep on for hours on end. And the fact that it';s hypoallergenic makes it safe for use even by people who suffer from respiratory allergies. The mesh cover on the sides allows for air circulation to kill off any odor and provide cooling on low nights. To sum it all up, the UTTU is a pretty well-built and versatile contour memory foam pillow that';s specially designed to provide support to all types of sleepers.
Pros
Ideal for all types of sleepers, including those with neck pain

Hypoallergenic cover

Adjustable memory foam thickness for all sleepers

Great for use when side sleeping

Comes with a machine washable cover

Removable bamboo cover to allow for easy cleaning

A long warranty period of 5 years
Cons
Some people may find this orthopedic memory foam pillow too small
---
8. Nature's Guest Adjustable Cervical Pillow
The most amazing thing about this Nature';s guest pillow is their return policy. If you are not satisfied, you can return the orthopedic pillow and you will get a full refund without further questions. The pillow is shipped with more than enough microfiber filling so that you can keep adjusting the thickness to your liking. And with the zippers on each side of the pillow cover, this shouldn';t be anything hard. Both the high profile section (5.5 inches) and the low profile section (5 inches) can be adjusted.
The highlight feature of this pillow is the unique contour design and the gusseted edges, all of which contribute to its exceptional orthopedic performance. These two varying heights make this pillow ideal for side sleeping and back sleeping. Everyone who uses this orthopedic pillow for the first time praises the comfort that comes from this design. The pillow itself is big enough to accommodate all sizes of people.
The materials used to make this pillow are all-natural. The filling is made of wood pulp fibers which add to its weight and density. This is why it has a soft touch to feel but the firmness is solid. The cover is made from pure cotton making it very breathable and not heat-retaining. And since it is removable, you can always clean as often as you wish.
This pillow comes very highly recommended by chiropractors and orthopedics alike for its gusseted design. This design gives you maximum neck and head support. I loved that once you position your neck and head, head in the indented part, and neck on the gusseted edges, it then does not move. This ensures that you get an undisturbed sleep all night long.
Nature';s guest orthopedic pillow has been highly rated for its excellent job at maintaining the correct alignment of the neck and spine to reduce neck pain.
Pros
Promotes neck and spinal alignment
Ideal for those who prefer a side sleeping position
The filling material is super soft and comfortable
You can adjust the firmness of the pillow
Made of 100% all-natural and hypoallergenic materials
Breathable filling material
Has two different heights
Return within 90 days and get a full refund
Cons
Not ideal for side sleepers
Only available in queen size
---
9. Mkicesky Side Sleeper Contour Memory Foam Pillow
Another perfect pillow for side sleepers is this Mkicesky Sleeping Pillow. Made from high-quality memory foam, it is designed to relax any tensed and fatigued muscles on the neck, shoulders and upper shoulders.
It is CertiPUR-certified meaning you can be sure of a night of fresh breath all night. Certified pillows just like every other certified product go through a series of tests to confirm that it contains no harmful products. Another cool thing I liked about this orthopedic memory foam pillow is that the cover is removable and washable.
Looking at the design, the edges have subtable cut-aways that provide your shoulders with support. The center has a hollow design where you put your head and it remains intact all night. Ideal for tossers and turners who wish to have minimal movement at night. One side of the orthopedic pillow is slightly higher and is perfect for back and side sleepers.
Pros
The butterfly-shaped design contours naturally to the head and neck
Helps relieve neck pain and shoulder tension
Hypoallergenic and washable bamboo cover
The pillow comes with a cover that's resistant to dust mites.
CertiPUR-US certified 
Can help reduce snoring
Comes in two different heights for different needs
Cons
Some people may find this orthopedic memory foam pillow too firm
The sizing is not of a standard pillow size
---
10. Perform Pillow Medium Profile Memory Foam Neck Pillow
This medium profile memory foam pillow from Perfom is specially made for people with frequent neck pain and stiffness. It can be used by any type of sleeper, however, side sleepers will have to flip it over to make it suit them.
Made of a blend of 56% polyester and 43% bamboo, the cover is super soft and smooth to touch. The bamboo composition makes it resistant to bacteria and odor, which is very important in a pillow cover. The cover can be removed, machine washed and returned without it losing its shape or quality.
You can choose to dress it with a pillowcase, but even without, it looks just great. And given that you can wash it, you don';t have to worry about how to keep it clean. And the most amazing part is that both the cover and the pillow are breathable. A very important health concern especially for people with breathing and respiratory problems.
Being a memory foam pillow, it is soft, comfortable, and retains its shape even after long periods of use. Unlike with shredded foam pillows, you won';t experience any lumpiness in some places. It totally conforms to your body and springs back to its shape within 5 seconds.
It comes in a variety of thickness, thin, medium and thick so you get to choose what suits your sleeping position. And what is amazing is that all the sizes come at the same price.
Pros
Available in different profiles
Suitable for all sleep styles, including side sleeping
 May help provide relief for neck pain
Memory foam springs back to shape in 5 seconds or less
Removable and machine-washable cover
Highly breathable
Hypoallergenic and resistant to dust mites
Cons
Takes a lot of time to release heat hence you will sleep hot on most nights
Some people may need more time to adjust to this pillow due to its firm defined shape
---
What Is an Orthopedic Pillow?
Orthopedic pillows borrow their name from orthopedic which is a medical term referring to the study of human skeletons and muscles. Doctors in this field focus on the correction, prevention and treatment of injuries, trauma, and conditions of the skeletons and muscles.
Orthopedic pillows are just one of the alternatives for treating these symptoms and conditions. They are specially designed to provide comfort and help manage any neck and back pain caused by either injury, wrong sleeping posture, sciatica pain, and so forth. Basically, they alleviate the pain to give you comfortable and better sleep quality.
Orthopedic pillows are also known as therapeutic pillows as they also help in dealing with non-orthopedic problems such as snoring, difficulty in breathing, gastroesophageal and blood circulation issues.
Most of the orthopedic pillows are made of memory foam and microfiber which are very responsive materials. They easily take after the shape of your neck and head. This way your neck is cradled so as to keep your head in a neutral and aligned position that does not strain your back. It ensures that your neck, head, and back are properly aligned and supported for pain-free sleep.
These orthopedic pillows come in varying sizes, shapes, firmness and fillings just like normal pilows. What determines the variant to choose is mostly your sleeping position and your condition. For instance, if you constantly suffer from lower back pain then you would need an orthopedic leg pillow to raise your hip and leg so as to properly align your lower back. This reduces the pressure exerted on your lower back as well. The different types of orthopedic pillows are designed to reduce pressure, tension, and pain in different parts of the body.
To sum it up, orthopedic pillows are specially designed medical'' pillows that help to alleviate pain on different parts of the body. Choosing the right pillow guarantees you a good quality sleep,  translating to better physical and psychological health. Good sleep good life, I must add.
Different Types of Orthopedic Pillows
There several kinds of orthopedic pillows and each type of pillow is designed for a specific purpose. Here we list the most popular.
1. Cervical Pillows
Cervical pillows also go by the name contour pillows and have a distinctive curved design. These orthopedic pillows are specially engineered to provide alignment to the head, neck, shoulders, spine, and back either when lying down for a rest or when sleeping.
Cervical pillows are often recommended by orthopedics to relieve neck and shoulder pains, stiff neck, snoring, sleep apnea, frozen shoulder and breathing difficulties in some cases. These types of pillows are popularly made from memory foam, latex, and polyether foam. Their distinct concave design is effective in cradling your neck and head to provide the proper alignment.
Unlike other types of pillow fillings, cervical pillows don';t sink in and flatten after a couple of uses. This is because foam is known to be responsive. It takes after the shape of your head and neck when you lay on it and bounces back to its original shape when you take your head off.
The downside to these pillows though, is that they only come in a predefined shape that can not be altered. You cannot mold or squish it to any other shape. Also, as is with most memory foam pillows, they are not breathable and tend to cause heat build-up after some time. However, some are infused with gel or perforated to provide cooling.
2. Neck Pillow
Neck pillows also go by the name travel pillows. I am certain you have seen one of these when on flights or long travels. A neck pillow is designed to fit around and support your neck when sitting for long hours. They also make it comfortable to sleep when sitting for long. They are normally shaped like a horseshoe and help a great deal in preventing neck pains and stiff neck.
3. Full Body Pillow
This is a long curvy pillow that is specially designed to fit your entire body. It is meant to provide support to the neck, head, back, spine, and tummy for the pregnant. In fact, it was first designed for pregnant women, however, anyone can use it to alleviate back pain caused by disc herniation, bulging discs, spinal arthritis among other back pains. Side sleepers would benefit most from it as side sleeping tends to make this pain worse.
4. Knee Pillow
This is an hour-glass or wedged designed pillow that is usually placed under the knee or between legs to straighten the spine. The wedge-shaped side is placed under the knee by back sleepers and the hour-glass shaped part is placed between the legs by side sleepers.  It provides support to both the lower back and the hips. It also prevents joints and skin from rubbing against each other to prevent aches and pains. Knee pillows are also highly recommended to promote the circulation of blood in the legs to prevent neck cramps.
5. Lumbar Pillow
Shaped like a half-moon, the lumbar pillow is often used when in a sitting position to support the lower back and legs. If you have lumbar back pain, this is the best pillow for keeping you in a correct posture to avoid straining your lower back. You can also use it to elevate your legs or support your neck when lying down.
6. Wedge Pillow
Another very popular and versatile orthopedic pillow is the wedge pillow. Just as the name suggests, it is wedge-shaped and can be used to support any part of your body from the head all the way to the legs. It is mostly used to deal with sleep issues such as sleep apnea, snoring, difficulty in breathing as well as reduce symptoms of acid reflux.
7. Water Pillow
Water pillows are perfect for any type of sleeper since they can be adjusted to whatever height is comfortable for one';s sleeping position. In most cases, back sleepers would prefer a higher loft while side sleepers would prefer a thinner water pillow.  To get the right size, fill water gradually as you check the firmness. To get the best of a water pillow, this is a very crucial consideration.
Because the firmness and thickness can be adjusted, water pillows give the best support and alignment to the head, neck, and spine. Hence, this type of pillow can also be considered as an ideal pillow for neck and back support.
Buying an Orthopedic Pillow
Given that there are so many orthopedic pillows in the market today, it may be challenging to know how to go about picking what is not only comfortable but also suitable to your needs.
There are different types of pillows for different ailments and for different kinds of pain as such you must use an orthopedic pillow meant to alleviate that specific ailment. For instance, if you have problems with your blood circulation when sleeping then a leg pillow to keep your legs elevated would be best. In this guide, we will take you through what to outlook for in an orthopedic pillow.
Support
The topmost consideration when buying an orthopedic pillow is the type of support you are looking for. Different pillows will offer different types of support to different body parts. For instance, when looking for a pillow to ease neck pains and stiffness then a neck pillow would be most ideal as opposed to, say, a full body pillow. Get the point? Different support, different pillows types.
Sleeping Position
You should know by now that not all orthopedic pillows ensure a good night's sleep. There are specially designed pillows for side sleepers, back sleepers, tummy sleepers, and some that can be used by all sleepers. 
Side sleepers make the largest population, followed by back then tummy so you would expect that most orthopedic pillows can be used by side sleepers. Of all sleepers, combination sleepers have the most challenging time finding the right pillow. If you are in this category or aren';t still sure of your sleeping position, it is best that you pick a pillow with a duo-profile. This simply means a pillow with both high and low profile. This will provide you with proper neck support in whichever position you sleep, also making it an ideal pillow for neck pain.
Price
One thing you should certainly expect is that orthopedic pillows are costly compared to normal pillows as such be prepared to cough some good amount to get the best orthopedic pillow for your ailments or conditions. Their prices range from $30 all the way to $200. And in most cases, the pricier the more effective and more durable. I would highly advise that you have a figure in mind and try as much as possible to stick to it.
Filling
Orthopedic pillows, just like normal pillows are made of different materials and fillings with the most common being memory foam and bamboo for the cover. The only challenge with memory foam is that it is very sensitive to heat and tends to retain heat for long giving you a hot sweaty night. The other great alternative is latex which is perfect for those with sensitive skin. Like memory foam, it contours to the shape of your head and neck making it super supportive as an orthopedic pillow. Whichever material however that you choose, be it latex or memory foam,  it is best to weigh its pros and cons before investing.
Certification
We all know manufacturers can be crafty at times and will hardly tell us of the hazardous effects of some of their products. Some materials used even though all-natural emit air that can cause you respiratory problems. That is why it is best to buy products that are certified. Certifying bodies take into consideration a lot of tests before approving and certifying brands. An example of a good certification body that deals with foam products is the CertiPUR-US. As you do your research, you will find that the best orthopedic pillows are CertiPUR-US certified and some even have multiple certifications. This is even better as you are sure you are buying a product that is purely toxins-free.
Ease of Cleaning
Over time pillows collect a lot of dust and dirt and will need to be cleaned. But cleaning can only be possible if your orthopedic pillow is easy to clean. You can clean it by either machine washing, hand washing or vacuum cleaning it. However, not all pillows are washable so it';s always a good rule of thumb to counter check the manufacturer';s instructions.
Cover
A pillow cover is vital because it is what your skin comes closest to in a pillow. The best covers are ones that are breathable to allow for air circulation. Also, look out for removable and washable covers. These are very practical in maintaining the proper hygiene of your pillows.
Other Features
These features are optional but it would be nice to have.
Zippered removable cover
Hypoallergenic properties
Adjustable thickness
Adjustable neck support
Frequently Asked Questions
We understand that choosing the right orthopedic pillow can be challenging. Below are answers to frequently asked questions to help you pick the best pillow for your sleep style.
1. What is an orthopedic pillow?
An orthopedic pillow is a specially designed pillow that is used to alleviate pain, pressure, or tension in any part of your body. An orthopedic pillow can be prescribed by a specialist or not. It is used to ensure that you sleep in the correct posture all night long.
2. What is the right orthopedic pillow for me?
The right pillow for you will largely be determined by the condition you intend to treat. For instance, if you have a stiff neck then a neck pillow will be the right one for you. Another thing to consider when looking for the right pillow is your sleeping position.
3. What pillow firmness is most recommended?
Just like normal pillows, the firmness and thickness will be determined by your sleeping position. Just ensure to get one that easily contours to your head and neck to give proper support and alignment.
4. Why do I need an orthopedic pillow?
If you have been experiencing constant pains, aches, and fatigue every morning when you wake up you need an orthopedic pillow to support proper spinal alignment to get rid of all that.
5. I don';t like memory foam because it makes me sleep hot, what can I get?
Well, you can still get memory foam pillow because of how it cradles your neck and head for maximum support but get one that has a bamboo cover. The bamboo cover will help in releasing excess heat within the memory foam as it allows for air circulation.
Bonus Tips
As with everything new, give yourself a bit of time to get accustomed to the new feel and firmness of an orthopedic pillow. This is especially so if you have only been using an ordinary pillow. Orthopedic pillows are firmer than normal pillows. As well, give the pillow some time before you can start expecting to see results.
Also, be very sure of your ailment so that you can get the right orthopedic pillow. However, you should get an orthopedic';s recommendation to ensure that you're choosing the right pillow that will give you the best results with your condition. 
Conclusion
And we have come to the end of our extensive guide and review of the best orthopedic pillows. I hope you have garnered enough information and are now at a better place to buy yourself an orthopedic pillow. Be sure to get one that is comfortable, offers maximum support, is certified as well as easy to keep clean. And don';t forget to confirm if it is suited for your sleeping position. This is one aspect most buyers forget completely.
All the pillows we have reviewed meet all these conditions and our review is a great place to start your search. I hope to hear from you real soon about how helpful your orthopedic pillow has been.