Tencel sheets enjoy the popularity of being a guilt-free choice that has a significant impact on the environment – in a better way. The product uses eco-friendly and non-toxic chemicals during its manufacturing process. It is not only safe for the environment but is also recyclable.
Not only are Tencel sheets made to be soft and fresh, but there are also types of Tencel that are versatile and can simulate a variety of textures of other materials. Furthermore, because they use eco-friendly and harmless chemicals, they are skin-friendly and do not pose risks of irritation or allergies to those with sensitive skin.
Tencel sheets exhibit excellent durability, softness, breathability, and smoothness. The bedsheets are strong, smoother, more durable, and more lustrous than cotton sheets. However, it's only fair that Tencel sheets are far more expensive than any other materials commonly used for bed sheets. If you plan to get the best Tencel sheets, be sure you get the qualities and top picks you want while the price is within your budget.
10 Best Rated Tencel Sheets Reviews
1. ABRIPEDIC TENCEL SHEETS
These white Abripedic Tencel sheets will never let you go back to sleeping with cotton sheets ever again. The Abripedic Tencel sheets come in a set of four silky white bed sheets that feel amazingly smooth to the touch.
Features
The bedsheets are 100 percent Tencel Lyocell sheets woven from raw eucalyptus trees. They have a 300-thread count, making them soft like cotton fabrics with 800 to 1000 thread count. The Abripedic Tencel sheets with high thread count also have a far smoother and silkier feel than cotton and linen sheets, and it's also 50% more absorbent like cotton.
Abripedic Tencel sheets are perfect for all temperatures and seasons. Whether it's blazing hot in the summer or chilly in the winter, there will never come a time you'd find discomfort using them. If you're having trouble keeping your body temperature warm in the winter and keeping cool in the summer, but you don't have the budget to buy something to go with your bed in different seasons. Temperature-regulating Tencel sheets have the right price point and are the most cost-effective option you'll get.
The extravagant temperature, regulating the Tencel and cotton texture of the bed-sheets is very comfortable and relaxing. It helps promote relaxation for those who sleep hot due to its silky smoothness and crisp feel. You don't even have to worry about getting skin allergies for the sensitive skin. Indulge in worry-free relaxation with these best Tencel sheets.
The queen-sized four-piece eucalyptus lyocell sheet set includes a fitted sheet of 60″ x 80″ which can fit up to 18″ sized mattresses, 92″ x 102″ flat sheet, and two pillowcases with 20″ x 30″ standard size.
Pros
100% Tencel Lyocell sheets that is machine washable with cold water
Affordable price for a set of four sheets Tencel
Skin-friendly and worry-free relaxation for sensitive skin
Perfect for all seasons
Feels incredibly smooth and high-quality thread count unlike linen sheets
Cons
White Tencel sheets are prone to staining due to the Tencel sheets moisture-wicking ability to absorb natural skin oils
They are delicate and can be easily damaged by sweat
---
2. Linenspa 1500 Series 100% Tencel Ultra Light Sheet Set
The mustard-colored Linenspa 1500 Series Tencel sheet set looks as delectable as it feels. Exquisite and comfy set includes a delightful sheen that shows off its extravagant luxury. With sheets so soft and light, these can be the perfect covers for your bed.
Features
The Linenspa features a texture that's so similar to the soft feel of bamboo sheets. Not only that, Linenspa Tencel sheets are eco-conscious and have high breathability to help promote airflow and temperature control.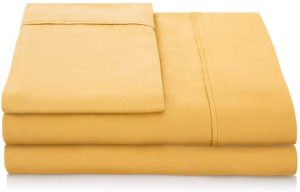 Tencel Lyocell's unique property to absorb and keep away moisture is superior to cotton's. These breathable and eco-friendly Tencel sheets will keep you cool in all types of weather. You will feel warm in the winter and refreshed during the summer nights.
Not only does Tencel sheets excel in temperature control and moisture-wicking management, but it also inhibits bacteria growth by keeping away moisture from staying in one place. It means that not only will you sleep at a temperature conducive to sleep at all times, but you will also sleep with clean sheets. Furthermore, you also get to sleep without worrying about getting allergies to sensitive skin, thanks to Tencel's skin-friendly property.
The twin-sized Linenspa sheet also comes with deep pockets that let it fit mattresses up to 6 to 22 inches fitted sheets. The set comes with a 39″ x 75″ fitted sheet, one pillowcase with 22″ x 36″ and 79″ x 101″ flat sheet.
Pros
100% woven Tencel Lyocell sheets
Comes in a set of three Tencel sheets
Skin-friendly and hygienic for sensitive skin
Deep pocket design for a snug fit
Feels just as smooth and incredible as bamboo sheets
Cons
Not as smooth and silky soft compared to more expensive Tencel sheets
It tends to snag and pill with only one pillowcase
---
3. WOVEN Tencel Sheet Set
The WOVEN Tencel Sheet set is as naturally white as woven with cotton Tencel. The stunning white color of the Tencel sheets set makes them look like cotton sheets but more lustrous and feels just better overall. With its smooth and delicate texture, you will never go back to sleeping on anything else ever again.
Features
The WOVEN features everything the best Tencel sheets have to offer. The first thing to notice of the best Tencel sheets is the texture. It doesn't just look incredibly smooth and soft, but it also feels like the best Tencel sheets when you touch it. You can never expect less from a material type that feels better than cotton Tencel and looks as smooth as silk. What's more, you have nothing to worry about if you have sensitive skin.
Aside from its thermoregulation properties, The best Tencel sheets are capable of moisture-wicking and are 50% more effective than cotton Tencel, making sure you're comfortably dry as you sleep. You don't need to worry about cleaning it either because it is easy to clean and maintain even when line drying.
The WOVEN comes with universal fitted sheets that secure and smoothly fit mattresses of 6 to 22 inches with its ultra-thick full-length elastic band pockets. The set comes in with a 78″ x 80″ fitted sheet, 116″ x 106″ flat sheet, and two pillowcases of 22″ x 42″.
Pros
It comes in a set of 4 Tencel sheets
100% High-quality Tencel Lyocell fabric
Extra-Deep Pocket depth feature or elastic band to securely fit up to 22 inches mattresses
Eco-friendly and skin-friendly for sensitive skin
Easy to care and Machine washable with less water needed and fabric softeners.
Cons
It's twice as expensive as other similar types of sheets Tencel products
It is prone to staining due to its natural white color
---
4. Rivet Cotton Tencel Bed Sheet Set
As an Amazon brand, the Rivet Cotton Tencel bed sheet set can make quite a good impression of its price. This eco-conscious deep-sea-blue-dyed hybrid fabric is a fusion between cotton and Tencel. The moment you see a sheen on its surface and feel its soft -breathable texture, you'll know it has cotton Tencel on it.
Features:
The Rivet is a mixed fabric composed of 70% Cotton and 30% Tencel. Considering Tencel is an expensive material, the lowered Tencel composition means it is cheaper and has benefited from Tencel-made products.
The soft 400 thread count cotton component is mixed with Tencel to provide more breathability. The 400 thread count Tencel-cotton blend allows you to stay cool in summer and warmer in winter. It is quite strong and durable than pure Tencel products, but it's not as smooth.
The deep-sea blue color also prevents minor stains from lingering as both cotton and Tencel are highly absorbent to moisture. A piped helm finish gives it a classic and clean look with a duvet cover.
The Rivet can fit mattresses up to 17 inches and comes with one fitted sheet, one flat rivet sheet, and two pillowcases. It is also easy to machine wash using warm water and tumble dry on medium. However, never bleach to avoid ruining its color into light blue.
Pros
Mixed sheets are made of 400 thread count of 70% cotton 30% Tencel
It's cheaper due to its material build
It comes in a set of 4 Tencel sheets
Stronger and more durable than pure Tencel sheets
Breathable and helps keep you cool in all seasons
Cons
Not as silky smooth as 100 percent Tencel sheets
Not wrinkle resistant like percale sheets
---
5. DTY Bedding Premium 4-Piece Tencel Lyocell Sheet Set
The DTY Bedding Premium 4-Piece Tencel Lyocell sheet set takes the Tencel sheets beyond gorgeous with their lucrative sateen finish. The sheen is highly noticeable thanks to its elegant lilac color.
Features
The DTY Bedding makes use of premium 100% Tencel Lyocell sheets. It offers the same long-staple features that Tencel sheet products can offer. With thermoregulation properties and moisture-wicking, it can help you stay cool and dry. Because moisture is absorbed and released through the air, this prevents bacterial buildup. Not only will you get to sleep through the heat or cold, but you'll sleep under and on top of clean Tencel sateen sheets.
What's more? Tencel is from eucalyptus trees. Eucalyptus lyocell sateen sheets have smooth and soothing properties making them gentle and non-irritating to your skin. It is also because Tencel sheets are made from non-toxic chemicals during their manufacturing process that makes them skin-friendly.
Not only is the Eucalyptus lyocell sheet set skin-friendly for all types of sleepers, but it is also OEKO-TEX certified eco-friendly, having a low environmental impact. The trees used in the production of the Oeko-tex bedding option are raised and processed with eco-friendly practices. There is not a single pesticide and toxic chemical used in the manufacturing process.
The DTY Bedding's sateen finish has a 320 thread count that feels like Egyptian cotton with a whopping 1000 high thread count, making it a top-quality product on the market with a sleep trial return policy.
The Eucalyptus lyocell Tencel sateen sheets come in a set of 4 sheets, including two pillowcases of 36″ x 20″, 108″ x 105″ flat sheet, and a 78″ x 80″ fitted sheet. This Eucalyptus lyocell fitted sheet one is also fully elasticized all the way around.
Pros
100% Good quality Oeko-tex certified and wrinkle-resistant Tencel sheets
It comes in a set of 4 sheets Tencel sheets
It has a 320 thread count that feels like Egyptian cotton with a thousand thread count quality sheets
Has elegant Tencel sateen sheets
It comes with free shipping and a 90-Day sleep trial Satisfaction-Period and a return policy
Cons
Slightly more expensive
The measurements are larger than standard sizes.
---
6. GhostBed Queen Premium Tencel Luxury Soft Sheet Set
When you mix revolutionary synthetic Tencel fibers and a Superior type of long-staple cotton fibers, you get an exceedingly resilient product that excels in quality. The GhostBed sheets take quality beyond expectations like one of the best Tencel sheets by weaving these two materials in a tighter, patent-pending process than a percale weave. What you get is a best-of-both-worlds quality with long-staple cotton and a blend of Tencel that is incredibly rare to obtain when making a hybrid Tencel fabric.
Features
Supima cotton is a higher type of cotton fibers that are grown in the United States. It's also rare considering it represents less than 1% of the cotton grown in the whole world. Supima is famed for its unique and premium qualities, such as strength, softness, and color retention.
By itself, it is already a premium quality material that makes premium quality products. When combined with Tencel fibers, which is also a premium quality material, you get quality that can exceed expectations. With a composition of 60% premium Supima cotton and 40% Tencel fiber, you get a product with the best luxury of texture that has the softness of silk and the strength of polyester sheets. It is also cool like linen and warms like wool because of its temperature regulation.
Add in Tencel's superior absorbent property, and you get this extraordinary quality never seen or experienced in any other Tencel fabric. It is also wrinkle resistant and dust mite resistant. It makes it worry-free for those suffering from allergies and sensitive skin.
The GhostBed comes in 4 sheet sets. The set includes a 95″ x 105″ flat Ghostbed sheet, a 60″ x 80″ one fitted sheet with a fully elasticized Ghost Grip elastic feature that allows the Tencel sheets with cotton fibers to fit any mattress 18-inch thick or king-size, and two pillowcases of 20″ x 31″.
Pros
Made with 60% Superior Supima cotton and 40% Tencel fibers
Extremely breathable and excellent temperature regulation
Resistant to allergens, bacteria, and dust mites
The sets come with one fitted sheet that can be stretchable.
It comes in 4 sheet sets that are moisture-wicking
Cons
It's the most expensive item and the best luxury on this list
It can stain easily
---
7. Linenwalas Luxury Tencel Lyocell Sheets
The attractive sheen of the charcoal gray color from the Linenwalas Luxury Tencel Lyocell Sheets gives an elegant and premium vibe. If white is too plain and ordinary for your taste, this color might be a refreshing option for you.
Features
The Linenwalas uses luxurious 100 percent Tencel sheets. You can expect the same high-class royal hotel-quality comfort with these luxury sheets and indulge in its silky softness like a celebrity. The luxury sheets have a 300 thread count and have a higher absorbent quality than cotton while also boasting better softness than Egyptian cotton and Cashmere sheets. You'll never go back to ordinary sheets after experiencing the Linenwalas luxury Tencel sheets.
The Linenwalas Sheet comes in 4 sheet sets, which includes a 60″ x 80″ fully elasticized fitted sheet, a 94″ x 102″ flat sheet, and two pieces of 20″ x 30″ pillowcases. It has a deep pocket system that allows it to fit mattresses up to 16 inches thick.
What sets the Linenwalas apart from other luxury sheets is that it comes in an elegant package that makes it the perfect gift for any occasion. It is in a beautiful Tencel fabric bag of the same color as the sheets tied with a satin string.
The Linenwalas sheets Tencel with 90-day return policy also come with easy care washing instructions. They are preferred washed in cold water. The cold water avoids the likelihood of pilling and drying on low heat and remove it immediately.
Pros
Cheap and affordable
It makes the perfect gift thanks to its beautiful packaging
The sets come in 4 Tencel sheets
Offers a 90-day free replacement period or return policy
Easy to care instructions with less water needed.
Cons
It's thinner than other products on the list thus
Stains can be very hard to wash off since you can';t use bleach
---
8. Elegant Bedding Tencel Sheet Set
This lovely body temperate-regulated bedding from Elegant Bedding is with Tencel fibers. It has an elegant and extravagant-looking sage color with an elegant sheen to complement any room ambiance.
Features
It is from 100% Tencel Lyocell fibers produced from the wood pulp of Eucalyptus trees. These trees are renewable resources, thus reducing a negative impact on the environment. Tencel is renowned for its balanced moisture management and temperate regulation attributes, and it proves to be in high demand despite the price it fetches in the market.
Who couldn't resist getting comfy with its soft, silky, and skin-friendly texture of Tencel sateen sheets? No matter what time of the day or what weather comes, hot sleepers always feel comfortable. The sheet used has a 300-thread count making it far softer than any cotton fabric and sateen sheets. It just feels so good that you'll never sleep with anything that isn't as good.
The 300-thread count Elegant Bedding sheet set comes with one 72″ x 84″ fully elasticized fitted sheet with a Deep Pocket feature that allows it to secure a snug fit to mattresses up to 18 inches thick, one 110″ x 102″ flat sheet, and two pieces of 20″ x 40″ pillowcase. Tencel sheets are available in many sizes.
Pros
Made from 100% Tencel Lyocell fibers with the return policy
Attractive Sage color that can perfectly fit any room setting
Fully elasticized and can cover mattresses up to 18 inches thick
It comes with four sheet sets
The top sheets are a generously large area like twin xl, split king, queen, king, and California king sizes.
Cons
It's expensive to some other similar products on this list
It can be hard to clean with washing machine when stained
---
9. Brookside – Tencel Sheet Set
The Brookside Tencel Sheet Set is among the cheaper alternatives where quality meets a reasonable price range. Surprisingly, it is from 100% Tencel materials, so you get your money's worth at an amazingly affordable price! You'll never go wrong in choosing Tencel with its silky smooth and thermoregulating properties for those who sleep hot. The eco-friendly Tencel sheets don't use toxic chemicals in their manufacturing process. You don't need to worry about getting allergies because it guarantees that it's friendly to your skin and wicks away moisture.
Features
The Brookside is as white as its pure Tencel fabric. A sateen weave gives it a lustrous sheen, which adds more visual appeal to it. The sateen weave sheet set is gorgeous and, paired with its luxurious feel, goes well in any room. It's also perfect for any weather or at any time of the day.
When the climate is too hot or too cold, you'd still feel comfy and snug without any care in the world when you have these Tencel sheets. Whether it's for yourself, your friends, or your guests in your home, anyone who sleeps hot will surely enjoy the comfy feel of Tencel sheets. Even your pets will love a sateen weave Tencel sheets too.
The Brookside Tencel sheets come with one 78″ x 80″ fitted sheet with an incredible extra-deep pocket that can fit king sizes mattresses up to 22 inches thick! What's more, it's also fully elasticized, which provides an overall snug fit. This sheet set comes with a fitted sheet and two pillowcases measuring 20″ x 40″ with one 108″ x 102″ flat sheet
You get all these quality features of soft sheets in a surprisingly cheap deal with the Brookside Tencel Sheet Set!
Pros
It has the Cheap and Affordable
Made from 100% Tencel sheets
Features a nice sateen finish, not like percale sheets
The all-around elastic fitted sheet can cover mattresses sizes Including twin xl, full, queen, king, and California-king up to 22 inches thick.
It comes in a set of 4 Tencel sheets.
Cons
The sheets Tencel are not wrinkle-resistant
Can get stained easily
---
10. Superior 600 Thread Count Tencel Blend Sheet Set
The Superior Tencel Blend Sheet Set is the most affordable item on this list. But don't be fooled by the price. The Superior holds up to its quality despite its price. Despite not being on par with other more expensive products and luxury sheets, if you're looking to get the best Tencel sheets for your small buck, then this is worth considering.
Features
The Superior offers the best Tencel in affordable luxury with its Tencel Blend Sheet Set. For cost-cutting and quality modifications, the right amount of polyester added to create a perfect blend of the best Tencel and polyester, exhibiting qualities from both fabrics. It has 55% Tencel and 45% Polyester.
The result is a strong, highly durable, silky soft sheets, and breathable fabric. It also retains Tencel's highly absorbent property, so this will keep you comfy, get softer and dry throughout the night. The Superior lives up to its brand by boasting a superior 600 thread count. Though not the 100% best Tencel, it still beats cotton in terms of softness and smoothness.
This gray Tencel sheet set is a high-quality single-ply made with a sateen weave that gives it a gorgeous and sophisticated look that also enhances its strength and durability. The wrinkle-resistant sateen weave Superior comes with a fully elasticized 60″ x80″ fitted sheet with deep pockets to fit mattresses up to 18 inches thick. A 90″ x 120″ flat sheet comes with two 20″ x 30″ pillowcases.
Pros
It has the cheapest and most affordable price tag among other items in the list
Has a 600 thread count that ensures a quality softness and smoothness
Retains features from both the best Tencel and Polyester
Wrinkle-resistant Tencel sheet sets
The Sateen weave enhances its luster unlike percale sheets
Cons
It's not as good as the other more expensive products on the list
Needs additional care when line drying or washing to avoid pilling and damaging the stitching
---
What is Tencel?
Tencel is a trademark Lyocell brand currently owned by The Lenzing Group. Tencel fabric brand developed from Lyocell, a form of rayon consisting of cellulose fiber made from dissolving wood pulp. The cellulose fibers came from eucalyptus trees. A non-toxic organic solvent is used to treat this dissolving pulp and breaks it down into a solution. After draining the solution, the remaining cellulose fibers can be woven into yarn and then into a piece of fabric.
Tencel sheets are available in different sizes. It is notable for its soft and absorbent properties. These breathable sheets are soft and strong when wet or dry, and it is wrinkle resistant. It is highly versatile, eco-friendly, and a good bedding option as it can also produce the texture quality of percale sheets, leather, suede, and silk.
Types of Tencel Sheets
Considering Tencel sheets are very pricy to make and obtain for the manufacturing process, it is only natural that several manufacturers will try to combine Tencel sheets with other natural or eco-friendly synthetic fabrics. This combination would result in the enhancement of qualities from both materials that the end product would inherit.
Tencel Lyocell is renowned for its softness, smoothness, breathability, and moisture-absorbing efficiency. Lyocell is a rayon consisting of cellulose fiber made from wood pulp. Lyocell is the third generation of rayon processing technology. It falls between synthetic and natural fibers referred to as regenerated cellulose fiber. The fact that it is man-made with botanic or natural origin.
Not all Lyocell is equal, however. Tencel branded Lyocell is different than of generic Lyocell. For a product to be called Tencel, it should have at least 30% of the specialized Lenzing fibers in its composition.
Tencel modal is the next generation of technology to succeed Viscose created by Lenzing. He currently owns the Tencel trademark, but many manufacturers now have their versions. Tencel Modal is also made from wood pulp but with a different process than Lyocell.
However, they both use the same production process. The difference between the two is that Modal may receive a closer touch and feel than Tencel Lyocell. Modal get softer and is into thinner fabrics than Tencel Lyocell.
It is the product of combining Tencel and another organic like Egyptian cotton or synthetic fabric. It helps to produce a product that retains the qualities of both materials. The reasons why this existed include cost-cutting and quality enhancement. Depending on the blend that different manufacturers create, they can make a cheaper and competitive alternative to pure Tencel sheets.
Advantages of Using Tencel Sheets
Tencel sheets have a reputation to uphold as a remarkably silky smooth sheet that's even softer and more absorbent than Egyptian cotton and the like. They set the bar high when it comes to quality. The major downside, however, is that they are expensive. So why should you bother when you could afford something cheaper?
The following is a list of advantages that Tencel sheets may receive and enjoy over other fabric:
Sheet made of Tencel can give you that smooth feel than both silk and cotton. It has slightly less luster than silk and a slightly crisp feel. Nonetheless, this attractive sheen is what makes it appealing at first glance. It also remains a smooth feel and cools to the touch.
Several Tencel sheets also boast wrinkle-resistant features. It is a useful feature for those cautious with neatness like ironing on low heat and regularly keeping their bedroom tidy.
Tencel is from the processed inner wooden pulps of eucalyptus trees. These trees are fast-growing renewable resources, so there is no need to worry about obtaining supply over demand. Eucalyptus trees also don't need much room to grow and require less irrigation to grow than cotton, which consumes more water.
The processing is through a closed-loop system that makes sure that the chemicals used to process the wood pulp into the fabric is reusable. The water used in production also uses the same closed-loop system. There were no toxic chemicals used. They are not released into the environment making it eco-friendly. Eucalyptus trees also are easier to maintain, eliminating the need for pesticides that are harmful to the environment.
Tencel does not need chemicals known to cause skin irritation such as bleach and formaldehyde. These are used in the production of several other materials into the fabric for sheets and bedding.
Thermoregulation and Breathability
Several synthetic materials lack the breathability of natural fabric and cotton. However, sheets made from materials Tencel can promote the circulation of airflow for hot sleepers, which, in turn, prevents hot air from becoming trapped. By allowing the warm air to leave, colder air will take its place, thereby cooling your body while you sleep.
Tencel is 50% more absorbent than Egyptian cotton, making it able to absorb moisture effectively so that you stay dry and comfortable throughout the night. This is great for hot sleepers who live in warmer climates.
Tencel sheets waste material is biodegradable. It may be a synthetic materials Tencel, but it can be broken down and revert to nature without harming the environment.
What Key Features to Look for When Buying a Tencel Sheet
The innovative marvels such as Tencel sheets are expensive to create. With all the benefits they have to offer, it is no surprise that Tencel sheets fetch a high price tag at the market. But when it comes to your comfort and well-being, you shouldn't be thrifty. However, getting the right product doesn't necessarily mean it has to be expensive. It's always a great choice to invest in more expensive options, but this isn't all the time correct, especially when there are options that are cheaper but have better quality and easy to care for.
The following are key features you should look out for to find the best Tencel sheets for your bedroom:
Build Quality and Durability
Determining the closed-loop process and build quality of the Tencel sheet is essential, so you know what to expect in its quality. It involves type of Tencel sheet, stitching used like percale weave, closed-loop process, the thread count, the duvet covers, and other factors that affect the overall construction of the sheet.
Some prefer 100 percent Tencel sheets others prefer Tencel blended sheets, especially blends that contain cotton. Cotton adds more strength and durability to the sheet, increasing its longevity further than pure Tencel sheets. Build quality also involves how well the Tencel fabric can endure being machine washed. The Tencel fabric sheets are made with a closed-loop system of durable synthetic-fabric. Like all fabrics, it is machine washable but is easily damaged too.
You need to find a Tencel sheet that perfectly fits your mattress. Whether you want some little bit of allowance or not, the bed sheets mustn't have too short sizes like twin xl sets, or too large like California king sizes or split king. Tencel sheets are available in all sizes including twin xl, full, queen, king, California king, and split king. Otherwise, you'll suffer from sleeping inconvenience.
Consider it a bonus if the Tencel sheet is stretchable to get a snug fit on your mattress.
Aside from aesthetic impact, the color options of the Tencel sheets that suit you must be based on how warm or cold the climate is in the place you live. Lighter colors reflect light, so it absorbs heat less than darker color options. However, if the environment is too warm and you tend to sleep hot and sweat a lot during these times, you might want to avoid white Tencel sheets.
Tencel sheets are highly absorbent to moisture, and this includes moisture from natural body oils and sweat. Because of this, it's easy to stain Tencel sheets, and they can be hard to clean. In contrast, darker color palette bed sheets may be warmer than lighter colors, but the stains are less visible. However, they are harder to clean.
Tencel sheets tend to be breathable. However, some blends are less breathable than other products purchased. If you plan on getting Tencel Blend breathable sheets, you must know what the other brand name component is. Check if it has Tencel and other properties on it. Cotton is a good match with Tencel due to both of their breathable nature. Be careful with other synthetic fabrics blended with Tencel. Other synthetic materials do not enjoy the breathability that Tencel sheets tend to enjoy.
Getting you and hot sleepers the most comfortable and uninterruptible sleep is the main goal for products concerned with the sleeping environment. The worst nuisance you'll ever get is getting itchy from skin irritations. Despite fibers Tencel sheets being overall skin-friendly and eco-friendly, there is no guarantee it will retain this property when blended with other fabrics. It is essential to take note of if the other component is combined with Tencel. Lastly, take note if the end product retains this property thus, retain a good environmental impact.
Frequently Asked Questions
Why do Tencel sheets have different quality if they're the same brand
Several manufacturers incorporate different constructions with the best overall fibers Tencel sheet sets that they make. For a Lyocell-based fabric to carry the rights reserved Tencel trademark, it must contain at least 30% of the Lenzing Fibers. In this regard, the higher the Lenzing Fibers a product has, the higher the quality you would expect for the best luxury.
There are also different types of Tencel sheets: Lyocell, Modal, and Blend. Lyocell sheets made thicker, and smoother, and breathable. Modal sheets are more delicate, softer, lighter, and thinner. Blend sheets are made by combining Tencel fabrics with another fabric. It will produce a product with the properties of both materials.
Is Tencel a natural or synthetic material?
Tencel fabrics fall between a classification between synthetic and natural. It is neither manufactured nor is it an entirely natural fiber. It is a man-made fiber made from botanic or natural origins. Experts often classify Tencel fabrics as a regenerated cellulose fiber with a botanic origin that is environmentally friendly.
Can Tencel be produced from other trees aside from Eucalyptus trees?
Generic Lyocell is often from wood pulp from oak and birch trees. However, Tencel Lyocell is eco-friendly because it is from eucalyptus wood harvested from sustained tree farms. Since eucalyptus trees are fast-growing, they don't require toxic pesticides and require very little water to grow. It is an efficient renewable resource that can be farmed and maintained. Not only would this pulp of eucalyptus help hasten the supply of raw materials, but it would also spare the environment from the adverse effects of deforestation.
Which is the best type of Tencel sheet?
It depends on several factors. If you have the budget, consider Tencel Lyocell and Tencel Modal sheets as a good choice. Both are similar in terms of softness, comfort, breathability, and moisture absorption. When it comes to softness and overall texture, the Modal sheets are better but thinner. But if you're looking for something a little thicker and cooler, Lyocell sheets should take the cake.
If you want a more budget-friendly option, Tencel Blend sheets are a good choice and are usually cheaper but less environmentally friendly than the other two types.
Conclusion
Getting the most out of your bedroom no matter what climate conditions come is a dire necessity for those who need sleep and relaxation. No one wants to wake up cranky in the morning or the middle of the night complaining about discomfort with their sleep surface. It is why some bedroom items that some consider luxuries have become top picks to comment-name the item as the best overall necessities.
Getting the best Tencel sheets that are environmentally friendly for your sleeping environment, can do wonders and help you deal with those discomforts. Sure, they may be pricey, but it all comes down to how keen you are on choosing the right eco-conscious product that not only suits your taste but also with the best budget you have. It must be environmentally friendly with a given day return policy, year warranty, or lifetime year warranty for manufacturing defects.
Related Posts:
Top 10 Best Fleece Sheets Reviews
Best Sheets For Adjustable Beds With Reviews