We may earn a small commission if you buy something via a link on this page. This doesn't impact our rankings or cost you extra. See
our advertising disclosure
for details.
Using a trundle bed can bring plenty of comfort and functionality to your house. You will be able to get more sleeping space without having to invest in more than one regular bed. And when your family or friends come over, you will not have any problems when it comes to accommodating them. A good trundle bed offers you extra space for storage as well.
If you are looking for the best trundle bed on the market, you are in the right place. We will introduce you to top-rated trundle beds that you can invest in but also show you how to choose the right one for your needs. Keep reading and find the trundle bed that suits your needs.
Top 10 Best Rated Trundle Bed Reviews
Here's our curated list of the highly rated trundle beds on the market. Check out the reviews and see which trundle beds suit your needs.
1. DHP Manila Twin Metal Daybed Frame and Twin Size Trundle
If you're looking for an extra twin bed for your home, DHP Manila daybed with trundle bed set is an excellent choice. You can choose this bed with trundle in 4 different colors – white, pink, gold, or bronze. You can also get this set in twin, king, queen, or full size bed options. The beds come with a Victorian design that adds class and elegance to every room.
Features
As for the lifespan of this product, you have no reasons to worry. The trundle bed frame is made out of durable material complete with metal slats to support your weight night after night. Every time you have overnight guests, this pull out trundle bed functions as a cozy guest bed. This roll-out trundle has a low profile comes with 2 casters that lock in place and two that don';t luck so you can move it anywhere you want in your house with no hassle. Another reason to opt for this piece of furniture is the easy assembly; both metal frames are easy to put together.
The main bed has three sides and is made to accommodate a twin-sized mattress of maximum eight inches thick and the twin-sized trundle bed frame can accommodate a mattress – memory foam or otherwise – of up to 6 inches thick. The weight limit is 400 pounds for the primary and 225 pounds for the trundle underneath. Aside from the generous weight capacity, another thing to appreciate about this trundle bed is the ease of assembly.
Pros
Easy to assemble daybed with trundle bed set
You can choose between several colors
There are four sizes of this set
Trundle bed can accommodate a twin size mattress of 6-inch thickness
Ideal for those who prefer trundle beds with a Victorian design
Both beds come with high quality metal frames
Weight limit of 400 lbs for the upper bed and 225 lbs for the trundle bed
Cons
Bottom and top mattreses are not included in this daybed-trundle bed set
---
2. Zinus Suzanne Twin Daybed and Trundle Frame Set
A great addition to your guest room or living room, this set could be the best trundle frame option for those who prefer functional and reliable trundle beds. The design of the Zinus Suzanne daybed and trundle bed set is very simple and minimalistic which makes this product the best investment for any type of house. You can use it as only a daybed when you don';t have guests over but you can use it as both as a daybed and trundle bed when you need more additional space for sleeping.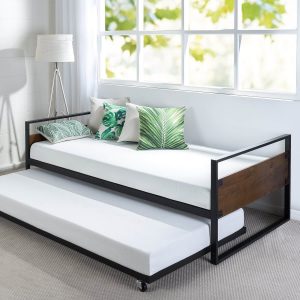 Features
This trundle bed set offers the functionality of two beds in one package. All you need to complete this set are two twin size mattresses for both the main bed and the pull out bed. Both bed frames can fit a twin mattress of up to 6 inches in thickness. These mattresses Zinus trundle beds are sold separately and they are very easy to find, just make sure you're choosing the right sizes. In addition, each metal frame is made of high quality steel so you will not have to worry about the lifespan of this set as it will last for several years. Each frame has a maximum weight capacity of 250 lbs.
You can use the wheels that this twin trundle bed comes with to move it in your house as you need to. Another thing you'd appreciate about this set is the easy assembly. You don';t need any tools or skills to put it together. The manufacturer included everything to ensure ease of assembly. Just make sure to follow the instructions included in the box. Plus, the bed frames come with 5 years of worry-free warranty so you can definitely rely on this product for the long run. All in all, the Zinus Suzanne set is an ideal choice for those who need an extra twin bed for occasional use.
Pros
Easy to assemble according to the instructions
Minimalist space-saving design that will your living room or guest room
Resistant steel frames for both the main bed and pull-out trundle bed
Twin daybed with trundle bed in one product
Trundle bed comes with wheels for added convenience
5 years of warranty
Cons
Trundle bed mattresses are not included in the package
The wheels might not be as sturdy as some clients expect
---
3. La Salle Twin Captain's Bed with Trundle and Storage Drawers
If you need extra storage and sleeping space for a guest room or your children's room, this could be the best trundle with drawers option for you. Designed to maximize the use of a small space, this elegant bed with trundle inspires a cozy and relaxing feeling in everyone who sees it. Available in white and black frame options, this set will suit most decorating styles. The twin size bed frames are perfect for accommodating the needs of one person, offering generous sleeping space for a good night's sleep.
Features
The trundle bed frame of this set is made of pine and designed to last for a long time. The glider is also made of the same sturdy solid wood and the good news is that you won't have a hard time assembling this set. It comes with complete setup instructions so you can place it anywhere you want to.
There are 13 slats on the primary bed and 13 on the trundle bed frame, and the weight of this product is 93.7 pounds. Another great feature of this set is that the trundle comes with several drawers, providing much-needed extra storage space. All in all, this product also makes a great alternative to bunk beds.
Pros
Bed frames are made of durable pine wood
Trundle bed is perfect for accommodating guests
Fits twin size trundle bed mattresses
Twin trundle bed comes with several drawers for additional storage space
Simple and modern solid wood design
Complete instructions to set it up in the package
Ideal for those who are looking for a space-saving alternative to a bunk bed
Cons
Trundle bed might not be easy to put together for some
May not be the best option for those who prefer a metal frame for their beds
---
4. Little Seeds Ambrosia Diamond Tufted Upholstered Trundle Set
If you're looking to buy upholstered trundle beds, this Little Seeds daybed and trundle could be your ideal match. You will love the way this set looks in your room and the comfort it provides for you or your guests who spend the night at your place. It comes in pink, blue, gray, and ivory color and it is very suitable for every type of room. But the pink, twin sized frame will definitely steal your heart!
Features
This set comes with a beautiful diamond design on the backseat and the arms of the main bed and that adds class and elegance to your room. You can use it to hang out with your friends and enjoy the perfect back support that will help you relax but you can also use it for naps and long night sleeping hours. The legs are made of plastic and wood which makes them long-wearing as well. Your mattresses will remain fresh and looking like new for a long time thanks to the Bentwood slat structure that this set comes with.
It is the perfect investment to accommodate your guests every time they need to sleep at your place. You will love to have this bed in your house and you will proudly invite your friends to relax on it!
Pros
Very stylish trundle and daybed set
There are 4 different colors to choose from
Keeps the mattresses fresh for a long time
Diamond design that adds to the aesthetic aspect
Comfortable for sitting and sleeping
Cons
Daybed and Trundle bed set may not be easy to put together if you don';t have experience
---
5. Broyhill Kids Marco Island Full Captain's Bed with Trundle
This set is a great choice if you're looking for trundle beds for kids. It is perfect for sleepovers which are so common among kids and it is very comfortable for your little one that they will have a restful sleep every night. If you have two children, one of them can use the daybed while the other can use the full-size trundle bed.
Features
You can choose between a brown, white, or gray color and this model also comes in different sizes such as twin size or full size. It is a great option if you don';t want to use a bunk bed for your kid';s room. And it also comes with some drawers that provide plenty of additional storage under the bed for even more functionality.
The trundle bed frame is made of hardwood so you can use this set for many years. It might not be so easy to put together but once you do, you will be very happy to have your little one use this bed for a long time!
Pros
Stylish design bed set for your child';s room
Perfect for sleepovers and plenty of fun time
It can be a good alternative to bunk beds
Hardwood frame
Drawers for extra storage
Very comfortable twin bed or full size options
Cons
It might not be very easy to put together
It might not resist for as long as some clients expect
---
6. Zinus Eden Twin Daybed and Trundle Set
The last of the two Zinus trundle beds on our list, this one combines quality and comfort. This set also comes at a very good price and impeccable quality so you will not have to break your budget to invest in it. It features a space-saving design that will help transform your small space into a cozy place where guests can relax and rest. What's more, it comes with a premium steel slat system that makes the Zinus Eden very resistant so it will last for several years with no maintenance.
Features
You will not need any extra tools to set up the Zinus Eden because it comes with everything you need in the package. You can use a twin size mattress for both beds. Take note, however, that it will only fit up to 9.5 inch mattress options. Thicker mattresses won't fit underneath the main bed.
Both the bottom and top mattress are not included so you will have to purchase them separately. The bed frames come with a warranty of 5 years so you can count on the fact that any problems you have with it, will be fixed.
Pros
Resistant steel slat construction
Accommodates two people easily and comfortably
You can use it with a 9.5 inch mattress
Provides an extra guest bed without taking too much space
Stylish and modern look
Cons
Package doesn't include the bottom and top mattress
It might be difficult to put together if you don';t have experience
Not ideal for those who prefer pop up trundle beds
---
7. DHP Halle Upholstered Daybed and Trundle
This DHP bed set will accommodate all your needs and even surprise you with some unexpected features that will make you love it even more. This set can be used as a daybed, a trundle bed but also a very comfortable couch. The simple and elegant design of this set complements any type of room so you will not have to worry about this aspect.
Features
It is made of high-quality faux leather material and it will look very classic in your room. The backseat, as well as the arms, are padded so you will have more comfort as you use it. This bed set will not only look great in your guest room but also in your home office. Use it during the day as a comfortable couch and pull out the under-bed trundle whenever you need a nap or sleep.
This bed is sturdy as well and it can hold nicely even heavier users. You will not regret investing in this product as it will last you for a long time even if you use it daily.
Pros
High-quality faux leather
Elegant design
It can be used at home or at the office
You get three different beds in one product
Great space-saving design
Extra padding for comfort
Cons
Some users might find it difficult to install this set
---
8. Homelegance Adra PU Leather Upholstered Daybed
This bed set from Homelegance is one of the best trundle beds on the market and among the most popular ones as well. It comes at a convenient price as well which makes it a true opportunity for all users. You can decide to pick a black set or an elegant dark brown one and they will look very fancy in your house, regardless of the room you put it in.
Features
The vinyl cover is not only very resistant but also very easy to maintain and clean. The elegant frame as well as the track arm adds to the beauty of this set and its charm that will make it loved by many users. The dimensions of the daybed are 82 x 41 x 36.5H and those of the under bed trundle bed are 75.5 x 40.25 x 11.75H. all your guests will be enjoying this bed if they decide to sleep over at your place.
The mattresses needed to use this set are not included buy you can purchase them easily in a separate order. Also, this bed requires assembly and may not be very easy to assemble for beginners.
Pros
Easy to maintain
Durable bed frame and vinyl cover
It offers a lot of comfort and quality time
Simple and elegant design
You can use it in any room of the house
There are two colors to choose from
Cons
The mattresses are not included
It might not be very easy to assemble and install
---
9. Casey II Wood Daybed with Ball Finials and Roll Out Trundle Drawer
If you are looking for a classic trundle bed with a timeless design, this model from Fashion Bed Group is just what you need to compliment your house. It has all the features you need to find comfort for a good night sleep but also to save space in your house and use it as a daybed if you want that.
Features
You can choose this bed in a white color or a honey maple color and they both look just as good. The mattress support of this trundle bed is very resistant so you can use it for a long time. You should also know that the dimensions of this product are 45.5″ (H) x 81.5″ (W) x 41.75″ (L). To make this bed even more reliable you should count on the fact that it comes with a decade of warranty covering all the issues this product might have as you receive it from the manufacturer.
And it also comes with several drawers that will offer additional storage space. It is definitely the type of classic bed that you should consider investing in, and one of the best trundle beds on the market.
Pros
Elegant design that will fit any type of room
It comes with drawers for extra storage
Very resistant daybed with trundle bed frame
Easy to maintain and clean
You can choose between two different colors
Cons
You will have to purchase the mattresses individually
It might be challenging to set up
---
10. Novogratz Bright Pop Twin Metal Daybed and Trundle
The last but not the least product on our list of best trundle beds on the market is this one from Novogratz. You can choose between 4 different colors such as black, white, teal or a light shade of blue. They all fit almost any type of room as they are very simple and easy to blend in with the rest of the decor.
Features
Featuring a day bed with a trundle bed underneath, this space-saving piece of furniture provides extra sleeping space to accommodate your guests when they want to stay at your place overnight. Each metal frame is made of very durable metal slats and side rails. You will not need a foundation for this bed and you will not have to invest in maintaining it either. The casters of the trundle's metal frame are created with breaks for easy maneuverability. The weight of this product is 61 pounds and all you need to start using it are two twin size mattresses.
Pros
High quality, resistant metal frames and steel slats
Helps you save space in your home
You can choose between several colors according to the rest of your decor
Simple trundle bed design
The wheels come with breaks
Cons
You will have to purchase the top mattress as well as the one for the trundle
The colors might differ with a tone or two from the ones in the pictures
May not suit those who aren't used to beds with a low profile
---
Benefits of Trundle Bed
Using a trundle bed as supposed to a classic bed can improve your life and comfort significantly. If you are considering to invest in such a product but you never had one before, here are some aspects that you will find very useful!
You save a lot of space in your house.
The main purpose of such a bed is to save space in your house. Many people who live in small apartments choose to invest in a trundle bed because they get an extra bed without sacrificing the space for it.
Trundle beds are cost-efficient.
It is an absolute space-saver that can be useful in the long run and even a more budget friendly option. Investing in a trundle bed is a lot more convenient than investing in two different beds.
Your guests will always have a comfy place to sleep.
In to be prepared for overnight guests, you should consider investing in a trundle bed. This will assure you that your guests will have extra sleeping space as they are staying overnight and they will enjoy a high level of comfort as well. It can also be very efficient if you have children that like to invite their friends for a cozy sleepover.
You might also gain some extra storage space.
These trundle beds are more complex than they seem to be. Some of them, are part of a set that comes with a day bed and a trundle bed. This is the case of the products you can find in the list above. And there are also trundle beds that have several drawers incorporated in their frame. This feature will offer you extra storage space and a lot more comfort in your house. Even if not all of them come with this extra storage feature, you can still find some good ones at a convenient cost that have at least three drawers incorporated in their design.
How to Choose the Right Trundle Bed
There are different beds for different clients and the best trundle beds for others might not necessarily be the best option for you. Do you need a daybed with a trundle, a bunk bed with pull out, or a pop up trundle? Before purchasing a trundle bed, here are some features you should definitely consider.
Bed Size
You should decide what size of bed you need in order to make sure that is big enough for your needs. The market offers all sizes of trundle beds from full size to twin, queen, and king-sized beds. Some models made specifically for children, and there are bunk beds with trundle beds. You can invest in any size you want as long as you have in mind the purpose of the bed. While the commonly used size of trundle bed is a twin bed, you can easily find one in a twin, king, or full size. Furthermore, also consider the bed frames' weight capacity, particularly if you're on the heavier side. It is prudent to test the weight capacity to check how the product holds up under your weight.
Accessories
Trundle beds might come with different accessories that can add to their benefits. As we mentioned, they might come with drawers which can be perfect for extra storage space. Hence, if you're using it to replace your children's bunk beds, the drawers at the bottom can be used for storing books and toys.
These beds can also come with extra padding so you can relax better when you use them. Some even have mattresses included in the package but this is not the norm. Pay attention to these features and accessories that a pull-out trundle bed might come with because you never know what you might find. No such bed comes with bedding accessories such as sheets or pillows so these are things you will have to buy yourself in a separate order.
Wheels or No Wheels?
Some trundle beds come with wheels. A good point to take note of when considering a pull-out bed with wheels is that casters help you manage the trundle bed a lot easier. You don't have to apply much force when pulling it out. Hence, if a product comes with wheels and offers easy assembly, it's definitely worth considering.
Materials and Construction
Many trundle beds come with wooden frames while others feature a metal frame. You should invest in one that is sturdy enough to last you for a long time so that your investment will be worth it. Both a wooden frame or a metal one can be just as durable as long as the material is of very good quality. Solid wood frames are just as good as metal frames. In fact, a lot of bunk bed and trundle bed sets feature solid wood frames for lasting performance.
If you pay attention to these aspects, you will definitely end up with the right trundle bed for your needs and expectations. So, don';t neglect them as they can make all the difference when you are investing in such a product!
Frequently Asked Questions
Can I use a trundle bed as a relaxing space?
Of course, you can use such trundle beds however you want. It is perfect for a restful night sleep but also to hang out in front of the TV. Some trundle beds are designed to be used like sofas as well and they offer plenty of comfort in all situations. This is one of the reasons that make trundle beds so appreciated as well.
How long can a trundle bed last?
The best trundle beds like the ones presented in this article can last for several years with no maintenance or with minimum maintenance. In order to get an idea about the lifespan of such a bed you should check the warranty policy. A quality trundle bed will offer a generous warranty so you can rely on it even more.
Where can I place a trundle bed?
The short answer is you can place trundle beds anywhere you want. You can use it as a sofa in your living room and convert it into a bed when you have guests. You can also place one under your children's bunk bed for when their friends or cousins stay the night. Or you can put it in the bedroom as it can accommodate guests every time you need it to. A trundle bed that is easy to assemble is a perfect investment if you have two children but you don';t want to invest in a bunk bed as well. Or you can use the trundle bed at your workplace in order to have your own space to relax when you need to.
Choosing the Right Trundle Bed
Investing in a trundle bed can bring only advantages to your life but it can also be a great asset for your home. But in order to enjoy all these benefits you need to find the best trundle bed for your needs. By following this complex guide, you can';t fail in your decision-making process. All the products we recommend you are of very good quality and you will love using every single one of them. Consider the aspects we mentioned above before choosing your trundle bed and enjoy a relaxing time whenever you want! If you know just what you are looking for, you can';t fail when you purchase your bed and you will end up with one that will make you proud as well!