A CPAP machine is an aid for those suffering from breathing difficulties. It also helps alleviate discomfort, thus allowing a better night's sleep, most notably for those with sleep apnea. Just like any other machine, it is vital to keep the components sterile and ready for use each night. Otherwise, using such a device incorrectly could have dangerous consequences. And this is why we have chosen to find the best CPAP cleaner for those who need it.
CPAP cleaners can prevent the growth of unhealthy bacterias, molds, and viruses. To avoid complications to your health and to help keep your CPAP machine in tiptop shape, you';d want to make sure you get the most reliable CPAP cleaners to do the job. There are so many of these products available on the market. But finding the top contenders requires intensive research and examination of reviews. Lucky for you, we already did! The following CPAP cleaners are our top 8 picks to help speed up your search for the right sanitizing equipment.
8 Best Selling CPAP Cleaners Comparison Chart
Top 8 Best CPAP Cleaner Reviews
The Grownsy UV Sanitizer Box is our number one Editor's choice for our best CPAP cleaners rundown. This is a great choice for keeping CPAP cleaning machines free from germs, bacteria, viruses, and more because it features both sterilizing and drying functions and is easy to use.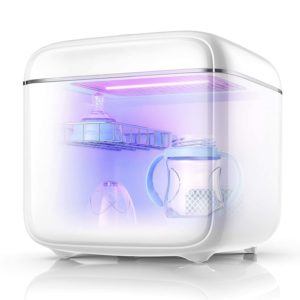 Features
The Grownsy UV Sanitizer Box has a compact and highly durable compartment design. It features stainless steel mirror inner walls, a 16-minute cleaning cycle, a 51-minute drying cycle, and a bonus 72-hour storage function to keep your CPAP equipment sterile between uses. It also features a built-in HEPA filter to further eliminate the breeding ground of germs that may develop inside your CPAP mask and tubing.
This CPAP cleaning device comes with a metal basket insert to help your equipment get full light coverage. The UV light has an estimated 6000+ hour lifespan before needing any routine maintenance. Additionally, the entire CPAP cleaner and sanitizer weighs 6.6 pounds and has a dimension of 9.84″ x 9.84″ x 9.84″.
Fair warning, this device will clean your CPAP equipment, but it does not come with a warranty and is not highly portable. Also, it has a single light design that makes the sanitizing cycle a bit longer and may require specific positioning of your CPAP equipment for accurate coverage.
Pros
Durable design
Compact style
Drying function
HEPA filter
Lots of equipment space
Cons
May not the best travel CPAP cleaner
May not include a warranty
Single light design may take a bit longer to sanitize
The Coral UV Sterilizer and Dryer is the luxury choice for our best CPAP cleaning machine list. It has a multi-purpose design that can sterilize just about anything in your home with its double disinfection strength.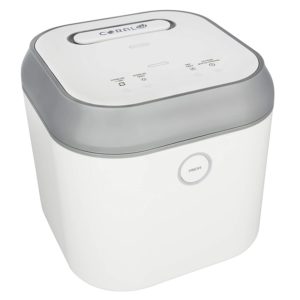 Features
The Coral UV cleaning device features dual UVC-C lights and an impressive 10-minute sterilization cleaning cycle that boasts killing up to 99.9% of germs. Its drying cycle is estimated to take about 40-70 minutes. This CPAP equipment cleaner is durable and has 6000 hours of projected ultraviolet light life before you will need to replace the bulbs.
We love this product as a sleep apnea machine cleaner because it comes with three HEPA filters that block larger particles from contaminating the sterile environment. This CPAP cleaning device also comes with a basket included that helps you to separate and organize the mask and hose while it's being cleaned. It weighs 5.7 pounds and measures 10″x8″x8″.
Be aware; the Coral UV CPAP sanitizer does not come with a user manual. It also is not the most portable, may emit an odor after use, and doesn't do the best job drying items when it is full. However, it's still one of the best CPAP cleaners available and makes a great luxury option.
Pros
Easy to use
Luxury quality
Dual UV-C lights
Sanitizes and dries
3 HEPA filters included
Cons
May have issues in drying when full
May not include a user manual
May emit odor after use
May not be the most portable
The 59S S2 UV sanitizer box is the top value choice on our best CPAP cleaners list. Aside from being a good value, this CPAP cleaner is also slim and compact with a hard outer case for added durability.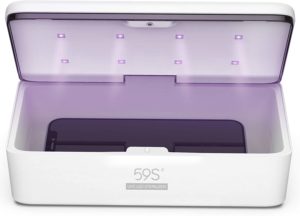 Features
The 59S S2 CPAP mask cleaner comes with 8 light LED chips and highly reflective walls to create a 360-degree sanitizing effect. It has a rapid 90-second sterilization time, so no need to wait around while it does its thing. Plus, it boasts being able to kill 99.9% of bacteria and germs.
We also chose this cleaning device for our best CPAP cleaners list because it has a long-lasting projected lifespan of 10,000 or more hours before needing to undergo bulb replacement maintenance. The entire sanitizer box weighs only 1.35 pounds, and its interior measures around 8″ x 3.5″ x 1.5″.
This UV sterilizer box is a bit on the small side compared to the other products and may not be able to hold all of your CPAP equipment at the same time. Moreover, it doesn't come with a warranty, the official exterior dimensions are unavailable, and the design requires you to completely restart the device every 24 hours.
Pros
Rapid 90-second sterilization
Reliable performance
Simple CPAP maintenance
Easily portable
Durable hard case
Cons
Could be smaller in size
Exterior dimensions may be unavailable
May require restarting every 24 hours
May not include a warranty
The 59S P55 Light Sanitizer Bag is next up on our best CPAP cleaners rundown. It is a great choice if you are looking for a lightweight and portable cleaning device that also comes with a warranty.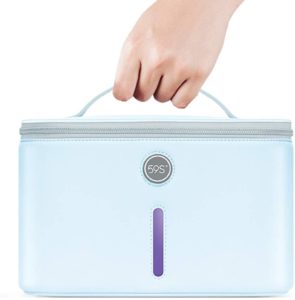 Features
The 59S P55 sanitizing bag makes cleaning your CPAP device easy and accessible. It features 24 powerful UV-C LED light beads with a three-minute sterilization cleaning cycle. It is highly energy-efficient and promises to kill up to 99.9% of germs inhabiting your CPAP mask and machine tubing.
The 59S P55 is designed with a convenient carry handle, making it a great travel CPAP cleaner and sanitizer. It comes with a one year warranty, weighs only 1.36 pounds, and has a dimension of 9.5″ x 7.7″ x 5.9″.
Verify the authenticity of the item delivered to ensure that you'll be using an original product. Also, the zipper may be tricky around the corners of the CPAP cleaner bag. There is no drying function, too, and the UV-C lights are a bit smaller than some of the cleaning devices.
Pros
Great travel CPAP machine cleaner
1-year warranty
24 ultraviolet light beads
Lightweight
Energy efficient
Cons
May have a fickle zipper closure
May have smaller UV-C lights
May not include a drying function
May require authenticity verification
Coming down to the fifth spot in our best CPAP cleaner list is the Hope C+ UV Light Sanitizer Bag. We like that it has a collapsible, portable design that is easy to use and also energy-efficient.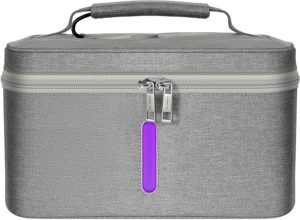 Features
The Hope C+ UV sanitizer has a rugged reflective surface inside the device, and 12 UV-C LED light beads that boast a five-minute cleaning cycle. It aims to disinfect the breeding ground of germs, bacteria, and other possible contaminants in various items. The exterior of this CPAP equipment cleaner is made from water-resistant material and features high-quality stitching and zippers.
The Hope C+ CPAP cleaner and sanitizer also has a viewport with UV blocking technology in front so you can observe your CPAP device equipment during the cleaning cycle. The rechargeable battery lasts for up to 70 minutes, the lights have a 10,000-hour lifespan, and the entire CPAP cleaner device weighs 1.15 pounds. The device measures 10.2″ x 7.5″ x 5.5″.
However, this sanitizer does not have a specific drying function and does not come with a warranty. Also, some CPAP cleaning machine reviews noted that even with the blocking technology, the viewport is too bright and disruptive for their liking. But you can easily cover it or turn it to face the wall if you prefer.
Pros
Collapsible design
High-quality zippers
Easy to use
Convenient viewport
70-minute rechargeable battery life
Cons
May not be for those who need a drying function
May not include a warranty
Viewport could be too bright for some
The Coospider UV Cleaner Bag is next on our best CPAP cleaners list. It will help keep your CPAP machine clean by sanitizing all of your CPAP equipment at one time. Its large capacity can accommodate the water chamber or humidifier chamber.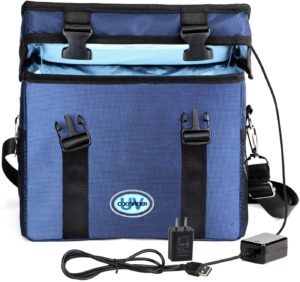 Features
The Coospider features a powerful wavelength UV-C light with a cleaning cycle of either 5, 15, or 30 minutes. It does not emit an activated oxygen smell and has a tiny observation window on the front as well as an easy clip closure.
This CPAP equipment cleaner has a 15,000-20,000 hour light expectancy, a grill on the bottom to keep the equipment upright, and a USB input for battery charging. Every purchase comes with a three-month return window and a two-year warranty for your peace of mind. This unit weighs 2.82 pounds and measures 10.5″ x 7.7″ x 9.5″.
This CPAP machine cleaner has a shorter life expectancy on the UV-C light than some of the other cleaning machines on our list. Additionally, it does not have an automatic off function if you raise the lid while the device is sanitizing, so it's important to take care when it is in use. Also, we were unable to find the replacement part number for the light.
Pros
No activated oxygen smell
Foldable yet large device
3-month returns and a two-year warranty
Powerful UV-C light wavelength
Observation window
Cons
Light life expectancy may be shorter
Replacement part number may be unavailable
May not be ideal for those who want an auto-off function
The Papablic UV Sterilizer and Dryer takes the seventh spot in our CPAP machine cleaner list. We like how durable the casing is and the hospital strength UV light that kills germs and performs well as a CPAP equipment and CPAP mask cleaner.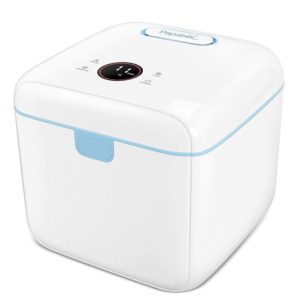 Features
The Papablic UV cleaner has a fairly brief 11 minute cleaning time. It features a touchscreen control with cleaning, drying, and a 72-hour storage mode to make sure your CPAP mask and machine stay sterile in between uses. It has a dual light design for maximum cleaning power and cleaner coverage to give you peace of mind.
This UV CPAP cleaner has a wire rack for enhanced cleaning effectiveness with your sleep apnea device. It weighs 8.73 pounds and has a dimension of 10.6″ x 10.6″ x 10.6″.
This CPAP cleaning machine is heavier than most of the other cleaning machines, making it less portable. Plus, there are reports of a slight odor being emitted while it's cleaning bacteria, viruses, and germs.
Pros
Dual light design
Hospital strength
Drying and cleaning mode
72-hour storage function
Wire rack aids in cleaning
Cons
May not be highly portable
May be heavier than most
A slight odor may be present during use
The Doctor's Choice CPAP equipment and mask cleaner is our final pick for our best sanitizer options. It is ozone and mercury-free and boasts being trusted by professionals.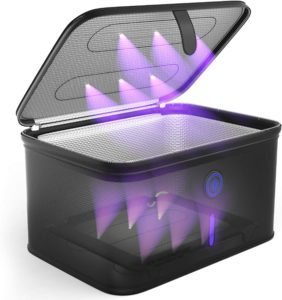 Features
The Doctor's Choice UV sanitizer is equipped with 12 UV-C LED light chips – with six on the top and six on the bottom for 360-degree sanitation. The case is made with PU leather that is easy to wipe down and a leakproof zipper. It has a rapid three-minute cleaning cycle powered by a rechargeable battery with a USB port.
This CPAP cleaner also features a carry handle, a UV light window to ensure the cleaning process is underway, and a magnetic safety switch with an automatic off function. It weighs 1.46 pounds and measures 9.4″ x 7.87″ x 5.51″.
Drawbacks to this cleaner include the USB cord not being detachable, a stiff zipper, and a fickle magnetic safety switch that must be 100% properly in place for the device to function.
Pros
Ultra-fast cleaner
Ozone and mercury-free
Trusted by professionals
360-degree sanitation
Lightweight
Cons
The zipper may be tricky
USB cord may not be removable
Safety switch may be fickle
The Best CPAP Cleaners: A Buyer's Guide
Now let's explore some of the basics of CPAP machines, CPAP cleaner, and sanitizer devices to help you get one of the best CPAP cleaners for your specific needs.
What Is a CPAP Cleaner?
A Continuous Positive Airway Pressure/Power or CPAP Cleaner is a device that disinfects a CPAP machine. A CPAP machine provides constant mild air pressure to aid in the ventilation of those who suffer from obstructed airways.
Why Do You Need a CPAP Cleaner?
Among the main reasons why you should clean your CPAP machine is to prevent the growth of molds and to eliminate germs and bacteria. When you breathe, bacteria can travel from your nose and mouth into the components of the CPAP machine, such as the mask, nose piece, and hose. Germs, bacteria, and other microorganisms can accumulate if you leave those components dirty and unclean.
Considering the regular use of these machines, it is imperative to frequently clean it because dust, dirt, and bacteria tend to accumulate within its components. Cleaning such equipment means you get to not only make it last longer but also prevent health problems that may be caused by using an unsanitized machine. Using CPAP machines that are not regularly cleaned can lead to several health issues, including throat irritation or inflammation, nasal stuffiness, eye irritation, colds, lung infection, or sometimes even worse diseases.


A heated hose also provides a conducive environment for these to breed and multiply. Since such organisms are invisible, you won';t be able to see how contaminated your CPAP equipment is until you get infections from bacterial contamination. Among the dangers of using unclean CPAP includes the risk of upper respiratory infections and other severe respiratory illnesses. At this point, you';ll be doing more harm to your body than good if you leave such equipment contaminated after every use.
Unfortunately, cleaning your CPAP with a wet cloth or alcohol isn';t enough. Handwashing may help, but it doesn';t give a guarantee that it';s properly cleaned. Sometimes, it can even cause damage to your machine or also irritate your skin. This is where CPAP cleaners come in. So, do CPAP cleaners really work? You bet they do! They make your cleaning far more convenient than manual hand washing or simply letting your machine air dry.
CPAP cleaners come in various shapes, sizes, and forms. They can be portable. Hence, they can travel with you. Or they can be large enough to clean your CPAP machine without disassembling it. They can also be set on an automated timer, so you can leave it to do the preventive maintenance cleaning on its own.
Features to Look for When Buying a CPAP Cleaner
When you';re planning to buy the ideal CPAP cleaner that suits your lifestyle, it is essential to note the following key features you should look out for that is relevant to your needs:

CPAP cleaners use two main methods to perform maintenance, sanitize, and disinfect the machine – the
ozone
method that uses activated oxygen and the UV method.
UV-C is operated at a spectrum that allows it to kill most germs and bacteria. UV-C is commonly used in environments that are infested with a lot of these germs and bacteria, such as hospital ambulances. It
does not cause potential skin irritation or exude a foul smell
like the Ozone method, which will use activated oxygen. However, it is unable to penetrate deeper or hard-to-reach areas to purify them.
Some cleaners may require an adapter to work in congruence with a rechargeable lithium-ion battery or other power adapters.
If your lifestyle requires you to travel more often, naturally, you';d want a portable CPAP cleaner. Home types are bigger and are far too inconvenient to bring along. If you';re planning on something portable, however, always take note of how long the battery could last after every full charge.
CPAP cleaning products vary in terms of cleaning time. While some products take at least one or three hours to disinfect the equipment, others only require 30 minutes to perform with the same results. Although a product that takes less time cleaning is not always necessarily better, it all comes to preference and how long are you willing to patiently wait.
Not all cleaning devices come with a warranty or a money-back guarantee. However, a warranty is a good indicator of the overall quality of a CPAP machine, so make sure to keep an eye out for this as well.
Conclusion
CPAP cleaners are necessary for maintenance cleaning, to keep your CPAP machine in optimal working condition, and to avoid underlying conditions caused by using unclean equipment. Fortunately, this guide has you covered on how to properly care for and maintain your CPAP machine. If you want to invest in the best CPAP cleaner, you have to look for key features that suit both your lifestyle and preferences. Weighing down each item';s pros and cons should ultimately decide what products we recommend will work best for you. Before you make your final decision, let's quickly review our Editor's Choice.
The Grownsy UV Sanitizer Box is our number one choice for cleaning bacteria, viruses, and germs off of your CPAP equipment. It is easy to use, has a 16-minute sterilization time, features a drying and storage function, plus comes equipped with a HEPA filter and a wire rack to improve sanitation. It also has a 6000+ hour lifespan that requires minimal maintenance and weighs 6.6 pounds. It has a compact design with lots of interior space and a durable case.
Is Grownsy the best choice for you? Or would another cleaning device on our CPAP sterilizer reviews better suit your needs?
Additional Resources