It is not uncommon for side sleepers to wake up with aches and pains, especially if they don't have the right bedding. Fortunately, most people can relieve shoulder pain with a simple change in the pillows that they use.
If you find yourself always waking up with shoulder stiffness, it is a sign that your pillow may not be suited to your needs. A side sleeper's pillow should have enough loft to reduce some of the added pressure applied to the head, neck, and shoulder regions.
So, which pillow should you use if you're a side sleeper who wakes up sore and unrested? We researched a wide range of pillows on the market in order to recommend CertiPUR-US certified products that address this health concern. Let's take a look at our top 10 picks for the best pillow for shoulder pain.
Top 10 Best Pillows for Shoulder Pain
Overview
Filling material: Memory foam
Loft: 12″
In-Home Trial: 30 nights
Warranty: Unavailable
The Cushy Form Bed Wedge Pillow is our #1 choice for the best pillow for side sleepers with neck and shoulder pain. It is medically designed to provide the perfect loft to help improve circulation and reduce acid reflux, snoring, and sinus pressure.
Features
The Cushy Form wedge pillow features a top layer of high-density memory foam which contours to your shape. Its large wedge shape works to elevate your head, neck, and shoulders in order to relieve added pressure when you lie on your side and provide medium-firm comfort when you're lying on your back.
The Bed Wedge reaches 12 inches tall at its maximum height but is easily adjustable by resting your head and neck lower, or closer to the bottom of the pillow. Placing the wedge pillow in an upright position can also transform your bed into a recliner that is ideal for reading. In addition, the cover is breathable, removable, and machine washable, which helps to keep it clean and sanitary.
It is worth noting that while this product does relieve pressure and reduces residual pain, the manufacturer also recommends using another pillow on top of the wedge to increase neck and head support.

Pros:
Removable, washable cover
Medically designed
30-night in-home trial with money-back guarantee
Memory foam relieves pressure and contours to shape
Firm yet soft for added support and comfort
Cons:
Requires the use of an additional pillow on top
Memory foam retains some heat
Consumers report discrepancies in loft
Overview
Filling material: Solid and shredded memory foam
Loft: 6″ plus body pillow on top
In-Home Trial: 100 nights
Warranty: Unavailable
If you prefer sleep products with medical-grade design and construction, the MedCline LP Wedge and Body Pillow System won't disappoint.
Features
Designed specifically to reduce shoulder pain in side sleepers, this wedge and body pillow has 4 layers of medical-grade foam. The top layer consists of quality memory foam followed by other foam layers for optimal support and cushioning comfort. The pillow system is also symmetrical, so you can switch between your left and right sides with ease.
The wedge also features MedCline's patented arm pocket which allows you to slide your arm inside to relieve pressure on your shoulder. Inside the arm pocket is a small insert pillow stuffed with shredded memory foam to help you find the most natural, comfortable resting position. Comfort is also improved as you sleep on your side by elevating your head and neck without further compressing your shoulder.
In addition, on top of the wedge is a body pillow filled with cut-up memory foam. The ample length allows for perfect placement between your knees. It is also sheathed in an 80%/20% cotton-poly pillowcase which can be removed and machine washed for easy cleaning.

Pros:
Removable, washable cover
Designed specifically for side sleeping
Arm pocket allows maximum pressure relief
100-night in home trial
Medical-grade design and materials
Cons:
Not ideal if you switch from side to side throughout the night
Cumbersome
Overview
Filling material: Memory foam layers
Loft: Adjustable
In-Home Trial: 96 nights
Warranty: 5 years
One of the most popular pillows for shoulder pain while sleeping is the UTTU Sandwich Pillow. This pillow features an orthopedic, highly contoured ergonomic shape, making it an ideal cervical pillow for those suffering from a sore neck or shoulders.
Features
The UTTU sandwich pillow is specially constructed to accommodate any sleeping position. For this specific pillow, UTTU uses its proprietary Dynamic Foam which maintains even support and firmness regardless of temperature.
Other foams harden in cold temperatures but UTTU's Dynamic Foam will not. Instead, the ergonomic shape and high quality foam will follow your natural contours and provide pressure relief where you need it most. It also provides an extra level of support so your neck is raised just enough to reduce pressure on your shoulder as you sleep on your side. The loft can also be adjusted by removing the sandwich pillow's middle foam layer.
To ensure cooling comfort, this UTTU pillow is also encased in a removable and washable bamboo polyester blend cover. This material allows you to sleep cool by preventing the buildup of heat within the pillow.

Pros:
Orthopedic contoured shape with adjustable loft
Cooling bamboo cover
Removable, washable cover
Excellent value
Good for stomach, side, and back sleepers
Cons:
Chemical smell during off-gassing
Layers may shift
May not be tall enough for larger sleepers
Overview
Filling material: Memory foam
Loft: 4.7″ at max. height
In-Home Trial: 30 days
Warranty: 1 year
If you want the best pillow for shoulder pain, side sleeper compatible in particular, the Coisum orthopedic pillow is an excellent choice. Boasting an ergonomic design, this top-rated sleep product provides for superior support and comfort.
Features
To maintain proper spinal alignment, the Coisum pillow cradles your head in an effort to keep your neck properly aligned with your body while you sleep. Additionally, just like other orthopedic pillows, cutouts are strategically placed on the sides, serving as upper armrests to prevent hunched shoulders.
Made from high-quality memory foam, the Coisum Side and Back Sleeper Pillow lends medium-firm support to your neck and shoulder regions. It also comes with a breathable case that keeps the pillow cool even when you overheat. If you're prone to excessive sweating, you can easily remove and wash the cover to keep it clean and smelling fresh.
All in all, the Coisum pillow does an excellent job of alleviating neck stiffness, shoulder pain, and overall discomfort common among side sleepers.

Pros:
Removable, washable cover
Good for side and back sleepers
Ergonomic design
Great value
Varying loft from side to side
Cons:
Retains some heat
Initial off-gassing period
May be too firm for some sleepers
Reports of pillow losing loft after ~9 months
Overview
Filling material: Memory foam
Loft: 3.54-4.33″, varies from area to area
In-Home Trial: 30 days
Warranty: None
Also included in our list is Coisum's Back Sleeper Pillow. This one is very similar to the other Coisum pillow mentioned in this guide but with a deeper head cradle and a more curved neck support region. The deep and unique hole design reduces pressure on the back of your skull and neck, keeping you comfortable throughout the night.
Features
This pillow may be best for back sleepers, but it is also great for side sleepers with smaller frames. You can simply position your head on one of the wings so that your shoulder comfortably rests on the cutout beneath.
While this is an excellent pillow for shoulder pain, it may not be the perfect choice for those who need firmer support. Customers who purchased this product say that it feels more medium than firm.

Pros:
Removable, washable cover
Deep head cradle promotes spine alignment
Superior neck support
Extra space for shoulders prevents hunching
Cons:
Retains some heat
Initial off-gassing period
No warranty signals low durability
May be too tall for smaller individuals
Overview
Filling material: Polyurethane foam
Loft: 5″
In-Home Trial: 30 days
Warranty: 5 years
Another side sleeper shoulder pain pillow worth recommending is the Z Gel Memory Foam L-Shaped Pillow. The L-shaped design ensures excellent support for the head and neck areas while taking pressure off of the shoulders.
Features
Boasting an ergonomic design, the Z pillow provides ample support for relieving shoulder and neck pain. It keeps your head elevated and your neck supported, effectively reducing pressure on your shoulders.
The Gel Dough-infused polyurethane foam lends this shoulder and neck pain pillow a softer feel and creates a cooler sleeping surface at the same time. Its superior cooling capabilities prevent users from overheating. It also comes with a Tencel removable cover that has advanced moisture-wicking properties to help maintain the perfect sleeping temperature.
However, it is worth noting that some customers have reported that using the Z memory foam pillow can be quite cumbersome. It is also prone to cracking or ripping over time.

Pros:
Tencel removable cover wicks away sweat
Soft yet contoured support
Gel Dough sleeps cool
Ergonomic shape accommodates frequent shifting
Cons:
Cumbersome
Initial off-gassing period may last days
The bend in the pillow is not very durable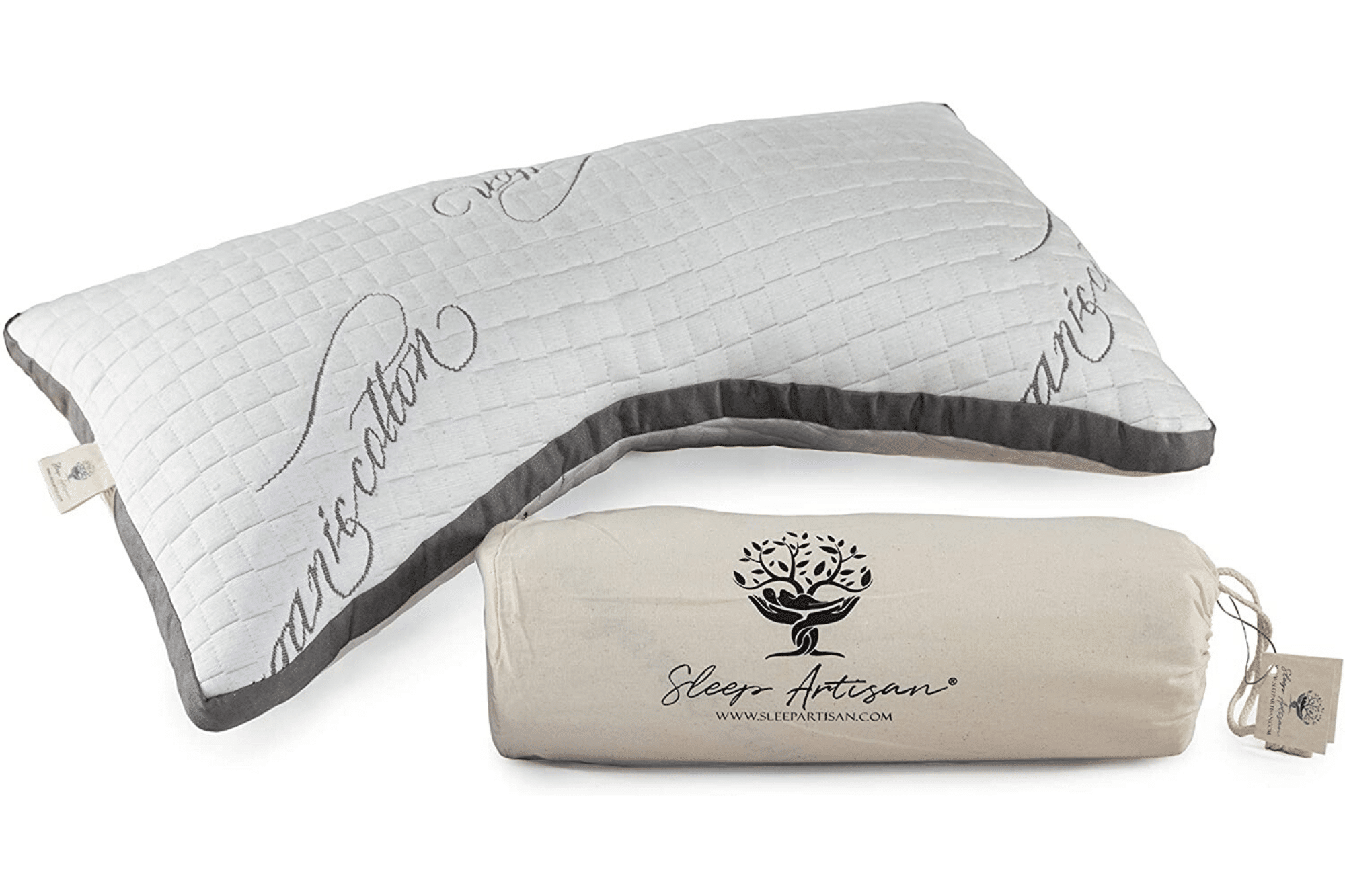 Overview
Filling material: Latex and down alternative microfiber
Loft: Adjustable
In-Home Trial: 30 days
Warranty: 3 years
Another contender for the best pillow for neck and shoulder pain is the Curved Pillow by Sleep Artisan. Offering added comfort for the neck and shoulder areas, this is a great shoulder support pillow if you sleep on your side.
Features
Featuring a curved shape, this pillow creates extra room for your neck and shoulders to expand and rest comfortably. What's more, the loft height is fully adjustable, you can add or subtract filling according to your preferences.
On the downside, the customizable loft also means that the latex and down alternative microfiber filling will naturally shift on its own. This could be problematic for some but if you change sleeping positions, this can be overlooked. It can be difficult to find a pillow that supports proper spine alignment in all three sleeping positions, but the Sleep Artisan handles it well.
Furthermore, the type of filling used provides a soft yet supportive sleeping surface that promotes airflow and retains minimal heat. The organic cotton, hemp, and poly blend cover also facilitates temperature regulation, wicks away sweat, and is machine washable.

Pros:
Fully adjustable loft
Breathable and sleeps cool
Great for all sleeping positions
Curved design reduces shoulder pressure
Highly durable
Cons:
Filling shifts during use
Initial off-gassing period
Overview
Filling material: Shredded memory foam
Loft: Adjustable
In-Home Trial: 100 nights
Warranty: 5 years
The Kloudes Adjustable Pillow is another product that addresses shoulder and neck pain. Just like some of the best pillows available, it features a fully adjustable loft for extra comfort.
Features
Designed with comfort and support in mind, the Kloudes Adustable Pillow's best feature is its fully customizable loft. The amount of filling can be adjusted to suit the user's body shape and sleeping preferences.
However, while the adjustable loft means you can sleep in all three positions, this also means that you will experience some inconsistencies in terms of support and shape.
On the upside, the cover that comes with the pillow is made with a hypoallergenic organic cotton blend that is breathable and soft to the touch. Paired with the filling, this memory foam pillow does a superior job at dispersing heat and regulating temperature.
This cooling capability is a nice touch since it has been proven that when you stay cool, you probably won't fidget as much. Fidgeting in bed may cause you to accidentally twist your spine, leading to more pain in the morning.

Pros:
Breathable cotton cover is removable and washable
Fully adjustable loft
Excellent temperature regulation for a memory foam pillow
Good for all sleeping positions
5-year warranty
Cons:
Material shifts overnight
Initial off-gassing period
Flattens easily
Overview
Filling material: Memory foam
Loft: 4″
In-Home Trial: 30 days
Warranty: 5 years
If you're interested in the best pillows for shoulder pain, consider trying the EPABO Ergonomic pillow. Made with solid memory foam, it offers pressure relief and just the right amount of support and contour.
Features
Boasting an ergonomic design that allows for extra room, the EPABO pillow ensures that your shoulders are not compressed while you sleep.
The ergonomic design of this cervical pillow gives your shoulders extra room to slide slightly under a shelf area on the main surface so they are not compressed while you sleep. It also has a rounded cutout to support your spine, neck, and shoulders and prevent it from shifting. And unlike the other pillows on our list, the EPABO comes in three different sizes so you can also choose the size that's just right for your bed.
It should be noted that this pillow does retain some heat, as expected with many memory foam pillows. However, it comes with a breathable, moisture-wicking rayon polyester blend cover that's not only hypoallergenic but smooth to the touch as well.

Pros:
Ergonomic, cervical design
Removable, washable cover
Neck cutout reduces strain
Shoulder shelf prevents hunching during sleep
Cons:
Not great for stomach sleep position
Not adjustable
Retains some heat
Initial off-gassing period
Overview
Filling material: Synthetic down
Loft: 7″
In-Home Trial: 30 days
Warranty:1 year
The Moonlight Slumber Comfort U is the final pick on our list of the best pillows for shoulder pain.
Features
Featuring a malleable shape, the Moonlight Slumber body pillow is the one to try if you naturally shift and change positions while you sleep. Its exceptional length allows you to wrap it entirely around your body, providing cozy support for your spine, neck, shoulders, and even under your knees.
The synthetic down filling and the organic cotton cover, on the other hand, help to keep you cool while you sleep. The filling does not retain heat, and the cotton fabric used for the cover has moisture-wicking properties.
Keeping the pillow fresh is easy as it is machine-washable. To keep your pillow looking fresh and new, Moonlight Slumber provides a free natural cotton case at no extra cost.
Pros:
Great temperature regulation
Entire pillow can be machine washed and dried
Adjustable shape
No off-gassing period
Great support for spine, neck, and shoulders in any sleep position
Cons:
Consumers report they do not honor their warranty
Cumbersome
Choosing the Right Shoulder Pain Relief Pillow
Now that you know which CertiPUR-US certified pillows we recommend, let's briefly discuss what factors to consider when buying pillows for shoulder pain.
What Causes Shoulder Pain While You Sleep?
Shoulder pain felt while you sleep or after you sleep, is usually caused by a lack of support or improper spinal alignment. Improper spinal alignment can be caused by factors such as a sagging, old mattress or poor sleep position.
Can pillows make your shoulder hurt? Yes, particularly if you're using neck pillows that aren't appropriate for your sleeping position. Using the right pillow is one of the easiest ways to relieve neck and shoulder pain.
How should you sleep if your shoulder hurts? While no one sleep position can totally eliminate shoulder pain, sleeping on your back or stomach relieves shoulder pressure, resulting in less pain. Is there hope for someone who likes sleeping on his or her side? Certainly. Using a pillow with the right level of support significantly reduces neck and shoulder pain.
What Type Of Pillow Is Best for Shoulder Pain?
When it comes to pillows, neck and head support is the key if you don't want to wake up with debilitating pain. Achieving the proper level of support and proper spinal alignment in bed often relies on three things: pillow shape, the filling material, and the loft of the pillow.
Pillow Shape
The shape of your pillow goes a long way when it comes to relieving shoulder or neck pain. This is why we have so many uniquely shaped, ergonomic, and cervical pillows on our list. Sleeping on your side places a lot of weight and pressure on your neck and shoulders. And if you don't have the right bedding, this causes chronic pain and discomfort.
Using a pillow with the right shape provides enough support for your neck and ample room for your shoulders. This facilitates natural spinal alignment and prevents unnecessary compression, resulting in pain relief.
Filling Material
A pillow's filling determines the base level of support it provides. For example, down is super soft and malleable. Memory foam, on the other hand, is firm yet contouring and stays in place unless it is shredded.
Most of the products we recommend use memory foam filling. Memory foam is known to provide pressure relief, support, and contour without feeling overly hard. While this doesn't mean a softer pillow won't work for you, we recommend a medium-firm pillow to achieve the desired support needed to reduce aches and pains.
Loft
The height of your pillow needs to match your body shape and sleep position. If your pillow is too tall for your neck and shoulders, it can force your spine to bend into an unnatural shape. The same principle applies if the height of the pillow neck and shoulder pain sufferers use are too short for their bodies.
Therefore, the right loft is the most important factor to consider when shopping for pillows for shoulder pain relief. A pillow with an adjustable loft ensures you're getting the ideal loft and support needed for neck and shoulders.
Conclusion
While we have confidence in all the products mentioned in this guide, our top pick for the best pillow for shoulder pain is the Cushy Form Bed Wedge Pillow, our Editor's choice.
The Cushy Form Bed Wedge Pillow's ergonomic and medical-grade design, memory foam construction, and superior support and comfort keep it ahead of the competition. Think about the features you value most in a pillow and choose the one that best suits your individual sleeping preferences.
How about you? Which is the right product for your needs and sleep position? Let us know in the comments section.
Additional Resources