We may earn a small commission if you buy something via a link on this page. This doesn't impact our rankings or cost you extra. See
our advertising disclosure
for details.
Adjustable beds are great for several reasons. But when it comes to the bedding, it can be tricky to find a set of sheets that will stay on regardless of the shifting surface. Additionally, finding sheets in split sizes – as many adjustable beds require, can also be challenging.
With this in mind, we've decided to put together a list of the best sheets for adjustable beds to make your shopping easier. All of the sheets on our list come with handy features that make them superior in delivering comfort and satisfaction.

Our Top 10 Best Sheets for Adjustable Beds
Overview
Material: Cotton
Thread Count: Sateen – 400, Percale – 400
Maximum Mattress Height: 4-17.5″ (size dependent)
If you're after the best fitted sheets for adjustable beds, the QuickZip bed sheet comes highly recommended. The Quickzip features a top that easily zips off from the rest of the fitted sheet while keeping the corners anchored.
Features
It allows you to easily wash the sheets without the hassle of lifting the mattress corners. Considering that adjustable beds are often heavier than the traditional ones, this is a big perk. If you're wondering how to put sheets on an adjustable bed, this one makes it a breeze. The two-piece zipper design also incorporates flex and fit corners with durable elastic that will remain snug even as your mattress changes positions.
QuickZip bed sheets are also available in flannel, sateen, or percale weave. So, whether you prefer silky, cozy, or crisp, they've got you covered. Each weave promises to be breathable, and the cotton naturally wicks away any moisture that develops while you sleep. QuickZip offers extra size options, including split sizes, Full Deep, Twin XL Dorm, and RV Queen.
Lastly, the sheets use highly durable materials with a 100% Happiness Guarantee. Moreover, the product includes a 60-day return policy and a guarantee on the YKK zipper's functionality that will last as long as the life of the bedding.
Pros:
Extensive size selection
Sateen or percale weave
The unique zip-top design is easy to use
Flex and fit corners stay snug
100% Happiness Guarantee
Cons:
Cotton wrinkles easily
Limited color selection
Premium price tag
Overview
Material: Tencel
Thread Count: 310
Maximum Mattress Height: 18″
Features
Amerisleep's Tencel material is luxuriously silky soft, all-natural, wrinkle-resistant, and highly breathable. It's an excellent choice for anyone who tends to sleep hot. Made from wood fibers, Tencel is known to be softer than cotton. And, Amerisleep's material is woven from sustainable eucalyptus. The all-natural composition of Tencel fabric is also recommended for anyone with sensitive skin.
Silky fitted sheets often tend to slip off the corners of your mattress, but not this one. Amerisleep designed their Tencel fitted sheet with their patented Smarty-BanZz system that prevents bunching and keeps the bed sheet smooth. There are also thick elastic bands that are slipped under the head and foot of the adjustable bed to help keep it in place.
Additionally, the Amerisleep Tencel set comes with a flat, oversized bed sheet that can be easily tucked in along the edges. It likewise features deep pockets to accommodate an extra-thick adjustable bed.
Pros:
Smarty-BandZz system prevents bunching
Wrinkle-resistant
Highly breathable
All-natural Tencel material is great for sensitive skin
Luxuriously soft
Cons:
Premium price tag
Only two colors available
Require special care when washing
Overview
Material: 200 thread count (TC) – 50/50 cotton polyester blend, 350 TC & 600 TC – Egyptian cotton
Thread Count: 200, 350, or 600
Maximum Mattress Height: 8″, 10″, 13″, or 15″
With a highly customizable design, this bedding from DoubleUps claims to fit all types of adjustable beds. Making it to our list of the best adjustable bed sheets, it comes with fantastic quality components at an affordable price.
Features
Each DoubleUps bed sheet set has several design options to choose from. They offer standard, solid sheet sets and unique split top and split bottom designs. The split sheets are connected on either the top or the bottom. Each side of your adjustable bed can move freely without compromising the cover on the opposite end. Additionally, the fitted sheets are sewn with extra "wing" material on both sides to keep them in place as the mattress shifts.
This product offers several pocket depth options, too. You can choose between 8″, 10″, 13″, or 15″ to get the perfect fit for your adjustable bed. When buying the proper sheets for your adjustable bed, choosing the correct pocket depth is essential to ensure a hassle-free bed adjustment. On top of this, the DoubleUps come with thread count choices. The 350 and 600 thread counts are made from 100% cotton, while the 200 option is a cotton-polyester blend.
Pros:
8″, 10″, 13″, or 15″ pocket depth
Split top or split bottom sheet option
200, 350, or 600 thread count
Extra material on the sides keeps adjustable sheets in place
Great for couples
Cons:
Only two colors available for 350 and 600 thread count
Cotton wrinkles easily
The 200 thread count is not 100% cotton
Overview
Material: Bamboo cotton blend
Thread Count: Unavailable
Maximum Mattress Height: 22″
If you're a fan of bamboo fabrics, you'll love this DreamFit Degree 5 sheets for your adjustable bed.
Features
This set is amazingly smooth and soft, made from a bamboo cotton blend. It is even silkier than Egyptian cotton or a 100% cotton sheet. Highly breathable and moisture-wicking, this bamboo cotton blend bed sheet is an excellent option for anyone who sleeps hot.
While most of the sets on our list would make good deep pocket sheets for adjustable beds, the DreamFit Degree 5 has the deepest standard pockets measuring 22 inches. These bed sheets could be just what you need if you have a thick mattress or an additional mattress topper.
Also, each DreamFit Degree 5 adjustable bed sheet features a patented strap design to keep the corners of the bedding secured. The anchor straps are reinforced by high-performance elastic sewn around the edges of the sheet and color-coded to denote sides. Furthermore, DreamFit uses a unique elastic four times wider and 20 times stronger than the standard band to keep your sheets in place. DreamFit is so confident with its product that it offers a one-year warranty covering workmanship and material defects.
Pros:
Silky soft and cool
Patented strap design guaranteed to stay on your adjustable mattress
Extra deep pockets
1-year warranty
Color-coded elastic marks the top and bottom sides
Cons:
Premium price tag
Only 4 color options
Requires special care to prevent pilling
Overview
Material: Cotton
Thread Count: 1000
Maximum Mattress Height: 18″ standard, 22″ deep pocket size
Next up on our list of the best bed sheets for adjustable beds is the Royal Hotel's 1000 thread count cotton sheets.
Features
The high thread count of this bed sheet set gives added durability and a super crisp feel that softens over time. Considering the lower price point, these adjustable bed sheets also provide you with great value for the cost.
The 100% cotton fabric features a sateen weave that is smooth and sleek. Unfortunately, the thread count adds to heat retention due to the thickness of the weave. But, thanks to cotton's moisture-wicking properties, the chances of feeling hot during sleep will be minimized.
The Royal Hotel bed sheets are available in deep pocket options as well as Split King and Top Split King sizes. These choices are particularly beneficial for those who own an adjustable King bed to ensure the best fit and better serve adjustable beds with split sides.
Pros:
Extra deep pockets
High durability
Hotel quality sateen finish
Great value
Split bed options
Cons:
Lower breathability
Wrinkles easily
Requires multiple washes to soften the thick fabric
Overview
Material: Bamboo
Thread Count: 600
Maximum Mattress Height: 18″
Another fantastic bamboo material option, the Royal Hotel Abripedic set is a worthy contender for the best sheets for adjustable beds.
Features
This set features a tighter weave for thicker, more durable bed sheets. Of course, the bamboo material is also silky soft, breathable, and cool to the touch, making them great for hot sleepers.
The Abripedic bamboo sheets have deep pockets and are available in a Split King or a Split California King size, ideal for couples with an adjustable bed with two separately functioning sides. These adjustable bed sheets also come in various colors that aim to complement any decor.
However, there are some reports of shrinkage or pilling with these adjustable bed sheets. But as long as you wash them separately in cool water and dry them on low heat, the bamboo material should hold up for quite some time.
Pros:
Thick, durable bamboo with 600 thread count
Split size option
9 color options
Great for hot sleepers
Silky and soft
Cons:
Require special care to prevent pilling
Expect some shrinkage
Color may streak after extended washes
Overview
Material: Cotton
Thread Count: 600
Maximum Mattress Height: 18″ Standard, 22″ Deep Pocket size
Royal Hotel again takes the seventh spot on our list of the best adjustable bed sheets, this time with their 600 thread count cotton bed sheets.
Features
These sheets make an ideal choice for your adjustable bed because they offer both fitted and top flat sheets in a split King design. The Royal Hotel sheets are also available in a deep pocket type which can help keep your bedding in place on an adjustable mattress.
Additionally, the 600 thread count material features a smooth and crisp sateen finish that will provide you with a hotel-quality feel without paying a luxury price tag. The breathability of the 100% cotton fabric is excellent and moisture-wicking, too. Paired with the right mattress, you should not have overheating issues with these sheets.
Royal Hotel recommends washing this set of sheets in cold water and tumble drying on a low setting to prevent unnecessary shrinkage or color fading.
Pros:
Great value with a lower price point
Crisp sateen weave
Hotel quality feel
Deep pocket sizes
Extensive color options
Cons:
Wrinkles easily
Minimal shrinkage may occur
Needs several washes to soften
Overview
Material: Bamboo
Thread Count: Unavailable
Maximum Mattress Height: 18″
Offering a more budget-friendly option, this bamboo sheet set from Royal Hotel makes a perfect choice for people looking for a silky smooth feel without spending a lot on bed sheets.
Features
Royal Hotel also offers this set in a split top and split fitted King options making them great sheets for adjustable beds. Like other bamboo sheets, these will sleep cool and reduce overheating during the night. Of course, they will require special care to protect the fabric and minimize unnecessary pilling. Still, we think it's worth the extra effort, considering the material's luxurious feel.
Royal Hotel does not offer a deep pocket option for these bed sheets, but they should accommodate a mattress up to 18″ thick. We recommend them for slightly shorter mattresses to help them work better as adjustable bed sheets.
Pros:
Silky soft bamboo sheets
Lower price point
Wide color variety
Split size options
Sleep cool
Cons:
Must wash separately to prevent pilling
Lower durability
Wrinkles very easily
Overview
Material: Cotton polyester blend
Thread Count: 650
Maximum Mattress Height: 18″ Standard, 22″ Deep Pocket
If you are looking for another cotton-polyester blend bed sheet option, the Royal Hotel again has something unique to offer.
Features
Complete with a split top, split fitted, and deep pocket size options, the Royal Hotel's cotton-blend set is another affordable adjustable bed sheet option. What's more, it can accommodate a shifting bed's highest elevation.
This adjustable bed sheet also features a 650-thread count, durable enough to last but not too thick to have breathability issues. The polyester incorporated into the cotton will retain minimal heat, but it will also decrease the development of wrinkles. Additionally, the smooth sateen finish further accentuates the smooth and crisp appearance.
However, we do not recommend this choice for anyone with extra sensitive skin, as the synthetic polyester fibers may prove to be irritating.
Pros:
Split size options
Affordable price point
Deep pockets
Smooth sateen weave
Wrinkle-free sheets
Cons:
Lower durability
No bright colors
Retain some heat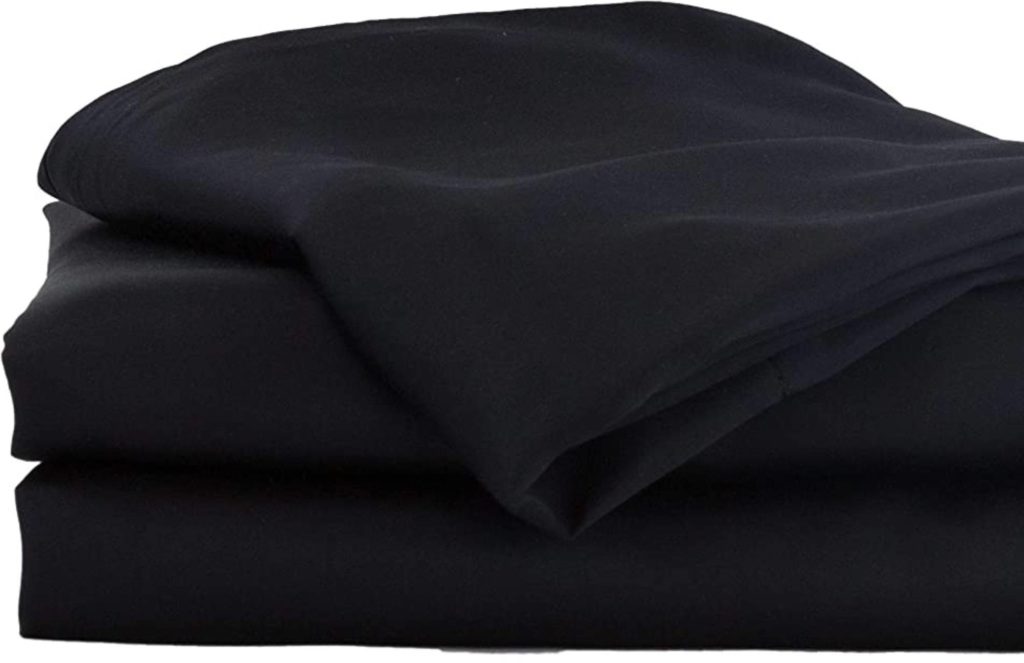 Overview
Material: Bamboo
Thread Count: Unavailable
Maximum Mattress Height: 15″
Last but certainly not least is our most affordable bamboo set – the Hotel Sheets Direct's adjustable bed sheets.
Features
Available in Split King size, these bed sheets are designed with elastic material around the fitted sheet's edge to secure it on an adjustable bed. Thanks to their bamboo construction, these sheets are moisture-wicking, effectively regulate temperature, and feel silky soft against your skin. They are also eco-friendly and hypoallergenic.
There is no available thread count for these sheets, but the bamboo type is usually around 300-600. However, these sheets may not be for you if you have an exceptionally thick mattress. They have a slightly lower pocket depth of 15 inches. Moreover, the Hotel Sheets Direct set is less durable than the others. It's somehow expected, considering their highly affordable price tag.
Pros:
Very affordable
Silky soft bamboo
Eco-friendly
Split King size available
Cool and moisture-wicking sheets
Cons:
No thread count available
Require special care to prevent pilling
Not the best adjustable bed sheet in terms of durability
Choosing the Best Sheets for an Adjustable Bed
Do you need special sheets for adjustable beds? Adjustable bed sheets can often be regular sheets. However, a couple of specific traits should be considered if you want them to stay perfectly in place when you adjust the bed's position. Sheets that stay on adjustable beds should have strong elastic bands and deep pockets to reduce tension during adjustments.
Another thing to consider when looking for adjustable bed sheets is whether you have one surface or two. Many adjustable beds feature a split mattress which requires specially fitted sheet sizes so the two sides can function independently. So, what size of sheets do you buy for a split king adjustable bed? Many brands these days have now included Split King sheets in their portfolio.
How to Keep Sheets on Adjustable Bed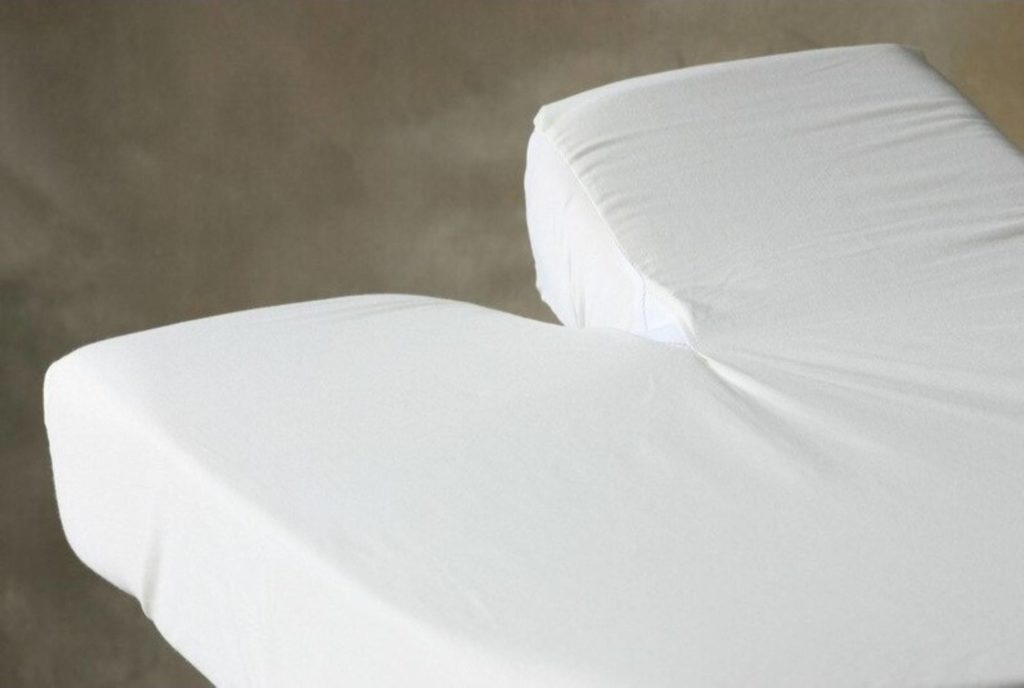 As we mentioned before, deep pocket corners are important in keeping sheets on an adjustable bed. But what if you need a little extra? That's where adjustable bed sheets with straps come into the picture. Some adjustable bed sheets are designed with anchoring straps around the corners or under the head and foot of the fitted sheet to further reinforce placement. If you tend to fidget in bed, you may want to prioritize looking for one with straps.
Fabric
Another thing to consider when purchasing sheets for adjustable beds is the fabric. The material determines the overall feel of the sheets, and we all know how important that can be. Your comfort largely depends on how the sheets feel against your skin. The two main materials highlighted in our top 10 list are bamboo and cotton. We also included a couple of blended fabrics. Let's discuss some of the pros and cons of each, so you can decide which suits your specific preferences best.
a. Cotton
Cotton sheets come with good breathability and moisture-wicking properties. They soften over time and provide a crisper feel than bamboo sheets. However, cotton sheets have a tendency to shrink a bit, and a higher thread count will significantly reduce breathability and airflow overall.
You will generally find cotton sheets with two different weaves: sateen or percale. Percale sheets are known for being incredibly crisp and are often what people refer to as "hotel-like." On the other hand, sateen sheets are shiny, soft, and silkier than a percale weave.
b. Bamboo
Bamboo sheets are known for having a super silky, soft, and smooth look and feel from the moment they come out of the package. Plus, they only get softer over time. Bamboo is naturally eco-friendly, hypoallergenic, highly breathable, moisture-wicking, and cool to the touch. Additionally, bamboo sheets are an excellent choice for anyone who tends to sleep extra hot.
However, this type of sheet does require special care as it has a tendency to pill when washed. But you should be fine if you wash your bamboo sheets separately on a delicate cycle in cold water and dry them on low. It's also best to promptly remove them from the dryer and fold or replace them on your mattress to avoid deep wrinkles. However, most wrinkles will naturally disappear after sleeping on the sheets for a couple of nights.
Thread Count
Thread count in adjustable bed sheets indicates the density of the fibers in the fabric. Generally speaking, you can expect higher durability and a crisper feel from a sheet set with a high thread count. But you can also expect less breathability due to the thickness of the material. Contrarily, lower thread count sheets will generally be less durable. However, they are soft, highly breathable, and better at regulating temperature.
We know a lot of importance has been placed on this aspect of bedding for many years but try not to decide solely on this aspect. You might be surprised at how much you may enjoy the way a lower thread count feels and the level of comfort it can provide.
Conclusion
Now that you have read through our top 10 list of the best sheets for adjustable beds and our basic buyer's guide, let's quickly review our Editor's Choice – the QuickZip sheets.
We chose QuickZip sheets as our top choice for adjustable bed sheets because of the following:
Extensive size selection, which includes Dorm and RV sizing
Availability in a silky sateen or crisp percale weave
A unique zip-top design that is easy to use and stays in place after initial application
Flex and fit corners that use super strong elastic to stay snug and keep the surface smooth
100% Happiness Guarantee, which also comes with a 30-day return window
Any other sheets on our list would also make an excellent choice for your adjustable bed. Determine which traits you find most valuable and accommodating to your specific needs to make the best decision. Choosing the right one is as important as buying the perfect adjustable bed. The ultimate sheets can bring the sweetest dreams, too!
Additional Resources