We may earn a small commission if you buy something via a link on this page. This doesn't impact our rankings or cost you extra. See
our advertising disclosure
for details.
In the fast-paced world of today, the only time when we truly get to relax is during night time. Enjoying a comfortable, relaxed, and deep sleep is crucial to full unwind and be well-rested for the day ahead. However, having an unstable, or a poorly made support mattress foundation would mean endless tossing and turning poor posture, and broken sleep.
To prevent this and enjoy hours of uninterrupted rest, it is essential to choose the right foundation for our mattresses. High-quality foundations not only offer maximum support to the mattress, but also prolong its life and prevent any sagging. To help choose the perfect foundation, here is an in-depth review of the 10 best foundation for memory foam mattress of 2020. Each of these products has been carefully chosen for its features, versatility, and quality. Read on to find out more:
Types of Foundations
There are various kinds of foundations available in the market, each with its own features and benefits:
Box Springs foundations are essentially made out of metal, wood, or a hybrid of the two, and they provide a flat, sturdy surface to place the mattress. They are useful if users can looking to increase the mattress's height, and keep it off directly from the floor. While traditional box springs were solid, rigid structures, modern box springs are foldable in their design, making them easy to move and set up for use.
Platform beds are a solid, raised frame that has legs, and either has wooden slats or grid-like metal beams over the platform to support the mattress. Platform bed frames can either be made with wood, metal, or even be a hybrid. These are mostly light, sturdy, and offer adequate support to the mattress. Platform beds also leave enough space underneath the bed for storage, which can be used to stow away linen, out of use clothing, and other items.
Panel beds are pretty similar to platform beds, but the only difference is that they come with a headboard and/or a footboard attached to it. In addition to this, panel beds may also have side rails to further secure the mattress in place and prevent any slippage. They're slightly more aesthetically pleasing since they offer the traditional bed design. Panel and platform beds are available in a wide range of prices, depending on their quality of construction and materials used.
Adjustable beds are, like their name, adjustable in their design. They usually have multiple hinges on the platform, which allows for separately adjusting the head and foot of the frame. These are usually the most expensive of foundations in the market, with wireless remotes available to adjust the bed and even have a massage feature in some cases. However, they represent luxurious comfort and versatility for those looking for such features.
Benefits of Using Foundations
There are several reasons why using a quality mattress foundation is a good idea: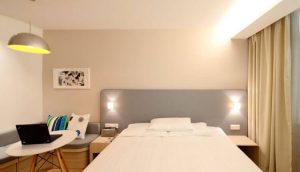 First of all, a good foundation is sturdy, well-built, and designed to provide stability to the mattress. This keeps the mattress firmly secured and stable, for users to enjoy a good night's sleep, time, and time again.
Using a foundation offers excellent support to the mattress, which prevents it from sagging unnecessarily. This lengthens the lifespan of the mattress and protects it from any kind of distortion in shape or form.
Sleeping on a mattress supported by a foundation keeps it in the same secured position, night after night without any movement. Moreover, by preventing any sagging of the mattress, using a foundation can mean better and improved posture for the user after prolonged use.
High-end foundations such as adjustable beds often go above and beyond merely providing support to the mattress. With adjustable head and foot, massage features, and wireless remotes, higher-end foundations can become an example of luxurious personal comfort not only while sleeping, but when watching TV, reading a book, and other recreational activities.
Features to Consider Before Selecting a Foundation for Memory Foam Mattress
When deciding which foundation to buy, there are a couple of factors that buyers can keep in mind: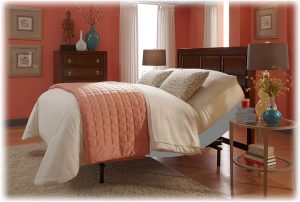 First things first, it's crucial to check the measurements and choose a foundation whose dimensions match those of your mattress. To ensure maximum comfort and adequate support to the mattress, it's crucial to make sure that the mattress fits securely within the foundation.
In platform beds, how far or closely the wooden or metal slats are placed determines how well it can support the load of the mattress. In short, the closer the slats are placed, the more stable and supportive the foundation is. This is because more slats would evenly distribute the weight of the mattress across the frame, offering more stability and less risk of sagging. Ideally, it's a good idea to get foundations where slats are spaced no wider than 7" apart, with the ideal spacing being 2-3" apart.
Always make sure that the materials used in the mattress foundation are sturdy and of high quality. For metallic platform and panel beds, heavy-duty steel is a tough material, and dense woods are a good idea for wood foundations. Stronger materials offer better support to the mattress, while flimsy, cheap metal and wood run the risk of distorting in shape and caving under the weight.
While different foundations have different load capacities, it's a good idea to choose one that can easily accommodate the weight of the mattress and the people who intend to use it. High maximum load capacity is a good indicator of a quality foundation since it means it is sturdy and well-built.
Some types of foundations such as platform beds and panel beds have a raised frame, which makes the area underneath a possible storage space to stow away things. It's a good idea to go for a foundation that offers adequate storage space, as it gives users the opportunity to utilize that space meaningfully.
This one is important – it's wise to choose a foundation that is easy to assemble and doesn't have too many small and frustrating components to put together. This will prevent any frustration when getting the foundation up and running. Many foundations have a tool-less assembly feature, where little to no nuts and bolts are needed, and setup can be completed within a matter of ten minutes.
Frequently Asked Questions
What is the difference between a foundation and a box spring?
A box spring is solid wood or metal box frame that has supportive springs to offer stability and a sturdy, flat surface for the mattress. Since traditional box springs have coils or springs inside them, they are ideal for supporting innerspring mattresses and not memory foam or hybrid mattresses.
On the other hand, a foundation is a broad term for a firm wood or metal structure that supports a mattress and raises its overall heights. Since foundations don't have springs and offer support by wooden slats or metallic panels, these are ideal for any kind of mattress, whether it's memory foam, gel foam, innerspring, or a hybrid.
Do I need a foundation for a mattress?
While some may say that a foundation is not an absolute necessity for a mattress, having one can go a long way in offering solid stability and support to the mattress. As a result, not only does it offer a restful sleep with a good posture, but also prevents the mattress from sagging. This lengthens the lifespan of the mattress and offers users a solid, stable, and secure platform to place their mattresses on.
What is the best foundation for a mattress?
There is a wide variety of foundations available such as platform beds, panel beds, and adjustable beds. Each of these foundations has its own pros and cons. The right foundation for a buyer depends on their personal preferences, aesthetics, budget and sleeping habits.
Top 10 Best Foundation For Memory Foam Mattress Reviews
1. Zinus Shawn 14 Inch SmartBase Mattress Foundation
This sturdy metal foundation from Zinus is a well-designed frame that's easy to put together and budget-friendly as well. With 54" x 75" x 14" measurements, it can easily accommodate a full-size mattress, while leaving plenty of storage space underneath. The foundation needs no nuts and bolts for assembly and is easy to set up. With a high load capacity, it has the potential to support a heavy-duty mattress for a long time without sagging.
Construction and Stability
Crafted with heavy-duty steel, this foundation is strong and durable, which means it can easily accommodate a load of a memory foam mattress without any sagging. The frame has multiple touch points with the floor, which makes it stable and balanced. This also eliminates the risk of noisy creaking sounds when tossing and turning.
This metal frame has a 'quick-snap' assembly, which doesn't require any nuts, bolts, or tools for putting the foundation together. Unfolding the metal base and extending the legs should do the job, making it quite convenient.
Clearance & Storage Space
Another interesting feature of this frame is how it offers as sturdy support as a box spring, but also offers plenty of storage space under the foundation. You can use this to stow away your belongings with ease.
It has a maximum load capacity of 1200 pounds, which may not be the highest load capacity out there, but it works pretty well for most households.
Pros
Sturdy steel construction
Stable frame design
13" height of storage space available
Tool-less assembly, easy to set up
Affordable price point
Cons
Maximum weight load is not very high compared to other options
2. Olee Sleep 14 Inch Heavy Duty Steel Slat
The Olee Sleep is another fuss-free, sturdy metal frame foundation with a pocket-friendly price and several useful features. Its heavy-duty steel construction makes it durable and evenly distributes the mattress's weight onto the platform. An anti-slip frame construction means it securely holds your mattress in place with no fear of slippage. With enough storage space under the frame as well as a noise-free design, this product packs quite a punch for its price.
Construction and Stability
This frame is made with heavy-duty steel that is long-lasting and tough. It has a simple yet sturdy frame design with the metal slats 7.5" apart from each other, that offers stable support to the mattress without being noisy. The anti-slip design firmly secures the mattress in place, reducing the risk of slippage. The frame is also self-foldable, making it convenient to store if needed.
The Olee Sleep does not have a quick snap design and does require tools and assembly to be done. However, the product comes with all the tools required, and the process is not complicated and can be completed without much hassle. Do ensure, though, that the screws are tightly secured in place so that the frame does not creak.
Clearance & Storage Space
It has a 13" of clearance under the frame, which means enough storage space to put away your linens, bedding, and out of season clothes.
With a maximum load capacity of 1200 pounds, it will accommodate the needs of most buyers and offer adequate support to memory foam mattresses.
Pros
Sturdy and stable
Anti-slip design to secure mattress in place
Enough storage space under the bed
Budget-friendly price point
Cons
Assembly is required (Product includes the tools needed)
Slightly heavier in weight than other options
3. Classic Brands Hercules Heavy-Duty 14-Inch Platform Metal Bed Frame
The Hercules platform metal bed frame is a sleek, strong, and stable foundation that works just as well for memory foam mattresses, hybrid, or latex mattresses. Its strong steel construction can either be used as standalone or fitted into a wooden frame for added support. Its tool-less assembly makes it easy to set up within a few minutes, while the storage space underneath is another welcome feature. Furthermore, the built-in headboard brackets offer the option to attach headboards as well.
Construction and Stability
The frame has a 54" x 75" x 14" size, which will fit most full-sized mattresses. Its heavy-duty metal construction makes it quite sturdy and durable. At the same time, its design is quite sleek and not bulky. It has 12 legs that are in contact with the floor, which keeps the frame well-grounded and balanced. The anti-slip caps on the legs eliminate the risk of scratches on the floor.
The assembly of this foundation requires no additional tools and can be easily done without too much hassle in a few simple steps.
Clearance & Storage Space
The foundation has 13" inches of clear storage space under the bed, which gives you enough area to utilize the space and store any belongings without issues. This is comparable to the storage space offered by most other full-sized metal foundations as well.
The Hercules metal frame has a 1200 pound load capacity for its twin bed variant and a 2400 pound capacity for its full-sized variant. This is again head to head with the other options available, and should easily take the load of most full-sized mattresses.
Pros
Strong yet sleek steel construction
12 touch points offer stability
Leg caps eliminate the risk of floor scratches
Tool-less assembly
Ample storage space
Cons
Slightly pricier than other comparable options
4. Simple Houseware 14-Inch Full Size Mattress Foundation
This full-sized metal foundation by Simple Houseware sticks to the basics, which reflects in its features as well as its reasonable price. On the outside, it is quite similar to standard metal frame foundations and has a decent construction. While it can accommodate a full-size mattress, its max load capacity is modest and lesser than that of frames of similar dimensions. This means that it will offer adequate support to people with average weights but may not work for heavier mattresses and loads.
Construction and Stability
This frame has a light, metallic construction with 12 legs for added support. The leg caps prevent any scratching on the floor. The 75" x 54" 14" size makes it versatile enough to accommodate a full-sized mattress easily. However, due to its lightweight, attaching an additional headboard may not be advisable as it may disturb the frame's overall balance.
The frame is easy to assemble and requires no additional tools for the same. All the components needed to put it together are included in the box. The entire assembly can be completed within 15 to 20 minutes.
Clearance & Storage Space
This frame has a decent storage capacity at a 13" clearance height. This makes it easy to clean under the bed or to use it to put away belongings that need storage space.
The product's load capacity is 500 pounds for a full-sized frame, which leaves much to be desired. This is lesser than the load capacity of comparably-priced bed frames. So this frame will be a good idea for those that are not looking to add too much load onto the frame.
Pros
Light, simple metal steel construction
13" storage space
Easy to assemble, no extra tools needed
Affordable price
Cons
A low max load capacity of 500 pounds when compared to other options
5. LUCID Foldable Metal Platform Bed Frame and Mattress Foundation
This Lucid Foldable Metal Platform combines a sturdy construction, smart design, and massive 2000 pound load capacity. Made with heavy-duty materials, it has a wire-grid design on its platform that offers extra support to the mattress and prevents it from sagging. It's easy to assemble and comes folded flat for ease of installation. The high load capacity and storage space will seal the deal for anyone looking for a strong and dependable mattress foundation.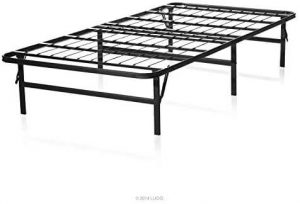 Construction and Stability
One of the most useful features of this 75" x 54" x 14" full-sized frame is its wire grid design, which places crisscrossing metal lattice across the platform. This evenly distributes the weight of your mattress across the frame and keeps it steady and well-balanced. Its heavy-duty legs are designed to support higher weight loads, for added strength.
While this foundation's assembly is not entirely tool-less (some bolts and nuts are needed), all the required components are included in the product. Moreover, the frame comes folded flat for easy installation. All that needs to be done is to unfold the frame and install the bolts, and it's ready to be used.
Clearance & Storage Space
It offers a convenient 13 inches of storage space, which means it offers the stability and support of a box spring without taking up much-needed space underneath.
Here comes the best part – this frame has an astounding 2000 pound load capacity. This is one of the highest load capacity for this design and makes it perfect for any kind of mattress and heavier loads.
Pros
Sturdy, wire-frame design and heavy-duty legs for extra support and steadiness
Massive 2000 pound load capacity
13" storage space underneath
Easy to assemble, with tools included
Cons
Slightly pricier than other options
6. Zinus Shalini Upholstered Diamond Stitched Platform Bed
For those who are on a lookout for a stylish upholstered platform bed for their home, this frame by Zinus is surely worth a look. With a steel framework and wood slats creating the foundation, it has a stylish, classy woven fabric upholstery stitched with a dense foam padding for support. With closely spaced slats for added support, this frame will work for full-sized mattresses. On the other hand, its max load capacity is somewhat modest and the setup requires tools and some patience. However, this is a stylishly designed frame with good aesthetics that will blend well with most home decor.
Construction and Stability
Underneath its stylish exterior, this frame has a hybrid metal-wood construction, with its overall frame made with steel with wooden slats on the platform. With a 79" x 57" x 40.7" size, its dimensions are bigger than those of full-sized metal frames.
The wooden slats are closely placed for stability and secured with velcro straps. The woven fabric is stitched securely over the frame and headboard with padding, which adds a sophisticated touch to the entire frame.
This foundation does require a certain degree of assembly, with tools needed for the same. However, the product comes with all components needed for the set up along with an instruction manual with a step by step guide.
Clearance & Storage Space
The frame has a 14.2" height, which offers decent storage space underneath to put away your things without any hassle.
The load capacity of this foundation is 500 pounds, which is again on the lower side when compared to most other metal frames. However, it can still be used to accommodate most mattresses and an average load.
Pros
Hybrid steel and wood construction for stability and sturdiness
Stylish woven fabric stitched exterior and diamond-stitched headboard
Wooden slats secured with velcro
13" storage space
Cons
More expensive than other options
Much heavier than other frames
Assembly can take longer
7. eLuxurySupply Wood Bed Frame
Some people may have a soft spot for an all-wooden frame, and this foundation by eLuxury Supply delivers on that front. This pinewood mattress foundation has a beautiful stained wood design and sturdy construction. With wood slats spaced close together, it can offer a steady and sturdy base for your memory foam mattress. It involves a tool-less assembly and is easy to set up, with instructions included with the product. It may have lesser storage space and pricier than other options, but its design, quality, and sturdiness make up for it, especially for those that love the look of a wooden bed frame.
Construction and Stability
With solid yet simple wood construction, this frame is not just strong and sturdy, but also quite sleek and easy on the eyes. Its dimensions are 76.5″ x 55.75″ x 13.5″ which accommodates all full-sized mattresses easily. It's available in a variety of beautiful stained wood finishes, in walnut, almond, black, and grey.
Each of the wooden slats is made with 7-layer pressed pinewood, and are placed 6 inches apart on the platform for impressive stability and weight distribution. This offers solid support to the mattress and extends its life.
This frame requires no extra tools for assembling and is quite simple to set up. The entire process will not take more than 30 minutes, and all hardware required for it is included in the box itself.
Clearance & Storage Space
With a height clearance of only 6", there is very little space underneath the bed. This makes it not adequate for using it as storage space. However, it leaves enough space for cleaning to be done easily.
The load capacity of this frame is quite decent at 900 pounds for the full-sized variant. At this capacity, it should be able to easily accommodate all full sized mattresses and most weight loads without resulting in any creaking or noise.
Pros
All-wood construction with beautiful stained wood design
7-layer pinewood slats, closely spaced for support
Tool-less assembly, easy to put together
Cons
More expensive than other options
Low height clearance at 6.5"
8. Classic Brands Adjustable Comfort Upholstered Adjustable Bed Base
For fans of adjustable bed bases, this one by Classic Brands packs quite a punch with its many features. This sturdy and innovative bed base does much more than offering a strong frame for your mattress. It makes it possible to raise or lower the head and foot elevation, as well as three different leg heights, whether you want to watch the TV or read a book.
With a convenient wireless remote, the frame also has USB ports for convenience. What's more, it also has a 3-speed massage feature that can run for up to 15 minutes at a time. The mattress retention rail secures your mattress in place, making for a comfortable, steady, and secure sleep.
Construction and Stability
The dimensions of this adjustable bed base are 75" x 54" x 15", which will accommodate most full-sized mattresses, whether they're memory foam, gel foam, hybrid or inner-spring. The frame has a sturdy and strong metallic construction. With a wireless remote, users can easily adjust their head and foot elevations, with head elevation adjustable to 65 degrees and foot up to 50 degrees. The frame also allows users to store their favorite elevations as defaults to go back to, anytime.
As if that's not enough, the frame also comes with USB ports and users can also enjoy a massage of up to 15 minutes, thanks to its three-speed massage setting on both head and foot areas. Finally, a metal rail at the center-bottom of the frame secures the mattress firmly in place, no matter which elevation you're on.
Despite its innovative functions, this bed base is not difficult to put together. The assembly is quite hassle-free and doesn't take too long.
Clearance & Storage Space
Since users can adjust the legs at three different available heights, the clearance heights can be adjusted between 5", 7" and 12". This is a convenient feature since users can choose to keep a higher clearance height if they need more storage space for their belongings.
This frame has a max load capacity of 1000 pounds, which is enough for providing stable and sufficient support to a full size mattress and two individuals.
Pros
Wireless remote-controlled adjustable bed base
Adjustable head and foot elevation up to 65 and 50 degrees respectively
Two USB ports available
Three-speed massage feature available for up to 15 minutes
Adjustable leg heights between 5", 7" and 12"
Remote allows custom default positions to be stored
Metal rail to avoid mattress slippage
Good max load capacity
Cons
Much more expensive than other options
9. Mainstay Half-Fold Metal Box Spring
This queen-sized metal box spring by Mainstay is built to offer maximum support to the mattress, which not only prevents sagging of the mattress but also results in comfortable sleep. Constructed with heavy gauge steel, it can be conveniently folded in half and requires no assembly, only unfolding the product. It comes with a coverlet to offer some breathability to the mattress placed on it. For those looking for an affordable, strong, and simple support for their mattress and don't mind the lack of storage space, this box spring is worth exploring.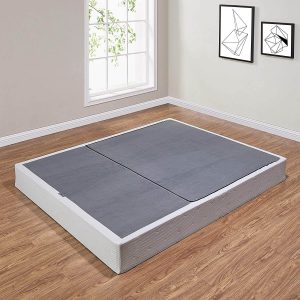 Construction and Stability
Constructed with heavy-gauge steel, this 80" x 60" x 7.5" box spring has a high load capacity and is sturdy enough to accommodate any queen-sized mattress. Its steel construction naturally makes it bed bug resistant. Offering even, stable and well-distributed support to the mattress, it increases the mattress's lifespan as well. The included coverlet is a nice touch since it allows the mattress to be slightly breathable, by not coming directly and fully into contact with the steel.
The best part about this box spring is that it requires no assembly. The product comes folded in half, and all that needs to be done is to unfold it and place it in the desired position in the room. And just like that, the box spring is ready for use.
Clearance & Storage Space
Being a box spring, this product is directly placed onto the ground and has no clearance height. This means that all the area directly under it is blocked from use, and can't be utilized as a storage space. The box spring will have to be moved for users to be able to clean the floor underneath it.
One of the most impressive things about this box spring, it has an eye-popping 2400 pounds maximum load capacity. This means that the mattress gets excellent support without any risk of sagging and creaking noises.
Pros
Heavy-gauge steel construction for added support
Includes coverlet for breathability to mattress
No assembly needed, only unfolding
Massive 2400 pound load capacity
Cons
No storage space underneath
10. Fashion Bed Group S-Cape Adjustable Bed Base
Another adjustable bed base to watch out for, this twin base by the Fashion Bed Group is the holy grail of luxurious comfort. It allows users to adjust the bed's head, the body as well as the foot with a wall hugger technology that keeps you gently in place while the base gently adjusts from under you. The bed base itself comes in a stylish grey upholstery with 4" height leg bases with wheels for ease of movement.
The remote control also allows storing custom positions as well as zero gravity, head-only and flat positions. The massage feature lets users enjoy a gentle body massage as well while lounging on their bed. Finally, the metal break at the bottom of the base prevents any slippage. For those in the mood to indulge themselves in luxurious comfort, this is definitely worth a look.
Construction and Stability
This adjustable base is sturdy and engineered to offer the user with a host of comfortable features. Its motor noiselessly adjusts the head at up to 59 degrees, and the foot at up to a 45-degree angle. Thanks to wall hugger engineering, the bed base adjusts gently from under the user for maximum comfort.
With its wireless remote, users can enjoy a gentle massage, as well as store custom positions that they prefer. With 80" x 38" x 16" dimensions, it can easily work with any mattress, whether it's made with memory foam, innerspring, or an air mattress.
This adjustable bed base is surprisingly easy to set up and assemble, with the whole process not taking longer than 20-30 minutes for most users. Moreover, the caster-fitted wheels make it really easy to move the bed and change its positions, if needed.
Clearance & Storage Space
Since this bed base has 4" high legs fitted on, it has barely any clearance height that's not adequate for storage space. However, the wheels on its legs make it quite easy to move the bed whenever the area under it needs to be cleaned.
With a 700-pound maximum load capacity, this adjustable base has a decent weight tolerance, which is enough for most mattresses and two individuals.
Pros
Wireless remote-adjustable bed base
Adjustable head and foot recline capacity of 59 and 49 degrees, respectively
Zero gravity, flat and two custom positions available
Legs fitted with casters for ease of movement
Wall-hugging technology for ease of adjustment
Massage feature
Easy to assemble
Cons
Quite pricey, when compared to other options on the list
Heavyweight
Modest weight capacity
Low clearance height
Conclusion
Whether you prefer a metal frame, wooden base, or adjustable bed bases, having a solid and reliable mattress foundation is crucial to ensure a comfortable sleep and lengthen the life of a mattress. Each type of foundation offers different features to the user, with metal frames offering sturdy support at an affordable price, wood frames providing a blend of design and sturdiness, and adjustable bases technological features for added comfort.
However, do remember that the perfect mattress foundation differs from person to person, and it is important to keep one's own personal preferences and sleeping habits when choosing a foundation that best caters to the needs.
Related Post:
Best Bed Frames For Memory Foam Mattress Reviews