We may earn a small commission if you buy something via a link on this page. This doesn't impact our rankings or cost you extra. See
our advertising disclosure
for details.
If you love the feel of new crisp sheets, the kind you often find in luxury hotels, then you will definitely consider sleeping on percale sheets at home. Percale sheets provide a cool and breathable surface that is smooth and crisp, even after extended use. They also soften over time and feels more and more comfortable against your skin. Of course, there are many popular options and brands available when it comes to buying new sheets. The choices can be pretty overwhelming, especially when you're shopping online. That's why we compiled this list of the best percale sheets to help you sift through the possibilities.
Our percale sheets review also explains some of the most common questions people have about percale in the buyer's guide following our reviews. Hence, you can get exactly what you are looking for without spending hours searching.
Almost all of the sets in our percale sheets reviews consist of a fitted sheet, a flat sheet, and two pillowcases. Most of the companies also sell additional matching pillowcases if you wish to add to the core set. Some of the sheets sets are only available in certain sizes. However, within our list, you will find sheets that fit bed sizes Twin, Twin XL, Full, Queen, King, and California King. Twin XL is the least prominent size available.
Top 10 Best Percale Sheets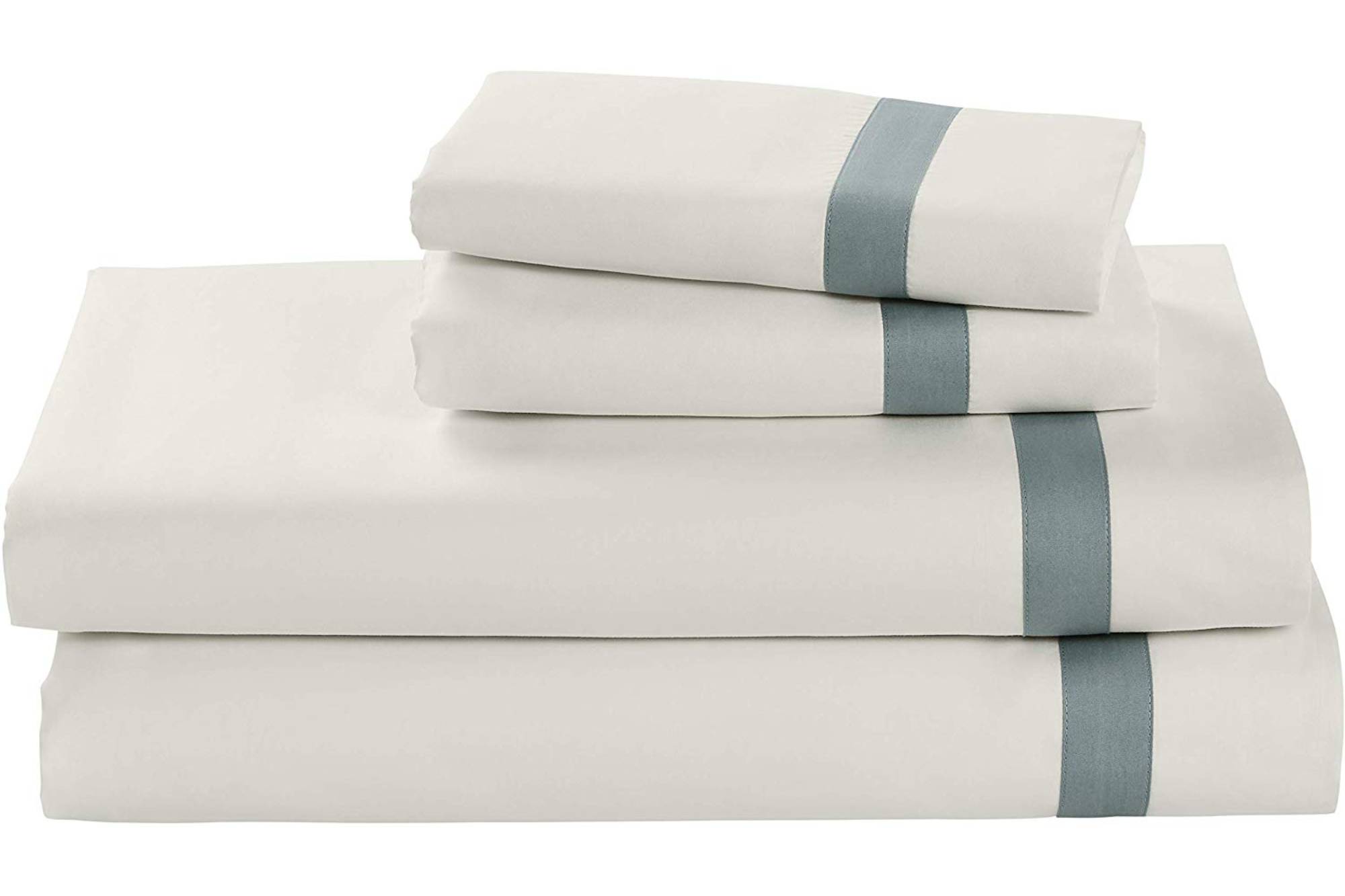 Overview:
Thread Count: 300
In-home Trial: Compliant with the 30-day/night Amazon return policy
Colors: White sheets with 5 color options for stripe near the head of the bed
Pocket Depth: 17 inches
The Stone & Beam banded 100% percale cotton bed sheet set is our top pick for the best percale sheets. These crisp cotton percale sheets are our Editor's Choice because of the excellent value they provide at an affordable price point. With their crisp cool texture and elegant design including deep pockets, this trusted brand has produced a lot of happy customers.
Features
Percale cotton sheets are known for their crisp cool feel and Stone & Beam sheets will give you exactly what you would expect. They are crisp, but not too much that it could be considered rough or scratchy. The 300 thread count design maximizes breathability and sufficient airflow without sacrificing quality. Thus, you can sleep cool during any season of the year.
These Stone & Beam sheets are crafted with a 17-inch deep pocket and will accommodate nearly any mattress. The simple white shade and matte finish of these sheets are accentuated by a band of color close to the top making them great for any decor. Available shades include pastel blue, navy blue, pale gray, dark gray, and beige.
To top it all off, Stone & Beam packages their bed sheets in a reusable cloth string bag. This strategy helps to reduce the prevalence of single-use plastic in product packaging and cuts back on additional waste overall.
Pros:
Eco-friendly packaging
17″ deep pockets
Simple elegant design
Excellent value and price
Cool crisp feel
Cons:
No warranty
Limited color selection
Larger carbon footprint due to importation from abroad (India)
Overview:
Thread Count: 500
In-home Trial: 30 days
Colors: White and ivory
Pocket Depth: 18″
The Thomas Lee Percale Pima Cotton Bed sheet set is our #2 pick and our luxury choice for the best percale sheets.
Features
We think these are some of the best bed sheets for several reasons. The Thomas Lee Percale boasts of ultra-deep pockets and smooth finish provided by the use of Pima long-staple pure cotton. These sheets have cool, breathable weave and high durability.
Pima is known for its long-staple cotton fibers which result in a smoother, more consistent fabric. These Pima cotton percale sheets closely resemble Egyptian cotton sheets in their traits and appearance. The major difference is the source of cotton. Thomas Lee cotton is 100% U.S. grown. Still, you can expect the same cool and super crisp sheets you would want with Egyptian cotton.
Another reason Thomas Lee is in our best cotton percale sheets list is attributed to its 18-inch deep pockets which will fit almost any bed, even with a mattress topper. The high 500 thread count used in these sheets also offers more durability and worth. Amazingly, it's something you would expect to get from a luxury pair of sheets at this price point.
Pros:
Deep 18-inch pockets
100% cotton sheets
500 thread count is extremely durable
Pima long-staple cotton is super smooth
Crisp and cool
Cons:
Available in only white and ivory colors
High price point
Pockets may be too deep for a thin mattress
Overview:
Thread Count: 200 or 300
In-home Trial: 30 days to return
Colors: 8 patterns on a white background
Pocket Depth: 15 inches
The Eddie Bauer cotton percale sheets are our top budget choice taking the third slot in this rundown. This product offers an affordable price point that's friendly on almost any budget – without sacrificing quality for cost.
Features
Eddie Bauer's percale sheets are also made from 100% cotton, not a poly blend, which ensures its breathability and prevents overheating. The Eddie Bauer cotton sheet set presents a lower thread count percale which is perfect for these types of tight weave. Interestingly, there is varying information regarding the thread count, one source says 200 and another says 300 thread count.
Classic patterns are placed on the white background with a matte finish making these sheets a great option for bedding in a kid's room. There are eight designs you can choose from, most of which depict outdoor activities like rowing or flying.
However, these sheets do not offer the deepest pockets, measuring only 15 inches in depth. Still, it is considered a benefit if you plan on using them on a kid's Twin size mattress. This type tends to be thinner than some of the new foam mattresses on the market today. An additional benefit is that the pillowcases come in a standard size. Hence, they will not dwarf pillows suited for a smaller bed either.
Pros:
Great budget choice
Fun, basic patterns
Available in Twin, Twin XL or split King size (many are not)
Established brand
Great for a kid's or adult's bed
Cons:
Unsure of actual thread count
No bright color options
15″ deep pocket may not fit an extra thick mattress
Overview:
Thread Count: 300
In-home Trial: 30 days to return
Colors: 6 solid colors: light gray, dark gray, dark blue, white, ivory, and lilac
Pocket Depth: 19 inches
Fabdreams 100% Organic Cotton Percale sheets are our best cotton pick coming in at #4 on the overall list.
Features
These sheets are breathable, crisp, cool, affordable, and durable. Fabdreams sheets use a 300 thread count construction in their design which adds to its durability. Paired with the tight percale weave, it will not overheat while you sleep.
One of the benefits of 100% organic cotton is that it's free from any harsh chemicals that could irritate sensitive skin. Another advantage you get from organic cotton is that your new sheets will arrive without any kind of unpleasant odor. Therefore, you can sleep on them right away. Organic cotton also retains dyes well and will not fade as easily as other materials.
What's more, organic cotton is also environment-friendly since it doesn't introduce any harsh chemicals into the ecosystem in which it is produced. Additionally, Fabdreams also packages these sheets in a reusable drawstring bag to cut back on waste and reduce single-use plastics that go straight into a landfill.
We also like Fabdreams percale sheets because they have 19-inch ultra-deep pockets that are excellent for accommodating thick mattresses or one with a pillow top. Lastly, we appreciate Fabdreams sheets because they oversee the entire manufacturing process. This is to ensure top quality products are produced in a sustainable manner and in a way that benefits both the consumers and the environment. Moreover, they are also tested and proven to be BCI and Oeko-Tex certified.
Pros:
100% organic cotton
Environment-friendly
19″ deep pockets
Affordable with great quality
Breathable, crisp, and cool
Cons:
No patterns available
Some pocket depth discrepancies reported
Wrinkle easily
Overview:
Thread Count: Unavailable
In-home Trial: 30 days to return
Colors: White, taupe, cloud grey, blue pastel, diamond geo, dusty rose, petal medallion
Pocket Depth: Unavailable
AmazonBasics Lightweight Percale Sheets are our #5 choice for the best percale sheets and our top pick for best crisp option.
Features
AmazonBasics are known for being affordable and these sheets certainly fall into this category without sacrificing your comfort along the way. The percale weave in AmazonBasics sheets is as crisp and smooth as one would expect from a higher-end sheet set, but for a lower cost.
When it comes to sheets, percale is a great option for year-round use. They're known to offer breathability without being too heavy or having an excessively tight weave. AmazonBasics percale sheets are perfect for long-term use because of how lightweight they are, even if you sleep hotter than normal.
One drawback to these sheets is the lack of information available regarding material construction. Both the thread count and pocket depth information is unavailable on this product.
Pros:
Extremely affordable
Available in various colors and patterns
Super lightweight sheets, so you sleep cool
Crisp matte finish
Available in different size options
Cons:
No pocket depth detail available
No thread count available
Excessive packaging
Overview:
Thread Count: 200
In-home Trial: 30 days
Colors: Graphite, mint, white, light grey, and peach-pink
Pocket Depth: 17 inches
Rivet Percale 100% Organic Cotton Sheets are our #6 pick. We love that they are made from 100% organic cotton, which, as already discussed, is better for the environment and is affordable without skimping on quality. Often organic cotton costs a bit more, but that is not the case with Rivet.
Features
Rivet sheets also provide the crisp and smooth feel that you expect from a percale weave. Many consumers confirm that the sheets are smooth, not scratchy, and have softened nicely over time. Consumers also report that the elastic bands used in the pockets are high-quality providing them with an excellent fitted sheet that does not slip or slide off of the corners as you move.
One of the benefits of these sheets is the fantastic pillowcases included in the set. They have been reviewed specifically by several consumers and noted that the inclusion is not all that common in a sheet set. If you choose Rivet sheets you will receive a top-quality product all around that is also environment-friendly.
Pros:
Affordable
100% organic cotton
Crisp, with smooth feel and appearance
Softens marvelously over time
Environment-friendly
Cons:
No bright colors
Wrinkle easily and may need ironing
Some shrinkage occurs
Must be washed using a delicate cycle to prevent unnecessary damage
Overview:
Thread Count: 200
In-home Trial: 30 days
Colors: 9 different solid colors and patterns
Pocket Depth: 14 inches
The Elinen Cotton Polyester Blend Percale bed sheet set gets the #7 spot on our best percale sheets list.
Features
This is the first cotton-polyester blend on our rundown of sheets. Percale is still percale though, and you will sleep on the same smooth crisp sheets even if they offer a blended material. You may even find that you like a cotton-polyester blend better depending on your preference.
The addition of polyester into the cotton material allows it to stretch and fit your mattress snugly, especially in the corners. If you like a tightly fitted sheet, the elasticity of polyester will give you exactly that. The additional elasticity will also ensure that your sheets stay put on your bed while you sleep. Polyester also helps diminish the appearance of wrinkles, meaning you won't have to iron these sheets. Lastly, the cotton-polyester blend found in Elinen's percale sheets will also reduce the initial shrinkage. A trait that is often associated with pure cotton sheets.
In addition, Elinen sheets are manufactured and produced in a socially and environment-conscious manner. Hence, you can sleep well knowing you support the community and our planet with your purchase. Moreover, Elinen is also Oeko-Tex certified.
Pros:
Environment and socially responsible manufacturing
Minimal shrinkage and wrinkling
Very affordable
Great color selection
Superior elasticity
Cons:
Not as breathable as 100% cotton
May not fit thicker mattresses
Not as crisp as pure cotton percale
Overview:
Thread Count: 300
In-home Trial: 30 days
Colors: White
Pocket Depth: Unavailable
Pinzon Percale Cotton sheets are our #8 pick for the best sheets for bed time when it comes to percale.
Features
We like these sheets because they are quite affordable even with the high 300 thread count which is durable and long-lasting. The Pinzon percale core sheet set will allow you to sleep in comfort with the smooth, cool, and crisp sensation you would expect from a higher-end product. That is, without the inflated price tag. Moreover, the Pinzon percale sheets are available in white with a matte finish. Its basic simplicity will match any decor.
The exclusively cotton construction of these percale sheets is also Oeko-Tex certified, guaranteeing they meet high-quality safety and environmental standards.
Unfortunately, there is no available information regarding the actual pocket depth of these sheets. Although it's noted that they have deep pockets, but it doesn't say anything more specific than that. However, you can always return the set if they don't fit.
Pros:
Affordable on any budget
Durable 300 thread count
Matte finish that softens over time
Cool, crisp, and smooth
100% cotton percale
Cons:
Available only in one color
Wrinkles easily
No specific pocket depth information available
Overview:
Thread Count: 200
In-home Trial: 30 days
Colors: White, ivory, sage, lilac, taupe, charcoal, baby blue, navy blue, and silver
Pocket Depth: 16 inches
The Linen Home 100% Cotton Percale sheets are our #9 pick on the list.
Features
We like these sheets because they come in a wide variety of solid colors and are highly affordable. Linen Home also provides a no-questions-asked return policy. Therefore, you don't have to explain yourself if you decide these sheets are not the ideal ones after ordering.
Testing done by Linen Home shows their sheets are also pill and shrink-resistant. Hence, you don't have to worry about them losing their sleek appearance or being unable to fit after many washes. Likewise, Linen Home also produces its beddings in Oeko-Tex certified factories so you know that these are free from harsh chemicals.
Another great benefit of these sheets is that, unlike any of the other options on our list, they sell larger individual pillowcases. They offer Queen and King sized pillowcases so you can be sure they fit oversized longer pillows. Thus, you can sleep on well-matched bedding.
Pros:
Wide color selection
Queen and King-sized pillowcases available
Resistant to pilling
Affordable
No questions asked return policy
Cons:
Wrinkles easily
No patterned material
Exudes odor upon initial unboxing
Overview:
Thread Count: 200
In-home Trial: 30 days
Colors: White
Pocket Depth: 14 inches
Last on our list is PHF's Hotel Collection Cotton Polyester fitted sheets.
Features
The PHF Hotel Collection is the second percale blend in our list but as we mentioned above, you might prefer a blended fabric over cotton exclusive percale sheets. This is because of its resistance to shrinkage and pilling, plus the added elasticity. Even with the blend, you can expect to sleep on cool, crisp, and smooth sheets with PHF.
This option is the only set that does not come with several sheets but packed with merely two fitted sheets. If you are looking to replace only the fitted one, which happens more than you'd expect because they wear out faster, then this may be the solution you are looking for.
Pros:
Extremely affordable
Two sheets per package
Perfect if you only need fitted sheets
The cotton-poly blend has added elasticity
No shrinkage or pilling
Cons:
Only available in Queen and King size
14″ pockets may not fit all mattresses
Available only in one color
How to Choose the Best Percale Sheets: A Buyer's Guide
Now that you have read our percale sheets reviews, let's address some of the common questions that will help you decide better which bedding is best for your personal needs and preferences. When it comes to sheets, percale has been around for a long time. That explains the term 'old fashioned percale sheets', but not everyone knows what to expect about this fabric.
What are Percale Sheets?

First things first, what is percale and what are percale sheets? The term "percale" refers to the type of weave used to make the bedding's fabric. A percale weave is known for being tighter than other weaves. This gives the material a sturdier, crisper, and thicker feel due to the higher thread density. The tighter percale weave also makes the material more durable, strong, and long-lasting. This strength contributes to a more luxurious bedding that is both softer and crisper than other materials.
Among the admirable traits of percale sheets, their crispness is the most prominent. If you want crisp, luxury style sheets, then percale could be exactly what you are looking for. This tight crisp weave also means the material will wrinkle easily. However, you can eliminate any wrinkles by removing them from the dryer as quickly as possible and by ironing them when necessary. Usually, the wrinkling is minimal without ironing but you may prefer a smoother look. Hence, the option to iron is worth considering.
If you prefer soft, silky, or sateen sheets, then you most likely do not want a percale weave in your bedding. 100% cotton sheets may still be an option for you, but you should definitely explore some other materials like bamboo.
Will Percale Become Softer the More It is Used?
Most people think of crispness when it comes to percale, but the more you sleep on and wash percale weave, the softer it becomes. After washing, the initial crispness will remain but the fabric will gradually become softer as well. Due to the tight weave and crispness, you can expect your percale sheets to last approximately three times longer than other sheets with a looser weave, like linen. When your sheets start soft, they will wear down faster as compared to a crisp and tight percale weave that is highly durable.
What Thread Count Should You Expect in a Percale Weave?
Percale sheets must have a minimum of 180 thread count. However, they do not have a limit on how high the thread count should be. One of the benefits of a percale weave is that you do not need a high thread count though, so 200 – 500 thread count will still result in excellent quality bedding. Numerous thread count does not denote high quality by itself alone. The thread count signifies how dense the threading in a piece of material is, like fitted sheets or pillowcases. However, with percale, you already know the weave is dense and tight. It is also good to keep in mind that percale sheets may be dense but this does not hinder breathability.
Is Percale a Cotton?
Alright, so if percale refers to the type of weave, then what are percale sheets made of and what is percale cotton? A percale weave is generally utilized in either 100% cotton or a 50/50 cotton-polyester blend. Thanks to the abundance of cotton in either configuration, percale sheets are also breathable. It will wick away sweat if you get too hot in your sleep. The weave structure also promotes sufficient airflow, similar to linen.
If you are wondering 'what is cotton percale as opposed to percale cotton?' – don't worry. The mixing of specific terms can often be confusing. Fortunately, in this case, they both refer to the same thing and it doesn't matter which word comes first.
Is Percale Better than an Egyptian Cotton?
Everyone has heard of Egyptian cotton and how great it is for sheets – but are percale sheets of good quality, or maybe even better than Egyptian cotton? Ultimately, it depends on what you like and what type of percale sheets you are comparing. First off, it's been noted that a cotton-poly blend fabric with a percale weave is not as good as Egyptian cotton when it comes to bedding. However, if we are talking about 100% cotton percale, it is not so easy to pick a clear winner.
Both percale and Egyptian cotton are known for being smooth, crisp, and breathable. So, what material makes the best crisp sheets? If you prefer dark or rich vibrant colors for your bedding, then Egyptian cotton could be the right choice for you. The long-staple fibers in Egyptian cotton do an excellent job of holding dyes and preserving their brilliance for many washes to come. Percale also does a great job with dyes but Egyptian cotton is slightly better with dark colors.
Percale is much more affordable than Egyptian cotton due to its widespread production that is not limited to a very small and specific region in the world. So if you want affordable sheets that are soft, crisp, and breathable without paying the costly price tag on Egyptian cotton sheets, then percale may be the perfect solution for you and your budget.
You Have Lots of Options
You have reached the end of our percale sheets review, and by now we hope you have discovered the best percale sheets for you. In case you need a refresher though, let's briefly review our Editor's Choice.
We chose Stone and Beam's Banded 100% percale cotton sheets to fill our #1 slot because we love their:
Elegant and simple white fabric design that shows a thickly accented stripe available in 5 colors to match any decor
Has 17-inch pocket depth which will accommodate thick mattresses
30-day returns guarantee, you won't be dissatisfied with your purchase decision
300 thread count that provides durability without sacrificing breathability
Excellent value and affordable price point
Eco-friendly packaging that contains a reusable drawstring bag instead of a single-use plastic
Cool and crisp feel that gets softer over time
100% cotton percale weave, instead of a poly blend
Our percale sheets reviews do not include top brands like Brooklinen, Boll & Branch, or Snowe. However, it offers lesser-known options that you may not have heard of before, in hopes to expand your possibilities. We love these sheets and if you choose them for your personal bed at home, we think you will, too! If not, maybe one of the other nine options in our selections would make a better fit for you and your specific preferences. I hope this makes your online shopping easier. Enjoy!
Additional Resources