We may earn a small commission if you buy something via a link on this page. This doesn't impact our rankings or cost you extra. See
our advertising disclosure
for details.
The idea of sleeping on air may be a little wired but with an air mattress, might actually work. Technically, an air mattress is simply a large container that is commonly made from polyvinyl chloride a.k.a. PVC. However, most manufacturers today have already started using rubber materials or a more high-end urethane plastic which is more elastic. Unlike regular plastic materials, urethane isn';t that brittle which can extend the life of an air mattress.
Filled by air and nothing else, the best air mattress can be used indoors and outdoors. So, read on to find out how you can spot the best air mattress for everyday use:
10 Best Rated Air Mattress For Everyday Use Comparison
Reviews of Top 10 Best Selling Air Mattress For Everyday Use
1. SoundAsleep Dream Series Air Mattress
Perfect for those who prefer to keep things minimal, this air mattress is a great choice. Available in Queen Size, this SoundAsleep air mattress has an internal pump that offers inflation and deflation functions. Thus, you no longer need to carry around an air pump whenever you need it. It features ComfortCoil Technology that provides support and comfort while you sleep.
Its thick flocked top contains waterproof properties that protect it from accidental spills and leaks. At the same time, it contains multilayer of 15 gauge materials that help it resist accidental punctures. Thus, it can last longer compared with regular air mattresses.
Features and Specifications:
Measures 78 x 58 x 19 inches when inflated to its full size
ComfortCoil Technology provides it with the top design with 40 internal air coils for additional support and durability
Patented 1-click internal pump makes it easier and faster to inflate or to deflate in less than 4 minutes
Raised double-height with dual chamber construction makes it easier to get in and out of bed
Sure-grip bottom prevents it from moving and sliding while you sleep
Extra thick flocked top with waterproof properties guarantee its additional durability and comfort
Pros
Constructed with an extra thick and waterproof top
Consists of multi-layer materials to double its strength
Made from puncture-resistant materials
Includes a free and durable carry bag
Easy to store and carry around for indoor or outdoor use
Cons
The deeper dimples on its surface may not be that comfortable for other users
Doesn';t hold up air for long
---
2. Insta-Bed Raised Air Mattress with Never Flat Pump
If you want an air mattress that can prevent be a nice alternative to a traditional mattress, try this one. This air mattress from Insta-Bed is made from PVC material that is combined with its durable construction. Compared with other models that contain a built-in pump, this air mattress contains not just one but two internal pumps. These pumps with an airbed comfort technology keep it from going flat overnight as its name suggests.
Thus, you don';t have to worry about feeling the floor anytime soon. Its circular coils keep it comfy with enough support all night so you don';t have to inflate it more often.
Features and Specifications:
Measures 80 x 60 x 19 inches when inflated to its full Queen Size
Suede mattress top keeps the bed sheet in place all night even if you move a lot
Raised mattress height makes it so much easier to get in and out of bed without a hassle
Welded construction gives it an airtight seal that prevents the air from coming out
Internal AC NeverFLAT pump system keeps the mattress firm and comfortable overnight just the way you want it
35 circular coils provide it with strong support for a leveled sleeping surface
Pros
Includes a carry bag for an easy storage
Portable to carry around for outdoor activities
Built with a primary pump and a secondary pump to keep it firm and cozy
Offers auto deflate and auto inflate functions
Cons
May start to leak after a couple of months of regular use
The indentations on the surface may cause discomfort to some users
---
3. King Koil Luxury Raised Airbed
This air mattress is a great option if you want one a versatile mattress that can keep up with your active lifestyle. This is the kind of mattress that you can use indoors as well as in your outdoor trips. Thanks to its 120V internal pump, inflating and deflating it is so much easier when plugged in an outlet. In less than 5 minutes, you can already have a firm and cozy air mattress to sleep on.
You simply click the pump open and let it do its job while you relax. For outdoor activities, you can use it with an external pump since it also has a backup external valve.
Features and Specifications:
Measures 84 x 72 x 20 inches when inflated to its full Twin Size
Designed to support up to 300 pounds weight capacity
Enhanced airbed technology with soft flocking layer and built-in pillow provides maximum comfort
Extra thick construction promotes a good sleeping posture by providing spinal support
Water-resistant top with suede fabric provides a soft feeling that promotes a better sleep
Plug-in 120V AC internal pump offers fast and hassle-free inflation and deflation functions in less than 3 minutes
External valve makes it a perfect mattress for regular and occasional use indoors or outdoors
Pros
Affordable but durable
Made from extra thick materials
Waterproof mattress top keeps it safe and dry from accidental leaks
Comes with a built-in pillow to provide some extra cushion
Promotes spinal alignment and back support
Works with an internal and external pump
Cons
Prone to leaking which can make you sink more
Too soft and not ideal for those users who prefer a firmer air mattress
---
4. Coleman Queen Airbed Folding Cot
For those who love indulging themselves into adventures, this air mattress can certainly serve them right. After all, Coleman is a well-known brand and all of its products reflect quality. But unlike regular air mattresses, this one includes a 4D pump that can be attached to the double lock valve. This means that you can use it anywhere as long as you have extra batteries to inflate or deflate it.
You can also adjust the mattress firmness according to your comfort level and let its AirTight system keep it leak-free. You can also assure yourself that it can provide you optimum support with its ComfortStrong coil system. Thus, you can have the best sleep you';ve been waiting for.
Features and Specifications:
Measures 78 x 59 x 22 inches when inflated to its full Queen Size
Holds up sleepers who weigh up to 600 pounds
Factory tested AirTight system keeps it firm and leak-free
ComfortStrong coil system provides it with more comfort and better support all night
Double Lock valve made with a dual seal keeps its air inside once inflated
Battery-operated 4D pump provides a hassle-free inflation and deflation solution
1 side table on the left and right side of the mattress has a built-in cup holder
Sewn-in mattress cover with zippered closure keeps the mattress secure in its place
Pros
Designed with a standard bed height to get in and out of it with ease
Ideal for both indoor and outdoor use
Backed up by a high-capacity battery-operated pump
Ideal for users who are up to 6'; tall and weigh up to 600 pounds
Cons
Can be a little bit noisy when you lay and move on it
Too heavy and hard to move around once inflated
---
5. Intex Comfort Plush Mid Rise Dura-Beam Airbed
Another best-selling product, this Dura-Beam Airbed from Intex is designed with a built-in pump. Its high-capacity AC pump includes both inflate and deflate functions that can take about 3 minutes only. You can also adjust its firmness according to your desired level of firmness with just one click of a button. With the help of its Fiber-Tech interior construction, the mattress can last longer with stronger materials and provide excellent support.
In fact, its flocked sides can withstand abrasion and puncture which can easily damage regular airbeds. So when it comes to overall performance, this air mattress is 100% more durable'', 35% more supportive'', and 15% lighter''.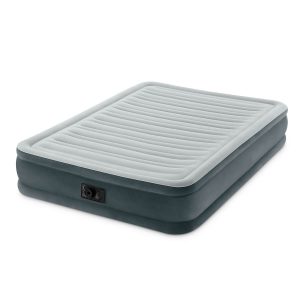 Features and Specifications:
Weighs 16.18 pounds with up to 600 pounds weight capacity
Measures 54 x 75 x 13 inches when inflated and stretched to its Full Size
Fiber-Tech interior construction with superior strength provides more support
Built-in AC electric pump offers a hassle-free operation with inflation and deflation functions
Waterproof flocked mattress top prolongs its lifespan by protecting it from puncture and abrasion
Raised mattress height with indented sizes prevents your fitted sheets from slipping its grip
Pros
Affordable and hassle-free to operate
Includes a free duffel bag to store and transport it without a hassle
Heavy-duty air mattress ideal for heavy sleepers who need extra support
Convenient for regular use at home with dual functions
Cons
Slowly starts to lose its pressure over time
May require you to fill it every day to keep it firm
---
6. Best Choice RAISED Inflatable Bed
If you';re looking for an air mattress that can help you sleep like royalty, you might want to try this. This model is under AirMattress'; Best Collection that is specially designed to provide an exemplary sleeping experience. With the aim to beat its competitors, it is engineered with stronger and lighter materials to make it more comfortable. Every detail in it is made with great precision.
Its product dimension is also based on the standard mattress sizes to make sure that it fits in standard sheets. This laminate air mattress also uses brand new vinyl and nylon materials to guarantee its quality. Thus, you can use this mattress at home or on camping sites.
Features and Specifications:
Weighs 25.4 pounds with more than 600 pounds weight capacity
Measures 80 x 74 x 18 inches when inflated to its full King Size
2 layers of high-grade and brand new virgin vinyl ensure its longer lifespan unlike other airbeds with cheaper recycled vinyl
2 layers of nylon laminate reinforcement prevent it from stretching around the seams to increase its durability
Fused vinyl and nylon laminate makes it lighter than regular air mattresses
High-powered two-way air pump fills it with air and deflates it in record time
Pros
Firm enough to help reduce pressure points and provide comfort
Built with an internal pump that can inflate and deflate in just a few minutes
Comes with a lightweight travel bag that makes it easier to carry in a compact size
Cons
Requires regular filling of air every day
The inflate knob doesn';t automatically close once it reached its full height
---
7. Etekcity Twin Queen Size Comfort Air Mattress
Known for its versatility, this air mattress from Etekcity is a great buy for both indoor and outdoor use. It contains an internal pump and a manual valve where an external pump fits if you need it for camping. Its flocked top remains soft and comfortable all night so you can enjoy an undisturbed sleep every day.
Its quality craftsmanship and seamless assembly ensure that it remains firm by preventing any air leakage while you sleep. When it comes to design, you can toss and turn all night and wake up with your sheets intact. That is thanks to its rib-like structure that keeps all fitted sheets in place.
Features and Specifications:
Weighs 13.15 pounds with up to 550 pounds weight capacity
Measures 75 x 39 x 18 inches when inflated to its full Twin Size
008 inches flocking mattress top and 0.016 inches PVC layer keeps it comfortable while you sleep
Built-in air pump gives it an instant internal power that makes it easier to inflate and to deflate
Switch knob with a spring back function prevents it from leaking
Manual valve allows you to inflate and deflate it using an external air pump
Skid-free base prevents it from moving while you toss and turn in your sleep
Pros
Budget-friendly and user-friendly
Easy to carry around in a small carry bag
Stays put and it operates quietly with an internal pump
Keeps the sheets fitted on its rib-like construction
Designed with a cord storage and extra manual valve
Cons
Contains a slight chemical smell that can trigger headache on some users
Not ideal for those who prefer a higher bed
---
8. Fox Airbeds – Plush High Rise Air Mattress
When size matters a lot to ensure your comfort, finding the good air mattress for everyday use is a challenge. Thus, FoxAirBeds is here to solve that problem by creating air mattresses that have true to size measurements. This means that this mattress has no bulge to bulge'' measurement and over inflating just to get its exact dimension.
You don';t even have to wait to warm it or stretch it up to get its full benefits. Using a thicker vinyl for its sides and bottom part, FoxAirBeds made its seams and chambers stronger.
Features and Specifications:
Weighs 18 pounds and measures 82 x 62 x 18 inches when inflated to its full Queen Size
I-beam coils provide are more supportive mattress surface
Side chambers provide reinforcement to make it more stable even if you move a lot
50% thicker vinyl increases the strength of its seams and chambers
Internal two-way air pump offers both inflating and deflating functions
High-capacity two-way external valve helps it deflate faster and inflate using an external air pump even without power supply
Compartment cord keeps its power cord hidden and protected when not in use
Pros
Top rated air bed with true to size product dimension
Remains stable with pillow top airflow chambers around it
Holds better with a higher weight limit
Uses a thicker 0.66 mm vinyl compared with the 0.40 mm from its competitors
Cons
Prone to forming a bump in the middle and sides due to uneven weight distribution
May lose air faster than other air mattresses
---
9. Active Era Premium Queen Size Air Mattress
If you want an air mattress that can inflate in less than 3 minutes then you should not miss this. A premium air mattress from Active Era, this mattress has an integrated and user-friendly electric pump. Just a little turn on its knob and you can easily inflate it, deflate it, or turn it off. It also contains air coils and gauge that guarantee its optimum support and strength that can last for years.
It even has a built-in raise pillow which makes it convenient and handy for enjoying an additional neck and head support. Most importantly, it is covered with a waterproof flock top that is perfect for home and camping trips.
Features and Specifications:
Measures 80 x 60 x 19 inches when inflated to its full Queen Size
Holds up to 500 pounds weight capacity
Built-in electric pump with AC 120V, 60Hz power inflates it in less than 3 minutes and deflates it for easier storage
Integrated raised pillow provides additional support along your neck and head for a bed-like comfort and better night sleep
Waterproof flock coating makes its surface more comfortable and soft to touch
15-gauge material protects it from abrasion and punctures to prolong its lifespan
35 structured air coils provide it with sufficient support
Pros
Space-saver and ideal for budget-seekers
Provides better full body support
Made from high-quality and puncture-resistant materials
Includes a carry bag for a compact and hassle-free storage
Great for camping and as a guest bed
Cons
Tends to lose air faster that';s about half of its air overnight
May form an uncomfortable lump in the middle
---
10. Lazery Sleep Air Mattress
Too lazy to get up in the middle of the night just to pump your mattress to keep it firm? In that case, then this might be the answer you';ve been waiting for. This air mattress comes with an internal electric pump that lets you inflate and deflate it after plugging it in. No need for manual pumping and batteries, you can even operate its pump with a wired LED remote control. It';s perfect for lazy people, isn';t it?
With double height and thick material, this no doubt a heavy-duty air bed. It is designed to provide a sufficient amount of comfort and support by maximizing its 7 settings.
Features and Specifications:
Weighs 19.75 pounds and holds up to 500 pounds weight capacity
Measures 78 x 58 x 19 inches when inflated to its full Queen Size
Patented 1-click built-in air pump provides complete inflation and adjustable firmness in just 4 minutes
Patented pump design raises it into double height using a powerful motor that is 20% quieter
Sure-grip prevents it from moving every time you or your partner moves in bed
Thick waterproof flocked top increases its durability and comfort level
40 internal air coils reinforce its support system to increase its durability
Pros
Operates quietly with a patented air pump
Easy and fast to inflate or deflate in just a few minutes
Remains flat and firm to ensure your quality sleep
Great for regular use, overnight guests, friends, and relatives
Cons
The tufted surface can be a little uncomfortable for some users
The sheet pockets aren';t deep enough to keep sheets in place
---
Factors to Consider When Choosing an Air Mattress for Everyday Use
Not all air mattresses are the same and that';s for sure. Whether you want a Single, Twin, Full, Queen, or a King, the list of air mattresses can be overwhelming. This is especially true if you prefer to buy on online stores since there are thousands of air mattresses online. Thus, we';re here to back you up and help you find the best air mattress for everyday use. Depending on your needs and preference, here are some things to consider when selecting an air mattress for everyday use:
Clearly, you can';t get away with measurements whether you are buying a regular mattress or an air mattress. Considering the air mattress'; size will help you determine how many sleepers it can accommodate. If you always sleep alone, a Twin or a Full Size mattress will do. But if you want extra space to roll on or accommodate another person, there';s also Queen and King Sizes. These last 2 sizes are perfect if you';re not a fan or rubbing shoulders with your partner while sleeping.
Most importantly, considering the size will help you make sure that you have enough space to fit the air mattress. The last thing you would want is to end up with a mattress that can';t fit where you want it.
For most users, the height of the air mattress matters a lot, especially for the older ones. Just like in traditional beds, it is easier to get in and out of the bed has an average height. Ideally, the height of a bed and mattress from the floor should be 25 inches. This height is just enough for your feet to reach the floor while seating on the mattress'; edge. However, not all air mattresses don';t reach this height and are designed to be low on the ground. In this case, you may need to get a separate platform to place your air mattress to increase its height.
Since air is the main thing that makes the air mattress firm and comfortable, it';s worth to consider its pump. There are built-in and external pumps that can be used to pump air into the mattress. Built-in pumps are more common on modern air mattresses today while the external pumps are used since air mattresses are introduced. If you intend to use the mattress indoors only, it is great to opt for one with a built-in pump. This way, you can simply plug in the mattress'; pump to the nearest power outlet.
But if you want a more versatile pump that you can take outdoors, get an external pump. An external pump can be manually operated, battery operated or plugged in an outlet which works better for outdoors. Regardless of the type of pump you prefer, make sure that it can inflate or deflate as quickly as possible. It has to be portable and user-friendly as well since you will need it more for everyday use.
Compared with regular mattresses, you can adjust the air mattress'; level of firmness according to your needs. You can fill it up and keep it as soft as cloud 9 or as firm as your favorite mattress. But since this it needs breaking in, you may need to pump it once a day for a few days. This is due to the fact that its material continues to stretch until it reaches its full size. Thus, it requires more air to fill its stretched material.
If you want your mattress to last for years even after using it every day, be sure that it';s durable. It';s pretty obvious that an air mattress is no match for a knife and other sharp objects. However, you can protect it from rough surfaces and make it last longer by ensuring its durability. In the long run, it is always wiser to invest in a high-quality mattress which can help you save more.
Conclusion
Whether you admit it or not, all mattresses have their ups and downs. From its size, materials, and quality, air mattresses vary to provide different levels of performance. Nonetheless, the best air mattress for everyday use should be comfortable no matter how firm you want it. It shouldn';t give you a hard time adjusting its firmness level especially if you need to inflate more often. If it includes a built-in pump, you better make sure that operates quietly to avoid disturbing others.
When it comes to outdoor activities, it should be so you can carry it around with ease. Most importantly, it should be able to withstand regular use to maximize its benefits.