There';s something truly amazing about snuggling up under the best cotton blanket. You get the warmth and comfort you need from this material as well as fantastic breathability. Such combination makes it less likely that you';re going to end up covered in sweat by the end of the evening.
Although the cotton blanket may not be as trending or modern as some of the newer silk and fur options around the world, it offers a traditional comfort that you can';t find elsewhere. That';s why most of the time, countless customers still prefer to use a cotton blanket for sleep and relaxation.
These days, you can find the best cotton blankets in a wide variety of shapes and sizes, with everything from organic cotton to waffle weave designs. Whether you';re traveling, lounging, sleeping, or just looking for something to add to your décor, there';s sure to be a perfect blanket out there for you.
To help you sort through some of the many options on the market today, we';ve put together this guide to some of the best blankets around. You'll surely find everything from light cotton blankets, to heavier designs.
Let';s dive in.
Top 10 Best Cotton Blankets
A Quick Blanket Overview
Dimensions: 90 x 90 inches
Weight: 3.65 lbs
In-Home Trial: One Month Return and Replacement
Bedsure is a stunning cotton blanket for those in search of something that combines natural cotton material with an attractive style. This cotton waffle weave blanket has a delightfully deep texture that';s sure to leave you running your hands all over it, day after day.
Features
The natural material means that you don';t have to worry about horrible smells and fire safety. This queen size organic blanket is easy to use, and it';s great for things like Netflix binges, picnics, and bedtime. With the sizes twin, queen, and king, this waffle cotton blanket has something for everyone. You can even choose your color from a variety of excellent options, too.
One downside of this organic blanket is that although it';s very luxurious, it can shed a lot of lint. Meaning, you might need to wash it or use a lint roller regularly. Additionally, it';s worth noting that the waffle weave can begin to fray over time if you';re not careful.
Pros:
100% cotton blanket
Stunning waffle texture
Great for a range of situations
Available in different colors and sizes
Delightfully thick design
Cons:
Can shed a lot of lint
Starts to fray over time
A Quick Blanket Overview
Dimensions: 90 x 92 inches
Weight: 4.53 lbs
In-Home Trial: None
If you';re searching for the softest cotton blankets that will give you the utmost comfort, the Threadmill can help you with that. This stunning cotton blanket comes with a cozy weave that makes it delightfully warm, and yet breathable at the same time.
Features
Like many other leading blankets on the market, this cotton blanket from Threadmill is designed completely with natural fibers. What';s more, there';s a wide selection of solid colors and sizes to choose from depending on your needs and preferences. The sizes are even slightly larger than usual to accommodate for some natural shrinking in the cotton.
This machine washable blanket is easy to look after, so you don';t have to worry about it losing its appeal over time. However, it can shed a lot of lint, even when it';s in your washer. The more you wash this bed blanket, the more it sheds. This can be worrying for some customers, as it may indicate that your cotton blanket will lose its quality over time.
Pros:
Beautiful design
100% cotton blanket
Natural fibers and a wide selection of solid colors
Large sizes to accommodate shrinking
Machine washable
Cons:
Sheds a lot of lint
May be dangerous to wash too frequently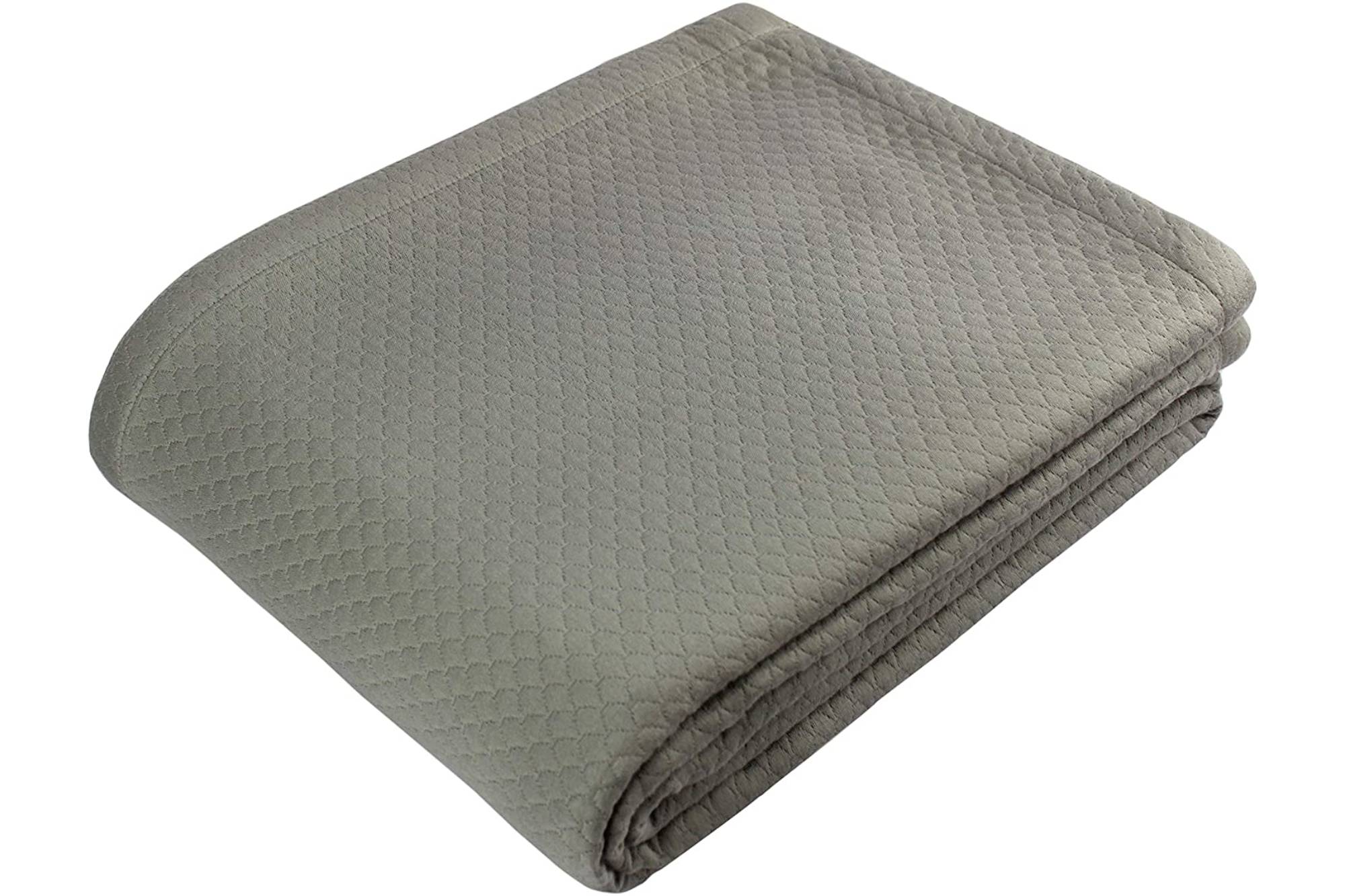 A Quick Blanket Overview
Dimensions: 90 x 90 inches
Weight: 4.4 lbs
In-Home Trial: None
If you';re looking for soft cotton blankets that are beautiful and easy to maintain, then this is a great place to start. The 100% cotton craft fabric looks and feels soft, and the blanket even comes in a reusable tote bag for easier storage.
Features
This is a great all-year round blanket, as it';s breathable and warm enough to keep you comfortable at night in the summer or add some extra warmth to your bedding in the winter. Additionally, there is a selection of excellent sizes to choose from so you can find something that suitably fits your bed.
One particularly good thing about this blanket is that it';s GOTS certified organic cotton. That means you';ve got the highest level of certification proving that the blanket is truly premium cotton, with no unwanted synthetic materials. The downside is that the large holes in these blankets can make them more susceptible to damage, particularly when you machine wash it.
Pros:
Attractive design
100% GOTS certified organic premium cotton
Range of different colors and sizes
Ideal for all sizes
Machine washable
Cons:
Limited drying options
Can become damaged or pulled easily
Requires careful storage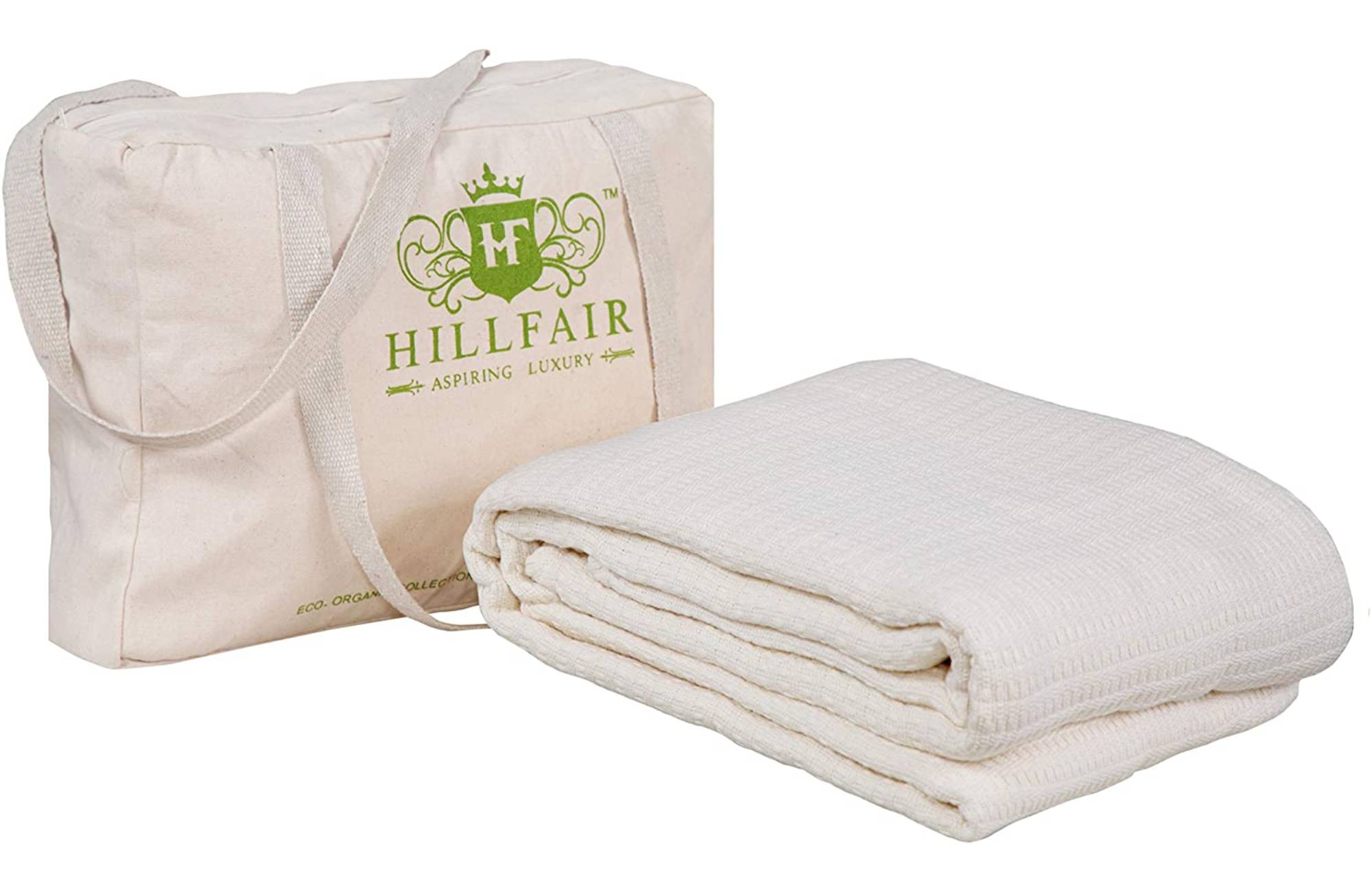 A Quick Blanket Overview
Dimensions: 108 x 90 inches
Weight: 5.1 lbs
In-Home Trial: None
Another excellent choice for anyone looking for a 100% cotton blanket. This stunning Hillfair blanket comes with a GOTS certified organic cotton weave.
Features
There are various sizes and colors to choose from, each with their own highly natural appearance. You also get an authentic smart card verification that shows you how unique and organic your cotton blanket actually is.
This thick and cozy blanket is for all-year round. It can be used as a picnic blanket in the summer or it could double up if you want something more lightweight and breathable than a full duvet. While this organic cotton blanket is machine washable, make sure to be very careful. This blanket can take a lot of damage from a washer or a dryer.
Another good feature of this blanket is that it comes with a reusable tote cotton bag for storage purposes. Also, there are no harmful chemicals or pesticides used during cotton production. On the downside, the weave is very loose, which means that you';re more likely to get snags and holes.
Pros:
Smart card authentication
Range of great sizes and colors
100% GOTS certified organic cotton
Fantastic natural appearance
Reusable tote bag
Cons:
Can get snagged easily
May lose some of its value when washed regularly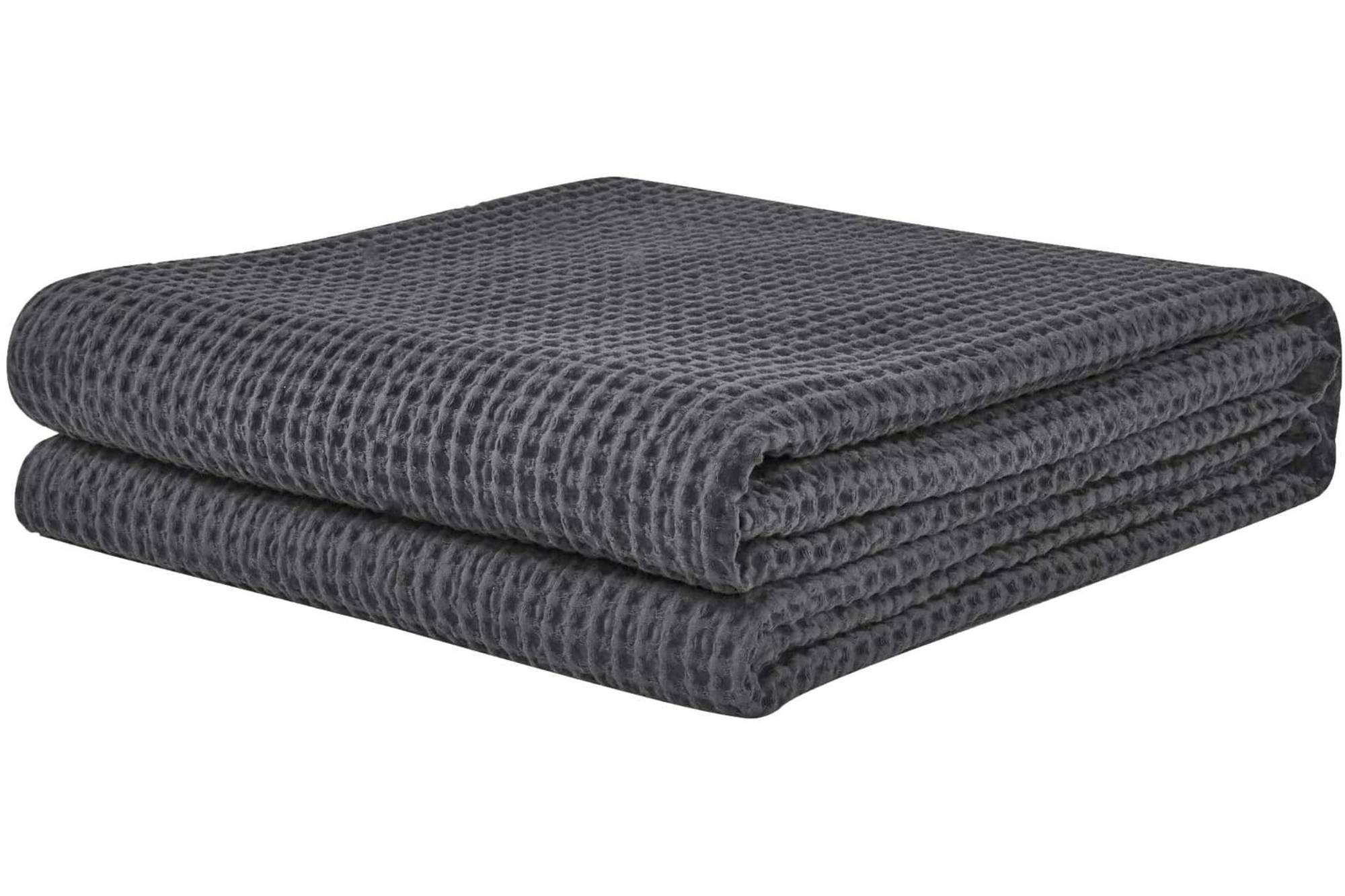 A Quick Blanket Overview
Dimensions: 66 x 90 inches
Weight: 2.69 lbs
In-Home Trial: None
Sometimes, the best organic cotton blanket is one that gives you the freedom to move in your bedding and enjoy a comforting level of warmth. Although a heavy blanket can be a good choice for winter, it can be quite uncomfortable during the summer months.
Features
This high-level cotton blanket comes with a lightweight and natural design. It';s even good for moisture absorption. The unique waffle weave method gives you the comfort of a thermal cotton blanket without forcing you to feel overly warm during the summer months. Additionally, you can use this cotton blanket however and wherever you choose, whether as a couch blanket or bedding. However, it';s worth noting that the waffle weave can snag and end up with holes quite easily, so make sure to be careful.
On the plus side, this blanket is quite easy to care for, as you can put it in the washing machine and tumble dry it, too. Just make sure to avoid certain washing detergents, as well as high temperatures when washing and drying if you want to ensure that the weave stays strong.
Pros:
High-quality organic cotton
Waffle weave blanket
Good for summer
One of the best lightweight cotton blankets
Easy enough to care for
Cons:
Need to be careful when you tumble dry
Can snag easily
Blanket has an odd smell on delivery
A Quick Blanket Overview
Dimensions: 90 x 90 inches
Weight: 4.65 lbs
In-Home Trial: None
If you';re looking for a stunning waffle weave blanket that';s going to keep you warm even in the coldest of winters, then this could be the choice for you.
Features
This 100% cotton blanket feels soft and stunning, with premium natural material throughout. It';s ideal for all-year round, but it';s particularly great in the winter when you need a heavy cotton blanket.
Available in a range of measurements including sizes twin full and full queen, this cotton cover will leave you feeling warm and cozy. It';s easy to care for, thanks to the machine washable design. What';s more, the fabric stays soft after washing. Just keep in mind that when you run this blanket through the washing machine, it can soak up a lot of the soap you use.
Although this blanket feels premium, it can shrink a little in the washing machine. There';s also a chance that you might get a slightly different color to what you think you';re getting. Some customers reported that the color swatches on the website aren';t as true to life as they should be.
Pros:
Best organic cotton blanket for thermal
Excellent for 100% cotton material
Range of sizes and colors
Fantastic quality material
Easy to care for
Cons:
Can soak up a lot of soap
Colors aren';t very true to life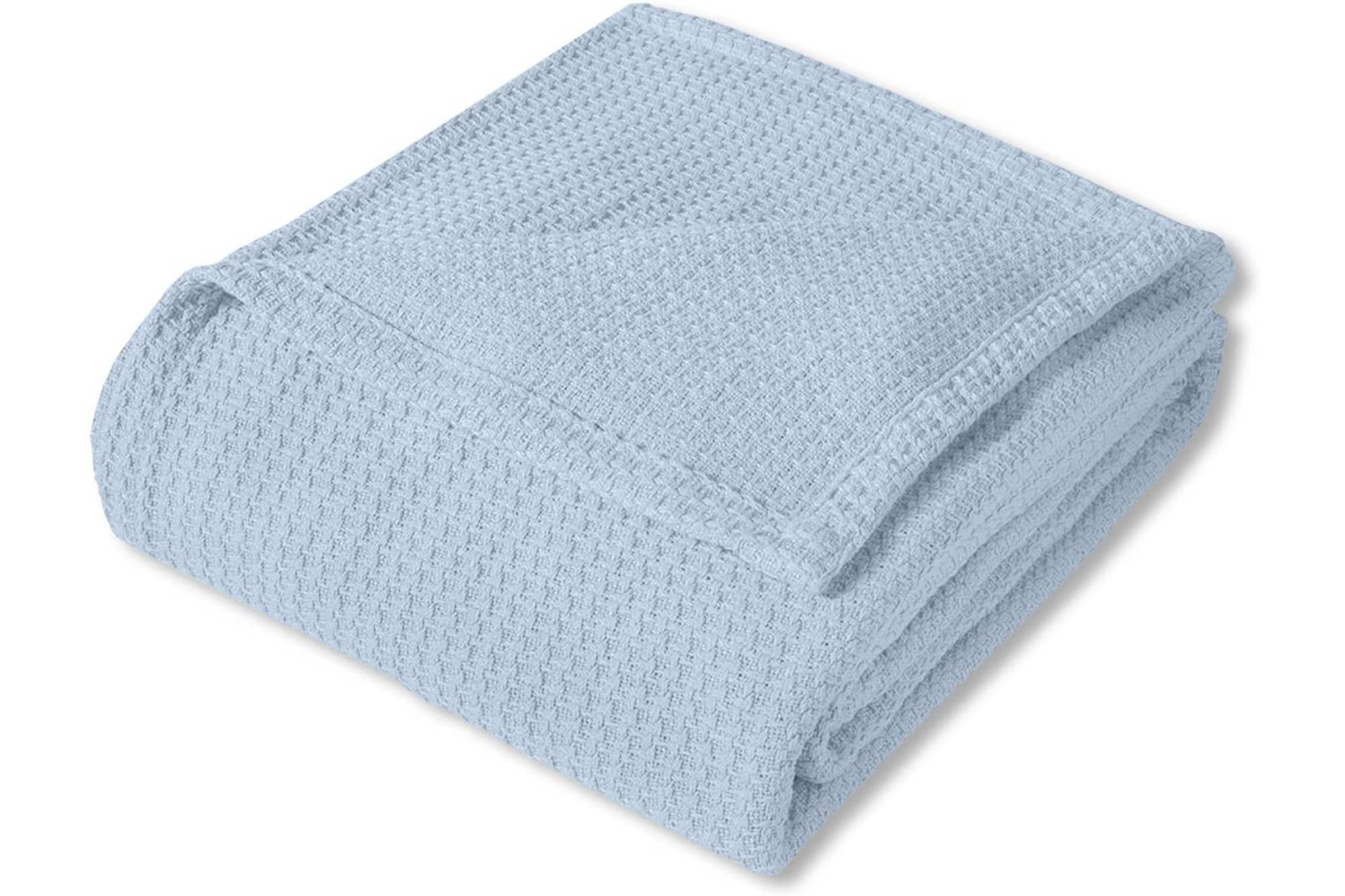 A Quick Blanket Overview
Dimensions: 90 x 90 inches
Weight: 4.7 lbs
In-Home Trial: None
Choosing the best blanket for your needs can be a complicated process. The Sweet Home Collection offers a 100% cotton option for those who like the comforting appeal of a medium weight solution to stay warm and cozy.
Features
The basket woven design of this throw blanket helps to give your bedroom a more classic appearance, whether you buy it in twin, full, queen and king sizes. There is a wide color options to choose from, too, so you can find the shade that';s best for you.
These cotton blankets from Sweet Home Collection will give you a great night';s sleep, without leaving you worried about the environment. Although a machine washing instruction has been provided, there';s no guidance on whether this product is tumble dried safe
One thing to keep in mind is that while these blankets come in king and queen sizes, many customers felt that the design was smaller than it seemed. This particular blanket can also lose some of its appeal when it';s exposed to regular washing.
Pros:
Beautiful blanket design
100% cotton
Different color options to choose from
Medium weight
Can be machine washed
Cons:
No tumble dry care instructions
Can lose its appeal after regular washes
Smaller than it appears on the product listing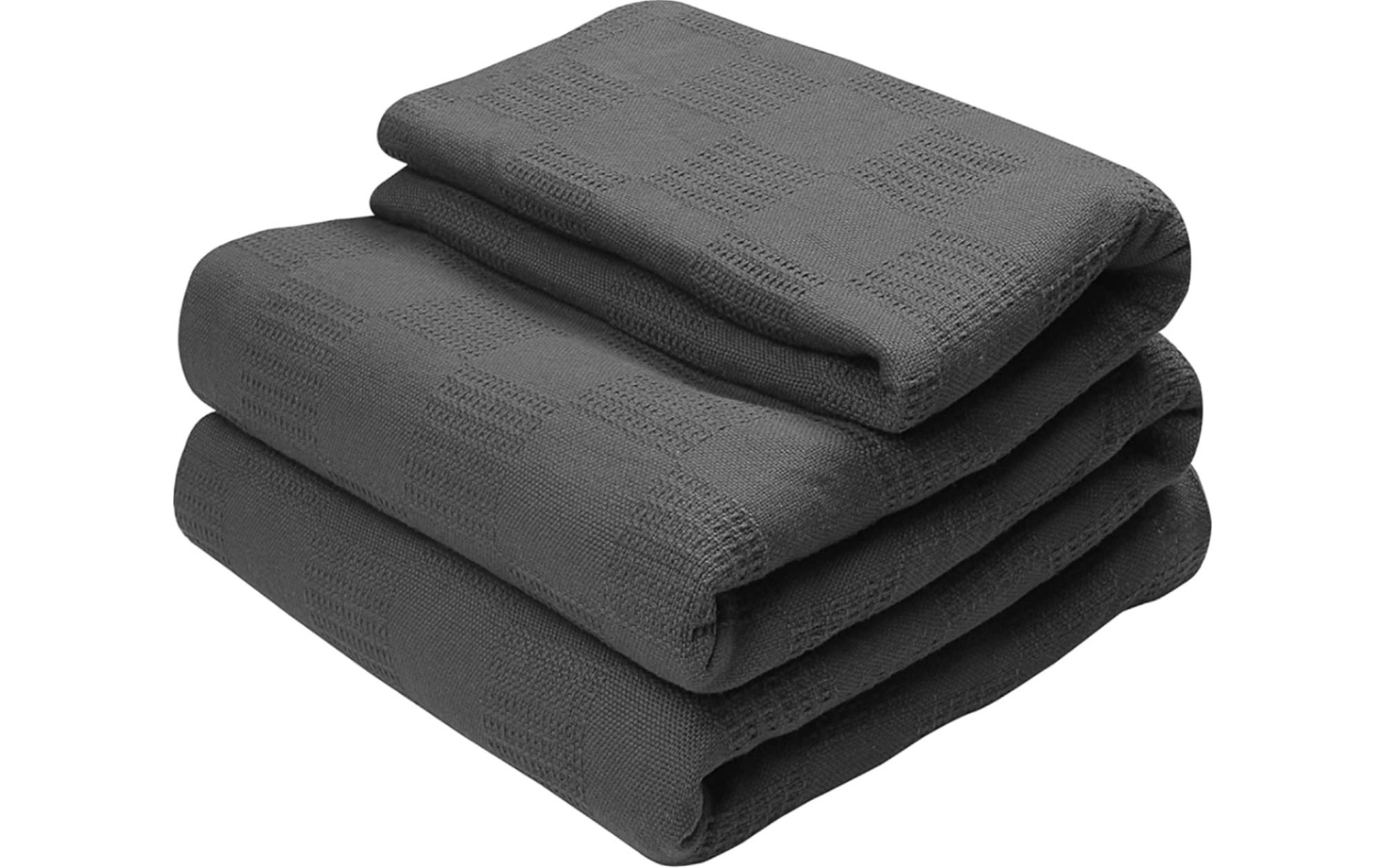 A Quick Blanket Overview
Dimensions: 90 x 90 inches
Weight: 4.55 lbs
In-Home Trial: None
Just because you want your blanket to be luxurious, doesn';t mean that you don';t want it to be breathable, too. This Utopia bedding premium 100% cotton option is a great thermal blanket choice for those who want medium weight comfort without compromising on style.
Features
The premium cotton in this queen size blanket gives you a super soft and luxurious feel whenever you use it. This Utopia bedding premium blanket, which is available in full queen and king sizes, as well as twin, is oversized. That means you don';t have to worry too much about the natural shrinking that occurs with even some of the best cotton blankets.
Also, the dobby weave includes waffle weave square patterns designed to draw attention and add to the aesthetic appeal of the blanket. This is one of the best blankets for breathability, too. Thanks to the different stitches in the cotton that help the air to flow naturally when you';re snuggled up underneath. Unfortunately, when you machine wash and dry this blanket, natural materials could fray if you are not extra careful.
Another point to note is that while this is a 100% organic cotton blanket from Utopia bedding, it may need some washing before you';ll feel its true softness.
Pros:
High-quality Utopia bedding design available in vibrant colors
Range of twin, full queen, or king sizes
Medium weight with breathability
100% cotton throughout
Over-sized to accommodate washing shrinkage
Cons:
Needs washing a bit before use
Can end up with holes from regular washing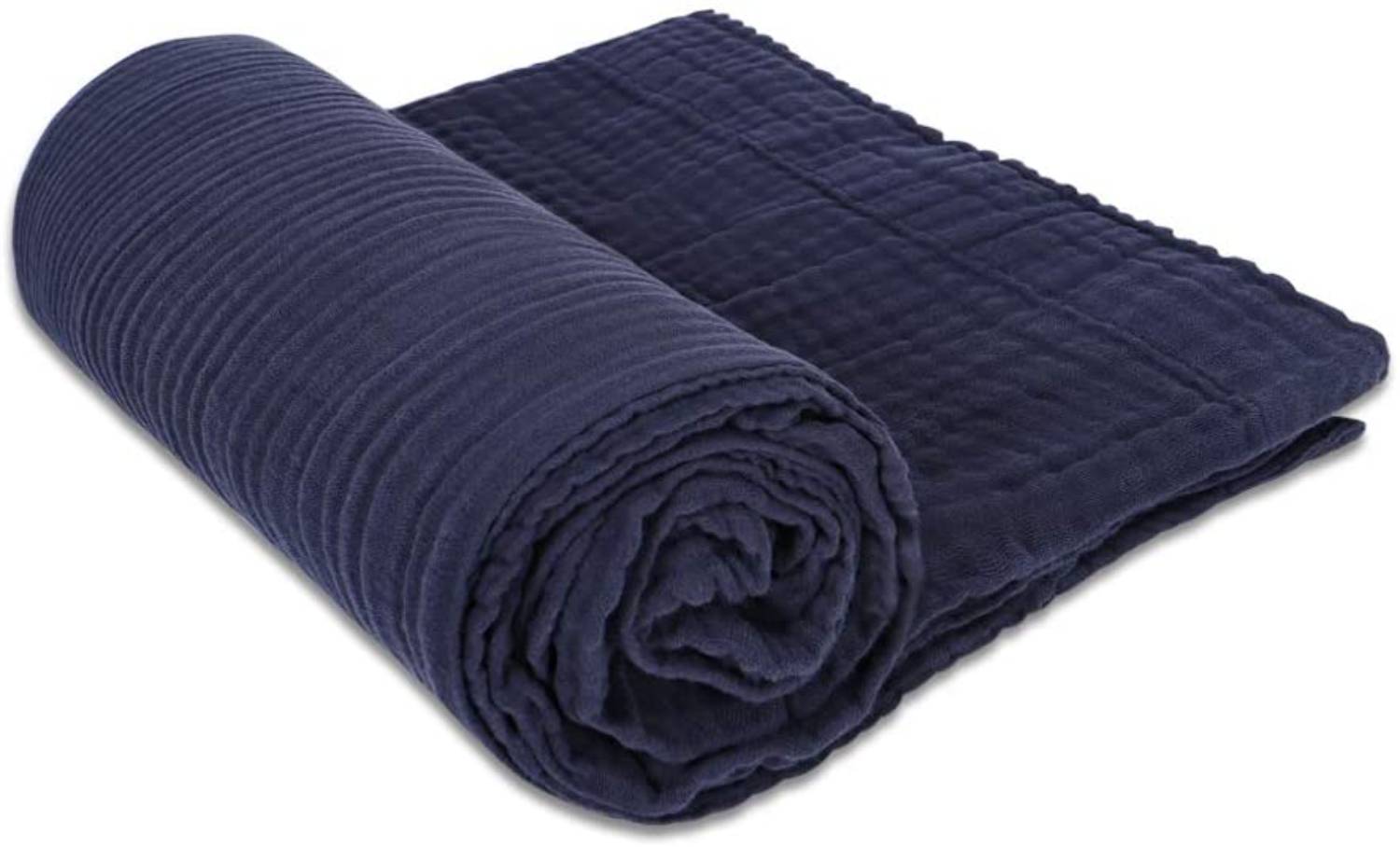 A Quick Blanket Overview
Dimensions: 55 x 75 inches
Weight: 15.8 ounces
In-Home Trial: 30 days
This EMME premium cotton blanket is another great choice for those who want to unlock all the benefits of soft natural cotton for a good night';s sleep or snuggle session on the couch.
Features
Like some of the other 100% organic blankets that we';ve looked at so far, the EMME blanket can become softer after you';ve washed it. However, you need to be very careful when you machine wash this blanket. Stick to cold temperatures and avoid machine drying.
The generous size of this EMME cotton blanket can be confusing as there are no terms like California king, twin, or queen size to help you. However, the throw blanket is designed to be slightly oversized, so it can cover at least two adults at once. We would probably say it was closer to a twin than a queen size. You also get a lifetime guarantee with your cotton blanket from EMME, which is something you won';t receive from other brands.
This throw blanket is made from 100% cotton and it offers superb breathability. The cotton blankets are excellent for absorbing moisture and wicking away sweat, so you don';t wake up damp. However, this might not be a good choice for those who want a heavyweight cotton blanket, as it';s quite lightweight.
Pros:
Attractive cotton blankets
Available in a good size, though no direct sizing info available
Machine washable
Breathable and absorbs moisture
Satisfaction guarantee included
Cons:
No king or queen sizes
Must be washed very carefully
Not very heavy or luxurious for some users
A Quick Blanket Overview
Dimensions: 90 x 90 inches
Weight: 3.33 lbs
In-Home Trial: None
Finally, this 100% cotton Vellux blanket is one of the few best cotton blankets that we';ve seen that';s designed to withstand just about anything.
Features
Created for durability, this pet-safe blanket delivers cozy warmth with a timeless style, thanks to the unique Chevron texture of the cotton.
Designed for all-year round, this blanket doesn';t come in California king, but it will suit all your other sizing needs with double and twin queen options available. Whichever size you choose, you';re sure to find that the blanket has plenty of room for one or two users. However, it';s probably best to go for the size twin, queen or full if you want extra length and width.
Furthermore, this blanket is machine washable, but as with other cotton blankets on this list, it';s important to be careful. Follow the care instructions provided carefully and remember that washing before use will give you a softer experience. Perhaps the biggest downside of this blanket is that the weave isn';t very consistent in some of the products delivered to customers. Additionally, the blanket shrinks quite a lot after washing.
Pros:
One of the top brands for premium blankets
Range of size options from twin, queen to king
Timeless design looks great in any home
Easy to care for, machine washable
Made from 100% cotton throughout
Cons:
Shrinks significantly after one or two washes
Quite expensive
Weave can be inconsistent in some blankets
What Is the Most Comfortable Blanket Material?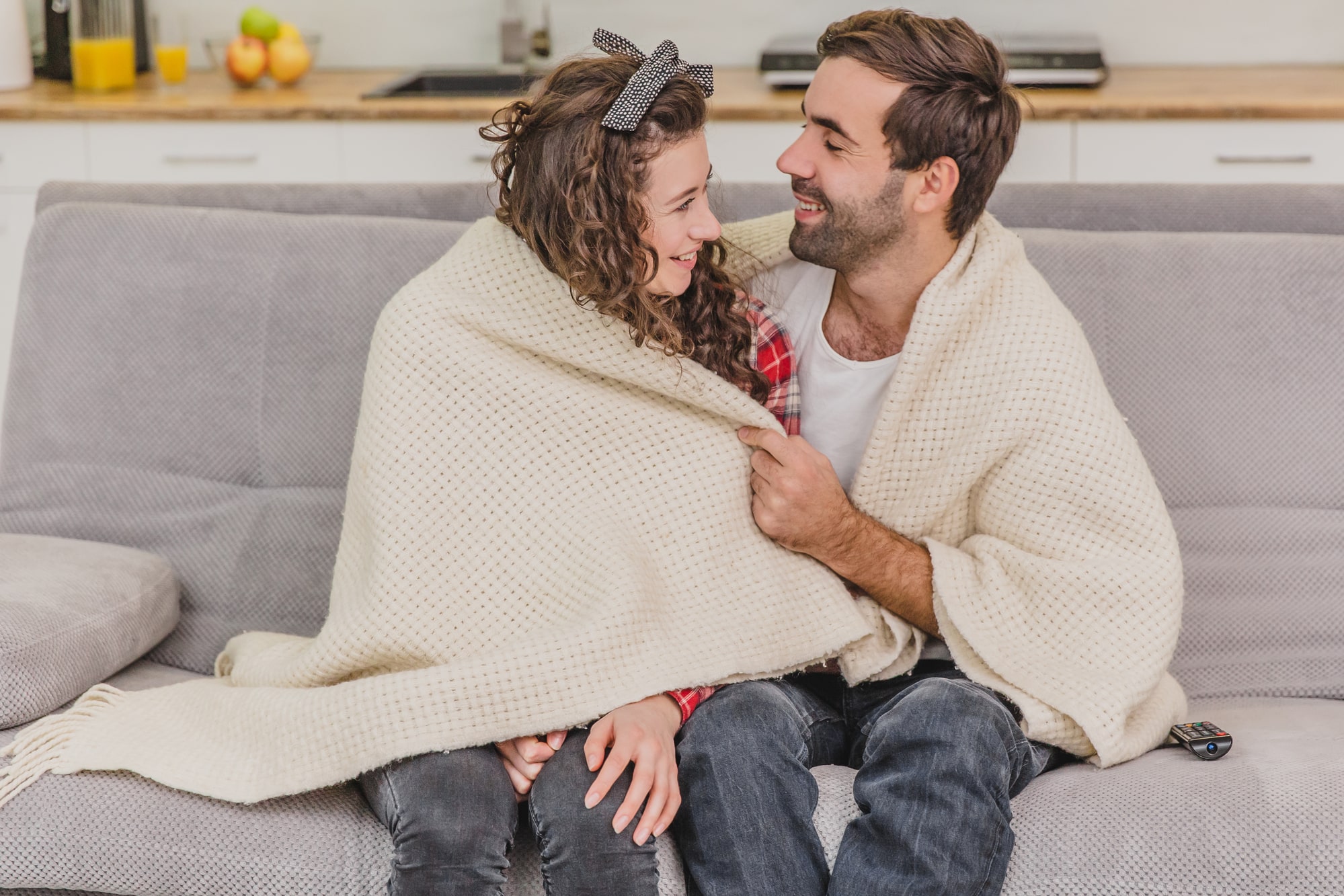 Cotton blankets often stand out as some of the more luxurious choices available today. It';s because blankets come from cotton isn';t just super soft, but it';s hypoallergenic, durable, and breathable, too. Unlike other materials, cotton blankets are good for sensitive skin. Plus, it ensures that you have the extra warmth and comfort that you';re looking for in a good blanket.
Blankets made from 100 percent cotton and free from harmful chemicals are often the best choice. It would also be good to have a cotton craft blanket that is machine wash friendly.
Cotton blankets can be great for all seasons, too. Aside from just keeping you warm in winter, these blankets also give you a source of comfort and reliability during summer. The breathable nature of cotton weaves mean that you can regulate your temperature and stay cool on warm nights.
What to Look for When Choosing Your Cotton Blanket?
So, what should you be looking for when choosing the perfect cotton blanket? That depends on you. There are a lot of different elements to consider including:
Size – There are many different sizes available for cotton blankets, from twin, queen, to full king. You just need to think about your purpose for buying such a blanket to get the ideal size.
Color – There are a host of different color options for cotton blankets. Because cotton can be dyed into a variety of shades, it's much easier to find the perfect cotton blanket that suits your sense of style.
Design – There are many different designs available for blankets made from cotton, too. You can choose a cotton thermal blanket or something more lightweight with a herringbone pattern. Moreover, you can even explore options like waffle pattern blankets, which come with more breathability.
Maintenance – Think about how easy it's going to be to wash your cotton blanket. Do you need to always use cold water when you put it in the washing machine? If your bed blanket comes with a muslin cotton design or delicate basket weave, it may not be machine washable at all.
Final Thoughts on Picking the Right Cotton Blanket
As with most things, there's no one best cotton blanket that will be perfect for everyone. Your best choice will depend on your own personal preferences and what you need to feel cozy each day.
Our favorite option from the list above is the Bedsure blanket, which is made from 100% pure cotton fibers throughout. This stunning cotton blanket has a naturally soft texture that you're going to love having wrapped around you. The only real downside is the lint, which might not matter much if you're having a bed blanket day anyway.
What's your favorite cotton blanket? Let us know in the comments below!
Additional Resources