We may earn a small commission if you buy something via a link on this page. This doesn't impact our rankings or cost you extra. See
our advertising disclosure
for details.
Camping is a great activity but can leave many people struggling to sleep at night when their backs are pressed against the cold, hard ground. A good night';s sleep is essential to help people function properly since the brain needs time to relax, refresh, and recharge before the next day.
Unfortunately, sleeping bags aren';t for everyone and do little to cushion and protect the back. If this sounds like you, you might be interested in trying a sleeping cot, which can be brought outdoors with you and serves as a bed away from home. Here we';ve accumulated some of the best rated sleeping cots for people with all types of needs, including different levels of softness, firmness, and portability.
Check below for our recommendations.
Reviews Of Top 10 Best Sleeping Cots
1. Coleman 2000020270 Cot Queen
Coleman is one of the foremost names in the camping industry, so it comes as no surprise that one of their products tops this review. The Coleman camping cot, air mattress, and pump combo combines the ease of a cot with the comfort of an air mattress, which can be filled to the user';s desired level and then assist with sleep. This cot is available as a twin or queen-sized product and is capable of holding up to 600 lbs. It';s also long enough for someone measuring 6';2, making it perfect for taller individuals. This cot can support you and your loved one without issues and will give you a durable steel base that won';t shift or fall in the night.
The product is a little on the pricey side, but it';s understandable because you not only get the cot but also a mattress and pump that works while out in the wild. Because the sleeping cot comes with an airbed, this product works great while camping or even as a guest or temporary bed indoors. Plus, how often do you find a transportable cot that';s big enough for two without having to sacrifice on quality?
Pros
The cot is reliability from a respected brand
Multiple sizes are available to suit different needs
The cot holds more than one person
The pump is easy to set up and use
The airbed adds extra comfort to sleeping on the go
Cons
This is a relatively expensive product
---
2. TETON Sports Adventurer Camp Cot
The TETON Sports Adventurer Camp Cot embodies the spirit of sleeping cots by being portable, foldable, and durable without sacrificing on quality. The full product';s dimensions measure in around 75 x 25 x 17 in., and the sleeping surface is large enough for someone around 6';2. One of the best features about the TETON Sports Adventurer is that it manages to be inexpensive without sacrificing on quality. The cot uses a reliable X-frame made of reinforced steel for the base and is rated to hold up to 400 lbs. So, even if you';re a heavier individual, you can rest easy knowing that the base won';t bend or weaken in the night.
Unlike some other sleeping cots, the TETON Sports Adventurer is easy to install and comes with a pivot arm that helps pull together the final bars that keep the cot in place. If you struggle with assembly, this might just be the feature for you. The synthetic material is water-resistant and the cot can be used indoors and outdoors, making it great for campers or those of you who are on the go.
Pros
This is one of the least expensive cots on the market
Multiple sizes are available to suit different lifestyles and needs
The product is easy to install with its pivot arm
The cot is portable and folds for easy use
The reinforced steel frame makes the cot durable
Cons
While the cot is rated to hold 400 lbs., people found that it works better for 300 lbs. and under.
---
3. KingCamp Ultralight Compact Folding Cot Camping Bed
If you enjoy ultralight hiking and camping, then this will be the folding cot for you. When all of the pieces are together, this cot only weighs 5 lbs. and fits easily into the average backpack. When folded, it is barely a foot long and can be carried with ease. The sleeping surface is close to the ground, making it ideal for short tents or sleeping out in the open. You will definitely get an authentic outdoor experience without having to worry about the transfer of cold from the ground to your skin.
The base is durable and made of aluminum, while the sleeping surface itself is composed of synthetic fibers designed to be easy to clean and mildly water-resistant. This is wonderful because everyone knows mud and dirt can be impossible to clean out of regular fabrics.
One great feature about this cot is that it comes in multiple colors and is easy to install by a single person, making it a truly individualistic bed. It';s capable of holding up to 250 lbs. and is long enough for someone who is 6';2 to comfortably rest. The only real downside to this sleeping cot is that it';s less than 5 in. off the ground, which might be too low for some people, especially if you struggle to get up and down.
Pros
The cot is available in multiple colors for extra creativity and individuality
This product is easy to install
This sleeping cot is compact, foldable and portable without sacrificing quality
Two elastic straps keep the sleeping surface in place while the user is asleep
The cot weighs a small 5 lbs.
Cons
This sleeping cot is extremely close to the ground, which can be difficult for some users
---
4. Coleman Camping Cot with Sleeping Pad
The Coleman ComfortSmart Deluxe Cot is yet another sleeping cot made by the captain of camping supplies: Coleman. Unlike some other models, the ComfortSmart is designed to be as comfortable as possible. Instead of having a single layer of fabric, this style includes an actual cushion meant to add extra support and softness for the user. It';s available in a single size but has generous proportions of 80 x 30 x 15 in. This means the cot is long enough to suit someone who is 6';6, and it also has a weight capacity of 300 lbs.
The cot Coleman Comfortsmart is available in tan or black and has a beautiful plaid pattern that adds a little color, pop, and personality to the cot. Coil suspension underneath the foam mattress pad adds extra support for people who need it while also ensuring the sturdy steel frame has enough give to suit individuals of different weights.
Some assembly is required with this model, but the installation is easy and the cot only weighs 20 lbs. You should have no problem deconstructing this cot and taking it with you on the road. Plus, how can you go wrong with a comfortable foam camp pad?
Pros
Instead of a single piece of fabric, this cot has a foam pad
There are multiple colors available for creativity
Coil suspension provides extra support for the back and hips
The cot is long and suitable for tall people
Cons
The cot is a bit longer than usual, meaning it might not fit in all tents
---
5. VIVO Green Camping Cot, Portable Fold Up Bed
This is a military-style cot with a durable steel frame designed to stand up to any of the environmental pressures that plague campers and hikers while out in the wilderness. The fabric that makes up the sleeping surface is synthetic and sturdy, meaning it won';t rip or tear and is easy to clean in even the dirtiest of circumstances. The fabric is also water-resistant, so you don';t have to worry about it becoming damp and growing mold, mildew, and all sorts of unpleasant bacteria. If you worry about germs, then you can rest easy knowing your sleeping surface can be disinfected even while on the go.
The VIVO Camping Cot is foldable and has unfolded dimensions of 75, by 25, and 16 in. This means the cot is long enough for a 6';2 adult and has enough width for someone with broad shoulders. It is weight-tested for around 250 lbs. and is one of the only cots to come with a 1-year warranty in case anything goes wrong.
This model is available in black or army green and can be folded or stored in a sturdy carry bag. The cot weighs about 17 lbs. making it easy for you to transport while camping or hiking.
Pros
The VIVO camping cot is military strength and highly durable
The sleeping surface is water-resistant and easy to disinfect
This is one of the only cots to have a 1-year warranty and 24/7 tech support available
The cot folds up for easy storage
The VIVO is one of the least expensive sleeping cots on the market
Cons
The synthetic sleeping surface is not the most comfortable
---
6. MOON LENCE Camping Cot for Adults
The MOON LENCE Camping Cot for Adults is exactly what it claims to be: A comfortable camping cot designed to suit an adult';s larger frame and heavier weight. The frame is made of high strength 7075 aluminum alloy capable of holding 350 lbs. with ease. The sleeping surface is also made of a polyester blend that is comfortable while still being water-resistant and cleanable with a damp cloth. No tools are needed to assemble this particular cut because it unfolds and can be set up by clicking the struts in place. The cot is low to the ground, but this provides a more authentic camping experience while still keeping the user comfortable.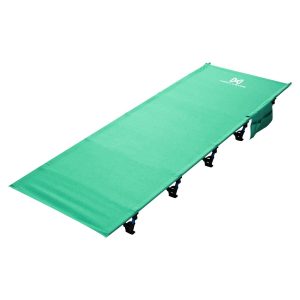 The MOON LENCE is available in bright green and has full dimensions of 74.8 x 27.5 x 6.7 in. The total weight of the product is a mere 4 lbs., meaning it can be transported with ease. Many people who are fans of ultralight hiking and camping might enjoy this cot because it can be folded down and fits in a backpack without putting extra strain on the user.
The MOON LENCE is also a little unique because it comes with a convenient matching pillow case that can be stuffed with just about anything. The pillow case is machine washable, so you could pack your own pillow!
Pros
This cot is lightweight and easy to assemble for the average person
The MOON LENCE folds up without compromising on durability
The aluminum frame is strong and can support 350 lbs.
The accompanying pillow case is comfortable
Cons
The only real downside to this camping cot is that it is low to the ground
---
7. MARCHWAY Ultralight Folding Tent Camping Cot Bed
If you want a portable yet customizable cot, the MARCHWAY Ultralight Folding Tent Camping Cot and Bed might be you. This particular tent cot is available in blue, green, and gray and is another model that is close to the ground. The entire bed weighs a mere 4 lbs. and can be folded down into a portable square that fits easily into the standard backpack or knapsack. When unfolded, the folding cot is large enough to fit an adult who is around 6';2, and the frame is sturdy enough to support 250 lbs.
The frame and legs of the MARCHWAY cot are made of durable and stable aluminum, which is part of why this cot weighs so little. Assembly is simple and can be done by even the most unskilled individual. If you want something that is easy to use and can be set up late at night, this might just be the cot for you.
This folding cot features 10 anti-skid feet, meaning you won';t have to worry about sliding around at night. The sleeping surface is also comfortable despite being made of synthetic fibers.
Pros
The sleeping cot is available in multiple creative and vibrant colors
The MARCHWAY is affordable and perfect for ultralight camping
Assembly takes as few as five minutes
The anti-skid feet stop you from sliding around
Cons
This cot is really low to the ground and can be hard to reach by individuals who struggle with sitting
---
8. YAHILL Ultralight Folding Camping Cot
The YAHILL Ultralight Camping Cot is a reliable and durable portable folding bed that works well for most campers and hikers. The camping bed is foldable and sits around 7.5 in. off of the ground, which protects you from the cold of the earth while still allowing you to get an authentic camping experience. The sleeping surface is made of anti-tear and waterproof 900D thick Oxford cloth, while the frame is durable steel mixed with aluminum alloy.
The YAHILL folding cot is only available in black, so while you can';t be too creative with the design, you still get a cot with a professional appearance and comfortable experience. The camping bed is long enough for someone who is 6';2, and it can support 200 lbs. with ease.
Pros
The fabric is tear-proof, meaning you have to actually try to rip it
The cot is foldable and easy to transport on the road
The cot is waterproof and resists rust
Cons
The sleeping cot only supports 200 lbs., which will be too low for some people
---
9. PORTAL Folding Portable Camping Cot
The PORTAL Portable Folding Camping Cot is sturdy and durable, capable of supporting a maximum of 300 lbs. and a person who is 6';6. The cot is easy to transport because it is foldable and weighs a meager 17 lbs., making it ideal for light camping or someone who doesn';t want to carry a ton of equipment with them on their trip. There aren';t any loose pieces, meaning no assembly is required! All you have to do to set up this cot is unfold it when it arrives and your bed will be ready in a matter of seconds.
The frame is made of steel and has a coating of environmental paint to resist the wear and tear of the woods. The sleeping surface is 600D polyester fabric designed to be water and weather resistant while still being comfortable for the average person. The full dimensions are 75 x 25.4 x 18 in.
When this sleeping cot needs to be put away, it folds and is stored in a water-resistant storage bag designed to be easy to carry. The cot is only available in green, but it';s a bright, vibrant color that adds a little spice to life.
Pros
This cot is easy to fold and store
No assembly is required to use this
The cot can support a heavy grown man without bending or buckling
The sleeping surface is water-resistant and comfortable
The cot is ready in seconds
Cons
Some people struggled to get comfortable on the synthetic fibers
---
10. Coleman 2000020282 Cot Converta
This is one of the least expensive and most unique styles of sleeping cot currently on the market. This particular product is simultaneously a comfortable reclining outdoor chair and a sleeping cot. How? It';s foldable and adjustable design that allows people to either sit up or lay down depending on their preferences. It';s only available in a single color, which could stymy creativity, but it is incredibly comfortable.
The Coleman Converta Cot comes with the benefit of being made by one of the top manufacturers and is also constructed of synthetic fibers that are easy to clean and water-resistant. The powder-coated steel frame can support 225 lbs., and the length of the frame is long enough for someone who is 6';6 to rest without hanging off of the ends. There are four different back positions and two separate foot positions, making this Coleman Converta Cot highly convertible.
Pros
This cot can be adjusted to suit people with back or hip issues
The frame is made of durable powder-coated steel
The cot is affordable
This product is easy to install
Cons
The sleeping surface is a bit rough and provides minimal support
The cot is only available in tan
---
What Is a Sleeping Cot?
A sleeping cot is basically a portable bed that can be brought anywhere, especially while camping. Anyone who has done military service will recognize the cot because it is the sleeping system primarily used by the Armed Forces, as well as among rangers, hikers, campers, and other people who spend a lot of time traveling or outside.
Most sleeping cots include a metallic frame and a piece of fabric or synthetic fibers that support a sleeper and keep them off of the ground. Cots can be used with mattresses for extra comfort and are easy to pack and carry to new locations.
The majority of sleeping cots are inexpensive and either foldable or easy to disassemble and put away. Most are water-resistant and durable, making them the ideal beds for people in tough environments. They also rival the comfort of an air mattress, making them an affordable option to use as a guest bed.
Why Should You Buy a Sleeping Cot?
If you camp often, you might get sick and tired of trying to snooze in a sleeping bag or fall asleep on the cold, hard ground. This is doubly true if you have back or joint issues. If this sounds like you, you should consider investing in a sleeping cot to improve your comfort and give you support while enjoying the great outdoors.
Sleeping cots have a ton of benefits. The most important one that people will notice is the immediate improvement in comfort while trying to sleep. Cots keep you off of the ground and can often be used with air mattresses and air pads to alleviate the strain on your spine and hips. Another is that people who sleep on cots tend to be warmer than those in sleeping bags because they';re farther away from the cold ground.
Besides physical comfort, sleeping cots are extremely durable and last for years. A reliable cot can survive dozens of camping trips and remain easy to clean. Most are designed to ensure months of consistent use and can also support heavier weights than regular air mattresses and mattress pads. If you or someone you camp with is on the heftier side, than the sleeping cot might be for you. It will break down less often and does not need to be replaced regularly.
The average sleeping cot is also portable and works indoors and outdoors depending on the type of environment you want to use it with. While most people use them while camping, you can also use the cot as an alternative to pulling out an air mattress for guests when they visit or while you';re traveling to visit friends or family.
Things to Consider While Buying a Sleeping Cot
There are numerous different things to consider when buying a sleeping cot. Several factors will determine the best one for you needs. These include things like maximum support weight, cot height, frame, cover, legs, and how easy it is to assemble or disassemble. Here';s a bit more about each of these factors.
People don';t like to think about their weight, but it';s a fact of life that furniture can only hold so many pounds before it collapses or poses a severe safety risk to the user. You should try to find a cot that holds your weight as well as the weight of any equipment or extras like pillows, blankets, and sheets. Also keep in mind that the more weight that is placed on top of a product, the more it wears down over time, especially if the frame is not reinforced.
This is a simple feature that many neglect to address. If your camping tent is only 4 ft. tall, you don';t want to try and sleep on a cot that is 3 ft. You';ll only have 12 in. of space between you and the ceiling! So, choose a cot that leaves you with room to get on and off of it easily. This is especially important if you struggle to sit on objects that are too high or too low.
The frame is one of the most important pieces of the camping cot. The majority are rust-resistant but will have different levels of durability. A sturdier frame will move around less on you and will also support more weight, so consider investing in steel or reinforced aluminum rather than a cot that just uses plastic.
The cover is the top of the cot, or the piece you will be sleeping on. The majority of covers are made using synthetic materials like polyester, so the choice of material will largely depend on your personal preferences. However, you should figure out whether or not you want a cover that is water-resistant, especially if you camp often and worry about mold, mildew, and the growth of bacteria on your equipment.
There are a variety of leg designs used in the construction of cots, including military x-style, straight, and C-shaped legs. These can be installed lengthwise or broadwise, but the way the legs are installed is unlikely to affect you. C-shaped legs tend to be least durable and are found in cheaper cots, while the other two styles are stronger.
When it comes to legs, the feature you need to check is whether they lock automatically or not. If they don';t, you need to remember to lock them before you try sitting or lying on the cot because it can collapse and cause injury.
There';s little worse than wanting to go to bed at night and being unable to because the bed still needs to be built. In general, the construction of a camping cot is simple. However, some models and designs feature complex instructions that can make falling asleep difficult since you';ll be up all night trying to make the bed.
Besides simple instructions, it';s a good idea to check whether or not a cot can be folded and unfolded with ease. If you travel a lot and know the cot is going to need to be stored or transported in a car, it';s a good idea to find a model that will travel easily.
Frequently Asked Questions
Sleeping cots seem straightforward but there are actually a few common questions that go with them, especially if this is your first time using one. Check out some of the Q & A below to see if yours has been asked and answered.
Can Sheets Be Used with Sleeping Cots?
It is possible to use regular sheets with a sleeping cot, but remember that they won';t be water resistant. So, try not to use sheets if you know it';s going to be a rainy, dreary time out in the wild. Also remember to try and find sheets that fit the bed, otherwise you will have loose fabric everywhere.
Can You Sleep on Two Cots Put Next to Each Other?
You can, but it';s not recommended. In theory, you';ll have more sleeping area to enjoy. In practice, the metal frames of the two separate cots will get in the way and make sleeping difficult. If you really want a larger sleeping surface, consider getting a cot available in sizes queen or king.
Is Using a Mattress on a Cot a Good Idea?
Some people try to put regular mattresses on top of camping cots, but it almost never works out. This is because the cot does not provide enough support for the heavy mattress, and it will sag. If you do want to use a mattress, consider using best air mattress that can be inflated, weighs less than a regular one, and is the same size as the cot underneath.
Can Two People Sleep on One Cot?
If you';re close with someone else and your combined weights are not heavier than the weight limit, then there';s no reason why two people can';t share a single bed. Just be careful of the metal bars and frame.
Conclusion
Finding the best camping cots can be an absolute challenge, especially since you don';t always get to take them out in the wild and try them out. Luckily, finding the right one doesn';t have to be difficult. The list of sleeping cot choices above, as well as many of the buying considerations we';ve included in this guide, will put you on the right track to finding the cot that will guarantee you a peaceful night';s rest. Whether you need extra support, some water resistance, or perhaps a cot suitable for a king, you';re bound to find the right one. So get out there and enjoy that camping trip!