We may earn a small commission if you buy something via a link on this page. This doesn't impact our rankings or cost you extra. See
our advertising disclosure
for details.
In modern times, everyone spends a lot of time working, commuting, and doing their daily routines, making a living to improve their quality of life. However, getting tired after a hard day's work is unavoidable, and you need to sleep the fatigue away. But you can't do so in an uncomfortable bed. When it comes to getting that rest and relaxation that you deserve, you shouldn't spare any expenses. Get the best type of bed you can sleep on. And nothing feels more luxurious and relaxing than a water bed mattress.
Getting a water bed mattress may sound extravagant and fancy, but it offers you benefits that regular beds can't provide you with. Contrary to common belief, there are also cheap and affordable ones in the market. When you are working hard, you deserve to reward yourself. Getting the best waterbed mattresses can be the all-in-one solution that would help you sleep comfortably in any situation. You'll always get up comfortably to begin your day fresh and ready for more work ahead of you.
Top 6 Best Bater Bed Mattresses Reviews
1. INNOMAX Sanctuary Free Flow Full Wave Water Bed Mattress
The INNOMAX Water Bed Mattress is especially great for those who sleep in multiple sleeping postures and having joint and muscle pains. It provides full-wave water motion so that the mattress can easily conform to your body's shape and gives you the feeling of being afloat on water.
Features
The INNOMAX is a deep fill type that provides its best comfort when it is appropriately filled at a level below the top of the Safety Liner. It comes with a 20 mils premium vinyl material with an overcut low tension top, double reinforced corners that double the durability to protect the edges from punctures and leaking, and a T-Corner lap seam construction. The fill valve has an easy pull cap and seal designed for optimal air and watertight security. A Vinyl conditioner is also included to prevent growth inside the water bed mattress.
The INNOMAX is designed to provide a weightless sleep, making you feel like sleeping afloat and no gravity to hinder you and put a strain on your muscles. This is very therapeutic because this helps the muscles genuinely relax when they feel there's no gravity to put stress on them.
The INNOXAX requires using at least 9″x72″x84″ size water bed frame.
Pros
It is cheap and affordable
It is a full-wave water motion water bed mattress
Comes with premium vinyl material and double-strength reinforced corners
Designed with gravity-neutral flotation support
It comes with a 20-year warranty period
Cons
The full-wave water motion may not be for everyone
It requires a water bed frame to use and doesn't come with a heater
---
2. California King Semi Waveless Water Bed Mattress
The Classic Waterbed Mattress provides comfort that lies in between a free flow and waveless waterbed mattress. This is an excellent option for those who like flotation support of a full-wave, free-flow waterbed mattress but with far less wobbling. This also makes it feel firmer and more stable than its free-flow counterparts.
Features
The Classic comes with 24 mils high-quality vinyl material with extra reinforced corners, providing more durability and additional support. Additional support is also provided by the sturdy T-shell corner seam construction. A 4oz bottle of premium clear bottle conditioner and fill kit is included, like most products to inhibit growth inside the water mattress.
One layer of 2-ounce resin bonded fiber is added to restrict water movement to provide a semi-waveless effect. As a result, the semi-waveless waterbed mattress only has about 8-10 seconds of action before the water motion is halted. This offers the benefits of flotation support without the unnecessary water motion that some people wouldn't want.
The Classic measures 72″x84″x9," and it requires a waterbed frame to be used, and a heater is not included.
Pros
It is cheap and affordable
It provides benefits you'd find in a free-flow and waveless waterbed mattress
It is made with premium quality materials
It does not wobble a lot like free-flow waterbed mattresses
Water flow movement stops after 8-10 seconds upon contact with the waterbed mattress
Cons
It does not come with a warranty
Does not come with the full benefits of both free flow and waveless types
---
3. Classic Cotton Pillowtop Softside Waterbed Mattress
If you're looking for a waterbed mattress set with almost everything on it, then you'll find no better deal than the Classic Cotton Pillowtop Softside Waterbed Mattress. Aside from a waterbed frame which is not included, it is the all-in-one waterbed solution for your home, and you don't have to and other separate purchases because this comes as a set. Simply purchase this mattress set, and you'll have the comfiest and most therapeutic bed in your life!
Features
The Classic Softside waterbed mattress comes with perks. It comes with an organic pillowtop cotton cover, which is made with natural cotton blend materials that will keep the bed cool and breathable. It has a nice, soft, and plush texture that will keep you comfy.
What's great about this set is that you can choose what kind of waterbed mattress bladder you prefer: Free flow, semi-waveless, or waveless. You can choose if you want a 95% or 100% waveless waterbed mattress. Waveless bladders are the most popular choice according to their product sales. One reason is that this type of bladder is filled with extra fiber, which allows you to sink more level into the mattress that regular mattresses are unable to achieve that level of comfort and even costs three times as much. If you look at that perspective, despite the price, this deal is pretty good.
A digital heating system is also included in this set. The easy-to-use low-watt heating system can be god-sent during the winter season. Thanks to this, you don't have to worry about staying cool in the summer and staying warm in the winter. The Classic Softside waterbed mattress comes in product dimensions of 80″x76'' x9″, and it also comes with an electric pump with hose adapters and fill kit.
Pros
It comes with a super soft and plush organic pillow-top cover
You have the option to choose what type of bladder to use
Includes an adjustable digital heating system
The set comes with an electric pump and hose adapters
It also consists of a clear bottle conditioner and a Fill Kit
Cons
It's the most expensive item on this list
Even with that price, it doesn't include a bed frame
---
4. Boyd's Comfort Supreme Waveless Waterbed Mattress
If you want to take it to the next level and maximize your comfort with a water bed, then there's the Boyd's Comfort Supreme Waveless Waterbed Mattress to tickle your fancy. It is designed for the most satisfactory experience and is engineered to provide superior functionality and durability.
Features
The Boyd's is a hardside waterbed mattress with a waveless design, virtually eliminating water flow movement. It uses premium quality and heavy-duty vinyl, making it incredibly durable and leak-resistant. This waterbed mattress includes several components: a Memory Hi-Loft Thermal Bonded Fiber, 4-layer Reinforced corners with cushion, a 4-point Memory Stretch Tether System, a 4-layered wave reduction system, and a heat-resistant bottom.
The Boyd's Comfort Supreme also has a 3-layer ergonomic lumbar support foam fiber to provide additional support to where your body needs it the most. This ensures your body gets the support it needs when you sleep and offers orthopedic health benefits.
The regal foam waveless top comfort layer is vacuum molded and provides a comfy top cushion. The 4-layer wave reduction system allows an approximately 99% motion reduction, almost wholly preventing wobbling experiences even when moving on top of the mattress. This will help avoid discomfort for some people who find wobbling waterbed mattresses counterproductive to their sleep.
Pros
It is made with very high-quality materials
It is designed for optimal comfort and durability
Uses a 4-layer wave reduction system ensuring a complete waveless motion reduction
Highest quality heavy-duty vinyl is used to prevent leaks and tears
It comes with a 5-year warranty
Cons
It is slightly more expensive than most items on this list
The waveless feature may not appeal to some
---
5. INNOMAX Genesis 500 Reduced Motion Waterbed Mattress
Another product from INNOMAX is their Genesis 500 Reduced Motion Waterbed Mattress. This is a semi-waveless hardside waterbed mattress with a 'wavelessness' percentage determined only by the mattress support gauge provided by INNOMAX.
Features
Much like the free flow variant, the INNOMAX Sanctuary, the Genesis 500 offers the same wide range of comfort and health benefits. The only difference is that the Genesis 500 waterbed mattress reduces water motion, preventing free flow and wobble. People have different preferences, and some don't like sleeping on top of a bed that wobbles on almost every movement they make.
However, some people don't mind the wobbling but just want to reduce how much it shakes. To solve this and to cater to these needs, there are several variants of the Genesis series that INNOMAX created to provide customers options on how they prefer their waterbed mattresses – from free flow to waveless, and then several options of semi-waveless variants.
The Genesis 500 waterbed mattress falls short on the medium support gauge, but it has just the right layer motion control system that also offers mid-body support. This waterbed mattress has one-inch reinforced durable corners, an easy pull cap, and a fill valve designed for maximum air and watertight security. And a 4-way tethered support system prevents internal fiber shifting within the waterbed mattress.
Pros
It is cheap and affordable
It has a system of multiple layers for wave elimination
It has a 3-layer motion control with mid-body support for just the right amount of comfort
It has a 4-way tethered support system to stabilize internal components
It comes with a 20-year warranty period
Cons
It may not appeal to those who prefer having a free flow or a waveless waterbed mattress
It requires a waterbed frame to use and does not come with a heater
---
6. Strobel Organic Waterbed Mattress
The Hydro-Support 1400 waterbed mattress by Strobel Organic is designed for both comfort and safety. Designed with Archimedes' principle of buoyancy, the deep molded feathertop pressure reduction surface provides an exquisite comfort that gives you a lightened sensation as if floating on water. Thanks to this, it also allows for true flotation support to ease muscles, help you relax, and get better sleep. This can help you achieve sleep with little effort thanks to the conducive sleeping conditions it provides.
Features
The Hydro-Support 1400 is a hardside waterbed mattress with a 25 mm vinyl, which makes it 25% thicker compared to other competing products. This means that it is less prone to tearing and leaking. It is also tailored with reinforced corners for increased durability. It also has a heater-compatible bottom underneath.
The top of the Hydro-Support 1400 features a pressure-reduction surface molded to conform to your body's shape and comfort. Its fiber layer waveless system offers lumbar support and is tethered to corners to prevent shifting.
Its natural fire-resistant capability sets this waterbed mattress apart from its competitors. It doesn't need to use flame retardant chemical-based products to protect it from fire, unlike other mattresses just to comply with fire safety regulations. Not only will the Hydro-Support 1400 keep you comfortable, but it will also prevent unwanted setbacks from occurring when in use. This waterbed mattress will require a waterbed frame, and it can fit standard wood-type waterbed frames of 72″x84″. If you don't have a frame, this comes with frame-building instructions.
Pros
It is designed based on a centuries-old principle
It has 25% thicker vinyl compared to most waterbed mattresses
It features a 4-way tethered waveless system that prevents shifting
The 3-7-3 fiber layer system adds lumbar support
It is fire-resistant and doesn't use flame retardant chemicals
Cons
It's expensive
It requires a waterbed frame to use and does not come with a heater
---
Different Types of Waterbeds
Although many brands make their own "type" of waterbeds, there are primarily only two main types of waterbeds in general: the softside and the hardside.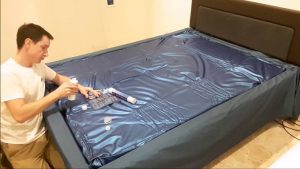 This type of waterbed uses fabric-cased foam to surround the bed on all sides. It has a padded top, and the whole thing sits on an upholstered frame. In some models, the tubes containing the water and liquid inside are surrounded by latex to ensure the foam is secure during installation and leaks.
There are several advantages of softside waterbeds. First is that you can use regular-sized sheets and linens. Therefore you have a lot of options to choose from. And second is its weight, softside waterbeds weigh less than hardside waterbeds. They mostly weigh around 400 lbs. This type of waterbed generally uses waterbed tubes beneath the padded top that contain water. There are several variations of softside waterbed: the shallow fill style and the waveless style.
The shallow fill style variation uses very little water, and they are usually called tube waterbeds because of their tubed water containment design. By adjusting the amount of water in the tubes, you can easily adjust the bed's firmness to your liking. You can freely change how firm or soft you want on each side of the bed. By increasing the amount of water, you get a firmer mattress; less water gets you a softer bed. This variation is quite relaxing due to the wavy tubes you can feel underneath. It's like relaxing on top of the water with the waves bumping on your skin, giving you a relaxing sensation.
Softside types with a waveless variation give a firmer texture and a less wavy sensation. This is a good option for those who like to relax in the blissful comfort of a waterbed without the undulating feeling.
If a softside waterbed is surrounded by soft foam on all sides, then a hardside waterbed is surrounded by a hard, solid frame made with either hardwood or softwood. This type of waterbed looks more like old, traditional beds.
The main advantage of hardside waterbeds is that they are sturdy, and they appeal to those who prefer a more traditional bed with the modern comfort of a waterbed. The disadvantage, however, is that hardside waterbeds require California-sized sheets, limiting your linen options.
Health Benefits of using Waterbeds
Waterbeds offer several health benefits that regular beds do not. These benefits are ideal for those who suffer from orthopedic conditions and have difficulty sleeping for discomfort or other reasons.
You get the same health benefits from waterbeds regardless of whether they are softside or hardside types.
A waterbed mattress is designed to absorb pressure points, which can be found in several joints and muscles in your body. Whether you are a side sleeper, a back sleeper, or a stomach sleeper, you get the support and comfort you need thanks to the conforming texture of the waterbed mattress. This is because waterbed mattresses have the least body surface of any type of bed, and they will always support the body evenly. A hard mattress is not the solution to orthopedic-related discomfort, and the only two mattresses that can conform to your body's shape are memory foams and waterbeds. However, between the two, waterbeds offer far too many benefits for memory foam to compete with.
Waterbed mattresses are also great because they do not sag no matter how long you use them. Even if they do, it can always be fixed by refilling it water or replacing the water tubes if there are cases of leaks. Because of this, it can even last a lifetime, provided proper care is also observed while using it. For what it's worth, it also offers a better value considering the quality of comfort you get can never deteriorate.
Some variations of waterbeds allow you to adjust how much water you fill to customize the level of comfort that suits you. You can change how firm or soft you want each side to be. You can also adjust the level of warmth to stave off the cold winter nights using the heater that comes with the waterbed. Having a well thermo-regulated body helps keep a healthy blood circulation.
Waterbed mattresses can naturally help regulate the temperature as you sleep so you will always stay cool and have an uninterruptible sleep. This is thanks to the water in the water tube that helps absorb heat between you and the waterbed mattress. Staying cool at night helps prevent sweating while sleeping, which, in turn, can cause respiratory conditions such as pneumonia.
Waterbed mattresses can be easily cleaned and maintained thanks to their ability to resist dust mites, molds, and allergens. Simply cleaning the bed with a damp cloth can do the trick. Clear antiseptic solutions can also be used without damaging it. You will feel at ease knowing you'd be sleeping in a clean and comfy bed.
Thanks to its hypoallergenic property, this makes it a good choice of use for those with skin sensitivities and respiratory conditions.
A lot of people may find sleeping on regular beds hard to sleep. Even more so if they're too tired from a hard day's work. A waterbed mattress can help solve that problem thanks to its ultra-comfy sleeping surface, which makes it highly conducive for sleep and relaxation. Even the pickiest type of sleeper may fall asleep quicker with this type of bed.
Just from the texture alone, the waterbed mattress can easily beat even the comfiest regular bed in the market. The feeling of floating comfortably on top of a body of water can help your mind and body relax. A relaxed mind can quickly help you fall asleep, and a relaxed body will help prevent any discomfort that will disturb that.
Things to Consider When Buying A Waterbed Mattress
When buying the waterbed mattress that best suits you, there are several things to consider. Once you've determined which factors weigh more importance than the others and prioritize what you need more in your current situation, then you'd be able to know the best waterbed mattress that perfectly suits your needs.
This factor is mostly determined by your current relationship status. Naturally, if you're single, you wouldn't need a huge bed. However, if you're living with a partner, you would need a larger-sized one. But in case you really do want a more massive-sized bed just for yourself, then, by all means, get one. Nothing should restrain you if you really wish to feel comfortable on a larger-sized bed.
It's a common misconception that waterbed mattresses are costly. Although there are expensive models in the market, there are also cheap and affordable ones out there. Just make sure you weigh in on the other benefits and cons to make sure you get your money's worth. After all, you can't quickly tell if a cheap product or a more expensive product would be a better investment in the long run.
Before purchasing a waterbed mattress, you should first consider what kind of waterbed you plan on having. Do you plan to use a softside or hardside water bed? Hardside waterbeds give you limited options when looking for the correct size of linens and sheets. These are also more expensive than the softside types since you need to purchase a bed frame that is suitable for the waterbed mattress. So aside from the cost of buying waterbed mattresses, you also have to consider purchasing a waterbed frame. However, despite the prices, these feel more stable to use than softside types.
Since a water bed mattress contains water, it is a given that you will feel water motion when you lay on top of it. Preferences vary from person to person regarding the feeling of this water motion. Modern waterbeds have designs that provide three types of wave motion.
In a Free flow design, the water flows freely. There are no baffles to hinder the water's natural movement. In free-flow waterbed mattresses, you will feel as if you are floating in the water, feeling water motion every time you move. However, this requires a wooden frame.
In a Semi-waveless waterbed mattress, the water movement is restricted by foam inserted into the bed. The feeling when lying down on this mattress is like floating on water with minimal water motion as you move around. It feels mostly between lying down on free flow and a waveless waterbed mattress.
If semi-waveless waterbed mattresses are around 90-95% "waveless," then Waveless mattresses are approximately 95% and above. Near-total 'wavelessness' is achieved by restricting water movement by inserting foam and fiber into the mattress.
Quality waterbed mattresses are reinforced at the corners. This shows that the bed is durable, and they can remain firm.
As explained earlier, there are three types of water flow in waterbed mattress designs. Waterbed mattresses with 1-2 fiber layers allow water movement for around 20 seconds, while higher fiber layers can almost entirely inhibit water movement. If you're suffering from back or muscle pain a lot, then having a waterbed mattress with more fiber layers could help you with your condition.
Waterbed mattresses can last a lifetime, but it doesn't mean it cannot be damaged and fall short in their years of use. Do your research to ensure that the product you're planning to purchase grants a decent warranty service and customer support.
Frequently Asked Questions
Is there a need to change the water in the waterbed mattress?
There is no need to change the water. The only time you will change it is when you plan to move the waterbed mattress from one location to another, which requires draining and then refilling the water.
Is there a likelihood that the waterbed mattress would burst?
Waterbed mattresses use vinyl, which is a very tough material. It will not burst from the weight of even a few persons on top of it. However, it can break when a sharp object pierces through it, which is an unlikely case in practical use. But even when it does, it wouldn't explode like a balloon. Instead, it will leak slightly, which can be fixed using a vinyl repair kit. Because waterbed mattresses are under neutral pressure, it will not spray out water when punctured or even when it has a large cut.
Can I use a boxspring for a softside waterbed mattress?
No, it has to be a solid frame. If you use a boxspring for your softside waterbed mattress, there will be too much movement of the waterbed and not only would it feel unstable but it can be challenging to sleep at with all that wobbling movement. Softside waterbed mattresses do not require a frame structure, but it does need a solid surface to lie on.
How easy is it to clean a waterbed mattress?
It's as easy as cleaning it with a damp cloth. You could also use a vinyl cleaner if you want to be thorough. You can also use clear antiseptic solutions if you wish.
Why is a waterbed mattress more therapeutic than regular beds?
This is due to its ability to conform to the body's shape, and it prevents discomfort by absorbing pressure points. It also provides more benefits than a regular mattress using memory foam.
Conclusion
Waterbed mattresses offer more benefits than your regular beds because they are not only designed to feel luxurious but are also designed to provide therapeutic effects to the body. You can purchase a heater to use it with, so you don't have to worry about cold nights.
However, the main selling point of waterbed mattresses would be the floating sensation you'd feel when lying on top of them. It helps ease your body physically and mentally, making you feel more relaxed so you can fall asleep easier. Regardless of the cost, investing in a waterbed mattress is a good investment in the long run, not only for your health but for your home as well since these could last a lifetime.