Are you looking for the best mattress topper for back pain? We';ve got you covered.
There are various things that can easily affect the quality of sleep you get in today';s world. How much you';re exposed to stress throughout the day is one issue. Another concern is the amount of traffic noise that comes from outside your window at night. However, while there are several disruptive elements in your sleep schedule that's out of your control, there's one thing that you can – your bed.
A comfortable mattress, cozy bedding, and the perfect pillows all come together to make an environment that';s supportive and welcoming for sleep. If your mattress isn';t exactly brand new anymore, but you can';t afford to buy a new one or you';ve started suffering from posture and back problems, then a mattress topper could be the ideal accessory to bring into your home.
An extra firm mattress topper for back pain is an additional layer of orthopedic material that you can place on top of your mattress to make the sleep surface more effective. Toppers are perfect for tackling everything from back pain to differences in sleeping requirements between couples who share a bed.
So, how do you choose the best mattress pad for back pain? That';s where things get complicated. There are so many different styles and brands out there today, that the sheer number of options can be overwhelming. Fortunately, we';ve done the research for you. Here';s your guide to choosing sensational mattress toppers for your bad back.
Top 10 Best Mattress Toppers for Back Pain
Overview:
Material: Polyurethane Memory Foam Gel Beads
Cover: None
Thickness: Available in 2 and 3 inches
Dimensions: 59 x 79 x 3 inches
Warranty Period: Three years
Toppers for back pain don';t have to feel like you';re lying on a block of stone. While firmness is useful for back issues, you also want something that';s soft enough to feel cozy and supportive, too.
Features
This LinenSpa gel infused memory foam mattress topper combines cooling gel beads with 100% polyurethane memory foam. The result is a three-inch ultra-plush comfort for your back. The gel infused mattress topper is excellent for hugging your curves while you sleep. All the while, it keeps your spine perfectly curved reducing pain.
Unlike most memory foam or latex options, the gel infused surface of the LinenSpa product ensures that you can regulate your temperature evenly through the night. There';s even a range of different measurements available from LinenSpa. Hence, you can choose the solution that';s best suited to your bed. While the cooling gel dissipates heat, the super-soft conforming memory foam aligns with your spine. As a result, your body weight is evenly distributed throughout your mattress, reducing pressure on your body.
One thing to keep in mind when you';re choosing any best orthopedic mattress topper, however, is that the sizes provided by different sellers can vary. A primary issue that we noticed with this particular topper is that the sizes seemed to be slightly different from standard US measurements. That means if you go for a King-sized topper, it may be a couple of inches smaller than your King-sized bed. You should still have plenty of space to spread out when you';re sleeping though.
Pros:
Soothing memory foam for support and comfort
Gel-infused memory foam eliminates heat retention
Excellent for people with back pain who need a good night';s sleep
Range of sizes and thickness options available
Affordable pricing
Cons:
Measurements can be a little off depending on your bed
Not ideal for people who have painful hips
Not as firm as some alternatives
Overview:
Material: Gel Memory Foam and Down Alternative
Cover: Washable Pillow Top
Thickness: 4 inches
Dimensions: 80 x 60 x 4 inches
Warranty Period: 5 years with 60-day Money Back Guarantee
Are you planning to transform your sleep with the best mattress toppers that money can buy? Then it';s hard to go wrong with the plush luxury offered by the ViscoSoft 4-inch thick memory foam mattress topper.
Features
Designed for those who want to completely change the way that their existing mattress feels, this mattress topper offers a unique blend of comfort and support. Unlike other products that combine latex and foam, the ViscoSoft comes with 1.5-inch fluffy down material and 2.5-inch gel-infused memory foam. A combination perfect for indulgent pressure-relieving comfort.
Great for those who are looking for an unforgettable sleeping experience, the ViscoSoft topper for back pain will relieve pain and soreness by hugging the hips, back, and spine as you sleep. The company has even tried extra hard to reduce the smell that';s common with memory foam products. This means you';re less likely to face an unpleasant scent when you unwrap your mattress topper for bad back protection.
The ViscoSoft comes complete with a removable and washable cover. Thus, you can make your comforting sleep last a lot longer. Additionally, there';s a 60-day no-hassle money-back guarantee. So, if this product doesn';t take the extra pressure off your spine, then you can always send it back. Once again, however, if you';re looking for an extra firm topper, then this might not be the product for you. The materials in the ViscoSoft mattress topper make for a softer, more sinkable topper.
Pros:
Excellent for those in search of pillow softness
Great for giving new life to your old mattress
Removes some of the pressure on your body to eliminate aches and pains
Excellent for comfort and support
High-density design
Cons:
Too soft for those in need of firm support
Not great for heavier people
Overview:
Material: Lavender Infused Memory Foam
Cover: None
Thickness: 2 inches
Dimensions: 60 x 80 x 2 inches
Warranty Period: 3 years
A slightly more unique choice for anyone in search of proper support during sleep, the two-inch Lucid Lavender memory foam mattress topper is excellent for the spine.
Features
This unique high-density foam topper comes with five body zones specifically designed to maximize comfort. What';s more, unlike most memory foam mattress toppers that come with an unpleasant smell, the Lucid features the soft and relaxing scent of lavender.
With specially textured materials throughout to help distribute your body weight and reduce pressure points at certain contact points with the body, this topper has it all. Though it';s not as thick as some of the other toppers that we';ll cover in this list, it';s great for reducing aches and pains. Thanks to its extra soft, airy, and responsive feel. Additionally, the Lucid comes with a 3-year warranty included. This is to offer extra peace of mind for those who aren';t sure about investing in a topper for support and comfort.
One small issue with this product, like with many toppers for back pain, is that it';s difficult to keep it one place as you sleep through the night. You';ll need a mattress protector to keep it in place or a fitted sheet. Additionally, even with the lavender scent, it';s best to leave the topper to air out for a day or two before you start using it. The foam materials can retain some chemical smells after unwrapping the product.
Pros:
Unique lavender scent included as one of the bonus features
Textured memory foam materials improve breathability
Three-year warranty included
Not as thick as some choices for those who don';t want high-density foam
Responsive design
Cons:
May be too thin for some
Still has an unusual scent when first opened
Traps heat
Overview:
Material: Quilted Fiber Fill and Gel Memory Foam
Cover: Washable Fabric
Thickness: 4 inches
Dimensions: 80 x 76 x 4 inches
Warranty Period: 10 years
One of the biggest issues with toppers for back pain that use memory foam is that they often have an issue with heat retention. If you sleep hot already, then having to contend with the extra heat of your mattresses' toppers won';t be much fun. That';s why a lot of people worried about body heat choose mattress toppers that come with gel-infused memory foam. Essentially, gel-infused memory foam improves the sleeping experience by helping to distribute and dissipate heat.
Features
This Sleep Innovations 4-inch memory foam mattress topper aims to reduce some of the heat issues associated with high density toppers. If you';re looking for the deep pillow softness of a thick mattress topper, this could be the perfect option for you. Plus, you wouldn't be worrying about an over-heated bed. There';s a two-inch quilted fiberfill included with the memory foam material. Hence, you get both firm support and softer materials at once.
Unlike other basic latex toppers, the Sleep Innovations gel mattress topper is excellent for ensuring proper skeletal alignment without the overwhelming heat. Additionally, there';s a washable cover included so you can make sure that your topper stays comfortable for longer. Moreover, the mattress topper also comes with a 10-year warranty. A generous offer in case you find that it makes your back pain worse, rather than better.
Pros:
One of the best gel infused designs for heat management
Extra thick, high-density topper for back pain
Multiple size options available
Washable cover included
10-year limited warranty
Cons:
Quite a strong off-gassing smell when first opened
Too pillow-like and soft for some
Can begin to break down over time
Overview:
Material: Cluster Fiber
Cover: Polyester/Cotton Blend
Dimensions: 60 x 80 inches
Warranty Period: One year
The Pillow Top mattress pad is another impressive topper for back pain that we examined when looking for the best option available today. This softer, more plush mattress topper aims to revitalize old and over-used mattresses by giving them an extra boost of comfort. If your mattress isn';t in the best shape anymore, and lumps or bumps are causing your back pain, then you should definitely try this topper. Mattress options up to 18 inches deep can benefit from this topper.
Features
Unlike other toppers that use latex or foam, this particular product has a unique construction of polyester fiber clusters. Because there';s no latex or memory foam in the mattress topper materials, you don';t have to worry about getting overheated when you sleep.
However, the pillow-soft experience, which is very similar to down and feathers, is great for reducing aches and pains throughout the body. The backing of the topper is also constructed with a cotton and polyester blend. If you';re looking for a comfortable, breathable, and soft mattress pad, this option is great for relieving pressure and discomfort.
Despite having a fiber filling, this mattress topper is still anti-allergenic. The unique technology used in the topper gives the look and feel of down, without the unwanted side effects. Unfortunately, one thing that might disrupt your sleep about this pillow-style topper is the fact that it makes noises when you';re lying on it. That';s something that';s pretty common for fiber-based products like this one. Additionally, some people complained that the topper does start to lose its shape very quickly, similar to a down pillow.
Pros:
Very soft and cozy design
A luxurious experience for the entire body while you sleep
High-density materials for deeper performance
Good for users with allergy issues
Cons:
Not firm enough for those who need spine support
Quite noisy which can disrupt your sleep
Loses its shape after regular use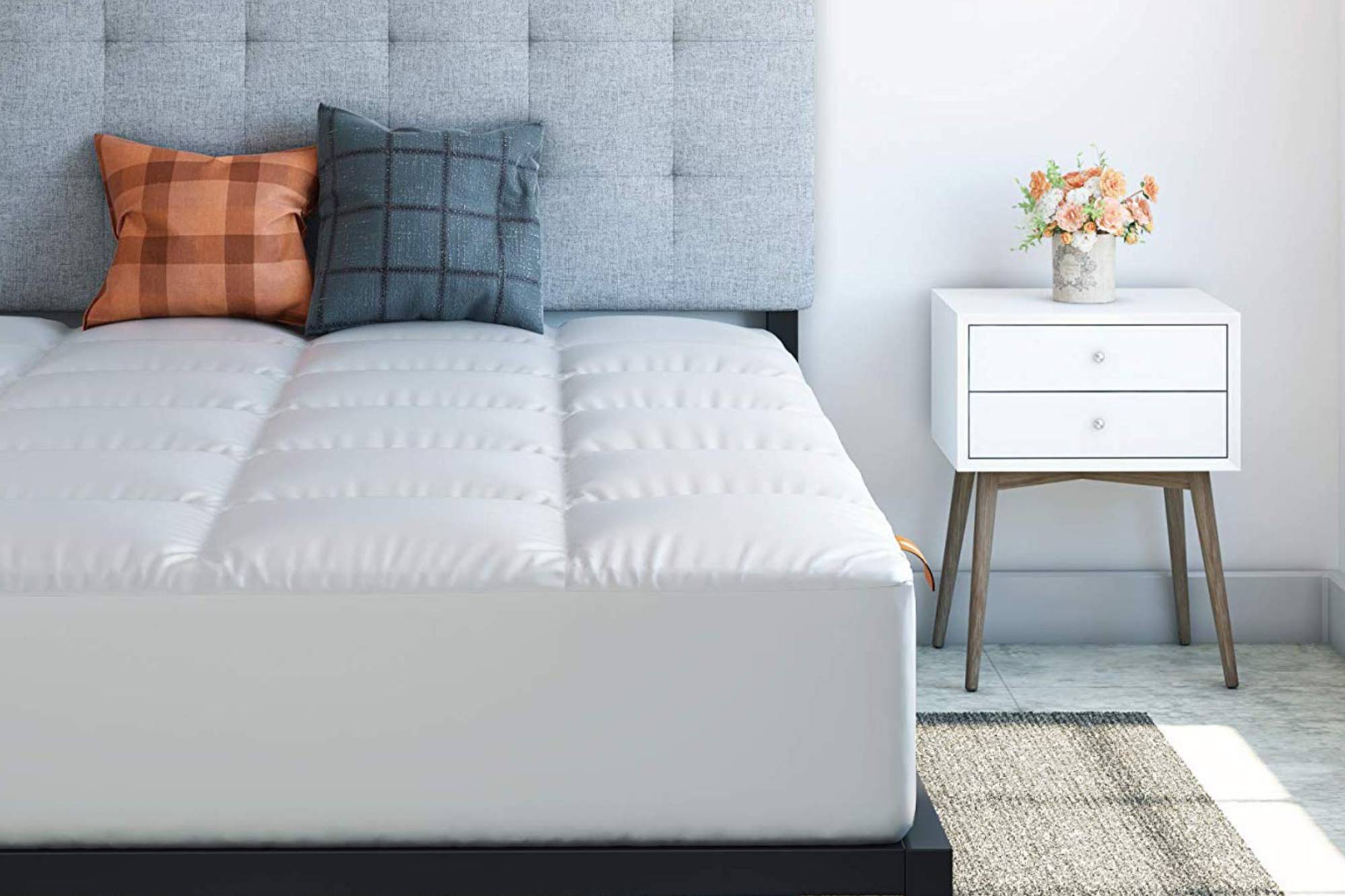 Overview:
Material: Down Alternative Polyester
Cover: Microfiber Polyester
Dimensions: 60″ x 80″
Warranty Period: None
If you';re not a fan of the density and heat that comes with a latex or foam mattress topper, then a microfiber option like this one from Hospitology products could still give you inches of comfort, without the discomfort.
Features
Offering a medium level of thickness ideal for all users, this mattress topper has a support rating that';s suitable for mattresses up to 18 inches thick. The extra-deep pad comes with a two-way stretch fabric. Thus, it';s easier to fit the topper to your mattress and bed.
Like most similar microfiber or down mattress topper options, the Hospitology Products solution is perfect for users who want to add extra life to their old mattress. It';ll make your mattress feel softer and more luxurious, without the density of a foam topper. Additionally, you don';t get the sweaty heat that';s common with latex or foam topper features either. On the other hand, if you're suffering from serious back pain, this product might not be the ideal choice. This topper is not firm enough to realign your spine. Overall, it will provide sufficient comfort to help you sleep soundly through the night.
If you want to feel wrapped up in warmth and you need a mattress topper that can contend with a few extra pounds, this is a great buy. However, we probably wouldn';t recommend this mattress topper for users who need extra firm support for their body. Additionally, keep in mind that it can still get very warm while you sleep. That is true, even though it doesn';t have the same density throughout as a latex or foam topper.
Pros:
Not as high in density as latex or foam
Can stretch to cover mattress thickness of 18 inches
Features boxed sections to stop material from bunching up
Soft and cozy comfort while you sleep
Cons:
Not ideal for those suffering from severe back pain
Not very firm
Quite warm to lie on
Overview:
Material: Down Alternative Gel-Fiber
Cover: Microfiber
Thickness: 2 inches
Dimensions: 39 x 75 x 2 inches
Warranty Period: 2 years
Are you looking for the medium to soft support of down and feather, but with the extra density of latex or foam? Then you could find the ideal sleep combination in this D & G thick and overfilled mattress topper.
Features
Designed for those who want to upgrade their nighttime experience, the duck and goose mattress topper offers two inches of indulgent filling. Crafted for improved relaxation and back support, the topper is great for relieving unnecessary pressure. It's even ideal for people with a few extra pounds to deal with.
For those who are worried about toppers for mattresses that don';t stand the test of time, the D+G Classic is a particularly good choice. This topper for back pain comes with a program designed to provide 10 years of peace of mind for your purchase. The limited warranty means that you can be confident with your mattresses topper and get a refund if you need it.
For easy care and convenience, this fiber-filled mattress topper is filled with materials that are safe to tumble dry. That means that you can wrap your body in comfort every time you go to sleep. Unfortunately, you still don';t get the extra firm padding that might be necessary for severe spine and back issues. If you want something extra firm, then down and feathers just aren';t as supportive as latex and foam. On the plus side, the specialist stitching on the mattress topper means that it can stretch and adapt to suit mattress depths of between 6 and 22 inches.
One significant downside of this product is that if you';re using a memory foam mattress with topper like this one, you might end up overheating very quickly. It';s quite a warm item, thanks to all the extra fibers.
Pros:
Luxurious and with high-level density performance
Removes pressure from points around the body
Great for those suffering from problems with an older mattress
Machine washable and available to tumble dry
Features stretchable stitching
Cons:
Not as firm as latex or foam
Not enough proper support for back pain
Quite hot on any mattress, particularly memory foam mattress options
Overview:
Material: Gel Memory Foam
Cover: Bamboo Fiber
Thickness: 2 inches
Dimensions: 78 x 58 x 2 inches
Warranty Period: None
We';re going back to the firm support options that you can get with materials like latex and foam with the Milliard gel memory foam mattress topper. If you';re looking for the best mattress topper for lower back pain, this could be the perfect option for you. Also, it's an ideal choice if you need something with a medium level of firm pressure support.
Features
Offering a medium-firm rating, the Milliard Gel foam topper will help you to sleep more soundly through the night with two inches of pain-relieving comfort.
There';s a complimentary cover included with this product. The casing, which is made out of the silky soft bamboo fiber, ensures lesser allergic reaction and discomfort. The bamboo is also highly breathable and washable, so it can last longer, too. As a premium product made out of the latest foam, the Milliard offers 2.5 pounds of density, unlike any other topper in its class. The product will help you to maintain proper spine alignment throughout the night. Moreover, you can rest assured that this item won';t lose its shape over time.
Aside from the cooling gel beads used in other medium density latex toppers we';ve looked at so far, the Milliard also utilizes open-cell technology to help keep you cool while you sleep. The textured design within the 2.5 pounds of foam also helps with balancing your weight and spreading it out across the mattress. Furthermore, the CertiPUR-certified foam is excellent for allergy sufferers.
According to the reviews that we read about this topper linking to Amazon and other sites, the smell isn';t too bad with this one. Nonetheless, it is a huge plus for a latex or foam option, even with the presence of slight chemical odor.
Pros:
Complimentary cover included
Medium firm latex foam support
2.5 pounds of premium foam
Excellent for proper spine alignment and decreased body pressure
Cons:
May be too thin for some users
Still a bit of a weird latex smell
Overview:
Material: Gel Memory Foam
Cover: None
Thickness: 2 inches
Dimensions: 80 x 76 x 2 inches
Warranty Period: 5 years
Another great option for those in search of the best mattress topper for back pain is Milemont's two-inch King-sized medium firm topper.
Features
Similar to the other options in this list, the Milemont aims to remove some of the discomfort and heat associated with latex and foam toppers. This is attributed to the cooling gel that has been infused throughout the foam. The unique design relieves back pain while creating a cooler and more breathable sleeping surface.
Like many foam toppers for back pain, the sleeping surface adapts to your unique needs. With its cushioning and contouring support, the pad adheres to your curves comfortably. The mattress topper is great for people who have back pain, as well as those who want a high density transformation with their old mattress. Likewise, it's recommended for people who wish to take some of the extra pressure off their bodies while they sleep. The medium firm support makes this topper a good option for sleepers who aren';t sure just how much support they need yet.
Unfortunately, if you';re a restless sleeper and you move around a lot in bed, then there';s nothing to hold this product onto your mattress. While other toppers come with free lovely covers, you';ll need to find your own mattress casing. That is if you want to stop the product from slipping and sliding out of your bed while you sleep. Additionally, like many other latex or foam toppers, this product comes with a slight off-gassing smell when you first use it.
One good thing about this foam mattress topper, however, is that it does come with a five-year warranty. Just make sure that you get the product from a participant in the Amazon selling program that honors the warranty. Furthermore, the mattress topper is certified by CertiPUR-US. Meaning, you can still enjoy it even if you have allergy issues.
Pros:
Great for a soft and cozy night';s sleep
Removes extra pressure from pain points
Medium firmness rating works for most sleepers
Features cooling gel
Five-year warranty
Cons:
Not ideal for a larger person
Holds heat like most latex/foam options
Has a bit of a chemical smell
Overview:
Material: Ventilated Memory Foam
Cover: None
Thickness: 3 inches
Dimensions: 60 x 80 x 3 inches
Warranty Period: 3 years
Finally, here';s another contender for the title of the best mattress topper for people with back pain and other issues. This three-inch Lucid mattress topper for back pain is a 100% premium product made from the finest materials on the market.
Features
With excellent ventilation for improved airflow and breathability, the mattress topper aims to minimize discomfort caused by heat. At the same time, it takes some of the extra pressure off your back to reduce the risk of pain.
As toppers for back pain go, the Lucid has one of the highest sleep rating scores that we';ve seen. The unique memory foam formula is excellent for distributing weight throughout your body. At the same time, if you';re worried about the foam taking on the shape of your body, the open-cell technology helps to prevent long-lasting body impressions. With a natural resistance to allergens and dust mites, this mattress topper for back pain is a great option for many sleepers. What's more, it offers a three-year warranty for peace of mind.
However, how you prefer to sleep will play a big part in whether you find this topper useful or not. If you need something that';s extra firm to take the pressure off your spine, then the Lucid topper is quite soft. It';s intended more for sinkable comfort than for spinal realignment. Another point to keep in mind is that as your body sinks into the mattress topper, you will gradually feel warmer. The topper does take on quite a bit of heat, which is a problem for people who already sleep hot in the first place.
If you can get around the extra heat however, then you could benefit from the reduced pressure on your joints and muscles provided by this mattress topper.
Pros:
Excellent for reducing body pressure
Mid-firm rating suits many users
Breathable design
Three-year warranty
Anti-allergenic design
Cons:
Unpleasant new foam smell
Not extra-firm for those with severe back pain
Absorbs a lot of body heat
What is a Mattress Topper?
Before you can decide which mattress topper is right for you, the first thing you need to do is ask yourself – What is a topper for a mattress?''
Essentially, a mattress topper is a comfortable, high-performance way of adding extra comfort to your bed if you';re unsatisfied with your existing mattress. If you have persistent back pain and your current bed is just making it worse, a topper can help with that.
So, which mattress topper do you need? Well, that all depends on what you';re looking for.
If you';re searching for the best mattress topper for back pain, then you';re going to need something that can give your back and spine the right level of support throughout the night. Usually, people with back pain need a certain level of firmness to help them sleep. However, the kind of mattress topper you need will differ depending on the kind of pain you have.
One thing to keep in mind is that you';ll need to be careful when reading reviews to ensure that they';re legitimate. There are many people online today that earn fees by advertising mattress toppers for a specific brand. Check the advertising and linking of each website you read. This way, you'll be able to find out whether your reviewer is using an earning program, an affiliate advertising strategy, or anything else. While affiliate advertisers can be legitimate, it';s best to know whether the person is just involved in an associates' program, an affiliate for a specific company, or something else entirely.
What to Look for in Your Mattress Topper?
So what do you need to look for in the best mattress topper for back pain? Well, that all depends on you.
As any guide for better sleep will tell you, people have their own unique needs to consider when it comes to getting adequate rest. While reviews and testimonials (even those from an affiliate advertising program designed for a mattress company) can help, you also need to do your own research. Factors that you may need to look into include:
1. Material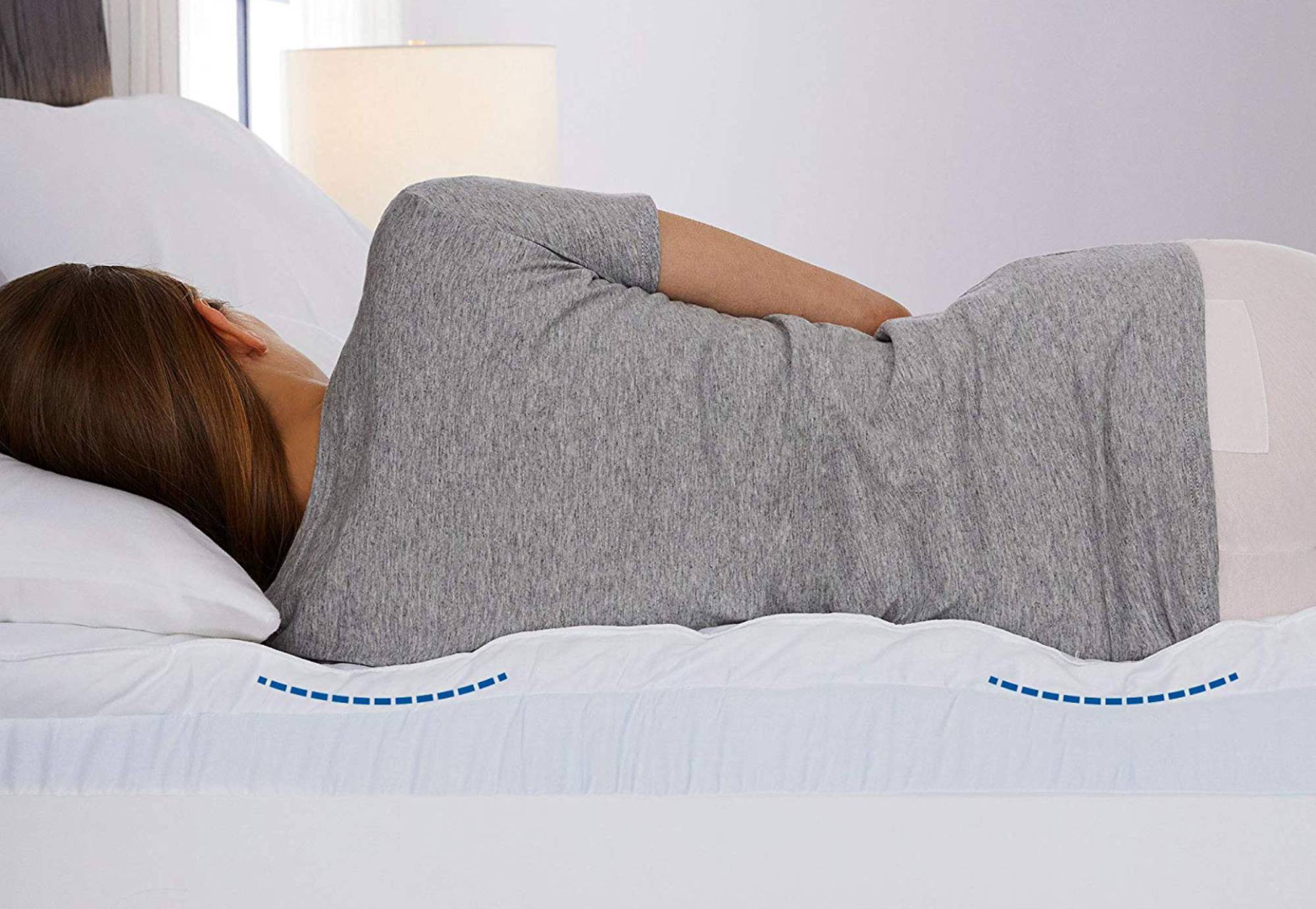 Different materials offer different experiences when it comes to comfort. Memory foam and latex are excellent for contouring to the shape of your body. These materials are great for back pain because they can help to align the spine and deliver pressure relief. Alternatively, some people will think that a wool or feather option is the best mattress topper because it allows for more flexibility.
2. Thickness
Mattress toppers for back pain can come in many different shapes and sizes. If you';re wondering – Does a mattress topper really help?'' thickness will play a big part in the results that you get. The thickness of your mattress topper could be between one and four inches thick. If your mattress topper is too thin, it won';t make much of a difference to your back pain. This is because you';ll sink right through the material to your regular bed.
3. Density
Do you want to know how to make a mattress firmer? The firmness of your mattress topper can be crucial to ensuring a good night';s sleep and overcoming back pain. A high-density mattress topper made from the right material can provide more relief by delivering firm support during the night. Density is one of the properties that you';ll need to look into if you want good edge support, too.
4. Motion Isolation
Mattress toppers are excellent for a range of reasons. When you get a mattress topper for back pain that';s made out of foam or latex, you can even help your partner to sleep better, too. That';s because the motion isolation is improved with a mattress topper, compared to using a regular spring bed.
5. Durability
Although most ventilated memory foam mattress toppers, latex mattress toppers, and other sleeping pads are quite affordable, it';s still worth ensuring that they';ll stand the test of time. You don';t want to have to replace your mattress topper after just a few weeks of pain relief because it';s sagging or taking on an odor. Check the durability of the mattress topper that you buy.
Who Should Buy a Mattress Topper?
Ultimately, not every consumer will need to invest in a mattress topper to make their bedding more comfortable and supportive. If you don';t have issues with back pain to overcome or your mattress is still in pretty good condition then there';s nothing to worry about. However, there are situations where the best mattress topper can come in handy. For instance, mattress toppers are best suited to people who:
Don';t like their current mattress: If your current mattress is too firm or soft, then the best mattress topper will help you to overcome this issue and revitalize your bedding.
Can';t afford to replace an entire mattress: When your mattress is no longer in the best condition, this can cause back pain and other issues. A topper can refresh your bed without excessive expense.
Sleep with a partner: Mattress toppers can either offer partners different levels of firmness and comfort on a bed. These may even improve the quality of sleep by reducing motion isolation and other issues.
Travel a lot: If you tend to have back pain when you';re sleeping in another location, like at a friend';s house, the best mattress topper will give you a portable source of comfort.
Remember, the answer to Can memory foam toppers cause back pain?'' is a resounding 'yes' depending on the shape of your body and your comfort needs. If you require more firmness from your topper, then a memory foam option could be too soft for you.
Picking the Best Mattress Topper for Back Pain
Answering the question: What is the best mattress topper for lower back and hip pain?'' isn';t as easy as it seems. Toppers come in a wide variety of shapes and sizes. The best choice for your needs will depend on the kind of back pain that you have.
If you';re looking for an all-around great topper for back comfort and support, we';re huge fans of the LinenSpa Gel-Infused mattress topper. Though this memory foam item might be a little soft for some types of severe back pain, it';s firm enough to help with realigning your spine and taking the excess pressure off your back. We also think that the LinenSpa is one of the best choices for back pain because it feels extra luxurious. If your condition is improved by a deep, comforting layer of memory foam, then the LinenSpa will be best for you. Additionally, this memory foam mattress topper stands out from the crowd by offering a layer of best quality gel for cooling purposes, too!
What do you think is the best mattress topper on the market today? Let us know in the comments below or reach out to us on social media.
Additional Resources