We may earn a small commission if you buy something via a link on this page. This doesn't impact our rankings or cost you extra. See
our advertising disclosure
for details.
When shopping for a new item as a replacement for your old mattress, there's a pretty good chance you have come across mattresses from brands like Loom and Leaf and Leesa during your search. Both companies produce high-quality mattresses that utilize an all-foam construction.
If you're considering a Leesa or Loom and Leaf mattress but still undecided which brand to go for, that's where we come in. We researched both mattresses and compiled the information we gathered in this Loom and Leaf vs Leesa mattress reviews. Through this in-depth, head-to-head comparison of the aforementioned mattresses, we'll evaluate the two mattresses according to set criteria. You'll learn how these beds differ, in addition to how they stack up against each other in terms of construction, firmness, support layer, temperature control, motion isolation, sleep trial, and warranty, among others.
In the end, we will determine an overall winner but ultimately, your choice depends on your sleep needs and preferences.
Let's Compare!
1. Materials and Construction
Let's start this Loom and Leaf vs Leesa review by going over how the all-foam flagship mattress types are constructed and the materials used in each support foam and comfort layer.
Loom and Leaf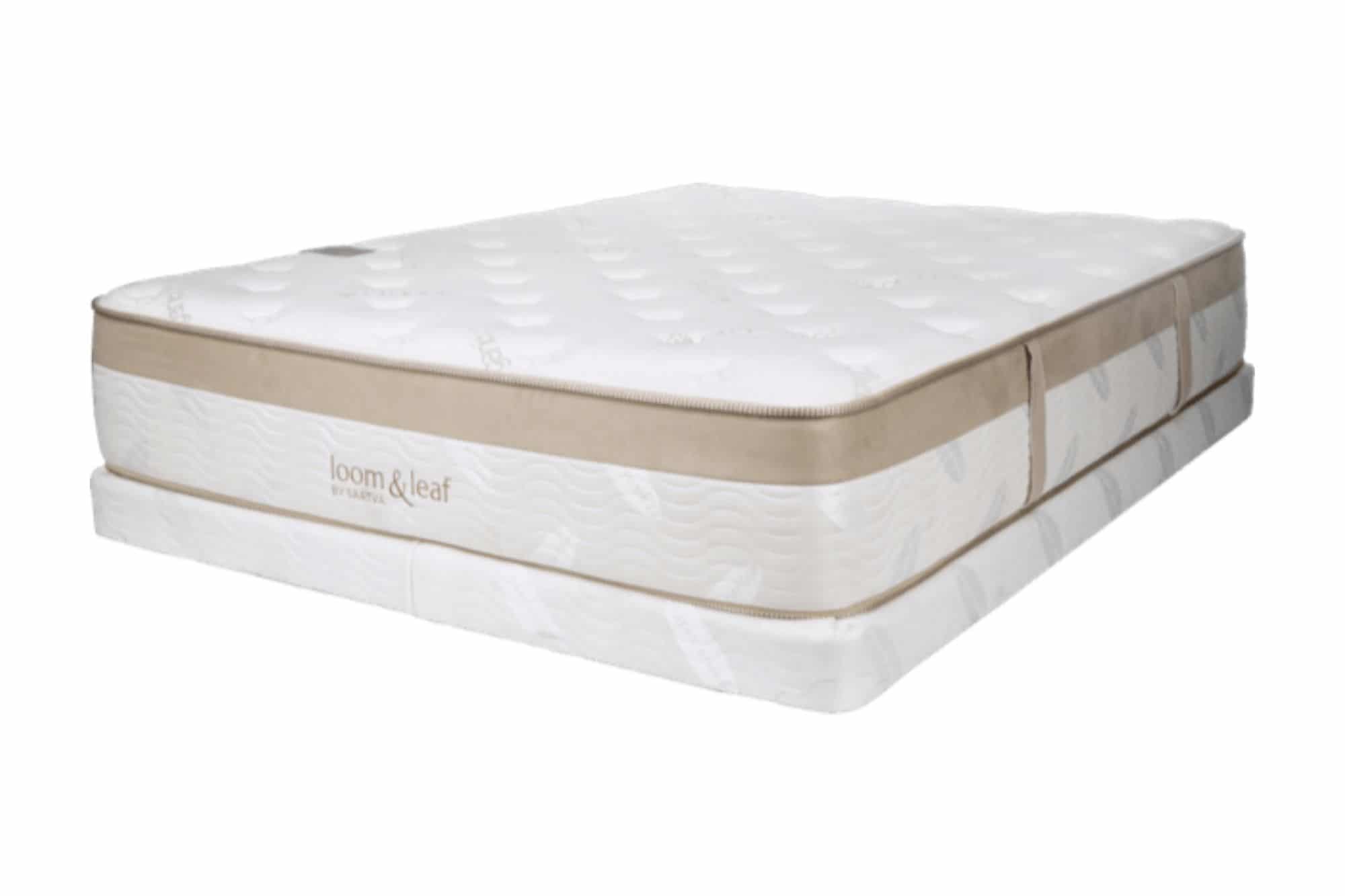 A product of Saatva, one of the leaders in the online mattress industry, the Loom and Leaf offers 12 inches of comfort system and contouring support.
The top layer is made from pressure relief memory foam layer that's infused with a cooling spinal gel layer and phase change material which actively pulls away the unnecessary body heat.
The 2nd layer is a 2.5-inch section of visco elastic memory foam with an aerated pin core design to promote ample airflow.
A 3rd layer, the transition loft pad, provides transition and compression support. 2 inches thick, this layer helps all the others to work together.
The bottom layer, the base textile, is built from high-density support foam. This breathable foam structure acts as the mattress support.
Available in Twin, Twin XL, Full, Queen, King, and California King, the Loom and Leaf mattress is encased in an organic mattress cover that has been quilted with 5/8 inch foam for added comfort and support.
Leesa
Designed for optimal support and cooling comfort, the Leesa is a 10 inches thick and divided into 3 layers. It is constructed from a combination of foam mattress materials, including the proprietary foam.
The topmost layer is constructed from the Leesa's Avena proprietary foam which is aerated and resembles inverted egg crate foam to promote bounce and breathability.
Underneath is a 2-inch middle layer that provides pressure relief for memory foam layers which in turn enhances comfort and support.
The base layer is made from breathable high-density foam. It provides support and shape to the mattress.
Available in UK Single, EU Single, UK Small Double, UK Double, EU Double, UK King, Eu King, and UK Super King, the Leesa is sheathed in a seamless Lycra and cover made in polyester.
In terms of construction and the quality of materials used, this round goes to Loom and Leaf – thanks to its thicker foam mattress layers and superior cooling capabilities.
2. Firmness
You probably already know what firmness levels you generally prefer in a bed – whether you prefer sleeping on a soft or medium firm mattress (medium firmness in short). If you're not satisfied with what you're getting from your mattress but still need more information as to the firmness level that's just right for your needs, below are some things to consider.
Side sleepers usually find that a mattress with a softer feel suits their sleeping position best because it allows for added compression in the shoulder and hip regions.
Smaller people also tend to prefer a softer bed because they aren't applying as much concentrated weight to the bed.
Back and stomach sleepers often prefer a firmer feeling mattress because they generally help keep the shoulders and lumbar region elevated to facilitate proper spinal alignment in these sleeping positions.
Heavier individuals or larger couples also benefit from a firmer bed because they provide more support and increased durability under the additional pressure.
Loom and Leaf
The Loom and Leaf firmness has options – Relaxed Firm and Firm.
Loom and Leaf's relaxed firm mattress ranks as a 6 out of 10 on the firmness options scale, with 10 being the firmest, while their firm mattress is an 8 on the firmness scale.
The relaxed firm mattress aims to hit the sweet spot between soft and hard in order to accommodate people who sleep in any or all positions throughout the night. The relaxed firm mattress will remind you of a traditional memory foam feel. This firmness level is also a great choice for couples who sleep in different positions.
The firm option, on the other hand, is great for larger individuals, heavier couples, stomach sleepers as well as those who like lying on their backs. This option is also good for anyone whose doctor recommends sleeping on a firmer mattress due to injury or any preexisting condition.
Leesa
The Leesa mattress boasts a "universal adaptive feel" which aims to provide you with optimum comfort in any sleeping position. The mattress primarily appeals to your comfort preferences by being soft. By our estimate, Leesa ranks as a 6.5 out of 10 on the firmness scale, with 10 being the firmest.
This firmness level is considered medium firm and should be soft enough to accommodate side sleepers. Surprisingly, it is also firm enough to keep back and stomach sleepers and even combination sleepers without allowing their hips or shoulders to sink in too far or become compressed under the pressure points of centralized body weight.
The Leesa offers you a soft memory foam feel but unlike the firmness levels of regular mattresses, Leesa's firmness adapts to your body and its movements so you can feel comfortable in any position. This is ideal for couples or individuals who sleep in a range of positions.
This round goes to both the Leesa and Loom and Leaf! The winner in this category depends on your individual sleep needs and preferences.
Loom and Leaf could be the best mattress if you want the option of an extra firm bed or like the feel of a memory foam mattress. The Leesa, on the other hand, could be best if you want a mattress that provides a "universal feel" and lets you sleep comfortably in any position. Either way, the firmness levels offered by these bed products should make any sleeper content.
3. Support
Support is often confused with firmness when it comes to mattresses but they are actually quite different. Firmness describes the overall feel of a bed and is more specific to the comfort layer, while support quantifies the bed's ability for pressure relief and support, contour, and you guessed it, support your body by preventing improper spinal alignment.
Support in a mattress can also refer to more specifically to edge support which is particularly beneficial for anyone with limited mobility, small children, or couples who want to maximize the usable surface area of their mattress. Good edge support will allow you to sit or lie near the edge of the mattress without feeling as if you are about to slide off. This also makes it easier to get into and out of bed when you have limited mobility.
Loom and Leaf
The Loom and Leaf mattress achieves superior support through the pressure relief mechanism of the memory foam and its durable base layer of memory foam with a high density support feature. Together, and paired with the other foam sections of the bed, the Loom and Leaf mattress provides you with ample support, excellent contouring capabilities, and targeted pressure relief.
Loom and Leaf mattresses do not incorporate any added edge support but they do provide more support compared to a traditional memory foam mattress. You should be able to lie right on the edge without sliding off the bed. This mattress is not designed for sitting on the edge but it should not pose any difficulties when it comes to getting in and out of bed at night.
Leesa
The Leesa mattress achieves its support in a similar manner to the Loom and Leaf mattress but with a bit more bounce.
The first layer of Avena foam is shaped to enhance bounce. Second, the layer of memory foam below facilitates superior pressure relief right where you need it most. Next, the base layer of dense core support foam finishes the support system. Combined, the different comfort layers of the Leesa offers your body ample support, contour, and pressure relief in any position.
The Leesa mattress does not incorporate additional edge support but its support system ensures you can use the entire surface of the bed without feeling as if you could slide off on any of the edges. When sitting on the edge of the bed, a significant amount of compression is experienced but not enough to make getting into and out of bed difficult.
The winner of this round is Leesa! While both Leesa and Loom and Leaf come pretty close to even in our comparison, The Leesa mattress comes out on top due to the quick responding foam layering which also gives the bed a slight bounce. In addition, all layers of foam work to enhance support and pressure relief.
4. Temperature Regulation
Overheating at night is probably more common than you would expect. Many people sleep hot and for some, this can decrease the quality of sleep, leading to myriad side effects if the conditions persist long term. Fortunately, many of the new mattresses available today take precautions to ensure proper temperature while still giving you the memory foam feel many of us have come to love. This is a vast improvement from what we used to experience with memory foam mattress of the past, which have a reputation for retaining excessive heat.
Loom and Leaf
The Loom and Leaf mattress takes several precautions to prevent heat accumulation and overheating in the bed. First, the organic cotton cover is breathable and its natural fibers also help wick moisture away from your skin. For anyone eyeing high quality mattress toppers, this can be a deal-breaker.
Also, the second layer of convoluted memory foam below is infused with cooling gel swirls and an additional cooling gel laminate on the center third of the bed to provide convenient lumbar support, which retains a lot of your body's natural heat. More importantly, it reduces the chances of developing back pain. In addition to the cooling effects, this layer is also infused with a phase change material that actively pulls heat away from your body.
Lastly, the Loom and leaf mattress utilizes a pin core design that aerates the layer of viscoelastic foam in order to promote more airflow throughout the entire mattress. Overall, this mattress provides even the hottest people with excellent temperature neutrality making it more comfortable for you to sleep.
Leesa
The Leesa mattress combats accumulated heat by way of their breathable cover and the top layer of Avena foam. The cover is made with 100% polyester which helps promote airflow without retaining heat emitted by your body. The top layer of convoluted Avena foam is also designed to enhance airflow while simultaneously retaining minimal heat. We personally tried the Leesa mattress and found the temperature control system to be sufficient. For people looking for a temperature neutrality feature, this can mean a great deal.
However, those who tend to sleep hot may notice some heat retention but this can be significantly improved with highly breathable low thread count bedding, like bamboo sheets.
Loom and Leaf wins this round! They take temperature regulation seriously and it shows in the features they added to combat heat retention in their mattresses without sacrificing the memory foam feel the mattress is popular for. The Leesa mattress still does a great job of preventing overheating but it simply can't outperform the Loom and Leaf. If temperature neutrality is your priority, be sure to give this a second thought.
5. Motion Transfer and Isolation
A mattress's ability to isolate and minimize motion transfer across the surface of the bed is particularly important for light sleepers, couples who have different sleep schedules, and anyone who frequently shares their bed with a small child or pet who tends to change positions regularly while they sleep. If you fall into one of these categories, you may be surprised at how much of a difference quality motion isolation can make when it comes to helping you sleep soundly and undisturbed throughout the night.
Loom and Leaf
The dense construction of multiple foam layers inside the Loom and Leaf mattress makes it excel when it comes to motion isolation. While doing this Leesa vs Loom and Leaf mattress review, we found out that motion transfer is nearly eliminated due to the grouping of different foams inside this bed which all individually absorb shock and prevent it from transferring across the surface. Even the cover plays its part in reducing motion transfer with the quilted layer of foam sewn directly into the cover fabric of the mattress. Loom and Leaf can easily combat a restless sleeping partner with its motion isolation capabilities so you can sleep undisturbed.
Leesa
The Leesa mattress also excels in motion isolation. The combined transition layer of foam each work to absorb any shock or motion on the surface of the bed before it can transfer across the surface. The Leesa nearly eliminates all motion transfer so you will still enjoy undisturbed slumber even if you sleep with a partner.
This round goes to Loom and Leaf! Both mattresses do an excellent job at diminishing motion transfer but the Loom and Leaf mattress is ahead by a small margin in this category. While you can't go wrong with either mattress, we'd like to emphasize that Loom and Leaf just performs a tiny bit better when it comes to motion isolation.
6. In-Home Trial Period, Warranty, and Delivery
The in-home free trial and warranty length of a mattress are both good indicators of a company's overall confidence in their product and the expected durability. The longer the warranty, the more durability you can expect. Similarly, a greater in-home trial period length indicates a company's confidence that consumers will be more than pleased with their new mattress purchase.
While almost all of today's online mattress retailers provide free shipping for their mattresses, compressed in a convenient easy-to-move box, some offer additional perks or collect unexpected hidden fees that you should look out for and may want to eventually factor into your final decision. Even the delivery window provided by each brand can make a difference.
Loom and Leaf
Each Loom and Leaf mattress comes with a 120-night in-home trial period and 15 years worth of warranty. Most, if not all, consumers would appreciate the long warranty period on this bed and 120 business days should be more than enough time to decide whether or not this bed suits your specific preferences. However, it should be noted that Loom and Leaf's trial offer comes with a hidden fee if you eventually decide you do not want to keep the mattress. They charge $99 for transport, but they do pick the mattress up and refund the original price point.
Loom and Leaf also provides free White Glove Delivery with each new purchase of a mattress which can be extremely helpful if you live alone. Each delivery is performed by a team of two who completely sets up your new bed, remove all of the packaging trash, and remove your old mattress and box spring at no additional cost. You can now say goodbye to headaches involved in old mattress removal.
Leesa
The Leesa mattress comes with a 100-night, in-home trial period and a warranty 10 year offer. We recommend replacing your mattress every 8-10 years for sanitary reasons so we think this warranty length is perfect and 100 nights should be ample time to decide whether or not you like the Leesa mattress.
Unlike Loom and Leaf, Leesa does not charge you any additional return fees if you decide you don't want to keep their mattress within the 100 days trial period. Additionally, Leesa also tries to find a local charity where they can donate your unwanted mattress without the need for further shipping outside your area. When no donation options are available, usually in more rural areas, Leesa recycles returned mattresses.
While Leesa did not incorporate the costs for White Glove Delivery into the total cost of their mattress as Loom and Leaf did, they do offer this upgraded service for an additional $150. Leesa chose to keep the initial cost of their mattress low so it can be more affordable to a wider range of budgets. They also believe that most people should not need much help, if any, setting up their new mattress because of how easily it can be accomplished.
The winner of this round is Loom and Leaf! The slightly longer in-home trial of 120 days and 120 nights- compared to the competition's 100 nights, the 15 years on their warranty period – which is 5 years longer than the competition, and the complimentary White Glove Delivery service are too good to miss. Of course, if the transportation fee is a dealbreaker, Leesa may still be the winner in this round based on your specific needs.
7. Affordability
For many people, when it comes to making a large purchase, like a mattress, the price is what really matters in the end. Fortunately, many new online mattress companies are also offering quick and easy monthly payment financing options so you don't have to sacrifice comfort for a lower price tag. However, affordability could still play a large role in your decision-making process.
When it comes to comparing Loom and Leaf mattresses to Leesa mattresses, the obvious price difference becomes quickly apparent. A Leesa mattress is significantly less expensive than a Loom and Leaf bed, sometimes by as much as half the cost depending on the promotions running at the particular time you are shopping.
The winner of this round is Leesa, thanks to its more affordable price tag. The Loom and Leaf mattress is significantly more expensive. So if you want to save some money, the Leesa mattress is your best option.
8. Social and Environmental Impact
This subcategory will not declare a winner because it does not address either of the mattresses' specific traits. However, we included this section in this Leesa vs Loom and Leaf review because it looks at how each company gives back to the people in their communities and their environmental impact. This may or may not affect your final decision but either way, you might want to know more about the mattress companies' humanitarian objectives and how they positively impact society and the environment.
Loom and Leaf
Loom and Leaf is committed to their eco-friendly green initiative which means they use eco-friendly foams, an organic cotton cover, and natural thistle fire retardant. They are also the lead sponsors of the Sustainable Furnishings Council and their flagship partner factory runs exclusively on solar power during production.
Leesa
Leesa donates 1 mattress to a non-profit organization for every 10 sold. That's more than 30,000 mattresses and counting. Leesa staff members also donate time and resources to giving back to local and national organizations like For Kids, 99 for the 1, and more. As mentioned briefly mentioned above, Leesa also donates or recycles all mattresses returned within the initial 100-night trial.
Consideration when Purchasing
Unless you're a hardcore fan of a brand, it pays to weigh your options when shopping. Try creating a checklist to help narrow down your choices. Below are items that you can include based on the factors we've mentioned for the two brands:
Warranty: Naturally, 10 years worth of warranty pales against a 15 year warranty.
Shipping fee: Your location plays a crucial part in this. But wouldn't you prefer going for products that offer free shipping? Think about it.
Measurement: How huge would you like your foam bed to be? Will a Twin XL size do you justice? What's your preference in terms of memory foam thickness? Are 5 inches sufficient?
Firmness Options: A foam bed varies in firmness whether you like it or not. Something that has 10 firmness grade level is top class. But even this may not work for you. Some prefer those with medium firmness. Although, you might want to do away with one that has two firmness levels.
Comfort layers: This can mean a lot of things. It can be the compression support, the support core of the foam bed itself, quality of sleep surface, presence of fire retardants which literally act as a fire barrier for your memory foam, and even the firmness options (as indicated in the previous item). Add-on features that companies roll off include pressure relief and a sturdier bed frame capable of supporting different body weights. The bottom line is what makes you comfortable.
Key materials: We can't reiterate this enough. Material matters. Organic cotton may have a different foam feel than visco elastic memory foam or a gel memory foam. It pays to check the base materials used in building the sleep surface as well. One built with superior support core raw materials will undoubtedly be a great replacement for your old mattress.
Delivery: In the age of online shopping, delivery matters big time. Brands can roll off equally superior items like the first two in our mattress comparison, but they will likely differ in how they bring products straight to your home. Some use a free white glove delivery service, but you can always check competitors like a bed in a box service. You may also include here the sleep trial duration.
Branding: Then at times, you just have to trust the brand. Both memory foam mattresses mentioned in this article are trusted brands with years of experience in the industry. And while this is a Leesa vs Loom and Leaf comparison post, no one's stopping you from widening your search. Whether it's a gel memory foam or one made of organic cotton, these brands have you covered.
Conclusion
Now it's time to tally up the scores and see who the final winner of our Loom and Leaf vs Leesa mattress review will be. But first, let's do a brief recap of what we have read so far to note the differences between these two mattresses.
The Leesa mattress excels in temperature neutrality, motion isolation, and support, and provides a universal firmness and feel. It also comes with an ample warranty and in-home trial period and does not have any hidden fees associated with returns. However, it is worth noting that there's no added edge support and removable cover in the Leesa mattress. Furthermore, the mattress only has one firmness level and doesn't come with a complimentary White Glove Delivery service.
The Loom and Leaf mattress, on the other hand, excels in temperature management, motion isolation, and firmness. The memory foam mattress also comes in two firmness levels or options. The brand also offers great value in terms of the warranty, in-home trial length, complimentary delivery service, and eco-friendly initiatives. The downsides to Loom and Leaf's mattress include the high price tag, a $100 transportation fee for returning an unwanted mattress even when within the trial period, and the lack of a removable cover and additional edge or support core.
Mattress reviews are widely accessible online making it easier to search those specifically under the memory foam mattresses category. As a buyer, you have all the reasons to scrutinize every aspect of your new mattress. For instance, is one made of latex foam superior? Whether you're looking for a density memory foam or those with an excellent gel foam layer and are made specifically for a stomach sleeper, options are varied. The bed frame, transition foam, and latex foam quality can also be criteria for selection.
Some even go as far as making sure they use eco-friendly only materials like a natural thistle. Even sizes are created differently to provide more options. Popular picks include queen size and twin XL which are comfortable for family use, 24 hours.
Old mattress removal is to be expected. Might make your selection available in two options starting off with Loom and Leaf vs Leesa.
The Overall Winner Is Loom and Leaf!
Ahead by just a tiny margin, the Loom and Leaf is better than the competition in terms of temperature regulation, motion isolation, and warranty/shipping/in-home trial length. However, if you are looking for a more affordable option you will probably still view Leesa as the winner.
Either way, we think both mattress brands would make a great choice for most sleepers and the final choice is ultimately up to you. Choose according to what works best for your needs and you will be well on your way to sleeping in luxurious comfort for years to come!
Additional Resources