We may earn a small commission if you buy something via a link on this page. This doesn't impact our rankings or cost you extra. See
our advertising disclosure
for details.
Before you purchase a bed frame for your memory foam mattress, it';s important to consider the difference between a traditional mattress and a foam mattress. Because memory foam mattresses are constructed very differently from traditional mattresses, you';ll find that the best bed frame for memory foam mattress types is one with strong support throughout it. Without this support, usually in the form of slats, you will not maximize the comfort you expect from memory foam.
Of course, finding the best bed frame is about more than the structure of the frame. The frame itself almost must be comfortable, and you want an appealing design, value, and great value. Finding all of this in a single frame is hard, so to make your search easier, we';ve compiled a list of top frames on the market in 2020 so you can find the best bed frame for your foam mattress.
Best Selling Bed Frames for Memory Foam Mattress A Comparison
Top Rated Bed Frames for a Memory Foam Mattress Reviews
1. Home Life Premiere Classics Tall Headboard Platform Bed
If your home has a modern design, the simple yet elegant Home Life Premier Classics will fit right in. Available in four sizes, from twin to king, it features a 51''-tall, upholstered headboard with metal studs and tufted button accents. The upholstery itself is a premium polyester, which is both soft and durable. While this décor is perfect for minimalist homes, the simple features and soft, silvery colors will match many bedroom styles.
As for the frame, it is built from sturdy hardwood slats with connecting metal rails, and is easy to assemble with few parts. These strong wood slats ensure minimal sagging and improve the life of your mattress. Because of the sturdy construction, the frame stays firm and silent. The frame is supported by legs which may be individually leveled. However, there';s only six inches of ground clearance, so if you';re used to storing things under your bed, you should be aware that it won';t provide much room underneath.
Lastly, Home Life provides a five-year warranty, rounding out an excellent package.
Pros
This frame offers a beautiful, modern design.
Its simplicity should complement many décor styles.
The frame is easy to assemble.
Home Life provides a five-year warranty.
It is compatible with memory foam as well as box springs mattresses.
Cons
With only six inches of clearance underneath, some might not like the lack of space.
Verdict
Home Life Premiere Classics provides an excellent option for a variety of customers. Simple, modern, and beautifully-detailed, it accents any room well.
---
2. Zinus Olivia Metal and Wood Platform Bed
Another bed frame is perfect for modern or simple décor, but this time also with a bit of retro-Tuscan flair, this frame from Zinus combines metal framing and wooden slats. A simple, curved decorative wood headboard is unassuming but stylish. Wood is of a lighter color, and contrasts well against the dark steel. Additionally, the wood has been treated to prevent your mattress from sliding.
One of the new potential cons of this bed frame is that the construction utilizes one single steel beam on each side from the headboard down, meaning the headboard cannot be removed. That said, this simple design also makes the bed remarkably easy to assemble in a matter of minutes.
It is a shorter frame, and designed to lay low to the ground, with a height of 41 inches when assembled. Nonetheless, it offers an ample 12 inches underneath for storage. Zinus offers this frame in four sizes, ranging from twin to king.
Lastly, Zinus gives you a five-year warranty. All of this at a great price point makes for a wonderful value.
Pros
The frame is a beautiful, Tuscan design.
Zinus offers a great frame for a low price.
The frame is very easy to assemble.
Zinus provides a five-year warranty.
12 inches of clearance underneath provides ample room space.
Cons
It';s not possible to remove the headboard, which some customers may prefer to do.
Verdict
Zinus has produced a simple and affordable frame for your mattress that provides ample storage space and should complement most rooms.
---
3. DHP Tokyo Metal Bed
Providing a touch of flair to any room while ensuring a proper night';s sleep is easy with the DHP Tokyo Metal Bed. Built from a brushed bronze metal, the frame swirls in intricate, baroque lines. It is perfect for either a sophisticated modern look, or a variety of classic decors.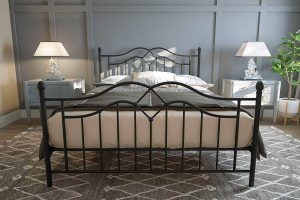 Additionally, it features a high-profile headboard and a low-profile footboard. Your mattress is kept in place by intersecting metal slats and cross braces, as well as supporting legs. This provides exceptional center support for your memory foam mattresses, and should improve the length of its durability.
The frame itself is quite durable and well-constructed. Assembly is simple, and the frame provides 11.5'' clearance space. Bear in mind that despite this ample space, the supporting legs and barred constructed might limit what you wish to put under the bed.
The metal bed frame is available in bronze or white, as well as three sizes from full to king. A twin size is not available. DHP Tokyo also provides a one-year warranty. Considering the beauty of this frame, it';s also quite a bargain.
Pros
The metal frame offers an intricate, baroque design perfect for traditional décor or sophisticated modern homes.
Its baroque beauty is available for quite a bargain.
An all-metal design provides exceptional durability.
DHP Tokyo provides a one-year warranty.
There is plenty of storage space underneath in the 11.5'' clearance.
Cons
DHP Tokyo does not offer this frame in a twin size.
The one-year warranty is not as good as other warranties on our list.
Verdict
For shoppers seeking a high level of elegance without compromising simplicity and affordability, DHP Tokyo offers an excellent frame.
---
4. Zinus Wen 12 Inch Wood Platform Bed Frame
Shoppers can enjoy an affordable frame without sacrificing quality. Featuring a handsome cherry finish, this frame utilizes wooden slat to support the mattress. Because it does not have a headboard and the design is minimal, you may not see the cherry finish much in day-to-day life, but it is a nice touch. The wood is treated to prevent slippage.
It is a shorter frame designed to be low to the ground, with an assembled height of 41 inches. As it';s available in four sizes, from twin to king, the other dimensions vary. Despite the low nature of this bed frame, there is a 9''clearance underneath.
In addition to not coming with a headboard, this frame does not include hardware or inherent design to support an aftermarket headboard. For this reason, it would be advised to place it against a wall. It is, however, very easy to assemble.
Lastly, Zinus provides a five-year warranty. Even if you do not like the lack of a headboard and the low height, it';s an excellent value. We think it is particularly well-suited for anyone on a budget, college students, or for a guest room.
Pros
Zinus provides excellent value in this simple but attractive wooden frame.
Treated wood helps to keep your mattress in place.
The simple design is easy to assemble.
Zinus provides a five-year warranty.
There is plenty of storage space in the 9'' clearance.
Verdict
A very simple frame made from durable wood and backed by a five-year warranty, this Zinus construction is an excellent value.
---
5. Olee Sleep 14 Inch T-3000 Heavy Duty Bed Frame
Sleepers looking for the ultimate in support for their foam mattress will greatly enjoy the frame offered by Olee Sleep. Made from strong steel and capable of supporting up to 1,200lbs, the frame utilizes a slat design made from thick, flat bars. You can rest assured that your memory foam mattresses will not sag at all, which will greatly enhance the lifespan of your mattress. Additionally, there is no opportunity for squeaking as long as the bed is properly assemble with fully-tightened screws.
Assembly itself is super-easy, and Olee provides the required tools. You';ll have a fully-built frame in a matter of minutes. It';s worth noting that there is no frame or footboard, however. Thus, this frame is best placed against a wall.
You';ll enjoy a full foot of storage space underneath for all sizes. The frame is available in four types, from twin to king. Additionally, the twin size is capable of folding in half, perfect for those with small spaces or college students.
Lastly, Olee offers a five-year warranty, making this an excellent choice for those who want a very durable frame.
Pros
Olee has produced one of the most supportive frames for your mattress.
The slatted metal design keeps mattresses in place.
Strong steel has been used.
Olee provides a five-year warranty.
There is a ton of storage space in the one-foot clearance underneath.
Cons
It doesn';t come with a headboard.
Verdict
For shoppers who need the ultimate in support, Olee provides an excellent frame to bring out the full lifespan of a memory foam mattress.
---
6. Zinus Casey 18 Inch Premium SmartBase Mattress Foundation
For those with a lower profile memory foam mattress, the Zinus Casey 18-inch Premium SmartBase Mattress Foundation provides an extra boost in height, and additional under-the-bed storage. How much storage, you ask? At a whopping 17 inches of space, Zinus turns the room under your bed into a veritable closet!
Not only that, it provides exceptional support courtesy of six total contact points with the floor. Additionally, steel cross-slats provide excellent contact with the mattress, and help ensure the foam does not slip. The frame is also capable of folding, perfect for moving or storage without being dismantled.
Although assembly takes a little longer than others on our list, it is still very easy and requires no tools. There is no headboard or footboard, and it';s worth noting that you will need to use Zinus proprietary SmartBase headboard brackets if you wish to connect a headboard.
Zinus offers this wonderful frame in five sizes: twin, twin XL, full, queen, and king. As with all their products, you receive a five-year warranty.
Pros
Zinus offers a very supportive frame for extending the life of your foam mattress.
The many metal slats help keep mattresses in place.
The 17 inches of storage space underneath is exceptional.
This frame is available in five sizes.
Zinus offers a five-year warranty.
The frame can fold for easy storage.
Cons
You need to purchase a headboard separately.
Verdict
While it won';t add style to your bedroom, this frame from Zinus offers affordability, convenience, excellent mattress support, and tons of storage space. An excellent option!
---
What to Consider Before Buying the Bed Frame for a Memory Foam Mattress?
Before you spring for a frame for your memory foam mattress, bear in mind that there are a number of different types, each with a variety of features. Review the following topics to ensure you wind up with a bed frame you truly love.
Does Design Matter to You?
There are two types of memory foam mattress frames: those that exist to be functional, and those that aim to complement your room';s décor. While the former will generally fit well in most homes, they usually have a very basic construction without fancy designs. Minimalist and modern aesthetics work well with these types, and they';re also great for more function-minded students.
However, if you prefer your bed frame to add some flair to your room, you';ll want to be sure it matches your existing décor. Thankfully, our list includes bed frames that can fit anything from a retro-Tuscan, to a baroque, to a modern bedroom décor.
How Much Support Do You Want or Need?
Some frames on our list offer more support than others. Those with more slats, or cross-slats, provide better support. Additionally, wider beams and metal beams can help keep your mattress from sagging. Not only does that provide a better, sturdier mattress, but it also helps extend your mattress lifespan.
Do You Need a Lot of Storage Space?
There are two types of people in this world: those who put stuff under their bed, and those who don';t. If you';re in the former camp, pay close attention to how much clearance each frame offers. With the amount of space ranging from a few inches to about a foot and a half, the amount of possessions you can cram under your frame will vary a lot.
What Size Is Your Mattress?
Unless you haven';t picked out a mattress yet, keep in mind you';ll want a frame that actually fits your memory foam mattress! We';ve picked products that all have a range of sizes, although you';ll want to double-check to be sure you know your mattress size before you order.
Do You Need to Move or Store Your Bed frame?
Sometimes, it';s necessary to pack up and move. When doing so, beds can be one of the biggest hassles. Bed frames often have to be disassembled, or sometimes moved as one large piece of furniture, and it';s not easy.
Some bed frames have the ability to fold up without being disassembled, greatly improving your ability to move or store them safely and easily. Not only is this great for moving, but for people who have limited room. If you live in a limited space, a foldable, storable mattress frame can introduce a lot of extra square feet to your bedroom during the daytime.
Product Durability and Warranties Matter!
We';ve done our best to compile the best frames for your memory foam mattress, and we believe they';re all great values. That being said, you';ll want to bear in mind that different frames have different warranty lengths. All of the products reviewed are very durable, although the materials range from wood to steel.
Likewise, warranties are a great way to be sure your bed frame lives up to expectation. We';ve made sure only to include bed frames that have a warranty. That said, if you';d prefer the peace of mind a five-year warranty offers, as opposed to a one-year warranty, that';s certainly a valid wish!
Conclusion
With the proper bed frame for your foam mattress, you';ll enjoy a better night';s sleep as well as an improved mattress lifespan. Trying to find the high quality bed frame for memory foam mattress types might seem hard, but there';s a lot of great options out there for consumers in 2020. To aid in your search, use our guide to determine what to look for in your bed frame, and then read our reviews to determine which matches your need. They';re all winners, but only one has the features that makes it right for you. Enjoy your new bed frame and have many restful nights!
Also Read:-
Best Bed Frame For Heavy Person