We may earn a small commission if you buy something via a link on this page. This doesn't impact our rankings or cost you extra. See
our advertising disclosure
for details.
When it comes to designing and decorating a bedroom, the finished product should always showcase your personality. In doing so, it will be easy for you to find solace and peace in your bedroom. While there are many ways you can achieve this, one of the most important considerations is your bed.
Choosing a bed does not end with the right bed frame and mattress, though. You should also think about your headboard choice. Back in the day, it helps to have a headboard to keep you warm throughout the night. These days, though, many use it to add character to a bedroom.
Not sure what kind of headboard to get? Thankfully, the market offers a sea of selection when it comes to headboards, and to help you out, we have decided to feature six of the best metal headboards perfect for minimalist bedrooms. We also included a buyer';s guide and an FAQ section to help you decide which one to choose.
6 Best Rated Metal Headboards Reviews
1. Zinus Viola Modern Studio Upholstered Metal Headboard
Indeed, if you are looking for quality, you will find that and more when you buy this metal headboard from Zinus. This brand is proud to say that they only release home products that they want to buy themselves. Hence, with this metal headboard, you can rest assured that you would get a headboard that is of high quality and offers great value for money.
At first glance, you will definitely see that this headboard can be a perfect addition to a modern bedroom. In fact, you can just as easily pair this with any décor if you like. It comes in color black, which makes it easy to match with most bed frames. However, you won';t have any other color options aside from this.
This headboard features a combination of metal coated in a black finish and a gray-colored upholstery that is padded with foam. With this combo, you can give your room a sophisticated look that won';t overpower the décor in your room.
What';s more, this headboard boasts a classic design. This means that you won';t have to worry about the ever-changing trend in bedroom designs because this headboard would look good even after years. All in all, it measures 60.6 by 2 by 48 inches.
Pros
Easy to put together and install
Comes with quality padding
Has a compact yet sturdy build
Offers great value for money
Used high-quality materials
Comes with easy-to-follow assembly instructions
Cons
Only available in one color
Not compatible with all bed frames
---
2. Modway Serena Rustic Farmhouse Metal Full Headboard
You can give your room an instant upgrade by the simple addition of this metal headboard. This option gives off a rustic vibe that would be the perfect match for bedrooms in a traditional home, farmhouse, or cottage.
If what you are after is a metal headboard that will give your room a countryside vibe, then the Serena Metal Headboard from Modway is a good choice. This metal headboard features both clean lines and elegant curves that would give your bedroom a rustic appeal.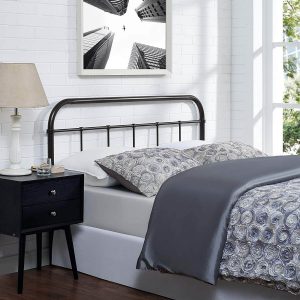 Compared to the first headboard we reviewed, what we like about this metal headboard is the fact that it comes in six color options, including brown, gray, green, light blue, pink, and white. As such, you can easily find the right option to match your existing bedroom décor. It is also available in four sizes: twin, full, queen, and king, so you can choose the size to match your existing bed frame size.
This metal headboard is made using quality steel that is power-coated to ensure that it will last for years. It features ladder beams to deliver ample support, as well as non-marking caps to protect your floor. It measures 57 by 2 by 40.5 inches.
Pros
Can complement any bedroom décor
Comes in different colors and sizes
Made using sturdy and hard-wearing steel
Won';t scratch your floor
Simple yet functional design
Cons
Not for extra-thick mattresses
Has a shiny finish that looks cheap
No padding like other headboards on this list
---
3. Dorel Living Metal Headboard, Twin
For years now, Dorel Living has been among the leading brands in the home furnishings industry. This company specializes in designing and developing stylish options for dining rooms, kitchens, and bedrooms. They also have accent pieces to help you add color and life to any room.
Elegance is not something anyone can achieve easily, but Dorel Living begs to disagree. This metal headboard is, indeed, simple-looking. However, with its simple look, you will also see a sophistication that could quickly level up the overall look of your room.
Though it has a contemporary design, this metal headboard features an antique nickel finish in the color white. Because of this, it is easy to match this metal headboard to your existing bedroom furniture, regardless if you have modern or traditional décor. This is perfect for bedrooms that aim to follow a minimalist look.
In order to give this metal headboard even more durability, it comes with eight spindles. This particular variant is perfect for twin beds. It measures 38.5 by 2.5 by 49.2 inches. You';d be glad to know that everything you';d need to assemble this headboard is already included in the packaging.
Pros
Quick and easy to assemble and attach to a bed frame
Designed to accommodate children and adults
Easy to match with existing décor
Has a classic, timeless design
Sturdy, slim, and attractive build
Comes securely packaged
Great value for money
Cons
Only available in white finish
More off-white in color than white
---
4. Monarch Specialties , Headboard or Footboard
As we have mentioned earlier, it is important that your bedroom showcases your unique personality. After all, you would be spending a third of your every day in that room, and you';d naturally want it to match your style preferences. If you want your bedroom to really stand out from the rest, perhaps what it';s missing is this metal headboard from Monarch Specialties. This has been specially designed for bedrooms that lack style and personality.
Similar to the other options on this list, this option is made of high-quality metal. However, it does not end there. This features a beautiful scroll design that you would normally find in traditional-style headboards. This is perfect for you if you have a black full-size or queen bed frame of the same design.
Aside from that, you';d really appreciate that this headboard is also versatile in its use in that you can also use it as a footboard. Putting it together is also a breeze because everything you';d need to assemble it already comes with your purchase.
Give it a couple of minutes, and you';d have a new headboard (or footboard) that speaks of your overall style. This measures 62 by 1 by 35 inches, which is the perfect measurement for full-size or queen bed frames.
Pros
Able to accommodate a thick mattress
Looks simply lovely and elegant
Very easy to set up and attach to a bed frame
Sturdy and long-lasting build
Takes up very little space
Beautiful glossy black finish
Cons
A little bit flimsy
Doesn';t come in any other color or size
---
5. Coaster Home Furnishings Metal Full/Queen Headboard
Coaster Home Furnishings is a well-known brand in the world of interior design and decorating. In fact, we have featured a couple of their products several times already, which is why it comes as no surprise that we also found a perfect headboard from their collection.
This rustic headboard from Coaster Home Furnishings is indeed something that anyone would want to include in their room. Particularly, it is the perfect addition to a bedroom that needs some rustic touch.
Of course, like all the headboards we featured, this is made of metal, ensuring that it will last for years to come. In order to give that rustic vibe, this metal headboard has been coated with a bronze finish. Each post features a simple crown fixture that is timeless and stylish, and you will find the same vibe from the knob attachments.
What';s impressive about this metal headboard is that it requires no assembly at all. This means that it will arrive at your doorstep already assembled, and all you need to do is to attach it to your existing bed frame. This is designed to match full-sized or queen beds.
Pros
Comes from a trusted brand
Has an attractive finish color
Easily pairs with existing room décor
Adds a rustic vibe to any room
Sturdy and hard-wearing
Constructed using quality metal
Arrives with all the necessary hardware to attach to a bed
Cons
Only available in one color and size
Wobbles a bit
---
6. Ashley Furniture Signature Design – Nashburg Metal Headboard
Coming from yet another trusted brand, this metal headboard from Signature Design by Ashley is definitely a good buy. After all, you';d be buying from a company that has been in this business for more than seven decades.
Signature Design by Ashley is known to come up with products that are both stylish and functional, and you would clearly see that in this metal headboard. At first glance, you would notice that this is indeed designed beautifully and also features a bronze finish that would match contemporary and traditional bedrooms alike.
This metal headboard is powder-coated to give off a finish that is guaranteed to last for years to come. You would also love its vintage-inspired components, including its double arch design. This headboard fits most bed frames that are queen-size. It measures 66.5 by 3.5 by 56.5 inches.
Once arrived, you would need to assemble this metal headboard and then attach it to your existing queen-size bed. Thankfully, you won';t need to look for tools and hardware because they already come with the purchase. This metal headboard is also available in other sizes.
Pros
Simple yet elegant design
A perfect addition to rustic-style bedrooms
Crafted to last for many years
Adds a vintage vibe to any room
Quick and easy to assemble
Sturdy overall construction
Comes with easy-to-understand instructions
Cons
Difficult to mount to a bed frame
The mounting holes do not line up
More of a dark, grayish-green color than bronze
---
Benefits of Metal Headboards
Are you looking to add a bit of style to your bedroom? Then what you probably need is a new headboard! In doing so, however, refrain from just following the norm. Instead, go for the best metal headboard.
If you';re not sure about this choice, then perhaps a little bit of convincing from us might do the trick. What are the advantages and benefits you would get to enjoy if you opt for a metal headboard?
Improved Overall Aesthetics
Before anything else, you are looking for a headboard to improve the overall look of your room, right? Fortunately, that is exactly what you will get if you go for a metal headboard. These come in a variety of styles and designs that you just won';t find in wooden headboards. In fact, most metal headboards even feature intricate designs that provide a room with a sophisticated vibe.
What';s more, metal headboards also often feature an open design. As such, you will get the illusion that your room is more spacious than it actually is. It also won';t take up too much space, so it is ideal for smaller bedrooms.
We all know metal to be a material that is guaranteed to last for years, especially if you know how to care for it properly. Compared to wooden and upholstered headboards, which need to be replaced after only a few years, a metal headboard only requires a quick repainting every couple of years.
With a metal headboard, you won';t need to hire a professional to have it set up. Instead, you can do it all by yourself, even if you lack knowledge in building stuff. This is because metal headboards are specially designed to be easy to assemble.
In fact, some of them don';t even require assembly. If they do, most manufacturers would include the required hardware and tools in the purchase so that you won';t have to find or buy any additional items.
As we have mentioned earlier, you will find metal headboards in a variety of styles and designs. Because of this, you can also easily find one that matches your existing bed frame and bedroom décor.
Also, even if you have no knowledge of painting, you can just as easily change the look of a metal headboard by simply painting it another color. What';s more, there are headboards that you can also use as a footboard.
How to Choose a Metal Headboard
When it comes to choosing a metal headboard for your room, there are many things that you need to take into consideration. In knowing these things, it would be less of a challenge for you to find the metal headboard that matches your needs and preferences.
If you are not sure how to choose a metal headboard, don';t worry. For that, you can rely on us. Below, we have listed the most important things to take note of when looking for a metal headboard for your bedroom:
First and foremost, the metal headboard that you choose should match the overall ambiance of your room. If your existing furniture and beddings are all of contemporary design, then it is only fitting that you buy a metal headboard that is also modern in style. On the other hand, if you wish to add a little bit of countryside in your bedroom, then go for a metal headboard that gives off a rustic vibe.
A quick internet search or a visit to your local furniture shop would provide you with a vast selection of metal headboards. Some look simple and minimalistic, while others boast a sophisticated look and intricate details. It is up to you to decide which matches your personality the most.
Of course, you would also need to consider the size of the headboard itself, as well as your bed frame. These two should match because you would need to mount the headboard to your existing bed frame. Hence, if you have a queen-size bed, look for a headboard that can accommodate that size. Some models are adjustable, but you can only adjust the height to accommodate mattresses of different thicknesses.
If you are also buying a new bed frame, then consider if both the frame and the headboard would fit inside your room. It should not take up too much space but still add beauty and style to the overall look.
Once you have determined that you have the right style and size, check how much the headboard costs. This will depend on the materials that were used to make the headboard, as well as the intricacy of the details. Of course, you could expect those with intricate details to be more expensive than minimalistic headboards.
When it comes to choosing headboards, you would also want to learn whether or not it is easy to maintain. After all, you';d want to get the most value out of your purchase, right? Thankfully, as we have mentioned earlier, metal headboards are designed to last.
Most of them are also powder-coated to prevent corrosion. As such, you can easily wipe metal headboards using a soft, dry cloth to keep it clean. Even when the headboard you buy has a protective coating, you would still want to keep it a few feet away from any moisture or wetness.
Last but not least, think about how easy it is to install the metal headboard. Will it require the help of a professional, or will you be able to do it yourself? Check the product inclusions and make sure that the necessary hardware, such as bolts and screws, are already included in the purchase. In doing this, you can be sure if you';d need additional cash to have the headboard set up.
Frequently Asked Questions
Are you not yet sold on buying a metal headboard? Perhaps you still have questions that you need answered before you can decide if you do need one in your bedroom. In order to help you out, we have decided to list the most commonly asked questions when it comes to headboards.
Is having a headboard necessary?
In truth, we can all survive and have survived without headboards. However, no one can deny that having one can quickly add a nice finishing touch to any bedroom. Hence, while headboards are not necessity, trust us when we say that you would want one if you wish to make your room more homey and stylish at the same time.
Do you need a bed frame with a headboard?
This depends on the type of headboard that you buy. More often than not, they can be bought separately from a bed frame. This means that you can choose if you want to have a headboard or not.
As you may have noticed from the headboards we featured, most of the options can be attached to an existing bed frame. Just make sure that their sizes match, and you can actually mount the headboard to the bed frame yourself.
How high is the ideal headboard?
If you have a twin-sized bed, the ideal height of your headboard should be around 14 inches above the top of your mattress. On the other hand, queen-sized and king-sized beds normally have headboards that go 29 inches high and more.
In truth, a headboard can be as tall as you want; just make sure that it is shorter in length compared to the length of your bed. This is so that the entire piece does not look awkward, as well as to ensure that it won';t topple over as you sleep.
Conclusion
A metal headboard, albeit a simple piece of furniture, can quickly add a nice and elegant touch to any bedroom. Adding one to yours is really a great opportunity to showcase your style and personality. Thankfully, there are hundreds of options in the market.
If you find that the ones we have featured above are not your style, you can always visit your local furniture store or your favorite brand';s website to look for another option. Just remember to keep in mind the style, size, maintenance, cost, and installation, and you';d be well on your way to finding the right metal headboard for your room! Good luck!