Adjustable beds have been around for quite a long time and were hugely popular among the elderly or those people with mobility issues. However, with the advancement in technology, these bed frames have now turned to be an indispensable component for most sleepers across the board. Unlike traditional ones, adjustable beds come with a wide array of customizable features that help to ease your back pain, relieve pressure points, and make it easier for you to relax while using your laptop or watching TV.
But, with all these bells and whistles, how much do you really know about adjustable beds? Well, with lots of options available in the market, this guide has carefully analyzed and compiled ten of the best adjustable beds around. Without further ado, let's take a closer look at what each has to offer.
Top 10 Adjustable Bed Reviews
1. Classic Brands Adjustable Comfort Upholstered Base
If you';re looking for a way of enjoying therapeutic benefits without having to break the bank, then the Classic Brands Upholstered Adjustable Bed will be your perfect companion. This customizable bed frame is a low-cost alternative that has come to benefit both patients with medical conditions as well as sleepers looking to experience the luxury offered. Why is it so special? Well, to begin with, this adjustable frame is designed with programmable settings that are controlled using a wireless remote. It has a special head and foot massage feature that relieves pressure points and reduces neck, back, and shoulder discomfort with ease.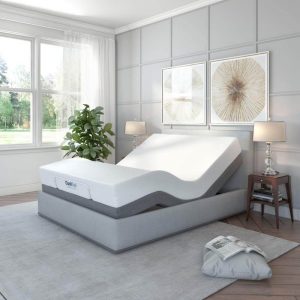 The Classic Brands bed frame has a zero-gravity position feature that helps relieve back pain. Additionally, it comes with height adjustment, USB ports, and elevation options, ideal for comfortably watching a TV show or using a laptop in bed. Available sizes are Twin XL, Queen, King, and even Split King.
Pros
This bed is versatile enough and can be used with any type of mattress
One of the best adjustable beds for the elderly or those with critical medical conditions, thanks to the adjustable leg height
 Easy to assemble with minimal manpower required
The bed base is easy to use as you only need to set the controls to customize it
Cons
The head and foot motors can be very delicate and could easily get damaged. Plus, there's only a 3-year warranty
Verdict
Overall, this adjustable bed is among the most functional mattress base options in the market, thanks to its numerous benefits. Not only is it ideal for relaxation, but this bed frame is also able to handle people with various health conditions such as high blood pressure, back pains, heartburn, acid reflux, and sleep apnea among others. Its therapeutic effects are vast and the availability of a control gadget means that you can easily reprogram the settings to meet all your sleeping demands. This bed has adjustable legs to create enough space underneath and a base to allow you to fit any mattress of your choice.
---
2. LUCID L300 Adjustable Bed
If you';re looking for the best value adjustable mattress base that will offer exclusive features similar to those of luxury bed frames, then the LUCID L300 got you covered. Designed with plenty of features, this bed is able to adjust to any position of your choice to give you that perfect comfort you so richly deserve. It has a remote control with a flashlight, two USB ports on both sides, and a fantastic independent head and feet recline.
Just to be precise, this bed frame has a head recline of 0 60 degrees and feet recline of 0 40 degrees. These angles make this bed ideal for pregnant women, pressure relief, enhancing digestion, and improving airflow throughout the body. Last but not least, the mattress base is available in Twin XL size measuring 37.5 x 79.5 x 15 inches, and is designed with a charcoal Gray frame backed by a 10-year warranty.
Pros
The upper and lower motors are extremely silent during operation
The frame has a stylish gray color that complements most mattress designs
The different recline positions make this bed usable for a wide range of scenarios
The adjustable bed frame is backed with a 10-year limited US warranty
Cons
The legs of this bed are too tall and may be unsuitable for the elderly
Verdict
The LUCID L300 is a budget adjustable bed that comes with numerous programmable settings to match your sleeping demands. Whether it';s for relaxing, watching a Netflix movie or simply surfing with your laptop, this adjustable mattress frame will give you the best sleeping experience without exposing you to any health dangers.
---
3. Leggett & Platt S-Cape Adjustables
The Leggett & Platt S-Cape Adjustable Bed has been designed to take your sleeping style, dreams, and comfort to a whole new level. Constructed with advanced improvements, this bed frame has managed to offer immense support to people with various health conditions as well as those looking to enhance their sleeping lifestyle.
The Leggett and Platt adjustable bed is programmed with various sleeping positions including head only, flat, feet only, and zero gravity. The available remote control is feature-packed while the cutting-edge wall hugger technology ensures that your body is secured at the center of the bed to avoid falling off during the massaging process.
Pros
The Queen size of this bed is large enough to handle all types of sleepers
The dual massage feature allows different massage functions to be conducted simultaneously
The wireless remote has a wide base for easy nightstand placement
The wall hugger technology is safe enough to prevent you from falling off when the massaging setting is on
This bed is backed with a massive 25-year warranty.
Cons
The base is pretty heavy and will require an extra pair of arms to set it up
Sometimes the controls fail to operate
Verdict
If you';re looking for a base that will suit memory foam, innerspring, or air mattresses, then this is one of the best adjustable frames around. It has everything you need to stay cool and comfortable. It offers a double massage option, various programmable custom positions, and finally a silent motor that will never be a nuisance. This adjustable frame is made in the USA and is backed with a magnificent 25-year limited warranty.
---
4. iDealBed 4i Custom Adjustable Bed
The iDealBed 4i Custom Adjustable Bed is designed to elevate your dreams and comfort to a higher level. Regarded as a pinnacle of performance, this bed frame has managed to converge a series of exclusive features to give customers exactly what they';ve been yearning for. To start off, it is made with four customizable modes that include the full body massage, zero gravity, anti-snore, and flat modes.
It comes with an ergonomic back-lit control that's wireless and lets you pre-program the bed according to your preference. The remote has a special LED safety flashlight and an under-bed lighting option for absolute convenience. The iDealBed 4i has two USB ports to charge your devices and is operated by two very impressive power-lift motors that are able to handle weights of up to 850 lbs.
Pros
This mattress base is designed with customizable legs to suit all type of users
Assembly is a 2-step process that doesn';t require any tools
The dark charcoal Gray fabric used in the construction is both stylish and non-skid
This bed is able to recline in multiple positions to meet all your sleeping demands
Cons
Some customers have complained about the warranty policy stating that getting a replacement is quite a hassle
Verdict
The iDealBed 4i is truly a functional adjustable bed base for sleepers either looking for a way to remedy back pain, blood pressure, snoring, or any other medical condition or simply for someone needing a better or more relaxing sleeping atmosphere. Designed with a head and leg articulation, this bed is truly a luxurious alternative that will aid in relieving pressure points, massaging the back, or simply enjoying a restful night's sleep.
---
5. Reverie 7S Adjustable Bed
Are you suffering from back pain, shoulder, or neck discomfort due to a poor sleeping posture? Well, the Reverie 7S Adjustable Bed is exactly what you need to rest your body on. It is constructed with highly advanced and adjustable properties that will help relieve muscle pains, backaches, and sleep apnea symptoms. The reason why this bed has really outperformed most of its closest rivals is due to its state-of-the-art remote-controlled options that let you use the available wireless remote through Bluetooth connectivity.
This bed has an ingenious massaging system that utilizes 10 customizable intensity options to cradle your body gently from the head to the feet. The motors are extremely quiet during operation and have massive power that';s enough to handle weights of up to 850 lbs.
Pros
This adjustable bed frame has a powerful motor with a weight limit of up to 850 lbs
It is exclusively made in the USA and is backed with a 20-year warranty
The bed frame is compatible with most Dream supreme mattresses across the board
The Bluetooth connectivity via a free app allows you to use your favorite devices as the wireless remote.
Cons
According to some customers, this bed is not exactly a Tempurpedic bed as it has so many add-ons that are not necessary
Verdict
All in all, this bed frame has been welcomed with positive criticism from most sleepers across the board. It has adjustable legs to suit sleepers of various heights. Plus, this adjustable base comes with 10 intensity levels that will help to massage your body and achieve a high level of comfort. The bed is firm enough to accommodate sleepers of varying weight and is backed with an exclusive 20-year hassle-free warranty.
---
6. HOFISH 2019 Upgraded Solid Wood Slat Adjustable Bed
If you';re looking for complete relaxation during your free time, the HOFISH 2019 Upgraded Adjustable Bed can make your sleep way more different. As a 2019 upgraded version, this bed has managed to incorporate all the relevant features that were missing in the previous adjustable bed models. There are 2 USB connection ports on either side where you can recharge your devices, a remote control, 9 customizable programs, an independent head that tilts up to 60°, and a feet section that reclines up to 30°.
As for its mechanism, this adjustable bed is equipped with powerful motors that are extremely silent and capable of lifting up to 750 lbs. The HOFISH is designed with premium quality fabric on its adjustable bed frame. Plus, it comes with wooden Eucalyptus slats to keep memory foam, air or innerspring mattresses in place when sleeping. The bed comes with a 20-year limited warranty, too.
Pros
This bed has multiple customizable programs to provide lumbar support and relieve pressure points
The slats are made of Eucalyptus wood for added reinforcement
The motors allow a smooth and seamless transition from one resting position to the next
Compared to its closest rivals, this product is considered to be less bulky
Cons
The only complaint is that there were some missing parts
Verdict
Overall, this is one of the best adjustable bed frame options considering the amount of work it';s able to handle. Available in Queen Size, it has a weight of 175 lbs which is considered to be lighter than most adjustable beds. It has powerful motors with a lift capacity of 850 lbs and adjustable 3-in-1 legs that are able to suit sleepers of different heights. This bed has various programmable settings such as massage, zero gravity, anti-snore, two memory positions, and is backed with an exclusive 20-year limited warranty.
---
7. ShipShape Adjustable Bed
If you need an affordable adjustable bed frame that will meet all your sleeping demands, then the ShipShape Adjustable Bed makes a great option. A product of Leggett & Platt, this adjustable base is engineered with a sleek design that makes it extremely light and easy to put together. Unlike most beds, this one comes with a tethered remote control for adjusting the settings and to keep it easily accessible.
About the performance, this adjustable frame is designed with a special head and leg articulation that uses the zero gravity position to raise your feet at the same level as your heart for added comfort. This bed is the best for sleepers looking to ease stress, eliminate snoring, and achieve optimum comfort when sleeping.
Pros
This mattress base uses a powerful motor that has passed the necessary CSA certification
The structure is ultra-light (75 pounds) making it extremely easy to ship and setup
The tethered control is ideal as it';s always within your reach
This adjustable bed is available at an affordable price
Cons
With the capacity to lift a maximum weight of 550 lbs, the motors are considered to be less powerful and unable to support heavy sleepers
Verdict
The ShipShape is a lightweight alternative that will suit sleepers looking for something sleek and light enough to fit smaller spaces. Although it';s unable to support heavy sleepers, this bed has all the necessary safety and Tempurpedic features that will take your comfort to a new level. Its 4'' legs with dual-wheels enhance easy mobility while the tethered remote ensures that everything is within perfect reach.
---
8. Leggett & Platt Prodigy 2.0 Adjustable Bed
Making it again to our top 10 list, this company is well known for its affordable luxury products, especially adjustable bed frames. One of the best adjustable beds that have managed to modernize a bedroom with exclusive technologies is the Prodigy 2.0 model. Available in either Queen or Split King size, this mattress base is unique in its own ways, thanks to some key features.
First and foremost, this adjustable bed frame is fitted with telescopic legs that keep the base stable. Secondly, it comes with a capacitive touch remote, Bluetooth app, a pillow tilt feature, and a wall hugger technology to keep you safe during the massaging sessions. Finally, it comes with 8 USB ports and several sleeping positions that are ideal when watching TV, reading a novel or simply relaxing when you need to meditate.
Pros
This adjustable bed is designed with an intuitive capacitive touch remote
It comes with two on apps that sync this bed with Android and Apple devices
The available 8 USB ports on either side of the bed are enough to charge multiple devices
The pillow tilt feature provides enough support to your head and neck to relieve discomfort, back pain, or deal with issues like sleep apnea
Cons
This adjustable base has a problem with its electrical connectivity. A number of customers have complained about experiencing sparks and plastic smell during operation.
At 260 pounds, this option is considered to be quite bulky
Verdict
The Legget and Platt Prodigy 2.0 is one of the most technically advanced beds in the market. It comes with a touch remote, 2 apps for Android and Apple devices, a pillow tilt feature and programmable positions to make your sleeping experience more fun-filled. This bed also utilizes the Wall hugger technology for added safety and it';s fitted with tiny legs to make it functional for all types of sleepers.
---
9. Leggett & Platt Performance Adjustable Bed
The Leggett and Platt Performance Adjustable Bed is another highly functional frame that';s considered to be an improvement over its earlier versions. Unlike the earlier models, this one comes with two identical remote controls that operate each Split King bed independently.
Due to its twin base design, the base framework is very sturdy, offering maximum support and preventing accidents during operation. This adjustable base is constructed with fascinating features that include under-bed lighting, dual massage modes, quiet motors, and 4 USB connection ports to charge your devices.
Pros
It's a Split King size bed with two sides that can be controlled independently
It has a solid framework that allows it to support sleepers with weights of up to 850 lbs
The under-bed LED lighting makes it easier to clean certain areas under the bed
Features such as the double massage function offer immense therapeutic effects to your body
Cons
An expensive adjustable bed
Verdict
One look at this adjustable base is enough to tell that it';s really a high-quality product. Built to perfection, this base is engineered with exclusive massaging features that relieve you of muscle pains and spinal aches. It has a unique split design and is operated with two independent wireless remote controls for effective performance.
---
10. ADJUSTABLE MOTION ESSENTIAL III QUEEN BASE
Finally, we have the Serta Motion Essential III. Now, apart from being used as an effective relaxing spot, this adjustable mattress base works as a perfect Tempurpedic bed. It is effective for people experiencing lower back pain or those looking to improve circulation. The adjustable bed frame is designed with a wireless remote to adjust the heights of your head and feet.
The remote also has an easy connect feature that lets you control more than one adjustable base in case one of the gadgets is misplaced. This bed features a one-touch flat and a one-touch zero gravity setting to ensure that your body is perfectly cradled and well-positioned.
Pros
This bed has an easy-touch flat and zero gravity setting.
The easy connect feature allows you to sync the two bed bases with one control device
It has low profile legs that make it suitable for the elderly and those suffering from various health conditions
The Queen size is enough to accommodate sleepers with various body sizes
Cons
The legs are quite weak and wobble a lot
Verdict
Last but not least, this adjustable base is one of the sturdiest beds that are designed for Queen sized mattresses. It comes with amazing features that include a wireless remote, one-touch flat and zero gravity settings, a quiet motor and an easy sync option that allows you connect two bases with a single remote.
---
What Are the Benefits of Using an Adjustable Bed?
Over the years, adjustable bed frames have been considered for use in hospital rooms. However, with the advancement in technology, these beds have managed to find their way in most bedrooms in a bid to give sleepers a comfortable night';s sleep. Now, if you';re wondering how exactly these beds promote healthy sleeping, here are four top benefits of adding the right adjustable bed to your bedroom arsenal.
1. Eases Insomnia
In most cases, insomnia is caused by pain and anxiety. By adjusting the position of your sleep, you';ll improve blood and oxygen circulation throughout your body. This, in turn, will help to calm your senses, minimize your discomfort, and ease you into a restful sleep.
2. Improves Digestion
Lying flat at night after taking diner can cause your digestion process to be interrupted. In some cases, food can come back up and cause a condition known as acid reflux or even heartburn. To prevent these issues, lying in an inclined position about 6 to 8 inches is advised, to keep the stomach acid down.
3. Reduces Snoring, Asthma, and Sleep apnea
Asthma, snoring, and sleep apnea are some of the conditions that occur when your neck puts extra pressure on the windpipe blocking air from circulating precisely. To alleviate these conditions, it';s recommended that you incline your head at an angle to allow gravity to take off the weight from the windpipe.
4. Reduce Pains and Arthritis
Painful conditions such as arthritis and back pains can be minimized by using an adjustable frame. In most cases, arthritis and other joint pains are caused by increased pressure on those parts. To bring relief, you only need to adjust the position of your bed in such a way that removes the pressure from these joints. For back pain, using the zero gravity setting may be able to reduce pressure from the spine for a comfortable night's rest.
What to Look For in an Adjustable Bed
Having looked at the numerous health benefits as well as the pros and cons of owning an adjustable bed, your next possible step is to choose the right one for your needs. Now, if you';re new to adjustable bed space, it will obviously be difficult to decipher which bed to go for. Luckily, having done immense research in this field, we';ve managed to compile a quick guide that will offer useful tips on how to choose an adjustable bed perfect for your sleeping endeavors.
Construction
One of the most paramount factors you need to be keen on when choosing an adjustable bed is the construction. Here, you need to check the framework and also ask yourself whether you need a standard bed or a heavy-duty one. As the name suggests, a standard bed is quite ordinary and is suited for people with normal health conditions. On the other hand, heavy-duty adjustable bases are quite complex and packed with additional features that are suited for people with health issues.
Finally, on the construction, you need to make sure that the legs are adjustable. As for mobility, many adjustable beds come with wheels to make it easier for you to transport the bed.
Ease of Use
How straightforward is it to use the bed? This is another key point you can';t afford to ignore. In most cases, adjustable beds use tethered or wireless remote controls to adjust the positions. Always make sure that the control buttons are perfectly labeled and that the interface is user-friendly. Check whether the bed has dual control option as it allows you to independently adjust one side of the bed to prevent you from disturbing your partner.
The Motor
One major difference between adjustable beds and traditional ones is that the former is powered by a motor while the latter is not. Now, to determine how effective your bed will be, you need to consider the power output and the durability of the motor. This can be determined by two things which are the length of the warranty and the capacity of the motor in terms of how much weight it';s able to lift. Finally, since the bed is intended for home use, the motors should be as quiet as possible to avoid disturbing other sleepers.
Base Mattress Compatibility
Another very important consideration to keep in mind is mattress compatibility. Not all mattresses are designed to work with adjustable beds. However, latex and memory foam mattresses are highly preferred as they';re capable of conforming to the contours of the base regardless of which position you select.
Components
Just like we mentioned earlier in this guide, adjustable beds have really advanced over the years. Today, these beds come with amazing features and components such as built-in USB ports, Bluetooth capability, capacitive touch remotes, and adjustable pillows – all to make your sleeping experience a little spicier. If you';re tech-savvy or maybe you enjoy chatting or surfing a lot, you can take advantage of these features to make your sleeping experience much more enjoyable.
Warranty
Finally, don';t forget to check the warranty as these beds can cost a lot in case of damages. Although some models have longer warranties than others, some of the things you should look for include:
Damages: Does the manufacturer cover accidental damages for various components of the bed?
Broken parts: Do they cover broken parts that have been damaged due to manufacturing error?
You see, adjustable beds are usually very expensive. Therefore, most of their components also tend to be expensive and very hard to find. To avoid spending extra bucks, you should check the warranty to ensure that it covers the bed in case of such issues.
Conclusion
Adjustable beds come in a wide range of models to satisfy your sleeping demands. These mattress bases come with their own unique characteristics that distinguish them from each other. Now, after comprehensive research, we managed to pick ten of the best options which had high ratings on Amazon and had multiple positive feedback from the majority of online customers.  So, if you';re reading this and you';re searching for the best adjustable beds, we believe you';ve already fallen in love with one of these top-rated, heavy-duty bed bases.
Additional Resources