We may earn a small commission if you buy something via a link on this page. This doesn't impact our rankings or cost you extra. See
our advertising disclosure
for details.
Sleeping is one of the essentials in life. Some important brain activity or processes and other body functions occur during sleep. If you skip it, you will suffer both physically and emotionally. To ensure that you function well during the day, you must sleep for at least seven to nine hours.
However, there are instances wherein it will be difficult for one to fall asleep and stay that way until the morning. One factor that affects sleep is the temperature of the environment you are in during the activity. This is especially true during the summer months. If it is too hot, then the more challenging it is to sleep well. You will most likely wake up at night sweating heavily. Luckily, cooling comforter and cooling blankets are available to help improve your quality of sleep. They serve as some sort of control unit to help stabilize temperature when sleeping. Many have already attested to the benefits of cooling blankets both in comfort and health. Moreover, most of them are machine washable which is a great plus for maintenance.
If you are looking to buy a cooling blanket, it's great to know about the different options. To assist you in your search, we have here ten of the best cooling blankets that come in various color options available on the market today.
Top 10 Best Cooling Blankets Reviews
1. Degrees of Comfort Weighted Blanket
This product makes use of several technologies and scientific techniques to induce deep sleep. It is perfect for both hot and cold sleepers since this package includes two duvet covers. One is made of warm fleece, making it cozy and perfect for winter. The second one used CoolMax Microfiber technology, which ventilates the heat outside the cooling blanket and away from your body.
One feature of this product that makes it different from the rest is the Nano-Ceramic Bead Technology it uses. These filling beads were infused via a patented forging method, which makes it much more durable than other plastic beads. It is also more comfortable than glass beads since this technology makes sure that the weight is distributed evenly. This blanket will make you feel like you are lying under a weighted pile of sand.
This cooling blanket has ten separate locking or anchor points that ensure that the weight is even throughout the sheet. It is essential to have equal distribution for the Deep Pressure Stimulation. When this blanket perfectly executes its purpose, you may earn better sleep and do away with night sweating that is a common contributor for anxiety. The heaviness that one can feel as they use this blanket can stimulate the calming of the chemicals in your brain, relieving your mind.
Pros
Perfect for both the warm and cold weather
Makes use of the sturdiest materials and lasting Duralast fiber stitching
May alleviate anxiety by Deep Pressure Stimulation
Available in many kinds depending on body weight and age category
Ensured equal weight distribution throughout the blanket
Cons
May not be wide enough for two people on a large bed
Some people may find it too hot to use
---
2. Utopia Bedding Premium Cotton Blanket
If you are looking for a lightweight blanket that you can use throughout the year, no matter what season, the Utopia Cotton Blanket is perfect for you. It is one of the best choices because it has excellent breathability, which allows your body to cool down during hot nights. It is made of ring-spun cotton, which provides comfort, warmth, and breathability. The fine cotton material will also soften up after every wash. Plus, you'll get to choose between its two color options.
Other than hot summer nights, you can also use this breathable thermal blanket on chilly nights. It is thick enough and was tightly woven, holding all the fibers together. This product sheds less compared to other cotton blankets.
You will have no problem cleaning and caring for this thermal blanket since you can wash and dry it quickly. You can either tumble dry or hang up to dry. Because of its cotton fabric, it releases dirt and grime faster than other kinds of materials. You won't have to use harsh soaps and other harmful chemicals to remove the stains on your blanket. When you first launder it, separate it from different fabrics to prevent any lint from sticking on to its surface.
It also makes use of dobby weave with waffle-square patterns to accommodate proper ventilation and increase breathability.
Pros
Weight is not too heavy but not too light, making it perfect for all seasons
Made of 100% natural materials
Comes in three different sizes (twin, queen/full, king) and two separate color options (gray or white)
Very easy to clean and wash, which is efficient for getting rid of dust mites
Lightweight allowing you to store it easily or carry around on your camping trips
Cons
Naturally shrinks over time
May not be thick enough to keep the warmth in during incredibly cold nights
---
3. YnM Bamboo Weighted Blanket
This blanket is yet another product that uses unique materials. Bamboo is pure natural, and its usage in cooling blankets make it environmentally-friendly and also skin-friendly. YnM's bamboo blanket is not made of synthetic materials and harsh chemicals, you will not have to worry about having any skin reaction towards it. Moreover, you can choose from a variety of color options too.
The blanket is cool to the touch, which makes it an excellent choice for hot and perspiring sleepers. This product makes use of Smart Fabric and Moisture Wicking Management. Not only hot sleepers benefit from the YnM Bamboo Weighted Blanket, but also cool sleepers by keeping them cozy. People would describe the feeling of the blanket as being hugged or held when using this sheet. The high quality moisture wicking procedure used in the product also ensures your body's proper temperature regulation.
Each bamboo viscose is filled with thinner polyfill and premium glass beads. The use of beads contribute to the weight, and since it is from bamboo, it is around 1 – 3 degrees cooler than the ordinary cotton weighted blanket. The extra weight enables you to fall asleep faster and stay asleep longer.
Some ordinary weighted blankets leak or spill out some beads after some time. However, this YnM product is extra durable, with two extra layers of breathable cotton fabric placed in between the bamboo face and the polyfill. To completely avoid such bead leakage from occurring, manufacturers use a three-dimensional lock bead sewing method.
Pros
Even distribution of weight ensured with the smaller compartments dimension design
Cooler than the ordinary cotton weighted blanket
Both skin-friendly and environment-friendly
Several color options, patterns, sizes, and weight choices to choose from
Fewer chances of bead leakage
High quality thermo regulating effect perfect for summer months
Cons
May not be cold enough for hot sleepers on warm nights
Sizes are smaller than other ordinary blankets
---
4. rocabi Deluxe Weighted Blanket
Unlike the previously mentioned products, the Rocabi blanket is made of Minky-fabric that is silky soft. It is made of 100% polyester micro-fiber and has a short pile. On the inner sleeve, Rocabi incorporated Minky dot to add extra texture to the blanket.
In this package, you got both removable Minky cover and a breathable inner weighted quilt, which has premium glass beads for added weight. To choose the appropriate size and weight for you, you can refer to their chart. You have to select it carefully because if you pick the wrong one, then you could end up feeling even more uncomfortable when you sleep. Also, you may end up with a blanket that is too small for you and your partner.
Like all other weighted blankets, this Rocabi product aims to improve your sleep by providing you with the comforting feeling of being hugged. Studies have shown that this sensation improves one's mood. It also helps you fall asleep faster. The weighted blanket can also warm you up during cold seasons.
One common problem with this type of blankets is the uneven distribution of the weight and bead leakage. However, the manufacturer used double-stitch or double sided design, corner ties, and even created 4.7″ pockets. This way, the beads won't clump or gather into one specific spot.
Pros
Incorporated techniques that could lower the risk of bead clumping and leaking
Several sizes and weight to choose from, including for individuals and couples
Easy to clean and maintain
Successfully provides the feeling of being hugged
Inhibits movement, which is beneficial to fall asleep and remain that way until the morning
Cons
Some customers find it too heavy
Four corner ties are not enough to keep the blanket in place
---
5. CoziRest Blanket
This blanket has seven different layers, two of which are removable depending on the season you will be using it in. One of these layers is the cool bamboo removable cover, which is specifically for warm months. This cover can help keep you cool during the hot weather.
Meanwhile, the cozy Minky removable cover is for cold seasons. This plush fabric has excellent thermo regulating properties that can retain the heat of your body to prevent your body from shivering due to the cold. This control unit function makes it ideal during winter and extreme cold weather.
The outermost layer can either be any of the two removable covers. Another layer is the 400 thread count cotton fabric, which is known to be durable and machine washable. Next to that is the thick poly filling. Compared with other brands, this layer is much more abundant, making this product relatively softer and squishier. The middle part is where the silent glass beads go. In this section, there are thousands of non-toxic and hypoallergenic beads.
To address the clumping and weight shifting problems of weighted blankets, CoziRest utilizes double-stitched pockets, which limit the area that each bead could travel to. This double sided design is crucial for even distribution for the body to feel comfortable throughout the night.
Pros
Incredibly soft and squishy due to the extra thick polyfill
You can use it in winter and summer by changing the cover (bamboo or Minky)
Known to be durable and machine washable
Weight is evenly distributed with the use of double-stitched pockets
Allows you to achieve deep sleep with its Deep Touch Pressure Therapy
Cons
No available sizes for beds smaller than the queen size
It is challenging to change the cover if done frequently
---
6. SereneFox Blanket
Several people around the world have difficulty sleeping at night, and the answer to that problem is using a weighted blanket. The extra weight helps relieve your anxiety and limits your movements under the sheet. SereneFox has created a cooling gravity weighted blanket that allows you to get a good night s sleep that you deserve by providing you with deep pressure stimulation. For a heavier feel, SereneFox's blanket is made using environment-friendly glass bead filling. Each of these beads is hypoallergenic, non-toxic, and odorless.
With this package, you also receive a removable duvet cover that is made of soft and breathable bamboo fabric. This cover can easily be removed and then re-attached by snapping it back onto the weighted cotton blanket. Although this type of blanket is made to appear as though it adds more heat, it really doesn't because of the material used.
When you use this blanket, you have the option to utilize all or just some of the weight. You can fold it into different dimensions depending on what you want and need to get you snuggled into bed. There are detailed instructions with images that come with the package.
The duvet can be cleaned through washing machine. Placing it back onto the cotton blanket may seem challenging, but the eight different snaps found throughout the cover make it easier for you. These snaps can also prevent the duvet from moving around.
Pros
Queen size, full, or single bed are available
Ensured even weight distribution
Easy to clean and is machine washable
Beads are hypoallergenic and non-toxic
Can be used for both warm and cold weather
Cons
May be too heavy for some first-timers
Sharing space with others is difficult
---
7. Fabula Life 15lbs Weighted Blanket
This product allows you to feel comfortable as you sleep as the weight hugs your body snuggly. It provides a sense of calm, which in turn improves sleep. Since people of all ages are free to use this product, Fabula Life created various weights and sizes to fit the needs of each age group or weight category.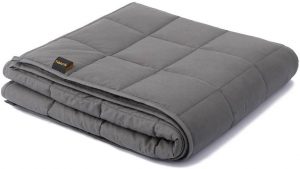 This blanket is made to have seven layers, with the outermost being the 100% breathable natural cotton. It works well as a thermoregulator and is soft to touch. The layer below it is the polyester layer that prevents the leakage of beads. Next, is the non-glue polyester padding, which keeps you warm and reduces the movement of the beads to avoid making noise.
The middle portion is where you will find the premium glass beads. They are hypoallergenic, odorless, non-toxic, and highly dense. After which, the next layer would be the non-glue polyester padding, then the extra two polyester layers and the last is the cotton fabric.
To improve the durability of the blanket, manufacturers utilize the CNC sewing technology, which ensures small pinholes and tight needle spacing. This way, the end-product looks neat and beautiful.
Pros
Customized weights and sizes for different age groups and body weight
Fewer chances of the beads leaking out
Can be used other than when sleeping
Relieves stress by enfolding you in a hug
30 days to return with no reason, three-year warranty, lifetime after-sales service, and reasonable price point
Cons
Beads may move quite a lot inside the blanket
What may be best for you may not be suitable for the person that shares a bed with you
---
8. BlanQuil Chill Cooling Weighted Blanket
This product uses a smartly engineered fabric design that could expel the heat from your body to outside the blanket. This thermo regulating feature makes the temperature inside the sheet lower, making it easier for you to get a good night s sleep especially during summer nights. The BlanQuil Chill is cooler to touch than other fabric.
You will feel the cooling effect as soon as you lie under the blanket. Once you are asleep, the comfortable temperature regulating feature allows you to enter a deeper form of sleep. Your body can relax completely and do the normal bodily functions that occur during sleep without any distractions.
This entire product comprises two main parts, namely the outer duvet and the inner weighted blanket. Since they are separate items, it would be messy when they move and shift around. However, BlanQuil incorporated eight ties on different areas on the blanket to reduce the shifting and keep the duvet lined up with the weighted blanket. All eight points are secured under the zippered outer quilted cover.
Before selecting this specific product, you must make sure that it is suitable for you. Check out BlanQuik's chart or other references that could help you determine which one is best. If not, you could end up with a weighty blanket that would give no comfort to you as you sleep.
Pros
Fabric is cool to the touch, making it perfect for hot sleepers
Deep pressure stimulation occurs due to the weight of the blanket
Induces deeper REM cycle
Made of ultra-soft microfiber, which makes it very comfortable to use
Eight different ties to keep the duvet in place
Cons
Only covers one person
Duvet may come undone if not tied tightly and properly
---
9. LAGHCAT Air Condition Cooling Throw Blankets
This blanket is yet another product that used bamboo fiber fabric. It is used in making cooling blankets because of its super soft and comfy feel. It also provides much breathability, which is ideal for warm weather. It is perfect to use in summer because it is guaranteed to keep you cool.
Products made of bamboo fiber usually shrink after some time. It is advised for you to choose a larger size than your bed to compensate for the shrinking. To avoid this from happening, you must practice the proper washing method.
Instead of the usual machine wash method, you must do it by hand. When drying, make sure that it is not exposed directly to the sun. Instead, you must place it in a shaded area outdoors. When it is nearly done drying, you must transfer it to a clothes hanger and finish it off in a cool ventilated space. After these steps, the blanket will return to its original size. It's important to take note that it is important to follow this cleaning method properly to eliminate potential dust mites in the cooling blanket.
The amazing thing about this product is that it isn't only for bed use. You can place this on your sofa to use while you are watching TV. You can even bring this on your travels and trips.
Pros
Lightweight and can easily be brought to other places
Provides a cooling effect due to its bamboo fiber fabric
Its use is not limited to the bed
Suitable for all ages, even newborns
Very soft, comfortable, and provides excellent ventilation
Cons
Specific instructions to follow when washing and drying to avoid shrinkage
Biggest size may not be enough for two people or a king-sized bed
---
10. Rossy&Nancy Softest Cooling Weighted Heavy Blanket
The last one on the list is made of 100% premium breathable cotton. Cotton is an excellent material to use since it has several remarkable properties, such as high gas permeability. This means that air can easily pass through the blanket and create a more refreshing environment for you to sleep in.
In its design, multiple medium-sized compartments contain tiny, non-toxic, and odorless beads. Their purpose is to add some weight to the blanket and also provide some cooling effect. The extra weight helps you sleep better at night and improve your overall sleep quality.
Selecting weighted blankets is kind of tricky. Choose the wrong weight, and you'll end up feeling crushed underneath it. Before deciding on one, make sure that it is 7%-12% of your weight. That is the specified percentage of which you will feel most comfortable using. Some people complain about the item's heavy weight, but they are designed and engineered that way for a reason. The added weight helps in relaxation.
It is easy to clean this blanket because it is machine-washable, but do make sure that you keep it low. You may also have it dry-cleaned, or hand washed. It is totally up to you and what is most comfortable for you.
Pros
Several weights and sizes to choose from, depending on your own body weight and bed size
Beads used are non-toxic and provide a cool sensation
Easy to maintain and care and works well with washing machine
Cotton fabric is a breathable fabric, allowing more air to flow inside the blanket
Multiple uses possible
Cons
Does not include a removable duvet cover
May be too short for some if not carefully chosen
---
What Is A Cooling Blanket?
A blanket is an item that you place in between the top sheet and your comforter. It is usually larger than the mattress size since its purpose is to cover the entire space. Due to its dimensions, you can tuck it under your bed or simply let it hang on the sides. There are several types of blankets, one of which is a cooling blanket. This specific type is a bedding accessory that is temperature-regulated. These blankets were designed to maintain a cool temperature for you to sleep in comfort all night long. People living in warm climates are usually the ones that use cooling fabrics. Moreover, the material's cooling properties make it an excellent alternative to reduce one's usage of air conditioner.
Why Hot Weather Affects Your Sleep
Trying to sleep in hot weather can be very challenging. It is even more difficult to stay asleep and wake up feeling refreshed. One can use a full-powered air conditioning system, but it still doesn't guarantee quality sleep. It is crucial to be mindful of the temperature regulation of the environment before you sleep because it can significantly affect how much and how well you sleep.
Right before we sleep, our bodies try to release as much heat as possible by dilating our blood vessels near the skin. Once our body's core temperature lowers, we then feel sleepy and drowsy. It continues to stay low until we wake up.
Though our body has its natural internal thermo regulating functions, it is still significantly influenced by the external temperature in our environment such as the intense heat during summer months. One's sleep efficiency, which is a measurement of the quality of sleep, reduces during steamy and humid nights because the warm climate would cause you to wake up many times throughout the night.
High temperatures also reduce the time you spend in slow-wave sleep and REM sleep. These two stages of sleep are critical for your cells to repair and immune system to strengthen. This is the time for your body to restore itself, and exposure to warm environments could hinder its rejuvenating process.
Advantages of Using A Cooling Blanket
There are many benefits of using cooling blankets, such as:
Studies show that the use of cooling sheets during a fever is controversial due to the other adverse effects it brings, like shivering and discomfort. However, according to a report from the American Health Journal, it is beneficial for babies that suffer from the lack of oxygen during delivery. Placing these babies on a cooling blanket can help reduce the risk of brain damage.
When your body temperature is increased, it means that your energy is also high. It is not ideal to have that much energy while you sleep since it could alter your sleep patterns. The body cannot control the internal temperature as well during sleep as compared to the day. Due to this very reason, you will easily feel hot if it is too warm or too cold. Thus, you will wake up more often.
There are various types of cooling comforter and blankets. One example would be the weighted type, which contains pellets, beads, or chains. Other than providing a cooler temperature, it also improves sleep by decreasing your movements. It can also provide tactile stimulation throughout the body, which can help people cope with their stress and anxiety. Gravity blankets can help calm you down, relax, and divert your attention from external distractions.
Cooling comforter and blankets are not only limited to human use, but pets can also benefit from it. Dogs are unable to release their heat by sweating as humans do, which is why they need alternative items with cooling properties, especially during sleep. There are other types of cooling sheets that are designed for other animals, such as horses.
What Things To Look For When Buying a Cooling Blanket
The most crucial element that you need to consider is the material it is made of. The ideal cooling blanket should be lightweight and be made of breathable textiles to encourage ventilation and airflow. It should also be heavy enough to help you feel cozy in bed. There are several materials that manufacturers use for cooling blankets, such as:
Cotton – lightweight and airy texture, does not trap any heat
Linen – durable and more substantial than cotton but offers excellent breathability
Silk – light, cool to the touch, adjust well to body temperature
Down – must be less dense to ensure breathability and sufficient airflow
Synthetic Polyester – lighter and softer than cotton, cheaper
Organic Materials – must not be washed with harsh chemicals and is for people with sensitive skin (bamboo)
It is vital to find a cooling blanket that will last for a long time. Most of the ones available on the market today can be used up until ten years. It will get softer with time and every wash. Cotton and flax linen blanket are notable for their durability.
The amount of ventilation depends on the weave of the blanket, which then affects the coolness-level. Other than the ventilation, it also regulates how much heat can be trapped inside the sheet. For cotton blankets, designers use the thermal weave and make it loose to make it lightweight. The most famous pattern used for cooling bedding is the waffle weave because it provides space between the layers, allowing the air to flow in and out freely.
Weighted Cooling Blankets
Many of the cooling blankets available on the market contain beads to provide added weight to the sheet. This feature limits the movement you can make while you are under the blanket, making it much easier for you to fall asleep. People associate the feeling of using this type of bedding to being hugged or held during their sleep. Many studies have shown that this sensation helps people calm down and relax. Several people around the world have difficulty sleeping because of anxiety and stress. Deep pressure stimulation could be of great help, and weighted blankets provide this.
Even Distribution of Weight
This is again associated with weighted cooling blankets. Since there are beads incorporated into the sheet, they may clump together and gather in one specific area. Luckily, many companies have utilized their own techniques and technology to make sure that it is evenly distributed throughout the blanket. If the weight keeps shifting around, it could be very uncomfortable for you. Make sure that before buying one, there were measures taken to avoid such a situation from happening.
For all kinds of blankets, it is essential to know beforehand how they are cleaned or maintained. This is especially true for cooling blankets because there is still a chance that you could sweat despite the effect it has. Some materials are easy to wash, such as cotton, linen material, and bamboo microfiber. However, it would be better to dry them by placing them onto a clothesline. For synthetic and polyester fabric, you can use a dryer. Make sure that you follow the manufacturer's instructions to make your blanket last for an extended period.
Ordering online has been of great help to all people around the world by making it more convenient to shop. However, there is one major drawback. You cannot be sure of the quality and its functionality. Many companies offer at least 30 days for you to try out the cooling blanket, and if it doesn't suit your needs, then you can return it without any reason. There are even some brands that give out warranties for a limited period. It would be ideal to find a product that has both of these privileges.
Frequently Asked Questions
What are the causes of overheating in sleep?
The factor that significantly influences your body temperature is the external environment. If the weather is hot, then most likely your body will heat up. Carrying extra weight could also increase your chances of overheating during your sleep. Some medications make you experience adverse effects, like night sweats, so check with your doctor before taking them.
What room temperature should the environment I sleep in be?
The ideal temperature when you sleep should be as close to your body temperature as possible. Your internal energy is lower right before you sleep, which also reduces your body heat. It could be around 65 to 72 degrees Fahrenheit.
What can I do to improve my sleep environment?
To improve your sleeping pattern, make sure that you sleep in a quiet, dark, and cool spot in your house. Using a cooling blanket could also help. However, if it is not enough, you can use an electric fan or air conditioning to reduce the room temperature.
What does a cooling blanket do?
It regulates your body temperature by wicking out excess moisture away from bed which is guarantees to keep you cool especially during summer nights.
What medical conditions may benefit from using a cooling blanket?
Menopause, hot flashes, anxiety, depression, PTSD, OCD, hyperthyroidism, hyperhidrosis, newborn lacking oxygen
Is there a cooling blanket for camping?
There is no product specifically designed for camping. However, you can bring lightweight and breathable fabrics to cover yourself, such as bamboo and linen.
What kind of cooling blankets have the most benefits?
It would be the cooling weighted blankets. These immensely help you feel a sense of relief because of the hug-like sensation that you receive from using them.
Buying Guide Quick Tip
When finding the best cooling blankets online, make a quick checklist, and narrow down the search by asking yourself the following questions:
What qualities am I looking for on the best cooling blankets?
Do I prefer something made from 100 cotton or 100 linen?
What do I get when buying something made of bamboo microfiber or bamboo viscose?
Which type of cooling blanket has the best temperature regulating properties?
What are the advantages of a flax linen blanket over other types of cooling blankets?
Do I have a specific price point for selecting cooling blankets?
Does the material have to be machine washable and cool to the touch?
What are the advantages of a cotton blanket?
Conclusion
Lacking sleep could lead to many unwanted effects both on the body and the mind. The amount and quality of the sleep you get much depends on many external factors, one of which is temperature. If it is too hot, it will be tough to fall asleep and stay that way until the next morning even with the use of air conditioning.
One good thing about these cooling blankets is their wide availability online. Whether it's a bamboo blanket, cotton blanket, flax linen blanket, Oeko Tex certified or just about any kind made of 100 cotton or 100 linen material, one can practically find various buying guide online. Given the variety of options, it becomes easier for you to streamline your purchase based on things like temperature preferences, cooling blankets made from moisture wicking procedure, those made with bamboo microfiber or bamboo viscose, and even the best cooling blanket as per buyers' reviews.
Ultimately, the decision to buy the best cooling blankets is a matter of preference. Some look for the best cooling effect available in the market while others look for specific features like an efficient control unit, the material – if it's a flax linen blanket or made from 100 cotton fabric. There is no single foolproof method in getting the best cooling blanket right. It's a matter of knowing what you need.
To ensure that you get enough rest throughout the night, you must make use of cooling blankets. There are many types and brands available, and it may be challenging for you to select the best one. However, this list of the ten best cooling blankets can get you started. Have fun perusing through your options!