We may earn a small commission if you buy something via a link on this page. This doesn't impact our rankings or cost you extra. See
our advertising disclosure
for details.
If you are a combination sleeper or someone who sleeps in more than one position, choosing the perfect pillow to enhance proper spinal alignment and relieve back and neck pain can be a daunting task. This is due to the fact that combination sleepers require varying levels of support to be comfortable in each of their preferred sleeping positions. The best pillow for combination sleepers will easily adjust and quickly respond to your body as you shift from one position to the next, and back again.
However, finding the right pillow isn't always that easy. That's why we are here to help. In this comprehensive review, we evaluated top-rated pillows to determine if they suit those who sleep in all positions. Read on below for our top 7 picks.

Top 7 Best Pillows for Combination Sleepers

Overview:
Shell: 100% organic cotton
Filling: Microdenier fiber and shredded latex
In-home trial: 45 days
Warranty: None
Sizes: King and Queen
The Saatva pillow is our number one pick for the best pillow for all sleep positions. Its unique design features a 100% organic cotton shell and a downlike microdenier fiber layer. In addition, it also uses a denser, more supportive shredded Talalay latex core. The combination of plush and supportive materials in its layers helps promote proper spinal alignment as you sleep on your back, side, or stomach.
Features
Saatva designed their pillow to be highly breathable so you can sleep cool without overheating. The organic cotton cover is moisture-wicking and breathable to help air and heat circulate through the pillow without being trapped inside. The microdenier fibers also make it breathable and temperature neutral. The latex core does retain some minimal heat, but the shredded design prevents it from building up to the point that it will disrupt your sleep.
The Saatva pillow, available in both King and Queen sizes, has gusseted edges on each side to prevent excessive shifting or bunching of the microdenier fiber filling. This is particularly important for combination sleepers who continually change sleeping positions throughout the night, shifting from side to side. Furthermore, this pillow is also easy to clean, which increases the lifespan of your pillow. The shell and outer pillow are both easily machine washed if you remove the Talalay latex core.
While the Saatva pillow does not have a warranty, it does come with a 45-day return policy to guarantee your satisfaction. Considering the luxury price point, this can be a huge perk, especially if you are on a budget.

Pros:
Latex core provides responsive support
Machine washable shell and outer pillow
Highly breathable
Microdenier fiber filling is super soft and plush
High quality and durable
Cons:
Price point may be too steep for some
May not be the best option for users looking for pillows with adjustable lofts
Does not include a warranty

Overview
Shell: Polyester-viscose blend with CuTEC copper fibers
Filling: Kapok fibers and shredded memory foam
In-home trial: 120 days
Warranty: 5 years
Sizes: King and Queen
Also a top contender for the best pillow for combination sleepers, the Layla Kapok pillow boasts an innovative design. It features a blend of shredded memory foam and downlike kapok fibers. The combination of memory foam and kapok fibers retains the pillow's shape throughout the night. This means the Layla pillow provides a soft and supportive feel, which is great for accommodating combination sleepers as they change their sleeping positions.
Features
In addition, the pillow's cover is made from a super soft polyester-viscose blend material with CuTEC copper fibers woven. The CuTEC fibers draw heat away from your body and keep the pillow cleaner overall. CuTEC yarn is also known for aiding in the removal and replenishment of dead skin cells. Over time, the copper-infused threads could help your skin appear brighter and more vibrant in the morning.
The Layla Kapok pillow also features a fully adjustable loft. Hence, you can easily customize the height to fit your body shape whether you are lying on your side, stomach, or back. When it comes to pillows for combination sleepers, an adjustable loft can make a world of difference in achieving proper spinal alignment of your back, head, and neck. The filling is also malleable and can easily be formed into a shape that best suits your specific needs. Should you need additional filling, you can acquire some by reaching out to Layla's customer service team as they don't directly sell it on their site.
It is also worth noting that while the Layla Kapok pillow is machine washable, it may need more than one cycle in the dryer and may require some air-drying time as well. Additionally, Layla has a disclaimer that states using any machine to wash and dry their kapok pillow could potentially void the warranty. Therefore, it is best to wash and dry the pillow using the gentlest or lowest setting.

Pros:
Copper infusion keeps the pillow cooler and cleaner
Cloudlike Kapok fibers are super soft
Memory foam gives the pillow added support
Fully adjustable loft
Lengthy 120-day, in-home trial period
Cons:
May be too pricey for those who are on a budget
Washing your pillow may void the warranty

Overview
Shell: Polyester
Filling: Solid memory foam
In-home trial: 30 days
Warranty: 3 years
Sizes: King and Queen
Boasting exceptional contouring capabilities, The Brooklyn Bedding Luxury Cooling pillow is an excellent choice if you're looking for the best pillows for combination sleepers. This pillow also features superior cooling benefits, thanks to its enhanced core ventilation and cooling gel-infused surface.
Features
Available in both high and low profile options, this cooling pillow is made from a solid piece of responsive open cell memory foam. This means that it is designed to react quickly to pressure in order to support your back, head, and neck in any sleeping position.
As you can probably tell by the name, the Luxury Cooling pillow excels in temperature regulation, making it an ideal option for anyone who tends to sleep hot or overheat at night. This cooling pillow by Brooklyn Bedding features a pincore ventilation design to increase airflow throughout. On top of that, the gel-infused surface draws heat away from the head and neck. Moreover, the copper-graphite infusion further promotes breathability and provides antimicrobial benefits as well.
The Luxury Cooling pillow also features a machine washable cover for easy cleaning. However, the pillow can only be spot cleaned as solid memory foam is fragile when wet and tends to deteriorate quickly in water. The denseness of one solid piece of memory foam means this pillow may need a bit more time to air out before the initial use at home. Thus, it may take several days for the off-gassing smell to completely dissipate.

Pros:
Comes in high and low profile options
Gel-infusion allows users to sleep cool
Copper-graphite draws heat away from your body
Pincore ventilation promotes breathability
Silky smooth cover
Cons:
May not be for those looking for machine washable pillows
Luxury price tag may be too steep for some
There may be a brief off-gassing period

Overview
Shell: Bamboo
Filling: Shredded memory foam
In-home trial: 100 nights
Warranty: 5 years
Sizes: King and Queen
Fourth on our list is the Original Pillow by Coop Home Goods. It features a medium-firm shredded memory foam filling which can be adjusted to precisely fit your body shape. Thus, this product provides excellent targeted support and will keep your back, head, and neck properly aligned in any sleeping position.
Features
Unlike other pillows that are made from memory foam scraps, this Coop Home Goods pillow is made from high-quality memory foam fill that has been precisely cut to size. This provides a combination sleeper with a more uniform feel that stays smooth across the surface, allowing for evenly distributed support.
The Coop Home Goods memory foam pillow includes a bag of extra filling with your initial purchase just in case you want to plump it up. It also features a silky bamboo cover which is highly breathable and cool to the touch. Furthermore, the Original Pillow can be machine washed and dried which further adds to its lifespan.
One possible downside of this memory foam pillow is that it doesn't have gusseted sides; gusseted sides are added in pillows to allow for optimal neck alignment and to help keep the fill evenly distributed. The fill can get lumpy or bunched up with prolonged use.
However, this Coop Home Goods pillow does come with a 100-night sleep trial and a 5-year warranty for peace of mind.

Pros:
Adjustable loft (comes with one extra bag of filling)
Silky bamboo cover for added comfort and breathability
Lengthy 100-night sleep trial and 5-year warranty
Comes with an affordable price tag
Machine washable
Cons:
May retain minimal heat
May not be the best option for those who want pillows with gusseted edges
Minimal off-gassing that lasts for a few days may be observed

Overview
Shell: Polyester
Filling: TEMPUR foam
In-home trial: None
Warranty: 5 years
Sizes: One size (fits Standard and Queen)
The Tempur-Pedic TEMPUR-Cloud pillow is also a fantastic choice if you're a combination sleeper. The patented TEMPUR material used to construct this pillow is extra soft and provides accurate pressure relief and adaptive support, two traits that are particularly important for stomach and back sleepers.
Features
The TEMPUR-Cloud pillow offers targeted and effective pressure relief that allows you to maintain proper spinal alignment as you sleep. This pillow supports your neck, head, and your back, without forcing them into an uncomfortable angle while you sleep. This ensures a healthy sleep posture so you don't wake up to a back or neck pain the next day. The super-soft feel provides for better sleep quality as well.
The TEMPUR-Cloud also comes with a polyester knit cover which is breathable and can easily be zipped off and machine washed. Additionally, the cover has gusseted edges on each side to help keep the corners firmly in place. Thus, you won't have to worry about the material bunching or shifting as you shift from one sleeping position to another.
Moreover, this sleep product comes with a 5-year warranty, which is a nod to its extended durability but it does not come with a sleep trial and can not be returned. It is worth noting, however, that the low profile of this pillow makes it great for stomach sleepers and back sleepers, but it may not be the best choice for side sleepers.

Pros:
Superior pressure relief
Promotes a healthy sleep posture
Machine washable cover
Gusseted edges
Extra-soft cloudlike feel
Cons:
May not be the best option for side sleepers
Probably not for those who prefer pillows that come in several sizes
May not be the ideal for consumers who prefer products with a sleep trial
Overview
Shell: Bamboo-polyester-lycra blend
Filling: Shredded memory foam
In-home trial: 120 days
Warranty: 20 years
Sizes: Standard, Queen, and King
If you're looking for a pillow that offers premium features at a more budget-friendly price point, the Snuggle-Pedic Original Bamboo Ultra-Luxury pillow is definitely a worthwhile investment.
Features
Snuggle-Pedic's Original Pillow does an excellent job managing temperature regulation, thanks to its Kool-Flow aerated bamboo blend cover. The material is exceptionally breathable and slightly cool to the touch. What's more, it uses a shredded memory foam filling. While memory foam does retain some minimal heat, when shredded it is more breathable and does not allow heat to build up within the core.
Another great feature is its zipper-free design which eliminates the scratchiness and irritation that can be caused by the metal fastener along the side. Of course, this also means the Original does not allow you to add and remove filling as necessary. Instead, the Original's design incorporates slightly more fabric to make it more malleable and allow for the easy shifting and adjustment of the memory foam filling. This downlike memory foam pillow can easily be reshaped and molded to support you in all sleeping positions.
This pillow also comes with an impressive 120-day sleep trial and a 20-year warranty. All in all, the Snuggle-Pedic Original Pillow is one of the best pillows for combination sleepers on the market.

Pros:
Zipper-free design
Kool-Flow bamboo cover sleeps cool
Budget-friendly price point
Lengthy 120-day trial and 20-year warranty
Easily molded to contour and support your head and neck
Cons:
There may be a brief off-gassing period
May not be the best option for users looking for adjustable pillows
May require regular fluffing in the dryer

Overview
Shell: Bamboo
Filling: Bamboo-charcoal infused shredded memory foam and shredded comfort foam
In-home trial: 30 days (in compliance with Amazon)
Warranty: 3 years
Sizes: Standard, Queen, and King
Our final pick on our list of the best pillows for a combination sleeper is the Sweetnight Adjustable Bamboo pillow. This sleep product features a unique filling blend that's 10% shredded comfort foam and 90% activated bamboo-charcoal foam. This special design enhances the pillow's deodorizing and air purifying properties.
Features
Another great feature of this Sweetnight pillow is that it has moisture-wicking and cooling properties. It should not retain heat or cause you to overheat. Additionally, the bamboo cover further enhances the effective temperature regulation.
This pillow is also fully adjustable, making it a great supportive pillow for back, side, and stomach sleepers alike. The customized loft will enable proper support and alleviate and discomfort or neck pain that can develop with improper spinal alignment. Sweetnight overstuffs the Bamboo Pillow form the start so don't be surprised if you have to remove quite a bit to achieve the perfect loft and neck support for your body type.
The Bamboo Pillow's cover is machine washable on a delicate cycle but the pillow stuffing should not be machine washed. The activated bamboo-charcoal infused foam is even more fragile than traditional memory foam and should not be submerged in water unless absolutely necessary. Instead, try airing it out occasionally and hand plumping the material if it begins to bunch or form clumps.

Pros:
Budget-friendly price point
Fully adjustable
Bamboo-charcoal infused shredded memory foam sleeps cool
Air purifying and deodorizing
Smooth and cool bamboo cover
Cons:
Off-gassing period may last several days
May not be for those who prefer a machine washable filling
May require regular fluffing to deter lumps or bunching
A Guide to Buying Pillows for Combination Sleepers
The best pillow for combination sleepers will feature some specific traits that make it suitable for stomach sleepers, side sleepers, and back sleepers. What are these traits? Let's find out.
Support and Sleeping Positions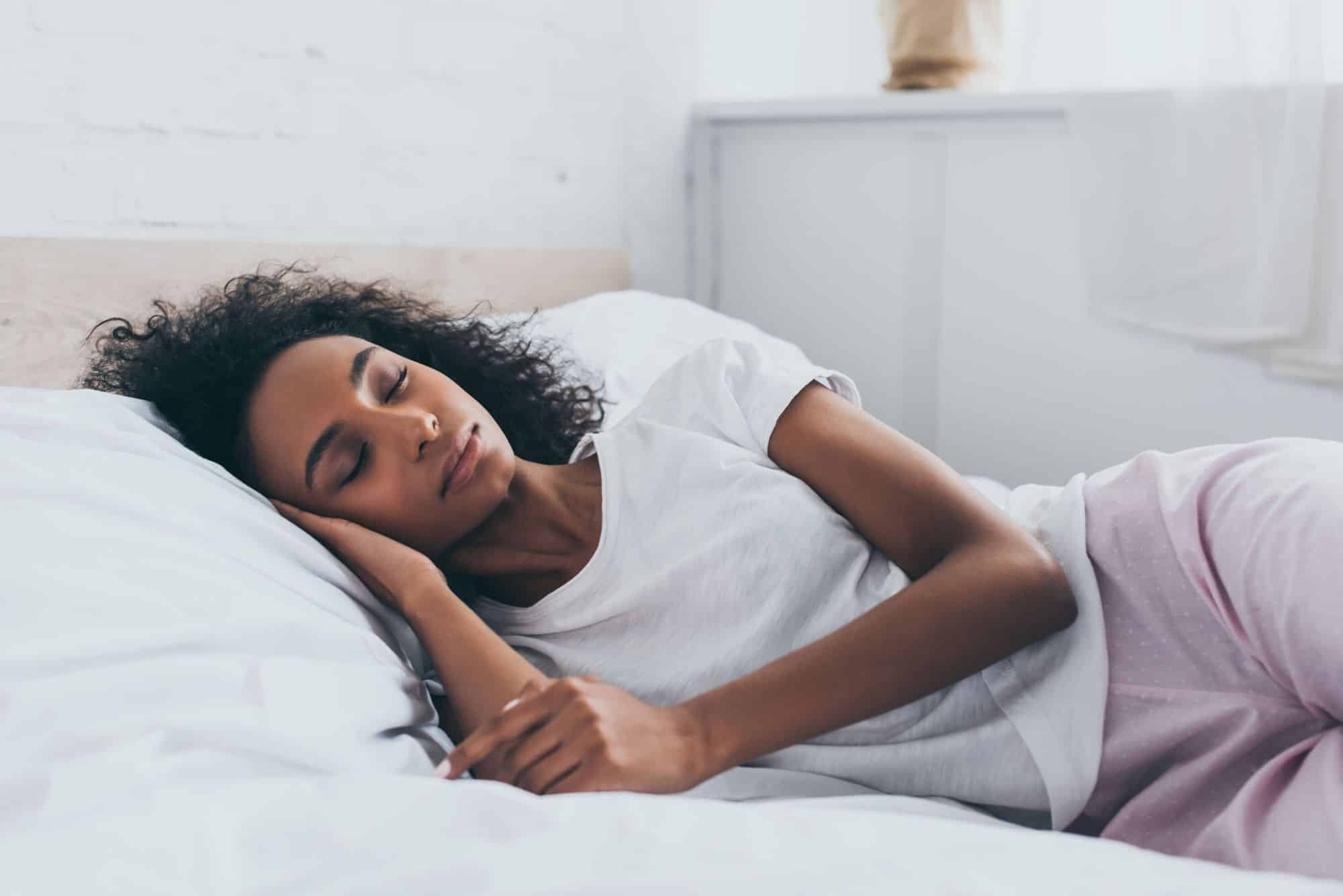 Proper spinal alignment is the most important thing when it comes to evaluating a pillow's performance. This is achieved through varying levels of support meant to cater to different body types. There are specific types of pillows for each sleeping position as well. Side sleepers often prefer a denser thicker pillow, stomach sleepers are more comfortable with softer pillows, and back sleepers fall somewhere in the middle.
Side sleepers require a bit more loft to support the space between the shoulder and neck areas while lying on their side. This prevents shoulder and neck pain. Back sleepers, on the other hand, require slightly less loft and support, and stomach sleepers even less than that to achieve proper spinal alignment.
Filling Material and Pressure Relief
The firmness of a pillow, often associated with support, is ultimately determined by the filling material. The filling also determines its ability to accurately relieve pressure and respond quickly as you change positions.
Many of the choices on this list are memory foam pillows. These pillows offer enhanced support, quick response time, and pressure relief. A memory foam pillow may not usually be known for staying cool but as you can tell from our list there are some successful methods companies are starting to employ to make sleeping on one more comfortable and cool overall. Leading companies in the sleep industry now use shredded memory foam and gel infusions to achieve a cooling effect.
Aside from memory foam pillows, our list also features products that use alternative foam options. Often very similar to memory foam but with slight differences, these pillows provide varying degrees of firmness and softness without sacrificing support. For example, latex foam may be slightly firmer, more bouncy, and faster to respond. However, it may not be the best option is you want a pillow that's more contouring or something that provides extra pressure relief. TEMPUR foam is extra soft, temperature neutral, has enhanced pressure relief, but is less supportive overall.
Lastly, we featured pillows with microdenier fibers and kapok fibers on our list. Both of these materials are designed to resemble or feel like down. Many users, especially combination sleepers, prefer the soft, plush, malleable nature of a down pillow. However, the allergens or method of sourcing the feathers and down can pose a problem for some consumers making a downlike substitute perfect.
In-Home Trial and Warranty Length
When purchasing a new pillow we always recommend paying attention to the in-home trial period and warranty length.
Not only can the in-home trial be reassuring when you make an online purchase. The sleep trial and warranty period can alert you to a company's confidence in its product since pillows can not be resold after a consumer sleeps on it. This means the company is willing to take a loss if for some reason you want a refund and that takes some serious confidence in the product's overall quality.
Attaching a warranty to a pillow can again signify the same confidence, but it also alerts you to a pillow's predicted lifespan and the level of durability you can expect. A longer warranty equals higher durability and better craftsmanship, and vice versa. Another factor contributing to durability is how easily a pillow can be cleaned. When dead skin cells and tiny dirt particles fall from your face and neck while you sleep, they accumulate inside your pillow. As time passes, this speeds up the deterioration of the material and compromises its integrity. This means a pillow that can be machine washed and dried should have an extended lifespan.
Affordability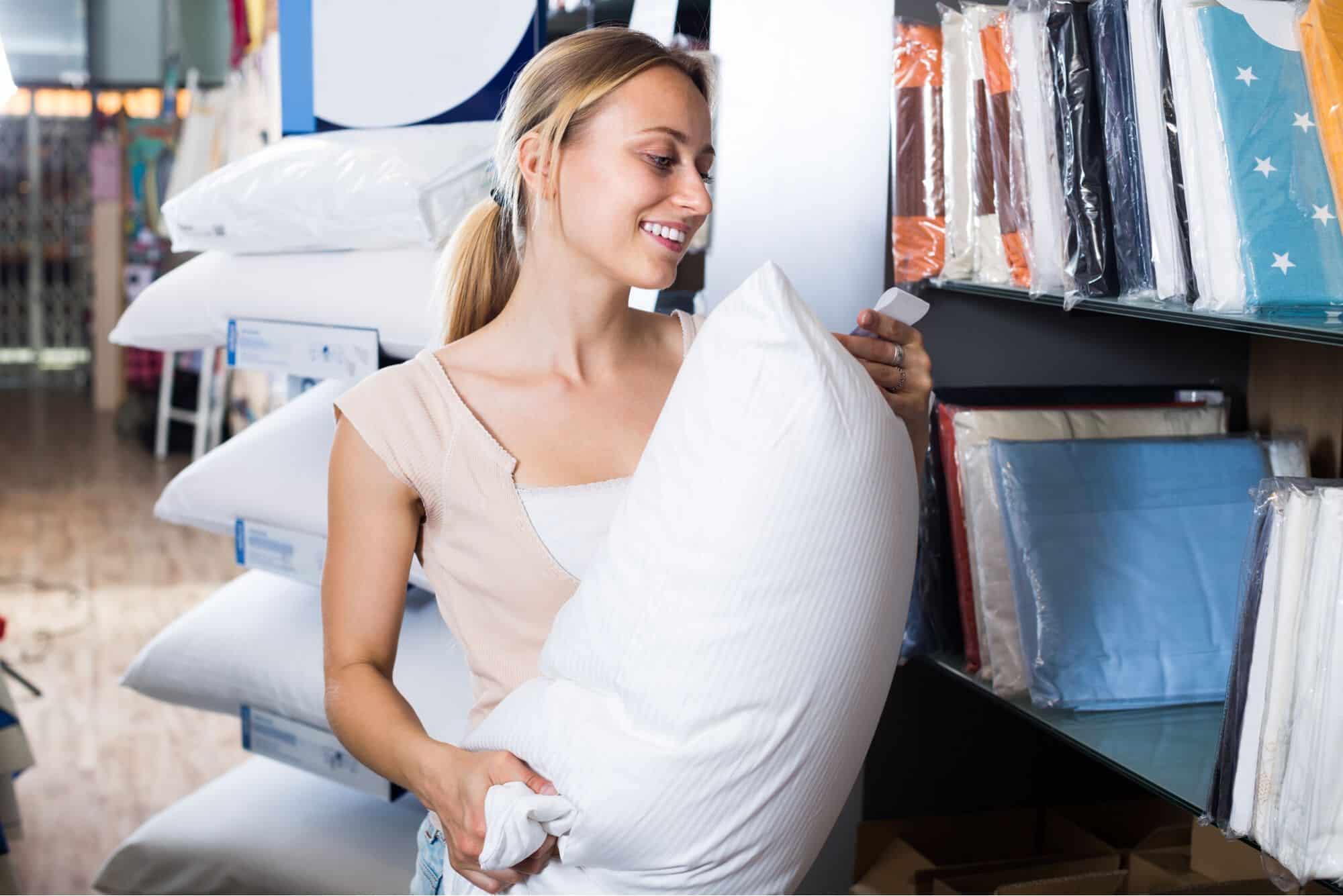 Affordability often plays a large role when it comes to choosing between two or several top-of-the range options. For this reason, we also included budget-friendly, mid-range, and high-end options on our list. However, we would like to remind you that you can't truly put a price on quality sleep and comfort so don't be afraid to spend a bit more than you originally anticipated on a pillow. After all, you will spend a third of your life in bed, you want it to be as restful and rejuvenating as possible. Also, a higher-end pillow will often be more durable and long-lasting.
Conclusion
While all the products featured in this guide are fantastic options, our favourite is the Saatva Pillow – our editor's choice. We think it is the best pillow for combination sleepers for the following reasons:
The microdenier fiber is super soft and forms a plush outer layer that is cloudlike in feel.
The Talalay latex core provides responsive support that reacts quickly when you shift positions.
It is machine washable and easy to maintain.
The combination of highly breathable materials effectively regulates temperature and helps prevent overheating.
You can expect luxury quality and long-lasting durability from a reputable company like Saatva.
Now that you know which traits are more valuable for combination sleepers in general, you should be able to choose a pillow that provides the best level of comfort and support. Rest easy!
Additional Resources