We may earn a small commission if you buy something via a link on this page. This doesn't impact our rankings or cost you extra. See
our advertising disclosure
for details.
Sleeping on your stomach isn't always the most comfortable for your neck and spine, especially if you don't have the right pillow. Stomach sleeping is the least recommended position because it often puts unnecessary pressure on your neck, spine, and shoulders, which can lead to residual stiffness and strain throughout the day. Fortunately, a lot of this discomfort can be avoided by sleeping with the right kind of support. The best pillow for stomach sleepers should be soft, supportive, and, most importantly – thin. Our list of the top 7 best pillows for tummy sleepers takes all of these traits into consideration and more. So, you can wake up pain-free every morning, even if you prefer sleeping on your stomach.
Top 7 Best Stomach Sleeper Pillows
Each of the pillows in this rundown stands out for different reasons, but they are all of high quality and perfectly suited for stomach sleeping. Review the options for yourself and determine which traits you value the most. This should help you to decide which of the following products will suit your needs best.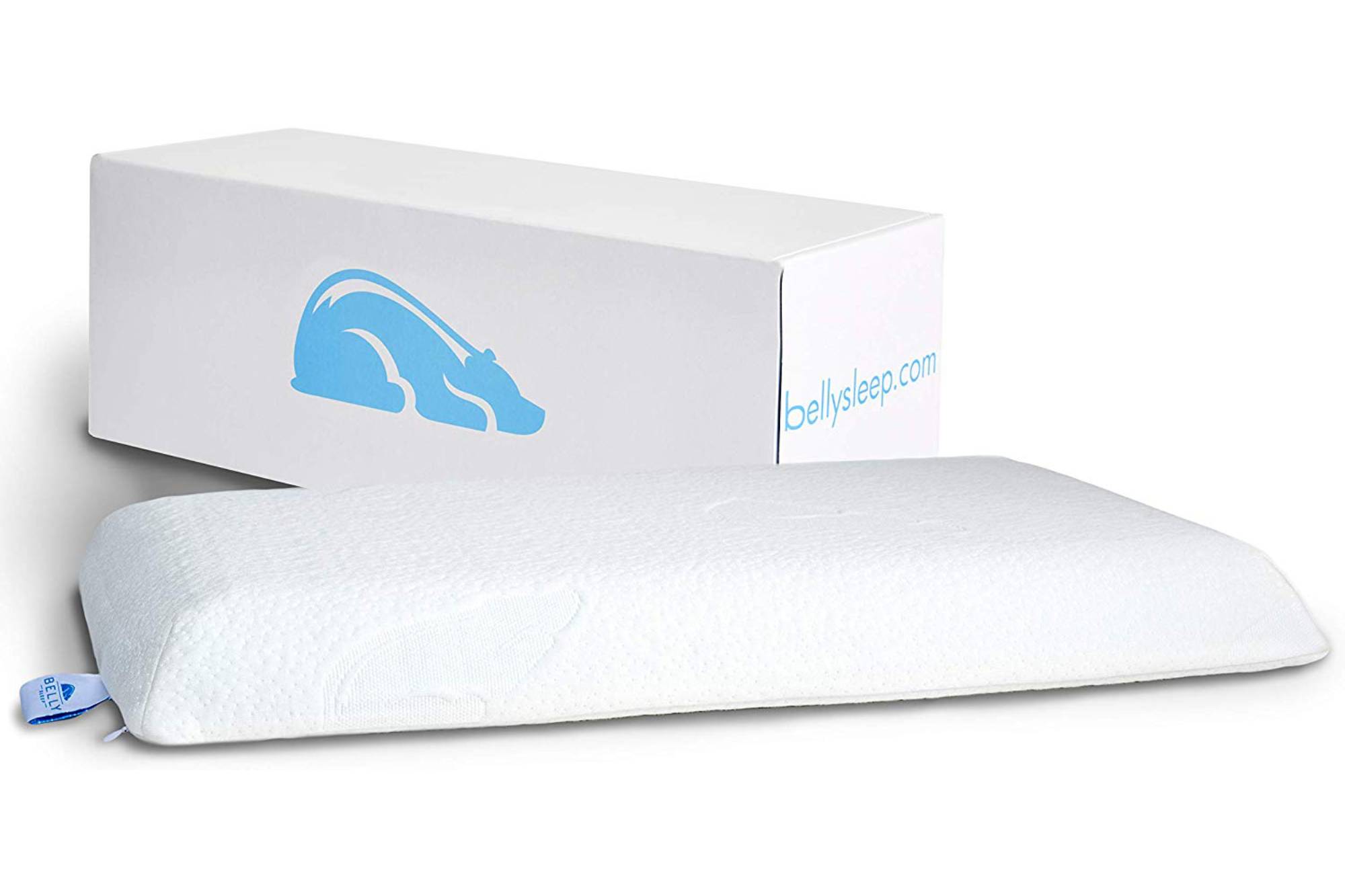 Overview:
Filling Material: Gel-infused memory foam
Pillow Height: 2.5 inches
Weight: 3.04 lbs.
In-home Trial Period: 30 nights
The Belly Sleep pillow is our Editor's Choice for the best pillow for stomach sleepers. The company, Belly Sleep, is dedicated to producing pillows and bedding specifically designed to protect your head and neck while sleeping on your stomach, and they do not disappoint.
Features
Chosen as our best memory foam pillow for stomach sleepers, the Belly Sleep pillow is well-loved for its slim yet supportive design. This pillow is comprised of a solid piece of ergonomically shaped memory foam. Extremely durable and able to retain shape, this memory foam offers support in the right places. Although the Belly Sleep feels firm at first, it softens and contours entirely to your natural shape after awhile.
The Belly Sleep is only 2.5 inches thick before compression, and when you lie down, it sinks to an even lower loft making it ideal for stomach sleeping. Furthermore, its ergonomic shape also helps to promote proper head, neck, and spinal alignment. For some, the efficient design and contouring may even reduce or eliminate snoring, which is a huge bonus.
Another reason why we love the Belly Sleep pillow is because of its superb temperature regulation. To combat heat retention which is usually associated with traditional memory foam, the Belly Sleep incorporates a gel infusion to absorb and disperse heat. In addition, the bamboo cover actively wicks away any moisture and is easily machine-washable. Hence, you can maintain a sanitary, healthy sleeping surface for years to come.
Pros:
Removable bamboo cover makes it easy to clean
Active contouring paired with ergonomic shape helps reduce snoring and promote proper spine alignment
Thin profile makes the Belly Sleep pillow ideal for stomach sleepers
Cooling gel-infusion helps prevent overheating while you sleep
Solid memory foam design is durable and long-lasting
Cons:
Off-gassing period may last longer than 24 hours
Only available in one size which is smaller as compared to a King-size mattress
Not pliable or suitable for side sleeping
Heavier than most pillows, not your ideal on-the-go sleeping companion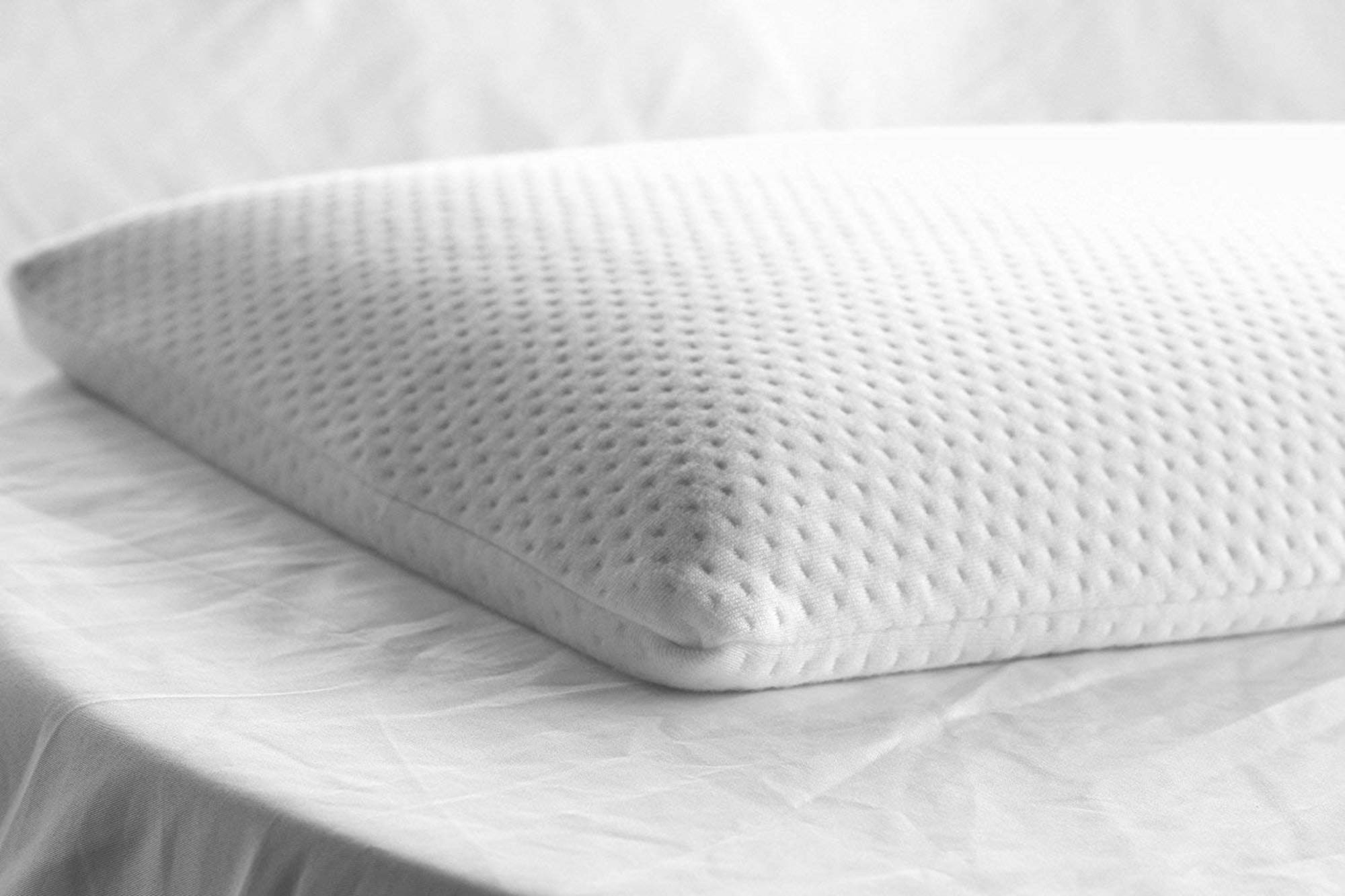 Overview:
Filling Material: Memory foam
Pillow Height: 2.5 inches
Weight: 1.95 lbs.
In-home Trial Period: 30 nights (in compliance with Amazon's policies)
Taking the second spot, the Elite Rest Ultra Slim pillow is considered as the best firm pillow for stomach sleepers in this rundown. We love this product for its durability and ability to feel soft and firm at the same time, thanks to its memory foam construction. This feature also lends this pillow its advanced pressure relief and support capabilities.
Features
The Elite Rest Ultra Slim is one of the best thin pillows for stomach sleepers because it is only 2.5 inches thick before compression, and the contouring takes effect during use. The thin profile makes it a great memory foam pad for relieving pressure on your neck while sleeping on your stomach. Crafted with a dual-sided design that comes with ergonomically rounded edges, this Elite Rest memory foam pillow helps maintain proper support, spinal alignment, and improve respiration while you sleep.
While the solid memory foam filling material does retain some minimal heat, the cotton cover is breathable and wicks away sweat to help regulate temperature during slumber. The cover is also removable and machine-washable so you can easily keep it clean and hygienic.
Pros:
The removable cotton cover makes the Elite Rest pillow easy to clean
A Dual-sided design suited to sleepers of any position or sleep preferences
The ultra-slim profile makes this pillow ideal for sleeping on your stomach
Superior support which promotes proper spine alignment
Affordable to almost every budget
Cons:
May retain some minimal heat
The firm design may not be soft enough for some preferences
Memory foam material requires a 24-hour off-gassing period
Not malleable or suitable for side sleepers
Only available in one size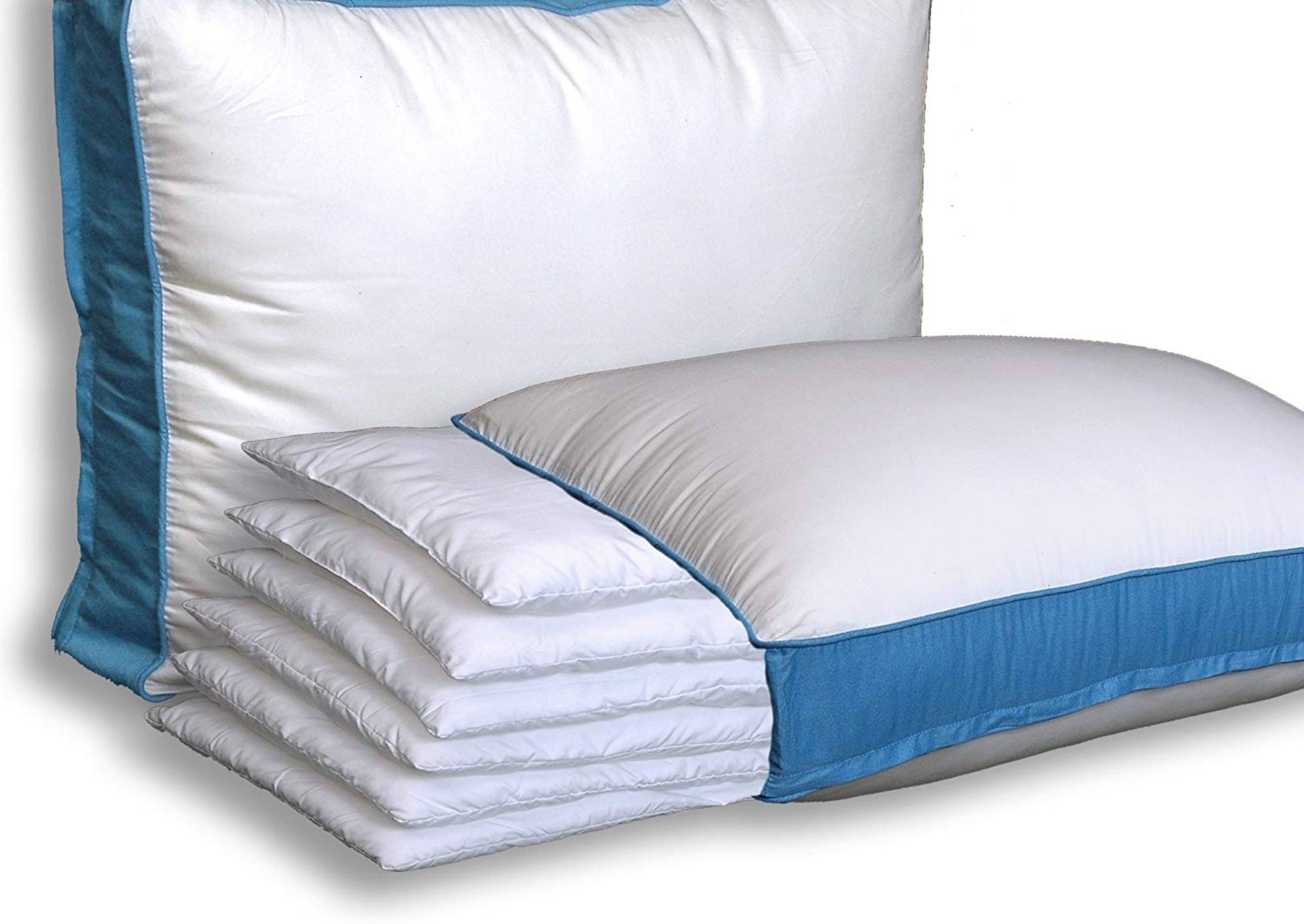 Overview:
Filling Material: Down alternative microfiber
Pillow Height: Adjustable loft
Weight: 6.06 lbs. at full height
In-home Trial Period: 30 nights (in compliance with Amazon's policies)
Coming down to our third spot is this must-have adjustable pillow from Pancake. Packed with down alternative microfiber filling, which is super fluffy, the Pancake Pillow is one of the best soft pillows for stomach sleepers.
Features
The down alternative is more durable than natural down, which makes this pad the best body pillow for stomach sleepers as well. The microfiber can sustain the additional weight and pressure of your entire body without breaking down rapidly. Moreover, it is malleable enough to use as support along your side. You can tuck it between your knees, too, without losing its shape.
The Pancake product comes with six thin pillow inserts, which allows you to adjust the pillow height to suit your specific thickness preference. These adjustable layers are a great way to support sleepers of any position – with only one pillow. A feature that makes this cushion excellent when you have guests to share it with. The ability to make this pillow quite thin by using only one or two inserts makes it a perfect front sleeper pillow. The Pancake provides sufficient neck and spine support without adding any unnecessary strain.
Down alternative is breathable and retains almost no heat. However, it doesn't have the cooling effect that other options offer. Paired with a cotton cover that wicks away sweat, you can still rest easy without overheating. Additionally, the case is machine-washable. Hence, you don't have to worry about your health and sanitation with this pillow, either.
Pros:
Customized loft ensures proper spinal alignment for stomach sleepers
The adjustable loft makes the Pancake Pillow excellent for every sleeping position with minor alterations
Available in multiple sizes
Soft feel provides heightened comfort and a malleable surface for varied use
Removable cover is easy to clean or machine-washable
Cons:
May not be affordable on a strict budget
Down alternative filling material is not as durable as natural down
Requires an off-gassing period
Customer reports of cover zipper malfunctioning
Minimal support makes the Pancake Pillow less than ideal if you prefer a firmer-feeling pillow
Overview:
Filling Material: Shredded memory foam
Pillow Height: Adjustable loft
Weight: 4 lbs. when maximum height (varies depending on the size of pillow purchased)
Warranty: 20 years
In-home Trial Period: 120 nights
Taking the fourth spot in this best pillow for stomach sleepers rundown, the Snuggle-Pedic Bamboo cushion makes an excellent memory foam choice. The Snuggle-Pedic Ultra-Luxury is composed of shredded memory foam, which can be reduced to achieve your preferred pillow height. Hence, you'll get the desired support for your sleeping position and prevent any neck pain every morning.
Features
Thanks to the shredded design of the memory foam, you can enjoy the luxury of a soft firmness that is supportive and contouring. You can easily mold the filling to obtain support exactly where you need it most without forcing your neck into an unnatural position as you lie on your stomach.
While shredded memory foam is not as durable as a solid piece, this pillow makes up by facilitating elevated airflow throughout the entire structure. Also, the bamboo cover helps to keep you cool all night by further promoting airflow and wicking away moisture.
Another added bonus of the Snuggle-Pedic is that the entire pillow can be machine-washed and dried. This helps to ensure that you have a clean bedding night after night. Furthermore, regular machine-washing aids in increasing foam fluffiness and in restoring its original form. With all of these amazing features, the Snuggle-Pedic is an exceptional stomach sleeper pillow option.
Pros:
Adjustable loft design best suited to tummy sleepers
Filling material is fully machine-washable ensuring a clean and hygienic sleeping surface for years to come
Impressive warranty and lengthy in-home trial period ensures long-lasting satisfaction
Available in three different pillow sizes
Shredded foam design paired with the breathable bamboo cover provides superb temperature regulation
Cons:
Does not retain shape as well as a solid piece of filling material
May require additional filling over time
Off-gassing period may exceed 24 hours
Customer reports of filling material clumping and forming lumps
May be too firm for some sleepers' preferences
Overview:
Filling Material: White duck down
Pillow Height: 4 inches/1.5-2 inches compressed
Weight: 1 lb.
In-home Trial Period: 30 nights
The DOWNLITE Extra Soft down pillow is our #5 pick for best pillows for stomach sleepers. Many stomach sleepers prefer a pillow made from down because of its highly malleable shape, which can be flattened or fluffed at a moment's notice to support any sleeping position.
Features
This down pillow comes with an adjustable loft that is great for aligning your head and neck, thus, preventing any associated pain and making this as one of the best pillows for stomach sleeping.
As is customary with down pillows, the DOWNLITE is exceptionally soft and fluffy. Moreover, this pillow can also be fully machine-washed and dried at home. Washing your pillow may even restore the original level of fluffiness, which is recommended if it becomes too flat.
Down is not only durable, but it also does not retain heat, another bonus for a stomach sleeper pillow since you tend to store more heat in this position. What's more, the DOWNLITE pillow is also hypoallergenic and deters dust mites.
Pros:
Extra soft down is easily molded to provide support precisely where you need it most
Thin profile promotes proper spinal alignment for stomach sleepers
Easily machine-washed and dried at home
Excellent temperature regulation to prevent overheating at night
Available in three different sizes
Cons:
Down shifts easily and may lose shape if you frequently change positions throughout the night
May require airing out for more than 24 hours to eliminate natural, musky down smell
Down may begin to leak out and become sharp over time
May not be supportive enough if you occasionally sleep on your side
Downs are not domestically sourced so it is uncertain if it is done humanely
Overview:
Filling Material: 15% goose down and 85% goose feathers
Pillow Height: 6 inches/3 inches compressed
Weight: Approximately 3 lbs.
In-home Trial Period: 30 nights
Coming down to our sixth spot is our best feather/ down combination choice for stomach sleeping from one of the well-respected brands – the East Coast Bedding. The feather filling mixed with down makes the East Coast Bedding slightly firmer than a traditional down pillow.
Features
The feathers from this product help to give the pad some additional loft, which does not flatten out as quickly as a down. Unfortunately, the feathers are not quite as durable as expected. However, given the lower price, it makes accepting the downside easier to a consumer. With an adjustable filling, this product makes a perfect stomach pillow that molds to the shape of your neck and back without adding undue pressure or causing pain due to lack of support.
The incorporation of feathers into the East Coast Bedding Down and Feather pillow also provides additional airflow throughout the entire structure, thus, minimizing the risk of overheating. What's more, the cotton cover and the whole pad is machine-washable.
As with most pillows containing feathers, it is not uncommon to experience feathers poking through the material over time. But as we mentioned above, the price point is exceptional, and it will not be a huge loss to replace them every couple of years. Nonetheless, if you add up its fantastic features, you'll still get one of the best stomach sleeper pillow options on the market today.
Pros:
At a very affordable price point
Available in 3 different sizes
Machine-washable at home
Responsible Down Standard Certification ensures the filling was obtained in a humanely way
Easily molded to fit the shape of your neck and head perfectly
Cons:
Feather and down leakage reported by consumers over time
Arrives with a pungent smell and requires airing out before use
May not be soft enough if you enjoy a typical down pillow
Reports of pillow flattening out overnight and requiring frequent fluffing to retain shape
Maybe too fluffy for smaller stomach sleepers
Overview:
Filling Material: 75% white goose down and 25% white goose feather
Pillow Height: 6.5 inches/3 inches compressed
Weight: 3.86 lbs.
In-home Trial Period: 30 nights
Finally, our last spot belongs to the pure down Luxury white goose down pillow. However, don't be fooled by its rank because it excels in some unique ways.
Features
First, Puredown is dedicated to being an environmentally sustainable company that contributes to society in a meaningful way. All of their down is Responsible Down Certified, so you know the filling was ethically and humanely sourced.
Second, unlike other companies who use harsh chemicals to sterilize their down filling, Puredown uses high-temperature disinfection. A process that leaves less chemical residue on the final product while also reducing allergens, which can be a health concern with natural down filling.
Third, the cotton cover, which helps to eliminate heat retention, is made to be extra thick. Thus, you do not have to worry about the down leaking or pricking you after extended use.
Lastly, the Puredown Luxury pillow also possesses the soft and malleable feel that makes a pillow excellent for stomach sleeping without sacrificing support or durability. With all these attributes and more, it's hard not to love a pillow such as Puredown's.
Pros:
Responsible Down Certified guarantees the filling was humanely sourced
Environmentally conscious company culture makes the Puredown pillow more sustainable
Excellent value paired with affordability
High-temperature disinfection sterilizes down and feathers without the use of chemicals while also eliminating any harsh odor
Easily molded to provide support and promote proper spinal alignment while sleeping on your stomach
Cons:
Cannot be washed at home, dry clean only
Maybe too flat for sleeping in positions other than your stomach
Filling material easily shifts throughout the night
May become thinner with extended use
Reports of inconsistent filling from pillow to pillow
How to Spot the Right Pillow for Stomach Sleepers
Buying the right pillow for stomach sleeping is not always easy. The following sections will explain how and why we came to choose the pillows on our top seven best pillows for stomach sleepers. Hence, you will reach an informed buying decision and pick the pillow that is perfectly suited for your specific sleep needs. What's more, you can avoid waking up with neck pain day after day, too.
What Makes a Pillow Perfect for Stomach Sleepers?
When it comes to choosing the right pillow for tummy sleeping, there are a few traits you should look for. Most importantly, you should opt for a thin pad that does not excessively turn your neck and cause unnecessary stress.
a. Thickness
The loft or thickness of a pillow for stomach sleepers is the most important thing you should search for when considering to purchase a new head cushion. If the item is too bulky, it can force your neck into an unnatural position, which often leads to neck and back discomfort in the morning. The right pillow for stomach sleepers should be really thin. Likewise, a low profile pillow will help keep your neck and shoulders aligned and will prevent health issues that arise from repeated misalignment. A pillow for stomach sleepers should only be thick enough to support your neck without forcing your head to angle up unnaturally.
b. Filling Material and Firmness
The filling material of a pillow determines its firmness. When searching for the best pillow for stomach sleepers with neck pain, it is vital to prioritize softness. Firm cushions that are considered hard should primarily be avoided because they force your head to rest at a higher level than best for stomach sleeping. A soft pad will allow your neck to rest gently on the surface without causing undue strain. This is why the majority of the pillows in our list are comprised of down, feathers, or shredded foam. They are all quite soft and malleable, so you can form the cushion to fit your unique posture and body shape.
c. Temperature Regulation
As with most bedding, temperature regulation is quite essential when it comes to preventing overheating while you sleep. This is particularly true for stomach sleepers because most of your body's front side is flat on the bed and pillow. Consequently, this causes your sleeping surface to naturally absorb more of your body heat, making it harder to stay cool.
Avoid overheating by choosing a pillow that regulates temperature exceptionally well. This will help you sleep better and longer without adding strain on your neck due to sweating and changing positions.
Is it Bad for You to Sleep on Your Stomach?
You may have read or heard someone say that sleeping on your stomach could be bad for you, but this isn't the case, here's why. Some stomach sleepers experience pain and discomfort in the morning because this position can often cause improper neck and spine alignment. For this reason, sleeping on your stomach is the least recommended position of all.
However, if you pay special attention to improving spinal alignment, sleeping on your stomach does not have to be a bad thing. Make sure you follow our instructions to avoid hard, thick pillows and use a super-thin, soft one that features temperature control, and you should be fine.
Where Do You Put a Pillow When Sleeping on Your Stomach?
Some stomach sleepers find it most comfortable to sleep without a pillow underneath their heads, particularly if they don't have a thin pad. However, the pillows on our list should help fix that problem. Other stomach sleepers prefer to place a pillow under their shoulders or abdomen to relieve pressure caused by your body weight. Lastly, some stomach sleepers find hugging a pillow with one arm or placing it under one bent knee enhances their stomach sleeping experience.
Whichever one of these positions you fall into is suitable as long as you are comfortable. Your comfort is the main priority when it comes to sleeping on your stomach, and everyone's body is different. Find what works for you and do it. Your body will let you know what feels best and what doesn't.
Are Down Pillows Good for Stomach Sleepers?
Most of us frequently change positions throughout the night and often find ourselves sleeping on our stomachs. According to some testimonies we've read, down pillows are the best for this type of sleeping behavior, though not all people would agree. A down pillow is better suited to tummy sleepers because of its easily molded filling, which can be flattened out or fluffed up to support your neck in any position. It will also adapt to your shifting positions throughout the night without any fuss.
Some people do not like down pillows for exactly the same reason that others appreciate it for – its changing shape. If you would prefer your pillow to be more consistent and not shift overnight, then you may want to consider one that's made from a different material. You can even choose, at least, one that incorporates the right amount of feathers to give it more structure. If you want your pillow to feel more firm, you may also consider a filling other than down.
In Conclusion
It is not uncommon for stomach sleepers to have trouble finding a pillow that will accommodate their specific preference. Especially, one that will leave them feeling supported and pain-free during the day, but it is not impossible. Each of the seven products on our list excels in meeting the necessities in tummy sleeping, particularly our best pillow for stomach sleepers.
The Belly Sleep Bamboo pillow – our Editor's Choice, is made from high-quality, durable memory foam that has been gel-infused to maximize cooling and to regulate temperature. It has a super low loft – 2.5 inches and is ergonomically shaped to perfectly support and cradle your head and neck while lying on your stomach, without being too firm. Moreover, it has a breathable bamboo cover that can be removed easily and machine-washed to maintain cleanliness and increase its lifespan.
Now that you have read our reviews, we hope you feel confident in choosing which pillow will best suit your specific needs as a stomach sleeper, even if it isn't our top choice. The perfect pillow can go a long way when it comes to increasing your level of comfort while you sleep, so don't be afraid to invest a little. Buy a new pillow, and you could find yourself sleeping better as soon as tonight!
Additional Resources