We may earn a small commission if you buy something via a link on this page. This doesn't impact our rankings or cost you extra. See
our advertising disclosure
for details.
Thinking of what bed to buy for the room? It is difficult to decide as there are many choices available. But why not give bunk beds a chance?
A bed that is a space saver is king and here come bunk beds. Compared to conventional beds, it can accommodate 2 or more persons depending on the type of bunk bed you are using. The different types of bunk beds include Twin over Twin, Singular, Twin over Full, L-shaped, and many more. The conventional type is made from steel but the new ones can be made from wood. Bunk beds are common in the children';s room, in a studio-type apartment and condominiums, as well as dorms and hostels.
Before you get overwhelmed with what this bunk bed is all about, read on as we describe 10 of the most sought twin over full bunk beds in town. One of them for sure will be best for you.
10 Best Twin Over Full Bunk Bed Reviews
1. DHP Twin-Over-Full Bunk Bed
If it';s for our kids, then it must be safe to use. DHP bunk bed considers that when they included heavy guardrails at the top bed of their twin over full bunk bed. Apart from the guardrails, the sturdy metal frame finish is an added protection.
DHP is confident that they can carry people on the heavy side because with a measurement of 78'' W x 56.5'' D x 61.5'' H, the top bed can accommodate as much as 200 lbs. while the bottom bed can accommodate up to 400 lbs.
What';s outstanding in this bunk bed is the straight positioning of its two ladders on both sides. Unlike the usual slanting position, the ladders did not eat much space. This will also make it easy for you to position the bed in any corner without worrying on a slanting ladder.
Pros
Sturdy bed and is not too squeaky even if there is frequent movement
The guard rails on the upper bed are big enough to protect small kids from falling
Easy to assemble as it comes with complete instructions in the packaging
The white color is great especially if you want to add more paint designs
Cons
You need to consider the position of the ladder when positioning the bed to your space
There are inclusions indicated in the instructions but are missing in the packaging
Some holes like the ladder holes were uneven
Verdict
What makes this bunk bed recommendable is the sturdy and protective guardrails at the top bed. The price is also light to the pocket. The only concern is you need to check if all inclusions are there in the delivery. For some, it took time before they were able to assemble.
---
2. Dorel Living Brady Twin Over Full Solid Wood Kid's Bunk Bed
Dorel Living Brady is a dainty-looking bed that is made from pine wood. The upper bed';s high guardrails are what you will notice the most. Toddlers will fit into the top bed without you worrying that much.
The dimension is 69.5 x 79.25 x 64.75 in. The space between the upper and bottom bed is about 36 inches. When assembled, the height is about 5 ½ feet. Upper and bottom beds can support weight as much as 165 lbs. only hence, accommodating an extra person is not recommended.
You can purchase mattress separately and only coil mattress should be used. The height of the mattress should be 6 inches for both beds. The ladder is positioned on one side of the bed in a slanting set-up.
Pros
The whole bunk bed is fully geared with screws to ensure maximum support
The bunk bed can be set up to two separate beds
Easy to assemble, can finish in 1.5 hours
No squeaky sounds as it is made from wood
Cons
The skin peels off easily which is very common because of the kids using it
The ladder position is not a space saver
Since this is for kids, it is better if there is also a guard rail at the bottom bed
Verdict
Kids will like this bunk bed more than adults. And since it can accommodate up to 165 lbs. only, a heavyweight won';t fit in. There is a tendency for the skin of the wood to peel off after months of using so you be ready to paint it again. Affordable yet would need repairs after a few months which will entail additional cost from you. You need to remind the kids to take care of their bed so you won';t need to repair any after few months of use.
---
3. Storkcraft Caribou Solid Hardwood Twin Bunk Bed
Worry no more if the kids love to jump, toss, and turn into their bunk beds. You will also love the headboard and footboard of this is a twin on twin kid';s bunk bed. The promise of being sturdy is never a problem because the structure is made from rubberwood compared to the usual pine wood which is a bit softer than rubberwood. Adding to the promise of a sturdy structure is heavily screwed. This gives the whole bed maximum support.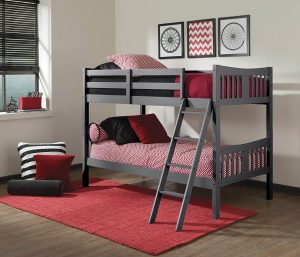 The dimension of the bed is 80.25 x 13.37 x 6.5 in. The height from top to bottom bed is about 58 inches. There';s no need to purchase box springs as it will eat up space for the mattress, and besides, it has a slatted base already. The bed can accommodate a maximum weight of 225 lbs. per bed with mattress'; weight included.
Pros
Made from rubberwood which is a special standard for wood bunk bed
Can be assembled to 2 separate beds
Very easy to assemble around 2 hours, with clear instructions included
The space under the bottom bed is big for additional storage
Cons
Some parts are not labeled making it difficult to assemble if not understood well
Some of the screws are not compatible with the holes, there';s a need to drill the holes more
There were cases of damaging the bed while in transit. So you need to remind the supplier to avoid returns
Verdict
The sleek style is an attraction to the kids. However, it is better if the ladder is not in a slanting position to have more space.
---
4. Furniture of America Concord Bunk Bed
If you want a classy looking bunk bed, then you';ve got to choose this one. The espresso color gives an antique feel too. This kind of look is made possible by the material where it';s made from, a combination of solid wood, wood veneer, and plywood.
The bed is made in China with a dimension of the bed is 48 x 40 x 81 inches. The space between the top and bottom bed is 33 inches which will allow the person at the bottom to comfortably sit or stand up without hurting its head.
The bed can accommodate a 150 lb.-individual at the top bed and a not exceeding to 185 lb.-person at the bottom. The bed has a slatted base. The whole bed is fixed with screws that made it sturdier. Another distinct characteristic is having a slat style headboard and footboard. You can use any mattress that is 6 inches in maximum thickness.
Pros
With insert lock joint set-up to ensure durability when assembled
Easy to assemble because of the fine finish making the bolts and screws easy to position
Comes with a 30-day hassle-free replacement of parts if needed
Can be assembled into 2 separate beds
Cons
The ladder doesn';t support adult weight
Many reviews say that the delivery is very slow, so consider that in your order
Small space only under the bottom bed means you cannot store an additional bed
Verdict
If you have an old-style bedroom theme that has an antique feel, this bunk bed is the best choice. There';s nothing to worry on how to clean the surface as it can be done with just a damp cloth.
---
5. Zinus Hani Easy Assembly Quick Lock Metal Bunk Bed
Looks like the usual bunk bed made from steel. Nothing special that will make it stand from the rest. Yet, the simplicity in the design and style will make it a good choice. And because of the simple design, assembling this bed will only take you 1 hour.
The bed';s dimension is 77.1 x 54.7 x 60.8 inches. The space between the top and bottom bed is about 40 inches. The top bunk can accommodate a maximum of 175 lbs., same with the bottom bunk. The structure is made from fine steel and there';s not much of bolts and screws padding the parts.
The top bunk has guard rails so children could fit in. However, only those over 6 years old are allowed on the top bunk. You need to buy the mattress which could be any form but should only 6 inches in thickness.
Pros
Easy to assemble (within an hour) with quick-lock joint set-up
Comes in 5 years worry-free warranty
No squeaky sound because of sturdy bolts and screws
The guardrails are high enough for the safety of the toddlers
Cons
The ladder has about 1-foot slant that eats up space
The steel bars look flimsy
Small space under the bottom bunk
Verdict
If you are looking for long term with utmost durability, find another one. The structure looks weak as if the steel bars will bend after using for some time. There are not many guardrails only on top bunk hence, not that recommended for toddlers. This is a nice catch for dorms and hostels.
---
6. Bedz King Stairway Bunk Beds Twin over Full
Unique and sleek are the two perfect words to describe this bed. A not so conventional bunk bed as others say. Made from Solid Brazilian Pine. The design is compartmentalized. It has drawers attached to the bed and the stairs allowing things to be stored inside. The drawers can serve as storage for pillows and bedsheets.
The dimension of the bed is 103.2 x 59 x 69.5 inches. The space between the bottom and top bed is about 38 inches. The weight it can carry is no more than 175 lbs. for the top bed and no more than 200 lbs. for the bottom bed.
The bed comes with a staircase that is also compartmentalized. It is spacious and will be easy for kids to climb to the top bed. You can use 6 inch-mattress for this.
Pros
Sturdy and good looking design, as if an antique collection
Safe for the kids because of the guardrails, staircase, and there';s a sort of door opening to enter the top bunk, without the need to step on the guardrails
The drawers are a real space saver. You can organize a closet under the bottom bed and in the staircase
Headboard and footboard are big enough for the safety of the kids
Cons
Presence of foul wooden smell
Kind of difficult to assemble will require help from people
Some of the tools needed to assemble are missing in the package
Verdict
The design will attest that this bunk bed is a real space saver. It is kid-friendly because of the wide staircase instead of a ladder. You just need to be ready to take off the smell as most of the reviews say they had a difficult time with that.
---
7. Discovery World Furniture Twin Over Full Loft Bed
A design that is like no other is what makes this bed outstanding. The bunks are positioned in a horizontal over vertical set-up and this is what made the bed unique.
Made from solid pine in rich merlot lacquer color. The dimension is 64″ high x 80″ long x 80″ deep. The space between the bottom and top bed is about 31 inches. To be safe, both the top and bottom can accommodate a weight of 200 lbs. (each bed).
The bunk bed is accompanied by 6 small door-drawers and 4 bookshelves that is positioned as one big drawer at the side of the bed. Aligned to it is the removable ladder. The top bed has bottom and side guardrails. The bottom bed has casters that you can easily remove when changing sheets.
Pros
Drawers and bookshelves attached to the loft which makes it compact and a real space saver
The bottom bed that has casters for easy pulling
Position of the ladder doesn';t occupy much space
Beds can be positioned separately. The top bed can stand alone without the bottom bed.
Cons
The drawers look flimsy
Needs additional support for the top bed because it is split into two sections
Slats are metal instead of wood
Verdict
While this can fit into your kids'; room, this is the best fit for your dorm and hostels because of its space saver property. For an added style, the bottom bed can be replaced with a table and chair to be a study area instead.
---
8. Max & Lily Solid Wood Twin over Full Bunk Bed
A bed that is fully geared which is a good design for the kids. The solid wood structure and its white color make it dainty and sturdy. The dimension is 80 x 60 x 65 in and can accommodate a weight of 400 lbs. each bed. The guardrails of the top bed are notable for its 14'' height. This means that you can add a thick mattress into it. The slats are made from solid pine with metal support.
The bottom bed has headboard and footboard but without guardrails. The two bed can be assembled as separate beds too. The ladder is positioned appropriately not consuming too much space. The ladder is very kid-friendly because of the holes at the sides for the kids to grip and the steps have edges ensuring that the kids won';t slip. You can also put trundle under the bottom bed.
Pros
Kid-friendly because of its water-based finishes
Can add drawers or trundle under the bottom bed
Fully geared with bolts and screws to ensure durability
The ladder is also sturdy and has multiple steps for easy climbing
Cons
The chemical smell upon opening from the box
Screws are losing and the slats are not sturdy
The footboard is not made from solid wood
Verdict
This bunk bed has good functionalities as it allows the addition of drawer or trundle at the bottom. The ladder is also an eye-catcher as it protects every child climbing. This is kid-friendly. If there is no chemical smell, this is highly recommended. The white finish makes it attractive and can coordinate with any room color.
---
9. Your Zone premium twin-over-full bunk bed
This is just a plain twin over full bunk bed made from solid steel and black. The dimension is 78 L x 57 W x 63 H. The space between the floor and bottom bed is around 18 inches while the space between the bottom and upper bed is around 38 inches. It can accommodate a weight of 250 lbs. in the upper bed and 450 lbs. in the lower bed. The upper bed is guarded with sturdy rails for added protection in case a kid is on it.
The ladder is positioned slanting and already attached to the upper and lower bed. The beds cannot be separated. The bed has metal slats with center support. You can position a 6 inch-mattress.
Pros
Have a simple design and very easy to assemble
Most of the reviews say it has a sturdy structure
Perfect bed for low rise ceiling room
The paint job is perfect without blemishes or any imperfection
Cons
The ladder cannot be moved and is already attached to the bed
The two beds cannot be separated just like the other bunk beds
Little space between the bottom bed and the floor thus trundle is not a good idea
Verdict
This is a simple, affordable, and sturdy bed recommended for kids. More so, this will be perfect for dorms and hostels because of its plain and simple structure. You just need to carefully consider where to position it inside the room since the ladder';s position cannot be adjusted. This is easy to clean because of the steel shiny finish.
---
10. DONCO Bunk Bed Full over Full Trundle
If you';re into great sleepover experience, this bunk bed is best for you. Why? Because of the roll-out trundle add on.
Let';s start with the upper bed that is guarded with rails for safety. The ladder is vertically attached to the upper and lower bed. The lower bed comes with headboard and footboard. The bed is also slatted with support.
The dimension of the bed is 62″ high x 78.5″ long x 59″ wide. The space between the floor and bottom bed is 11 inches while the space between the bottom and upper bed is around 30 inches.
A 6 inches mattress is perfect. Do not use 8 inches or more as it may cover the guardrails. The bed can be separated and positioned side to side. There is no mention of its weight capacity, 200 lbs. will do just to be safe.
Pros
Can accommodate 5-6 people because it';s full-on full and is very sturdy
The ladder doesn';t eat much space because of its straight vertical position
Comes with a twin trundle
The guardrails, headboard, and footboard are added safety
Cons
Will take time to assemble because the whole structure is big
A tendency for the wheels of the trundle to scrape your floor
The height is too short for an adult to sit down at the bottom bed
Verdict
This bunk bed is great for sleepovers because of the ready trundle. The bed looks sturdy too because of the rails and boards. You just need to consider the height of the ones using this before purchasing. They might not be able to sit on the bottom bed due to small space.
---
Advantages and Uses of Twin over Full Bunk Beds
Still unconvinced to by a twin over full bunk bed? This list of advantages will give you some push. There is surely one that will make you decide to buy one.
A twin over full bunk bed is a savior when you';re trying to maximize your little space. Say you only have a few square meters for a room but you have 3 or 4 kids to accommodate. This twin over full bunk bed will accommodate 1 kid at the top, 2 kids at the bottom and another one at the trundle. When not in use, you can free up some space as you roll the trundle under the bottom bed.
Twin over full bunk beds have guard rails and some have headboard and footboard. Some beds have padded soft cushion at the corners that keep them away from any pointed part. These structures add to the safety of the one using the bed. This is also the reason why bunk bed is the bed of choice for kids. They can climb up and down without you worrying that they will slip. They can jump, toss, and roll without you worrying that they will fall.
No Need for Dresser/Closet:
Some of these twin over full bunk beds have attached drawers. Instead of a ladder, a stair in a form of drawers is attached beside the bed. With this, you wouldn';t need to buy a dresser or closet to store your things. There are also those beds with trundle drawers where you can place your blankets and bedsheets. This kind of twin over full bunk bed is also great for dormitories.
Privacy for Shared Rooms:
The conventional bed will position you side by side with your roommate. Unless there is a divider or curtain, you wouldn';t have privacy. Both of you can see what you are doing, can hear if you';re talking to someone over the phone, can see your nasty sleeping positions, and the likes. With twin over full bunk beds, you have a sense of privacy since one is on top one is below.
Some twin over full bunk beds have beds that can be separated. Should you wish to renovate the room, you need not buy new beds for them. Instead, just separate it into two beds and position side to side. And the next time you want to renovate again, you can go back positioning it like a bunk bed.
If not for twin over full bunk beds, you are to buy 3-4 separate beds. That costs a lot. Bunk beds save you more than 50% of the expenses compared to buying separate beds. You save not only in the cost of the beds but also savings from the delivery fees as well as labor fees if there are installations needed.
Most of these twin over full bunk beds are in a kid';s bedroom. Having such will allow your kids to create happy memories. They can play with their siblings, have pillow fights or read bedtime stories. They can explore things on their own because they are in a separate room. Having their bunk beds on a separate room also teaches them how to be independent. They make their bed, they change their clothes on their own, etc.
What to Consider When Purchasing a Twin over Full Bunk Bed
Before buying your new twin over a full bunk bed, take a look of the following considerations. One of two of these might be something you need to contemplate on. Of course, you wouldn';t want to waste anything just because you bought one and did not consider these. Or, you wouldn';t want to just settle for less and just accept the pains of using a bunk bed because you forgot to consider these things.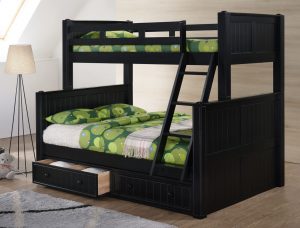 Not because it is expensive, it is durable, or safe, or something good to use. Note that most of the time, the brand comes with a price. When you spend much for your twin over a full bunk bed, make sure that the cost covered for everything. The structure is sturdy, safe to use, easy to assemble, no complications, eye-catching design, and many more. Do not just buy and spend much because of the brand.
Even if it is categorized as twin over a full bunk bed, sizes vary depending on the structure and the brand. So before buying one, make sure it will fit the room where it will be placed. You also need to check the height of the ceiling. This is the most common mistake of those buying bunk beds, they forget to check the ceiling height; they often end up not being able to use the top bed because it almost touches the ceiling.
Some of these twin over full bunk beds are made from steel or metal, some are made from wood. It now depends on your preference. Your decision, of course, should match the style or theme of the room. Sometimes, budget; because steel-made bunk beds are cheaper than wood-based.
If you will place the twin over full bunk bed inside a kid';s room, it is best to choose those in kid-friendly theme. These usually have bright colors, kid-friendly designs, and the add on structures are attractive to the kids too. If the bunk bed is for dorms or hostels, then you can choose a simpler or plain design.
What';s good to note is those manufacturing these bunk beds have various designs to offer. So you need not shift from one brand to another just to get your preferred designs.
Almost all bunk beds don';t include mattresses. Once you spotted your preferred twin over a full bunk bed, look for the perfect mattress first. Most of the sellers sell this separately. But you can buy a mattress from trusted mattress sellers. For sure they have something that will fit into your preferred twin over full bunk bed.
This thing should be on top priority when buying your bunk bed; especially if the bed is for your kids. Check on the safety of the structure. Check if the paint used is good for the kids to inhale. Check if the bolts and screws will not scratch your kid';s skin. Check everything. Read some reviews about it, it helps.
Frequently Asked Questions
Aside from knowing the advantages and uses, as well as the buying guide for these twin over full bunk beds, it is crucial to read on some FAQs that can help you decide. Here are some of them.
What is the weight limit per bed?
The weight limit is crucial. This question is most asked among the product reviews you will read. Even if everybody claims that they have the sturdiest bed in town, there is a weight limit. And you need to follow the weight limit if you want your bunk bed to last for years. A typical bunk bed can carry 200 lbs. some go beyond and some cannot carry that weight.
What';s the measurement of the space between the bottom bed and top bed?
The bottom bed, of course, is not only for someone who will just lye all the time. That';s why a good space that will make a sitting position comfortable should be considered. Unfortunately, some beds have too little space in between. You need to ensure that in-between space will not be a problem especially if you have adults at the bottom.
How and where to get replacement parts if needed?
Do not be victims of those manufacturers that do not provide details on where or how to get replacements parts. Better if you include them in the initial order so you will have spare ready. We cannot avoid damage to happen. It will happen sooner or later whether we like it or not. Make sure you know what to do otherwise, you';re just putting your money to waste.
Can the beds be separated and positioned side to side?
Bunk beds these days can be separated already. This holds mostly to beds made from wood. What';s good about this is should you want a change in style in the bedroom, your bunk beds will be part of the transformation.
Conclusion
Twin over full bunks bed is a great choice if you';re into minimalist living. You save space, save cost, and save your energy by just maintaining one bed instead of multiple beds. With all the products reviewed in this article, it';s now time to make your choice which bunk bed will suit you. Just make sure you';ve contemplated on all the things to consider before making your choice.