We may earn a small commission if you buy something via a link on this page. This doesn't impact our rankings or cost you extra. See
our advertising disclosure
for details.
Those with robust sex lives know the perils of average bed frames. A lack of resistance from the bed that undermines the effectiveness of certain positions, the very real possibility of the frame collapsing during a particularly expressive session of mutual admiration and the noise. Oh the noise. Like squeaky Morse code telegraphing your activities to the downstairs neighbors, the upstairs neighbors, the next door neighbors and, of course, the kids.
The best way to ensure your sexcapades don';t fizzle, flop or force everyone within earshot to sleep with their pillows over their heads is to pick up the sturdiest bed frame you can find. There are plenty out there. And we';ve sifted through them to find the best for you. Below are the 10 best bed frames for sexually active couples.
10 Best Selling Bed Frame For Sex Comparison Chart
Top 10 Best Bed Frame For Sex Reviews
The Olee Sleep 14 Inch bed frame is as simple and strong as bed frames get. There are no accessories here. No design flourishes meant to pretty things up. Just a tough as nails, strong as iron bed frame that provides 9 big, strong points of contact with the floor that enable you to follow your heart';s desire with quiet confidence. This best sex bed frame also provides a generous 14 inches of storage space underneath and is easily assembled by one adult.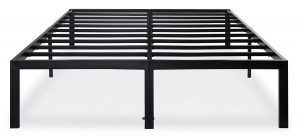 If you';re looking for a queen sized bed frame that';s going to provide a secure platform for your nocturnal adventures but don';t want it to clash with the rest of your decor there';s an Olee Sleep Heavy Duty Support Bed Frame with your name on it. The Olee is also one of the few steel platforms that actually provides a rim that prevents your mattress from sliding off.
Key Features
Safety lip to keep mattress on the frame.
Minimalist design.
9 points of contact with the floor.
5 year limited manufacturer';s warranty.
Specifications
Dimensions: 81.5 x 61.5 x 14 inches
Materials: Steel
Weight: 47.8 pounds
Pros
Extremely stable.
Can be assembled in about half an hour.
Can, in theory, hold up to 1,200 pounds.
Safety lip keeps your mattress on the frame.
The Zinus Gerard bed frame is a great choice for sexually active people because it is strong, silent, and includes some extra padding throughout the design. Padded, rich espresso-colored faux-leather lines the headboard and the edges of the bed frame. This can be beneficial when it comes to more rambunctious sexual activity. Simply elegant, it is available in a range of different sizes to suit your room. It also features sturdy and supportive wooden slats that can hold up to 500 pounds of weight, except for the Twin size which can only hold up to 250 pounds.
The wood slats are supported by a steel frame interior that has nine points of contact with the floor. Combined, the slats and the frame provide superior horizontal and vertical support. The Zinus Gerard requires two people for assembly. However, all of the tools and equipment needed are included and it should be fairly easy to accomplish. Once constructed, this ultra-quiet bed frame gives you 9.8 inches of clearance space below the platform which is more than enough for storage.
Key Features
No need for a box spring.
Noise-free.
5-year limited warranty.
Specifications
Dimensions: 80 x 60 x 46.7 inches
Materials: Steel, foam, faux leather, and wood
Weight: 89.9 pounds
Pros
Stable and supportive.
Padded headboard and sides
Available in multiple sizes.
Elegant shade and design.
All necessary parts and tools for assembly are provided.
Cons
Heavier than most options on our list.
With the SmartBase Mattress Foundation from Zinus there';s no need for a box spring. Your memory foam or regular spring mattress is instead placed directly onto the steel Zinus frame. Rather than having just the ordinary 4 points of contact at the corners like most bed frames the Zinus contacts the floor in 12 different places. This lends outstanding stability to the mattress and ensures the center doesn';t sag as a result of vigorous activity.
The Zinus also allows you to keep your private business your business as it';s not going to squeal and squeak like many cheap, insubstantial bed frames will. In addition to incomparable stability and quiet the Zinus also provides 13 inches of space under the frame for storage. And you can rest assured anything stored there will be safe and sound. With all this going for it along with a 5 year limited warranty it';s no wonder why the Zinus heads our list.
Key Features
12 points of contact with the floor.
Assembles in minutes with no tools.
Eliminates the need for a box spring.
13 vertical inches of storage space underneath.
Specifications
Dimensions: 60 x 80 x 14 inches
Frame material: Wrought and cast iron
Weight: 35 pounds
Pros
Provides rock-solid contact with the floor at multiple points.
Will stand up to your most vigorous activity.
Lots of secure storage under the bed frame.
Cons
You might want to make sure all connections are properly tightened.
Pinnacle Home Furnishings has created an attractive, modern steel bed frame for those who need above average support either because they';re above average weight or because they engage in above average sexual activity or both. While you won';t see most of the Manhattan'' queen bed frame once you install your mattress on top of it you';ll feel the difference the Manhattan provides the minute you first lay down.
Fashioned from steel, wood and faux leather the Manhattan is a low-riding, handsome bed frame that';s more than just a launching pad for amorous adventures. It provides the kind of firm, minimally forgiving support that is great for your back. You may need a bit of help putting it all together, and don';t forget to make sure all connections are properly secured to stave off squeaking.
Key Features
Minimalist design.
Low profile.
Padded headboard.
No need for box spring.
Specifications
Dimensions: 65 x 26.8 x 4.2 inches
Materials: Steel, wood and faux leather
Weight: 67.6 pounds
Pros
One of the better looking metal bed frames out there.
Convex wooden slats negate the need for a box spring.
The padded headboard prevents those Ow!'' moments.
Cons
May be too low to the ground for some folks.
Zinus makes another appearance on our list of the best bed frame for sexually active couples with their 2000H Metal Bed Frame. This one is a step up in style from the foldable metal frame we profiled above. It';s also a significant step up in weight and much lower to the ground. That';s not a negative, just a point where the two models diverge in a design sense. Overall the 2000H cuts an airy, modern profile, provides robust support at the center that will handle your most enthusiastic performances and sports a minimalist headboard.
The black metal frame has considerable heft to it and eliminates the need for a box spring. The steel center support is big and bold and is not messing around. It makes the center of your bed every bit as sturdy and stable as the perimeter. Because the bed rides low and you won';t need a box spring you can expect to be closer to the floor than you might be used to. But that';s a small price to pay for the quiet security you';ll enjoy.
Key Features
5 points of contact.
Tubular metal frame design.
Easy to assemble.
Specifications
Dimensions: 80 x 60 x 36 inches
Materials: Steel and wood
Weight: 92 pounds
Pros
Say goodbye to your saggy mattress.
Quiet as a dormouse regardless of your activity level.
Can be assembled by one person in half an hour.
5 year warranty
This Simple Houseware Queen Size Mattress Platform is light for a steel bed frame and folds up nicely so you can store it away any time you wish. It provides 12 points of contact with the floor that prevent sagging and ensure every part of the bed can handle whatever the two of you care to dish out. When it comes to the best bed frame for sex we want to see plenty of centralized support and you sure get it here.
The Simple Houseware bed frame provides lots of storage area underneath and is remarkably lightweight considering how strong it is. There';s also no need for a box spring and the frame is rated to 500 pounds, which means it should be plenty sturdy and stable for the average couple. This mattress platform sets up in minutes and does not require any special tools to assemble.
Key Features
Generous under-bed storage.
1 person assembly.
Rated to 500 pounds.
Accommodates any queen sized mattress.
Specifications
Dimensions: 60 x 80 x 14 inches
Materials: Steel
Weight: 34.9 pounds
Pros
Easy for one person to set up or take down.
Folds away nice and tidy.
No need for a cumbersome box spring.
Cons
May need to occasionally tighten bolts.
The Classic Brands Hercules Metal Bed Frame is visually deceptive. When you first look at it after setting it up you may think it looks a bit unsubstantial. But then you put your mattress on top and lay down and you begin to understand just how strong and stable it is. If you';re looking for a way to enhance the quality and discretion of your bedroom workouts this is without a doubt a great bed frame for sex.
With 12 points of contact with the floor the Hercules doesn';t leave any room for sagging at any point. You';ll enjoy total support from side to side, footer to header. And when it';s time to snuggle and sleep you';ll have the kind of back support you always wanted from your other bed frames but never quite got. Just to put some icing on the cake there are 14 inches of vertical space under the frame for storage.
Key Features
Lightweight and dependable.
Slips inside many types of bed frames.
Tool-less assembly.
3 year manufacturer';s warranty.
Specifications
Dimensions: 80 x 76 x 14 inches
Materials: Steel
Weight: 47 pounds
Pros
Assembles quickly and easily.
One of the lightest steel bed frames out there.
Provides rock-solid support from edge to edge.
Cons
No way to secure the mattress.
The AmazonBasics bed frame is definitely basic. If you';re looking for a bed frame that will add pizzazz to your bedroom decor this is not the one for you. But if what you';re after is a bed frame that';s affordable and won';t give way under the stress of your amorous activities you would be wise to consider putting this one on your shopping list.
The Amazon Basics steel frame requires no assembly. Just slide it out of the box, unfold it and you';re ready to go. There are 6 points of contact with the floor and 9 cross beams to prevent sagging. But while there are many things to recommend this as a best sex bed frame, including the incredible price, there are also a couple of shortcomings to keep in mind. First, there is no central support column contacting the floor. And second there are no head to foot support beams, just cables.
Key Features
Foldable steel bed platform.
Lots of storage space underneath.
Lightweight and portable.
1 year limited warranty from Amazon.
Specifications
Dimensions: 75 x 39 x 14 inches
Materials: Steel
Weight: 26.3 pounds
Pros
Available in a variety of sizes.
The easiest bed frame to set up on this list.
Negates the need for a box spring.
Cons
Head to foot support is not ideal.
The Vecelo Reinforced Metal Bed Frame is one of the most intelligently designed heavy duty bed frames on the market and one that is sure to be a pleasant surprise to those whose pursuit of pleasure normally runs them afoul of weaker, standard bed frames. The frame has 9 points of contact with the floor that are spread out in a 2:1:3:1:2 pattern that distributes weight evenly across the platform. Underneath there are 11 inches of clearance meaning you can stow multiple storage tubs under the platform and save space in your closets and dressers.
The Vecelo also features both a simple headboard and footboard that help enhance the visuals without overwhelming your decor. And at just over 46 pounds it';s light enough for one person to set up, break down or move. At 30 days the money back guarantee is not the best in the business but you';re unlikely to need it anyway considering the quality of the components.
Key Features
9 points of support contacting the ground.
Robust steel slats.
Stylish headboard and footboard.
11 inches of vertical storage space.
Specifications
Dimensions: 78 x 55.7 x 38.4 inches
Material: Steel and iron
Weight: 46.7 pounds
Pros
9 smartly distributed upright supports.
Head-to-foot central beam buttresses structural integrity.
Will provide firm, silent support.
The header and footer are nice touches.
Cons
Make sure you tighten the bolts properly to avoid squeaks.
The last item on our list is the Twin XL from Best Price Mattress. The XL is a low-riding, highly stable foldable steel bed frame that sets up in about 5 minutes. Just unfold it after unboxing, insert 4 bolts to lock the header and footer in place then screw on the finial knobs and you';re done. There are 6 points of contact with the ground and plenty of support slats along with a central support running lengthwise down the center.
With the Twin XL there is no need for a box spring. Just install your favorite mattress and you';re ready to go. The stylish headboard makes for more than just a strong frame from which to conduct your mutual admiration exercises, it also blends in nicely with a range of decors and is available in either black or white to provide even greater visual integration.
Key Features
The ultimate in no hassle setup.
6 points of contact with the floor.
Steel construction with stainless steel hardware.
Attractive header and footer.
5 year warranty.
Specifications
Dimensions: 80 x 39 x 39.17 inches
Materials: Steel
Weight: 44 pounds
Pros
One of the easiest steel frames to assemble.
Very stable and quiet.
Big plus that it';s available in black or white.
Cons
Can be a challenge to secure the mattress.
Things to Consider Before Buying the Best Bed Frame for Sex?
There are lots of great frames out there for the sexually active couple. Of that there';s no doubt. But just how do you narrow down your search and find the perfect model to host your most intimate moments? Here are a few things we recommend you consider:
If you';re in search of a bed frame for sex you';re also going to want one that';s generously sized. All of the bed frames profiled above have queen-sized options so that you can conduct yourselves with abandon. So do your sex life a favor and make sure you get a bed frame for sex that';s big enough to host a range of activities.
If the two of you are fond of having at it without much in the way of limits a wooden bed frame is probably not going to be strong enough to endure the onslaught for very long. Therefore, the best bed frames for sex are usually either a wood/steel mix or steel/cast iron or all steel. As such they';ll stand up to whatever the two of you dish out.
You want to make sure your bed frame is up to the task of keeping you safe regardless of where your inspiration takes you. That means plenty of contact points with the ground for stability. Ideally, you';d want to see a support or supports right smack in the center of the frame where the sagging typically manifests itself in most beds. In addition, you want to see some form of footing for those support legs. Something that will absorb any downward forces and help minimize noise in the rooms below.
The vertical support is important but it';s just as important to have robust horizontal support extending from side to side and from the header to the footer. The side to side supports can be in the form of wooden or steel slats. In addition, you should look for nice tight connections throughout. And one more thing: the fewer movable parts the better in most cases because moving joints are where squeaks tend to start.
Most sexual positions require one or both of you to have some sort of leverage. That means whatever is under you shouldn';t give way too much during all the pushing and pulling. The best bed frames for sex provide a high level of firmness that will enhance your sexual activity and prevent you from waking up with a stiff back from a too soft bed.
It';s likely that, no matter what your living situation, you don';t want the neighbors, kids or visitors to be keeping time to the squeaks emanating from your bed frame. A well-constructed steel bed frame will eliminate most or all bed-related noise. Except perhaps that rhythmic pounding the people downstairs have to deal with.
You may want your bed frame to have a header and footer to add a bit of charm to the room or you may want the frame to be some color other than black. Keep in mind too that 'design'; encompasses more than just decorative iron work. It also extends to the way the supports are distributed and whether there is a lip to contain the mattress.
The kind of warranty you';re willing to accept is up to you. Several of bed frames profiled above offer 5 year warranties on materials and fabrication. Others offer more modest 3 and 1 year warranties. And you';ll find one that offers 30 days. Again, which one you choose will be up to you. But, in our humble opinion, since beds tend to be long-term investments it would seem the longer the warranty the better.
Conclusion
A sturdy bed frame for sex can be a relationship enhancer and in some cases, a relationship saver. There';s nothing like feeling quietly confident that your discrete pleasures are going to stay discrete and that no matter where your experience takes you your bed frame will be able to handle it. Any of the above best bed frame for sex choices will serve you well as all are fashioned from high quality steel, iron and wood products.
In addition they represent a surprising degree of design variety for what is essentially a very simple concept. And that';s great because it means there';s sure to be one that will match your needs and taste.
Additional Resources