We may earn a small commission if you buy something via a link on this page. This doesn't impact our rankings or cost you extra. See
our advertising disclosure
for details.
In case you haven';t realized it yet, we spend a third of our lifetime in bed. An average of eight hours of our 24-hour days is dedicated to sleeping. Now, if that is the case, then it is only right that we invest in only the best beddings we can find.
One of the more popular ways to achieve a good night';s sleep is to get the best bamboo pillow money can buy. Fortunately, the market offers a ton of options for us to choose from. The burden now rests on our shoulders to find the ones that match our specific sleeping requirements and preferences.
Because we understand how important this is, we have decided to take a close look at several options and narrowed it down to 10 of the best ones. All of these are manufactured by trusted brands, so you can be sure that you';re not wasting your hard-earned money.
Best Bamboo Pillow Reviews: Our Top 10 Picks
1. Coop Home Goods – Premium Adjustable Loft Pillow
Topping our best bamboo pillows list is this product by Coop Home Goods, a company that is passionate about providing individuals with the comfort they deserve. Unlike bamboo pillows from other brands, this one is made using brand-new, high-quality shredded memory foam fill. This ensures that you get the best sleep every single night in your preferred sleep position.
The Coop Home Goods Original Premium Loft Pillow comes with certifications from both Greenguard and CertiPUR-US. This means that, through rigorous testing, this bamboo memory foam pillow has been certified for having low chemical emissions, thus contributing to a healthier indoor environment.
This fully adjustable bamboo pillow also has a hypoallergenic and dust mite-resistant Lulltra case, which is a product that was derived from bamboo (viscose rayon) and polyester. Fabric made from bamboo is naturally non-irritating and hypoallergenic. Hence, this bamboo viscose pillow cover ensures that you and your family are protected from allergens. This bamboo-derived rayon case is also breathable, so achieving restful sleep is easy.
With your comfort in mind, this bamboo viscose shredded memory foam pillow features an adjustable loft and comes with an extra half-pound fill. In this way, you can just remove or add memory foam filling to adjust the height of the pillow, which makes it ideal for side sleepers and those who prefer other positions. This Coop Home Goods product comes in queen and king-size pillow options. If you're to choose a queen-sized pillow, it measures 30 inches x 20 inches x 8 inches.
Cruelty-free and vegan, you can rest assured that no animals were harmed in making this bamboo rayon pillow.
This Coop Home Goods shredded memory foam pillow prevents neck and shoulder pain, thanks to its medium-firm support.
For your comfort, this bamboo pillow offers a fully adjustable loft and you can add or remove fill as needed for your sleep position.
This bamboo viscose pillow is manufactured in trusted factories in Los Angeles to ensure only the highest quality that exceeds the industry';s standards.
Every purchase of this adjustable bamboo pillow from Coop Home Goods grants you a five-year warranty.
Within 100 days, you are also given a chance to return the shredded memory foam pillow for a full refund in case it didn';t meet your standards.
[/su_box]
Cons
This Coop Home Goods pillow is available in two sizes: queen and king.
This needs to be fluffed to restore its loft.
This pillow is not for those who suffer from grass allergy.
This may not be the best option if you're looking for memory foam pillows with a 20-year warranty.
---
2. Snuggle-Pedic Ultra-Luxury Bamboo Pillow
Similar to the Coop Home pillow we just reviewed, the Snuggle-Pedic Ultra-Luxury Pillow is also certified by CentriPUR-US. This ensures that you get the best bamboo pillow that';s good for you and the environment.
We all want to give our family our very best, and you can be one step closer to that goal when you buy the best bamboo pillows. One of the most popular bamboo pillows available on the market, the Snuggle-Pedic bamboo pillow features highly dense shredded foam. What's great about bamboo pillows is that they are naturally resistant to dust mites. No strong chemicals are also used in this pillow's production. Thus, if you're looking for bamboo pillows with shredded memory foam fill, this product is an excellent option.
The Kool-Flow bamboo cover delivers luxury like no other. Add to that the fill made with interlocking soft and fluffy foam pieces, and you get a pillow that is breathable! The liner also has a bit of stretch to allow you to move the memory foam filling to fit your needs and sleep position. This product also comes in three pillow size options: standard, queen, and king.
To ensure that it stays clean, this Snuggle-Pedic luxury bamboo pillow is designed to be machine-washable. A full 20 minutes in the dryer also gives you that fluffed up comfort you deserve.
Pros
This Snuggle-Pedic pillow is available in standard, king, and queen size options.
This shredded foam pillow contains no mercury, lead, or other heavy metals.
After testing, this has been proven to be a pillow without any phthalates, formaldehyde, flame retardants, and ozone depleters.
The included bamboo cover is breathable.
This Snuggle-Pedic bamboo pillow is proudly made in the United States using premium materials.
This shredded memory foam bamboo pillow is suitable for a back, stomach, and side sleeper.
Cons
Although advertised as medium-soft, this pillow seems very firm.
This arrives with a chemical-like shredded memory foam smell that many people may find off-putting.
It can be a bit challenging to adjust the fill to fit your preferences.
---
3. Clara Clark Bamboo Shredded Memory Foam Pillow
For years, Clara Clark has been the go-to company when it comes to comfortable and luxurious yet reasonably priced bedding accessories. This set of two high-quality memory foam pillows is among their proud creations.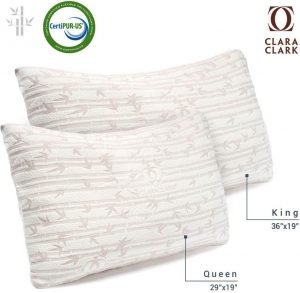 Using shredded memory foam fill, these bamboo pillows deliver comfort and support to ensure that your shoulders, head, and neck are supported. Because of their rectangular shape, you also get to enjoy better sleep quality and neck pain relief.
The zippered pillow cover is made using bamboo, which makes it both soft and breathable. In addition, it features reliable air-flow technology too. These temperature-regulating properties ensure that you stay cool throughout the night. So if you tend to sleep hot at night, sleep better with these soft and breathable bamboo pillows.
These bamboo pillows are hypoallergenic, too, so a comfortable night';s rest is easy to achieve. This pillow set comes in a durable and stylish storage bag. With that alone, you can easily gift it to your friends and loved ones. The set arrives vacuum-sealed too, but once opened, the bamboo pillows will fluff up and regain their shape.
Pros
These bamboo pillows have a breathable bamboo cover that is hypoallergenic, dust mite-resistant, antibacterial, machine-washable, and dryer-safe.
You can buy these bamboo pillows in various sizes: California king, standard, queen, and king.
This product comes as a set of two shredded memory foam pillows.
These bamboo pillows follow your shape, thus providing support excellent support for your head, neck, and shoulders.
The overall design gives you pain relief and prevents neck and back discomfort.
Cons
It might take some time before you can find the right amount of fill to achieve the best comfort.
This shredded memory foam pillow set needs to be fluffed and re-fluffed every once in a while.
Unfortunately, some find these pillows to be rather heavier compared to its counterparts.
---
4. Zen Bamboo Ultra Plush Gel Pillow
If you or someone in your household suffer from asthma and allergy attacks, as well as frequent respiratory issues, this is one of the best bamboo pillows to consider. This set boasts a hypoallergenic outer cover that is also free of chemicals.
For a set of two pillows that will last for years, check out this Zen Bamboo Ultra Plush Gel Pillows. This product features a fade- and stain-resistant cover that is also very easy to clean. Simply toss it in the washer, and you';ll achieve a pillow that looks and feels like it';s brand new!
The outer cover is made using jacquard bamboo to ensure comfort, style, and luxury. This bamboo-derived cover is also soft and breathable, which further adds to your comfort. For the best support all night long, these pillows feature a no-shift construction. Because of this, the fill stays where you want them to stay.
As for the filling, this pillow set features gel bamboo fibers, which is a really plush material that is unlike most other pillows in the same price range. To ensure longevity, they are also made to be resistant to mold, mildew, and dust mites. This product is also designed to suit back and stomach sleepers. Side sleepers will find it comfortable as well.
Pros
This comes in a set of two premium pillows, providing great value
You can have this pillow set in either queen or king size.
Depending on your preferences, you can shape these pillows to your liking, and they will stay that way.
Unlike other pillows, this product doesn';t go flat.
This bamboo gel fiber pillow set is designed to suit back, stomach, and side sleepers.
Because of the breathable cover, you can say goodbye to sweaty, sleepless nights.
Cons
Similar to most pillows, these need to be fluffed often.
This product look quite flatter than other queen or king-size pillows on this list.
There isn';t enough fill on these pillows.
---
5. Hotel Comfort Premium Adjustable Memory Foam Pillow
Another set of bamboo pillows that is CertiPUR-US certified is this option from Hotel Comfort. This is recommended for those who have allergies, as well as those who frequently suffer from restless nights, fatigue, minor body aches, and sore muscles.
Regardless if you are a back, side, or stomach sleeper, this is the sleep product that would turn your sleepless nights around. These pillows feature an adjustable loft and are packed with premium-quality memory foam. You can easily remove any amount of fill from the zippered cover to meet your desired comfort requirements. The fact that these pillows are adjustable makes them ideal for different users, regardless if they are side sleepers, back sleepers, or if they sleep on their stomach. Thus, if you're looking for the best bamboo pillow with an adjustable loft, this product could be your ideal match.
Like every other pillow on this list, the cover is made using a blend of bamboo and polyester. This resulted in an ultra-soft cover that is also resistant to dust mites. With your convenience in mind, you can simply remove the washable cover and toss it in the washing machine.
If in case you';re not satisfied with this adjustable pillow set, you can return it to the company since it comes with a 30-day money-back guarantee. This ensures a no-risk purchase that you can only get from a brand that';s confident in the quality of their products.
Pros
This product is available in a king or queen size.
For an affordable price, you get two pieces of CertiPUR-US certified memory foam pillows.
This fully adjustable pillow set can be customized to accommodate all users regardless of sleeping position.
The memory foam filling helps relieve minor body pain and sore muscles.
These bamboo pillows help promote an improved sleeping experience for side, back, and stomach sleepers.
These pillows come with a 30-day guarantee.
Cons
These can be considered as bulky and heavy pillows.
These bamboo pillows need to be fluffed regularly.
The pillows might be too high for some stomach sleepers.
---
6. Medium Profile Memory Foam Neck Pillow
If you wish to feel your best during the day, then you need to be able to sleep soundly the night before. For that, you';d have to invest in a set of premium pillows like this one from Perform Pillow.
Unlike ordinary pillows, this Memory Foam Neck Pillow by Perform Pillow is designed to help you achieve relief from shoulder, neck, and back pain. It features a contoured shape made using special density memory foam to offer support and comfort for most sleep positions throughout the night.
In addition to that, this pillow also boasts a breathable cover derived from bamboo fiber and polyester. Because of its composition, this pillow cover is not only breathable but also hypoallergenic and anti-bacterial. The machine-washable cover is also very easy to clean and maintain.
This particular neck pillow comes at medium thickness, but it is also available as a thick or thin profile. The company is also proud to say that this does not contain any lead, mercury, or heavy metals that you would normally find in low-quality pillows. It is also made without formaldehyde.
Pros
This pillow is designed with two different size contours.
This comfortable pillow prevents back and neck pain and is the pillow of choice for side and back sleepers.
You can buy this pillow in three varying thickness profiles for neck and shoulder support.
This pillow is crafted using non-toxic materials.
The foam is both soft and supportive.
This helps promote proper spinal alignment as you sleep.
Cons
Using this pillow might take some getting used to.
Unfortunately, it doesn';t have the width of standard-size pillows.
---
7. Plixio Bamboo Cooling Hypoallergenic Sleep Pillow
For a good night';s sleep, what you need is a pillow that is soft but still offers enough support to keep your head and neck, as well as your back and shoulders, properly aligned. Fortunately, that';s exactly what you';ll get when you buy this Plixio Memory Foam Pillow.
This product from the brand Plixio comes in a set of two pillows. These boast pillowcases are made using a mix of bamboo and polyester, ensuring that you get a durable, soft, and hypoallergenic product. The cases are stain-resistant, machine-washable, as well as breathable too!
Inside the case, you';d find shredded memory foam filling. This kind of fill has a bounce-back feature, ensuring that you';ll get years of sound sleep from using this pillow. Also, you won';t get this from other traditional pillows such as those with down, latex, or synthetic fillings.
This product is designed to help provide relief from sleeping ailments, including anything from migraines to snoring and insomnia. What';s more, the fact that it will conform to the shape of your body means that it would likely suit every sleep position. Hence, these bamboo pillows are an excellent option for back and side sleepers, as well as some stomach sleepers.
Pros
Every purchase of this set gives you two pieces of pillows suitable for side, back, and stomach sleep positions.
This is specially designed to keep the neck and shoulders in correct alignment with your spine when sleeping.
With their bounce-back and temperature-regulating features, you can now enjoy better sleep.
This set comes with a full 3-year warranty.
This is the product to opt for if you prefer extra firm and soft pillows.
These bamboo pillows are hypoallergenic, keeping your triggers at bay.
Cons
These have to be fluffed regularly for the best support.
Some find these to be a little too firm for their liking.
---
8. CozyCloud Deluxe Hypoallergenic Bamboo Pillow
For down-like comfort without the down, you can rely on this memory foam pillow from CozyCloud. This is a product that is made in the U.S.A., so you can make sure that you';re getting something that';s above the industry';s standards.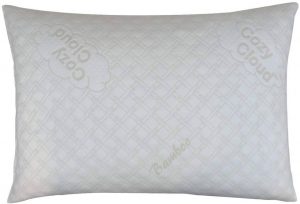 If a pillow is both created and recommended by chiropractors, then you know that it is a good one. That';s exactly what the CozyCloud Deluxe Memory Foam Pillow is. This pillow features fiber and shredded memory foam fill that effectively promotes proper spinal alignment and neck support no matter your sleep position.
Similar to most other high-end pillows, this is CentriPUR-US approved and certified as a low V.O.C foam. This only supports the fact that this pillow does not contain any flame retardants, formaldehyde, or PBDE. It also comes with a 10-year warranty.
The eco-friendly, non-toxic bamboo, and polyester cover is not only soft but also offers better airflow, keeping you fresh and comfortable throughout the night. So if high humidity keeps you up at night, sleep better with this cooling pillow. You';d also be glad to know that you can toss the removable cover into the washing machine and the dryer for hassle-free cleaning.
Pros
This comes with a 10-year warranty and a 30-day money-back guarantee.
This pillow provides ample support for the neck, head, and shoulders.
You can buy this pillow in either queen or king size, and choose firmer or softer thickness.
Sleeping on this pillow means you stay fresh all night because it prevents night sweats.
This pillow is crafted using original, premium-quality foam.
This is a cozy and cool pillow that can accommodate back sleepers as well as side and stomach sleepers.
Cons
It might be difficult to fit these pillows into one';s budget.
Many people may find the initial chemical smell to be rather strong.
This one is heavy but is comfortable to sleep on.
---
9. Ontel MBPF-MC6/2 Miracle Shredded Memory Foam Pillow
Another great option we tried is this pillow from Ontel. The company claims that this pillow, which they named Miracle Bamboo Pillow, is the perfect choice for all kinds of sleepers.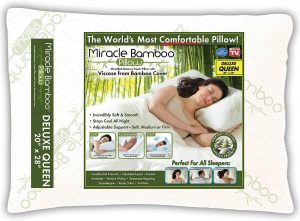 At the end of every day, we all want to feel comfortable enough to get a full night';s sleep. Fortunately, this can be achieved with the help of this pillow from Ontel. The Miracle bamboo pillow is a triple-treat, offering you support, comfort, and adjustability.
As you may already know, fabric derived from bamboo is naturally hypoallergenic and anti-microbial, which is why this Miracle bamboo pillow is made using exactly that. This cover is also moisture-wicking, ensuring an end to sweaty nights.
The foam, on the other hand, is memory foam, which conforms to the shape of one';s head and neck for the best comfort and support. What this Miracle bamboo pillow has that you won';t find in its counterparts is that it is made for travel. You can easily roll it up and store it in a carrying case.
Pros
This Miracle bamboo pillow has a machine-washable case to ensure proper hygiene.
This can be used in three ways: on its side for soft support, laid flat for medium support, and as a bolster for extra-firm support.
Its breathable cover ensures you stay cool all night.
This cover also resists odors.
This pillow is made using only the highest quality foam.
Cons
This can be a little too firm for some.
This is a very heavy pillow.
Like similar pillows, this arrives with a strong chemical odor.
---
10. Supreme Bamboo Down Alternative Pillow
Most of the bamboo pillows we tried had an unusual chemical smell, but not the Supreme Bamboo Pillow. This product is designed to ensure the highest level of comfort that you can get from having the best night of sleep.
This ergonomically designed pillow is made using soft polyester fiber filling, which you can compress or fluff up according to your liking. This allows you to experience a high level of neck support and proper spine alignment throughout the night.
The micro-vented memory foam line cover, which is made from a blend of bamboo and poly fiber, shows an eco-friendly choice of materials that is also hypoallergenic, durable, and machine-washable. This cover allows air to circulate through the pillow, thus keeping you cool and fresh as you sleep.
Overall, this bamboo pillow is a cozy and soft pillow that is perfect for those who sleep on their back, side, or stomach. Pregnant women and others who often experience back pain can also experience relief from using this pillow.
Pros
This bamboo pillow is available in two sizes: queen and king.
This pillow is crafted using eco-friendly, high-quality, and long-lasting materials.
For those who suffer from allergies, this pillow promotes better sleep because it is hypoallergenic.
This comes with a machine-washable zippered pillowcase and a micro-vented cover.
This pillow arrives in a free case, which you can use to carry it with you during your travels.
Cons
This is not made in the United States.
Some reviews say that this doesn';t fluff up all the way and looks half-filled.
---
What Is a Bamboo Pillow?
When someone mentions a bamboo pillow, perhaps the first thing that comes to mind is a pillow made with a bunch of stalks. Not exactly a picture of comfort, right? Fortunately, that is not what a bamboo pillow is.
The truth is, bamboo pillows are called that not because their fill is made of bamboo but because of the cover. As you may already know, bamboo can be easily turned into fibers, which are then turned into yarn to make bamboo fabric.
This bamboo-based fabric is a good choice for pillow covers because it is naturally hypoallergenic and anti-microbial. What';s more, the breathable fabric has the ability to wick moisture and sweat away from your skin.
Types of Bamboo Pillows
More often than not, bamboo pillows are categorized based on the kind of fill that they have some are packed with shredded, solid, or even cooling gel-infused memory foam, while others feature poly fiber, cotton, or wool. Then, there are also those with latex- or vinyl-based filling, or traditional down. Let's take a look at the most common types of pillows.
All-Natural Bamboo Pillow:
As the name suggests, this type of bamboo pillow boasts all-natural materials from the fill to the cover. Because it is fully organic, you can trust that this type of pillow won';t trigger your allergies. This fabric is also better than cotton and more durable than silk.
Semi-Synthetic Viscose Rayon Bamboo Pillow:
Compared to all-natural bamboo pillows and other eco-friendly types of pillows, this type makes use of different types of bleaches and chemicals to produce a semi-synthetic'' bamboo rayon fabric. In other words, in viscose bamboo pillows, the pulp is processed using sodium hydroxide to turn it into a thread, which can then be weaved into yarn fabric. It's worth noting, however, that viscose from bamboo has antimicrobial properties and offers superior comfort.
Solid Memory Foam Bamboo Pillow:
This type of bamboo pillow has a single slab of memory foam as fill. As you may already know, this material is designed to conform to the shape of your neck and head while also staying firm, thus providing you with the support that you need. This type is recommended for those who sleep on their side or back.
Shredded Memory Foam Bamboo Pillow:
As opposed to a solid memory foam bamboo pillow, this type features a good amount of shredded memory foam. As such, you can keep, add, or reduce the fill to fit your sleeping needs and preferences. It is specially designed for back and stomach sleepers too. Definitely, this is fluffier and softer than one made from solid memory foam. In addition, when consumers are looking for fully adjustable pillows, bamboo options filled with shredded memory foam fill come to mind.
Gel-Infused Shredded Memory Foam Bamboo Pillow:
Another type of bamboo pillow is one that';s stuffed with gel-infused shredded memory foam. This one is an upgraded version of the shredded memory foam bamboo pillow in that it is infused with cooling gel. A gel-infused memory foam pillow, therefore, perfect for those who find it hard to sleep in warm environments.
Each one of these options has its own set of pros and cons. You can choose the best bamboo pillow with gel memory foam, solid memory foam, or one filled with bamboo fibers it';s up to you to determine which meets your sleeping needs and preferences the most. You can even opt for a pillow with a custom bamboo viscose or bamboo rayon cover. What';s important, though, is that you stay away from pillows made with toxic materials. After all, a third of our day is spent near it; surely, we don';t want to be taking in these toxins, right?
Benefits of Bamboo Pillows
Similar to anything that you would want to invest your money in, it is only right that you first learn about the benefits that you would get from a bamboo pillow before you buy one. For that, we';ve got you covered.
Below, you will find the many advantages of bamboo pillows that you won';t find in regular pillows:
The thing with pillows is that, during sleep, the bacteria from our mouth and nose sticks to them. With regular pillows, the bacteria would then multiply. On the other hand, bamboo viscose pillows boasts high levels of lignin, making it anti-microbial. Therefore, you can rest assured that bacteria won';t be allowed to thrive any longer.
Moisture-wicking and breathable:
Compared to other types of pillow covers, bamboo is way cooler. That';s because it allows air to pass through, thus eliminating sweating. If you do sweat, it absorbs the moisture and keeps it away from your skin, so sweating is never again an issue.
Again, bamboo-derived fabrics are naturally hypoallergenic. This means that even if you suffer from asthma and other allergies, you can sleep soundly knowing that triggers are kept to a minimum.
Fabrics made from bamboo are among the softest you will ever come across with. This makes it very nice to the touch, especially since it is in contact with our face for several hours a day.
Bamboo is among the most sustainable source all over the world, growing year-round in several countries. In fact, after it has been harvested, it only requires a few weeks of waiting, and it';s ready to be harvested again.
Compared to polyester and nylon, which are the two other common materials used in pillow covers, it is clear to see that processing bamboo stalks into a usable fabric is much less harmful to the environment.
Another great benefit that you would enjoy if you use a bamboo pillow is the fact that it is capable of neutralizing odors. That';s because bamboo has natural odor-neutralizing properties. This puts an end to pillows smelling of sweat!
Then again, some reports say that brand-new bamboo pillows have a strong chemical smell. This is normal because of the way they are processed. To get rid of the smell, allow it to air out for about 12 to 24 hours before using it.
More often than not, bamboo pillows allow you to adjust their firmness based on your liking. This is made possible by maintaining or removing some of the cushioning. Some brands even sell additional fill if you wish to make your bamboo pillow firmer.
What to Look for in a Bamboo Pillow
After knowing about the benefits of having a bamboo pillow, perhaps you have now decided to buy one (or more!) for yourself. If that';s the case, then you need to understand the things that you need to consider when buying a bamboo pillow.
While the many options may look like they';re one and the same, each of them offers its own set of pros and cons. Now, because we promise always to have your back, here';s a list of things to keep in mind when looking for a bamboo pillow:
As is evident in the bamboo pillows we have reviewed, the best bamboo pillows are height adjustable. Most options come with a memory foam fill, which can either be shredded or solid memory foam. Obviously, shredded memory foam fill is made with thousands of small pieces of memory foam. These may be enclosed in a zippered cover, allowing you to add or remove a certain amount to adjust the firmness. A pillow may also be packed with gel memory foam filling.
On the other hand, a bamboo pillow with a solid core means that the foam is just one solid piece. This is what';s often used to create contoured pillows, which are specially designed to provide support to the shoulders, neck, and head.
For better breathability, there are small holes on this solid piece of memory foam. As a result, the air is able to pass through, therefore promoting better air ventilation. This also makes it a good choice for hot, summer nights.
Premium quality pillows are manufactured with specific sleep positions in mind. Thus, pillows suitable for back and stomach sleepers may not be the best options for side sleepers. So whether you';re a back, side, or stomach sleeper, you should find a bamboo pillow that accommodates your sleeping needs. After all, what you';re after is your maximum comfort, and you can only achieve that if you buy a bamboo pillow that';s right for your sleeping position.
Cleaning and maintenance:
Anything that comes into contact with our skin, especially our face, has to be free of stuff that can damage it, which is why we recommend getting a new pillow that';s easy to clean. Most bamboo pillow options come with a zippered cover that you can simply remove and tossed in the washing machine.
Return policy and included warranty:
In any kind of purchase, you';d want the assurance that you';re getting a new pillow that delivers on its promises. In line with this, you';d want to look or a bamboo pillow that comes with a generous return policy and warranty. In this way, your purchase is protected, and you can get your money back if there are any problems with the product.
Next, you also have to consider the pillow size. While most bamboo pillows come with the same width, they vary in their length. They come in standard, queen, and king sizes. There's also a body pillow option. Make sure to choose a pillow size that you know would benefit you the most.
Lastly, consider the price as well. As you carefully look at all the other features, you will come to realize that a high price is not always an indicator that a particular product is the best. Focus more on the benefits of the bamboo pillow you wish to buy. Then, check if the pricing is reasonable.
Conclusion
With hundreds of choices available online and in physical stores, it can be a bit of a challenge to find the right bamboo pillow that would tick all the boxes. We have answered some frequently asked questions about bamboo pillows so you now have the knowledge needed to make the right decision.
If you ask us, we believe that any of the 10 bamboo pillows we have reviewed can be a good choice. Now, it is only a matter of personal preference as to which one you choose. Then again, there are also many other options available; all you need to do is do a quick search online or go to your nearest bedding store. There's definitely one that suits your needs, whether you're a stomach, back, or side sleeper. Happy hunting!