We may earn a small commission if you buy something via a link on this page. This doesn't impact our rankings or cost you extra. See
our advertising disclosure
for details.
Do the troubles when sleeping on one side lead you to find us? Then you're probably looking to find the best pillow for side sleeping, aren't you? To help you on your quest, we will share some useful tips and tricks with you, which may help your search for side sleeper pillows.
Sleep plays an important role in our life and is an indispensable factor in ensuring and maintaining our health. Without sleep, no one would have enough energy and concentration for working and completing tasks. After a hard day's work, your body has used up a lot of energy, which needs to be replenished so that you can keep functioning! Eating and drinking enough is not sufficient to compensate and make up for the energy you have used. Therefore, it is vital that we also get a good night's rest so that throughout the night, our body can recover. Here, the amount of sleep and the quality of sleep is important. A quiet room with a comfortable pillow to support your head and neck is always an ideal combination for most of us to have an unbroken sleep. For many people, lying supine is their favorite sleep position. However, there are also a lot of people who are side sleepers. This particular sleeping posture can help reduce pain and even allow them to breathe more easily for a side sleeper. Some side sleepers happily state that in this position they have reduced the following problems:
Pain in their back, neck and shoulders
Creates a more comfortable sleeping position when pregnant (series about pregnancy)
Snoring and other respiratory issues
With such situations, sleeping on one side can become one of the most effective ways to overcome and ensure a good night's sleep for everyone. However, to gain all the benefits from this sleeping position, side sleepers need the right level of support for their head, neck and shoulders. After a quick search, you will find that the choice for side sleepers is great – no matter whether you're looking for a down pillow, an extra firm pillow, an adjustable pillow or a shredded memory foam option!
If you already find yourself lying on a high-quality mattress, but would still like and need a supportive pillow, this guide is here to assist you on your search. Pillows for side sleepers are not only indispensable in your bedroom but also a friendly item which protects you from pain and strain every night.
Top 10 Best Pillows for Side Sleepers Reviews
Basing our selection on some of the criteria mentioned above, as well as our personal experiences and subjective assessments from different users and side sleepers, we will now summarize top 10 pillows for side sleeping:
1. Coop Home Goods Adjustable Shredded Memory Foam Pillow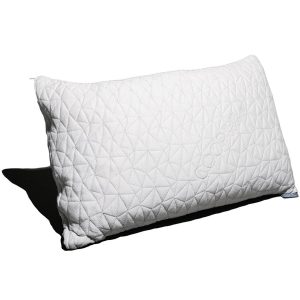 This is one of the best shredded memory foam pillows available and an all-round excellent Coop Home Goods product. It has a memory foam filling and an outer cover made from bamboo and polyester. All materials used are safe and non-toxic so that you know that you will get the rest all side sleepers need.
It promises to bring you the feeling like you are sleeping in a five-star luxury hotel because of its softness and smoothness. This pillow is also effective to reduce your neck pain and other discomforts you may usually feel in your head, neck or shoulders through sleeping on one side.
For those who enjoy firmness and durability, selecting this pillow is a great idea, as it lasts a long time and has a 5-year warranty.
Moreover, if you change your sleeping position, you can also easily adjust the amount of foam filling when you add or remove shredded memory foam so that you can get the most comfort and convenience every night.
2. SleepJoy ViscoFresh Advanced Contour Memory Foam Pillow
As one of the top products from Sleep Joy, this foam side sleeping style helps you sleep by providing proper spine alignment and offers additional support to your neck and back. It reduces the pressure you place on your neck and shoulders, as well as your body while you sleep, thereby allowing you to breath more easily.
This pillow is safe for you to use because of its combination of natural and skin-friendly materials (green tea and polyester fill). It also offers cooling properties for any hot sleepers out there, as it is extremely effective at eliminating moisture and keeping you comfortable when sleeping on one side.
Moreover, if you often snore while sleeping, this great pillow can also help you decrease this problem and ensure you and your partner have a better sleep. Why not test it out with their sleep trial?
3. Snuggle-Pedic Luxury Pillow
This shredded memory foam mattress has been ranked as one of the top 10 best pillows for side sleepers. This is thanks to the designer's continued focus on quality. The shredded memory foam is fitted so well into the casing so that the pillow will never go flat, yet its ergonomic design will allow you to rest comfortably. No matter the pressure you apply – whether from the shoulders or the head, this side sleeper pillow will only depress as far as to allow the neck get in an appropriate spinal alignment for a smooth and comfortable sleep.
Using natural materials on pillows and beddings has been shown to provide extra soothing and comfort to all sleepers. This is the reality that users of this pillow get when they use it every day. A careful selection of bamboo, lycra and polyester allows this pillow to provide you with luxurious comfort. For this reason, this pillow has become our top pick – especially as it compares to the bedding you have in luxury hotels.
4. Bamboo Pillow – Most Comfortable Alternative Down Hypoallergenic Pillow
This down pillow is one of the best pillows for side sleepers are sensitive to allergies but want to sleep on down. Whether you use the down pillow for a long or short time, the pillow's loft will remain plush, and it will keep its shape and firmness level, thereby keeping your head and neck aligned – no matter how long you sleep on it for. This is another feature which makes it one of the best pillows for side sleepers.
The Bamboo pillow is made of friendly and safe materials which do not contain poisonous fumes or chemicals. It is suitable for people with allergies and hot sleepers because the pillow provides enough air circulation for temperature regulation, keeping you cool during the night. All of this – thanks to one of the best cooling covers available.
Sleeping on this bamboo down pillow will bring you a soft and comfortable feeling, enhance the quality of your sleep and help you to overcome strain and pain in your shoulders, head and neck, which you may experience from having slept on one side.
5. Sleep Innovations Memory Foam Contour Pillow
Despite being less heavy and dense than other foam pillow options for side sleepers, this product from Best Innovations is known as one of the best pillows for side sleepers which helps customers with the health benefits of relieving pain their back, shoulders and neck.
With this pillow, side sleepers can ensure they have an unbroken and restful sleep, and that this memory foam model provides neck support which is ideal for side sleeping. Besides, your spinal alignment will also be promoted, and the pressure on your head and neck is significantly reduced.
If you need a product which is a consistently supportive and medium-firm pillow, this model will work best for you. Also, for hot sleepers, this pillow allows for good air flow, keeping you cool throughout the night.
Some people who enjoy the thicker pillow may doubt this product's ability because it seems to be softer than others; however, the great effects it brings to the users are incredible.
6. Core Products Tri-Core Pillow Full Size
This pillow is one of the top ones on the market, which is introduced by Core Products. If you are suffering from neck, shoulder and back soreness, this pillow is suitable for your choice.
It has a special design with a trapezoidal concave in its central part which is unique to this product, making it a great alternative pillow to the standard types. The Tri-Core Cervical Pillow has four different edges which give you various options for correct spinal alignment. The right or left side of the pillow comes with a design specially made to provide comfort for side sleepers, while the top and bottom of this pillow for side sleepers provide a different support level to your head and neck. It is an intelligent product that can not only be appreciated by adults but can also be beneficial to teenagers and children alike.
Many customers have confessed that when they first used this pillow, they often felt a little bit uncomfortable for a few days. However, after getting familiar with this product, they realized that their pain was reduced significantly, and their sleep improved significantly.
7. Mediflow Original Waterbase Pillow
The technology used to develop and make pillows has advanced a lot in recent years, and with that, designers' willingness to go to greater lengths in giving their customers the highest value for money. For top designers such as Mediflow, every pillow is designed to guarantee relief from back and neck pain, and assure them of total satisfaction in your sleep position. Think of that relaxing feeling that you get when floating on a heated plunge bath; it is the same you will get when sleeping on this pillow.
The pillow comprises of three layers of extra strength and comfort. The inner layer is made of a chamber full of water to give you the lovely medium-firm comfort you seek. The second layer is made of a light layer of foam to provide extra softness and compactness. As you lie on the pillow, the shape of your head, shoulder, and neck displace the water so that the body takes the perfect shape throughout the night or sleeping session. Remember that unlike an alternative pillow made only with foam, this pillow's comfort and density will not fade.
This pillow is one of the few pieces on the market that guarantee the user of extra-long lifespan. Because it is mainly designed from water, you do not have to worry about the loss of density. You can even adjust the density to match your personal preference by filling the pillow with less or more water. Once you empty the water, the pillow is machine washable so that you can finish cleaning it fast and return it to the bedroom for that amazing fresh look.
8. Good Life Essentials Hypoallergenic Shredded Memory Foam Pillow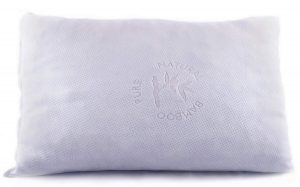 Every memory foam lover's dream is getting pieces that guarantee total comfort, complete support, and great value for money. This is the approach that Good Life took when designing this timeless piece. Its design indicates the depth that the manufacturer went to when making the pillow irresistible.
The shredded memory foam guarantees total support to your neck, head, and shoulders and for hot sleepers, promotes a cool and restful night's sleep. More air can pass through it, keeping the head and neck cool and comfortable. As this air passes through, it carries away all the perspiration so that the pillow does not trap bad odors. Furthermore, this pillow offers great pressure relief making this a supportive pillow choice, as demonstrated through the company's many years of tests.
When the pillow is placed under the head, you can be sure of getting total resilience and strength. No matter your weight, the stay-cool bamboo pillow cover is strong enough and holds the foam in place to guarantee you complete support the entire night. You will only depress it to the point of personal comfort, as well as neck and spinal alignment. Besides, even if you turn or change position, the pillow has prompt resilience to support your new position. Whether the pillow is used in the parents, children, or guests' bedroom, the results will be total comfort and enjoyment.
9. Leachco Snoogle Total Body Pillow
This is a special product from Leachco brand and is produced to satisfy the need of pregnant women. It is a perfect combination of various pillows to support almost all body parts.
In the shape of a C and, like the other products, this pillow can help you stay cool even when your body temperature is hot. With the attractive pattern and soft cover, this product promises to reduce pain and pressure on your body. Especially when considering neck pain.
One more point that makes pregnant women choose this product is that it is very easily washable and durable.
10. Iso-Cool Memory Foam Pillow
Side sleepers looking for a perfect pillow has led to many of them settling for this option. Sleep Better made this piece with many expert recommendations and after a long period of testing. The pillow is designed to supportive pillow throughout the night without losing either its density, firm feel or appeal.
The material selection for this model was chosen by targeting extra strength, total support, and sense of class. The pure cotton cover, coupled with double stitches, guarantees that the pillow will withstand pressure from the filled foam on the inside and external force from the sleeper. Notably, the double lines and fill power create a unique sense of style.
When a side sleeper relaxes on this pillow, the cover provides a soothing feeling that makes it easy to fall asleep. This soothing ability is enhanced by the selection and processing of the materials used within. The cotton cover and memory foam are free of allergenic materials and heavy metals that are dangerous to the skin. The pillow is also free from formaldehyde and other dangerous materials that cause irritations at night.
Best Rated Pillow Brands For Side Sleepers
A side sleeper looking for the best pillow for their sleeping position will naturally tend to opt for the model, which is the most popular and highly ranked amongst its competitors. Whether it features or contains memory foam, down, water or is a latex pillow, many buyers will trust in other user's reviews or choose a brand they know and trust. We have rounded up the top and most trusted pillow brands for you below to help you with your search. Take a look and see what you think!
When mentioning this brand, people often associate it with high-quality products and trust that buying a Coop Home Goods product is a sensible and reliable choice. Coop Home Goods is often in the top position of many rankings and appears on the top lists of best pillow brands. Products of this brand are loved by most of the people due to their quality, design, durable and effectiveness. Coop Home Goods often chooses hypoallergenic materials for their products and pay attention to customers' need a lot.
Sleep Better is also a brand name which people associate with the market leaders. Products from this brand vary both in terms of the type of products on offer and the models they sell. In this way, Sleep Better can support a wider range of customers with varying needs. Pillows from this brand are made in the USA, very durable and have a high-quality.
When talking about the best pillow brand, we cannot ignore Snuggle-Pedic. Snuggle-Pedic offers a great number of products for both stomach and side sleepers. These products are guaranteed for long term use and offer many features and benefits for the individual customer.
When it comes to Sleep Innovations, the experienced customers will often refer to them as a luxury brand, which produces a diverse range of comfortable products. Pillows made by Sleep Innovations are often associated with top technological developments and high-quality materials, alongside many years of warranty.
There are a lot of other famous brands for your reference such as Mediflow, Good Life Essential, Sleep Joy, FarMeDoc and so on. Those brands are also the reliable ones with full of reputation and ensure to provide the best products fitting your needs and requirements.
How Do You Choose the Best Pillow Type?
The first step to confirming the claims is requesting the website owner for the specifications and features of the product, if they do not have them listed already. You can also read through the reviews that the previous clients who have purchased the products to get an idea of the quality of the product and how well it served them and will serve you.
There are many pillow types from many different brands, so before choosing one specific one, it may be beneficial to do some research – especially through review articles and reading through other people's experiences. Many sites are dedicated to such reviews and can offer insight into the advantages and disadvantages of your chosen product.
Which Pillow Type is the Best Today?
The good news for side sleepers who are wondering and waiting for a miracle to improve the discomfort from this sleeping posture is that you can find a variety of side sleeper pillow types on the market with different models, designs and brands. As far as we know and with the sharing from many people surrounding us, we found that the following four pillow types are the most helpful, durable and effective choices for side sleepers.
The contour shape that they feature is what makes them so popular as pillows that can be used with side sleepers. They provide the much-needed support to the shoulders, neck and head. As the name suggests, the pillow has memory, meaning that after being use over-night, they have the ability to regain their initial shape, in preparation for the next sleeping session. Memory foams will serve you for a very long time before you need to think about replacing it. On average, memory foams can last for up to two years. Courtesy of its contour feature, it is able to support the neck and the head as well as adjust accordingly to the body's weight and temperature, thereby increasing the level of comfort.
This will provide you with a great support that is firm and perfect for side sleeping. And given the fact that it is full of natural materials the comfort that you will get from this is far better in comparison to other types of pillows. It also helps ease pressure points, and it is for this reason, experts consider it to be the best side pillow available.
However, note that while it is considered to be the most comfortable, it tends to lose its shape after several months. With constant use, it tends to collapse under the weight of your head. When you are making a purchase, it will be said that the pillow has an average lifespan of about two years. This is however in an ideal situation in which it is not used constantly.
This is the pillow type that has in the recent times gained popularity. As opposed to the feather filled and traditional down filled pillows, it provides great support for the neck, as well as the head. It is a modern pillow and as such you expect modern technology to have a hand in its creation and design. As is typical with technology, it has improved and enhanced the capabilities of this pillow. It does not allow the head to slump while you sleep and has an overall great resistance. This is the major reason as to why many consider it to be the best. With the latex pillows, you can wave bye-bye to shoulder and neck strains.
There is one consideration however that you should always have in mind when purchasing the latex pillows – price. Given the fact that the feature the latest pillow technology, their price are off the roof and are by the day going even higher. As such, not many can afford them. People, with the current financial and economic climate are wary of how much they spend and the things they spend their money on. It makes practical sense to get a pillow that within your price range. However, regardless of the high price, you can rest assured that they are durable, lasting for a very long time, thereby being a worthy investment.
These pillows are filled with natural material – buckwheat. The fact that they are full of buckwheat proves that they are firm, providing extra support without the downside of collapsing under your weight.
If you are one of those people who are bothered by the increase in heat on your pillow as you lay on it, this pillow will prove to be a good choice as it does not store heat. It maintains a temperature that is perfect for sleep. They are however unusually heavy. A single pillow can weigh up to an astounding 5 pounds. This is by far the densest pillow available.
Search for the Right Material?
Reviewing some of the top pillow types, you probably noticed that they were not all made with the same materials. Pillows are not universal and as such vary in features and have significant differences. Before you make a purchase, always consider the material used to fill up the pillow a well as you sleeping position. There are those that are extra firm and heavy, while others are more durable or very flexible – such as the best memory foam pillows. The feather filled pillows are the softest and provide the most comfort than all the other types.
Try to analyze the number of times that you toss and turn in bed while you are asleep. If you tend to toss around a lot, then a feathered pillow would be best for you as its content will move around as you do. If you are a light sleeper, then choosing a pillow that makes a lot of noise when you turn and toss would be very unfair to yourself. All in all, the perfect side sleeper has to be firm yet comfortable. Consider the above factors before you make a purchase.
Summary of Our Findings
There are still a lot of pillows with different materials, but we highly appreciate four types listed above because they have all things you need to seek. Before choosing a pillow, you should take into account your needs carefully as each one has particular advantages and disadvantages. Besides paying attention to the major materials of a side sleeper pillow, you need also spend time on determining other characteristics you hope it to have such as weight, size, price and so on.
Why Are Our Reviews Always No.1 Of Trust And Accuracy?
It is obvious that there will be someone who may not believe in our reviews and doubt this information. However, there is nothing to complain about them because a wise customer is a person who often has suspicions about what he is going to buy! It is a fact! Even if we were in your shoes, we would certainly have the same thoughts as you. We hope that after you've done your personal research, you will soon trust us and believe in the useful information we share with you. We have carefully put together this article based on our research, experience, and what we have learned from others, including unbiased assessments gathered by the public.
Conclusion
If you're a side sleeper, then we believe that owning one of the above pillows is an indispensable bedding item, especially for those who are dealing with issues and discomforts caused by this sleeping posture. As a side sleeper, you need this type of pillow to support your spine alignment, your body, head and neck, as well as keep your sleep cycle comfortable and free from pain. What we mentioned in this post can help you choose a pillow for your favourite side sleeping position in a quick and effective manner. Besides the factors listed above, it is also a good idea to also pay attention to the pillow's shape, design and price.