We may earn a small commission if you buy something via a link on this page. This doesn't impact our rankings or cost you extra. See
our advertising disclosure
for details.
When you have limited space in your home, but you still want the convenience of a flexible sleeping area, a futon can be an excellent investment. Most people have heard of futons, and generally think of them as the sofas or seats that fold down into a bed when you need a convenient snoozing surface for visitors. However, there are other kinds of futon out there, too.
For instance, in Japan, there are still people who prefer to use the traditional Japanese futon as their primary bed, thanks to its space-saving benefits. Additionally, because a Japanese futon mattress is designed to be laid out on the floor, they also allow for better spine and back alignment. This is particularly beneficial for people who struggle with posture issues.
A Japanese roll up mattress is a quick and convenient way to create a highly comfortable and reliable sleeping environment in even the smallest spaces. What';s more, when you';re not using the traditional Japanese futon, you can easily roll it up and keep it out of the way.
Since the Japanese floor mattress is still a very popular sleeping solution particularly in Eastern parts of the world, you should have no trouble finding a range of traditional mattresses to choose from. Of course, that also means selecting the best Japanese futon can be more difficult than it seems.
To help you make the right decision with your floor pad, we';ve checked out some of the top-performing mattresses in the industry today to bring you a list of the best lightweight and portable futon options available.

Top 10 Best Japanese Futons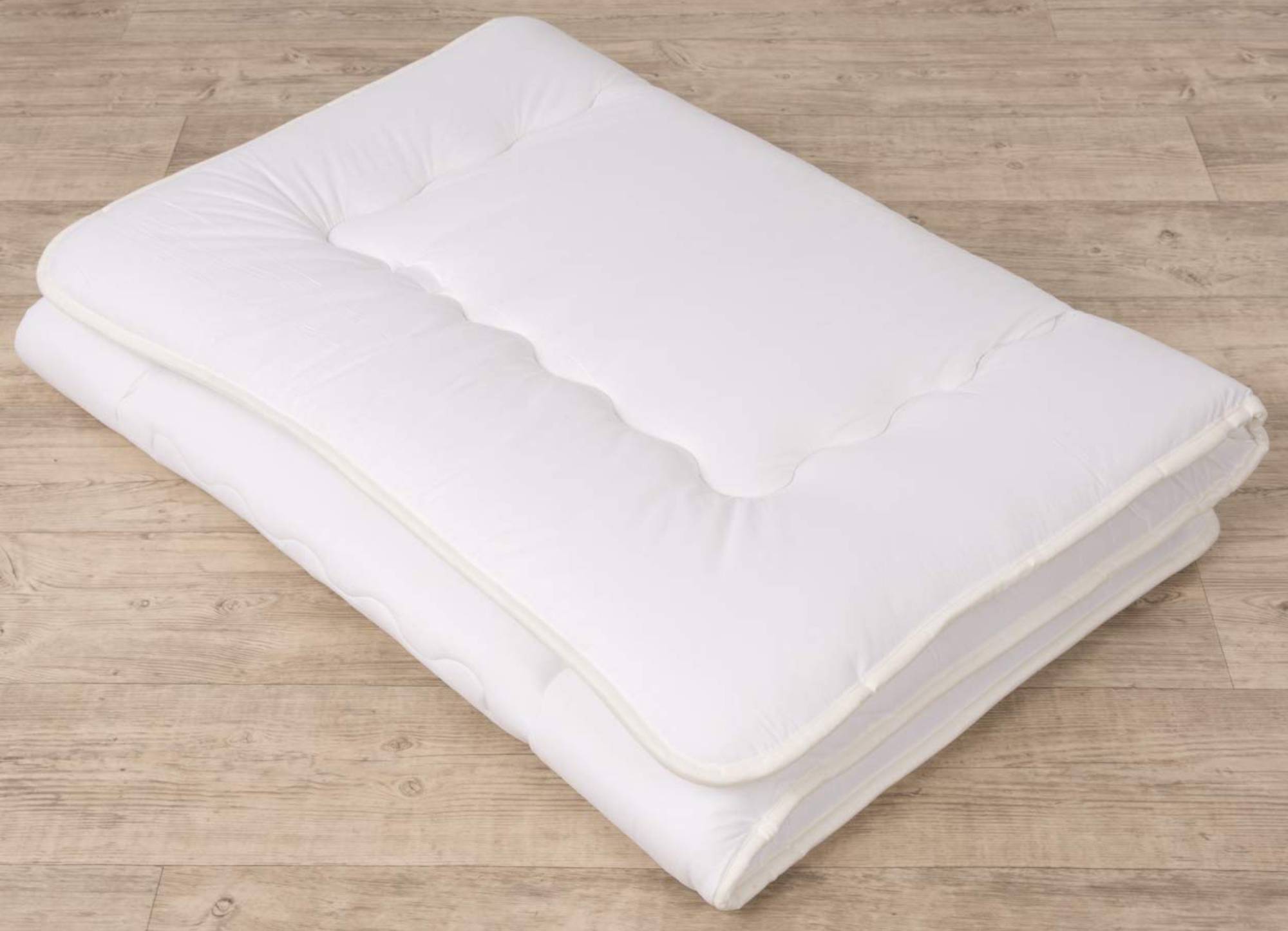 Overview:
Filling: Polyester
Cover: Organic Cotton
Size & Dimension: Twin Long – 39 x 83 inches
Simplicity and convenience are in the heart of every traditional Japanese bed. Those things are also exactly what you get when you choose the Luxton Home Japanese Shiki futon.
Features
Designed to deliver better back health and alignment, the Luxton provides all the comfort and support you would expect from resting on a firm surface, like the floor. Although the futon can take some getting used to, it';s excellent for relieving pain and common back problems.
The traditional Japanese futon mattress is also highly comfortable and portable. Though the layers are quite thin to support better back alignment, it will still give you the comfort that you need to fall asleep easily at night. Additionally, because it rolls up to a compact shape, this solution can be perfect for traveling, camping, and other outings.
This cotton Shiki futon will require three days in total to expand completely after arrival. Therefore, you';ll need to make sure that you buy the product ahead of time for it to be ready for the first test. On the plus side, the lightweight Shikibuton is antibacterial and hypoallergenic. It';s excellent for supporting different skin types and preventing irritation. What';s more, unlike other bed-in-a-box mattress options, these Shikibuton mattresses don't come with any horrible smells.
One downside of this bedding is that it is quite thin. Hence, it may not be suitable for heavier sleepers who will sink right through the padding.
Pros:
Simple and easy to use
Lightweight and compact for storage and travel
Excellent allergy protection
No offensive smells
Can be folded up as a floor pillow
Cons:
Not ideal for heavier sleepers
Takes a while to expand to full size
Overview:
Filling: Polyester
Cover: Cotton
Size & Dimension: Twin Long – Size 39 x 83 inches
Although most Japanese mattresses are designed for simplicity, that doesn';t mean that you can';t still find the occasional futon set that has been created to deliver luxury, too. For instance, the Classe Japanese bedding from EMOOR is the company';s most popular and longest-selling Shikibuton. This high-quality bed has been made with the leading materials on the market to deliver unbeatable customer comfort and firm support.
Features
If you';re looking for a brand new experience from your sleep each night, the Classe is sure to transform your world. This 2.5-inch bedding contains a firm yet comfortable pad of polyester between soft fillings. This means that you get firm support without having to worry about discomfort. Although the Shiki futon is great for your back, it';s not so hard that you feel like you';re sleeping on the floor.
Designed using 100% cotton, this futon is easy to care for. It comes with a washable and replaceable cover when you need an update. Like most traditional bedding from Japan, this option can be rolled up into a floor cushion, too. Some people complained that it takes quite a lot of time to get used to it. The pad has a thin feel at first use, according to some. However, you can place a foam pad underneath for extra comfort. Additionally, some reviewers noted that it may not be enough for taller or heavier sleepers.
Pros:
Good firm support for your back
High-quality materials used throughout
Changeable covers
Top-selling brand for Japanese bedding
Compact and portable
Cons:
Not ideal for heavier individuals and with a taller frame
Quite thin, so takes a lot of getting used to
Overview:
Filling: White Cotton Battings, Two Fiber Layers, and a Layer of Foam
Cover: Polyester
Size & Dimension: Twin – 39 x 80
Another Japanese futon mattress designed to put simplicity first, this D&D furniture pillow-like mattress is great when you need additional bedding in your home.
Features
Designed to be compact and lightweight, so you can easily take it with you when you travel, or store it somewhere when it';s not in use. This futon is similar in style to a traditional Tatami mat.
American made, the mattress combines state-of-the-art cotton batting with a unique layer of foam to deliver extra support around the joints and pressure points throughout your body. This means you';re not just drifting off on a pillow on the floor, but you';re getting something that can mold to your frame. Notably, however, the foam does appear to be shredded, so you shouldn';t expect too much firm support. Shredded foam isn';t as hard as its full-pad counterpart.
For those who aren';t used to sleeping on the ground or using a Tatammi style snoozing device, it might be better to place a pad or mattress topper under the bedding while you';re still getting used to it. The cotton fabric in this futon Japanese bedding can shift quite quickly, particularly if you've got a lot of weight to accommodate.
On the plus side, if you';re looking for a simple and breathable floor mattress that you can roll in and spread out day and night, this could be the perfect solution for you. Also, the Tatami mat is excellent for meditation and yoga. However, it';s unlikely to be suitable for people with joint pain and those of a certain age.
Pros:
Compact and portable
Excellent shredded foam interior
Budget-friendly choice
Suits a range of sleeping types
Made in the USA
Cons:
Very thin for some sleepers
Not ideal for elderly people or those with joint pain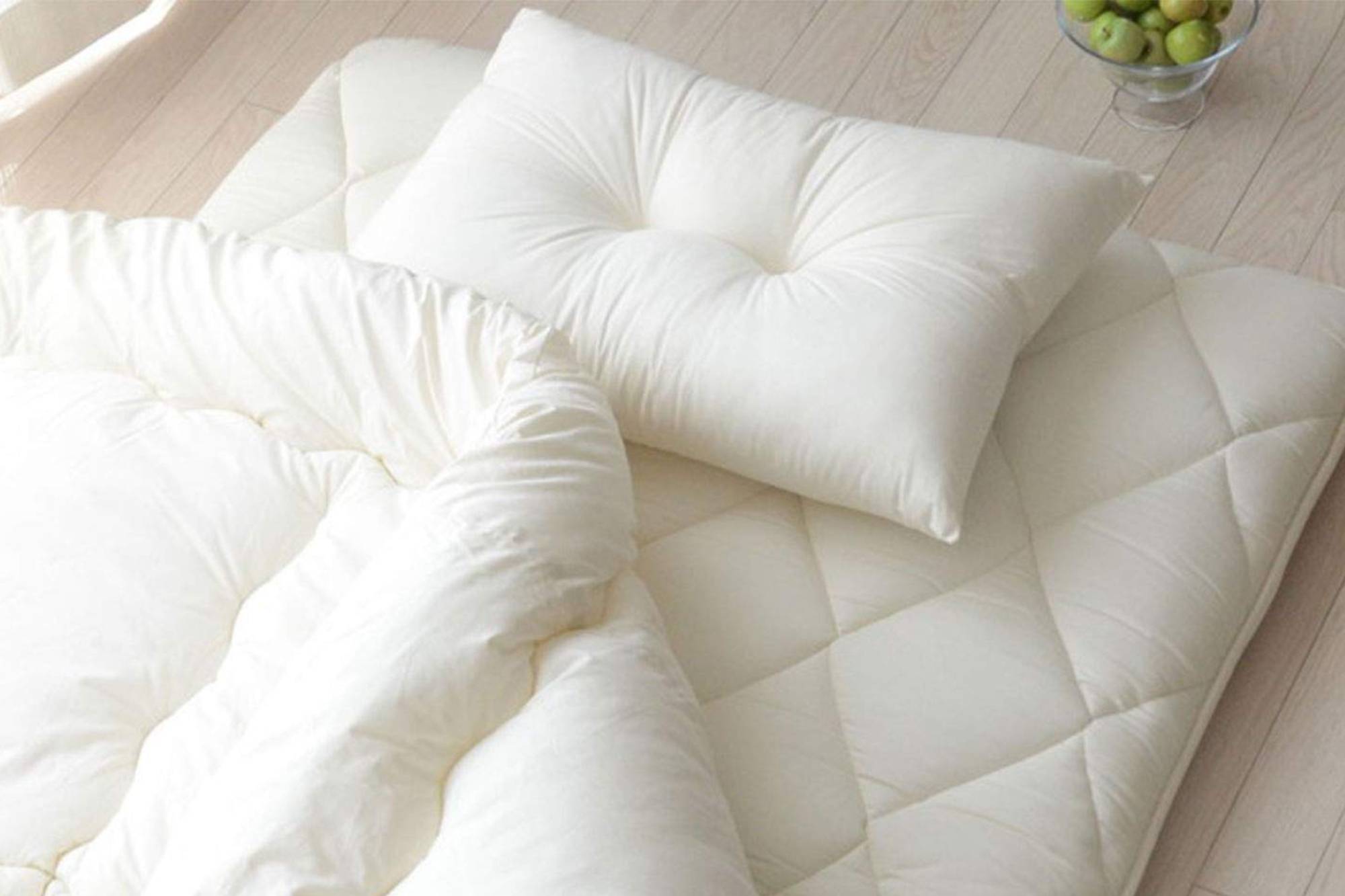 Overview:
Filling: Polyester
Cover: Cotton
Size & Dimension: Twin – 39 x 79 inches
The EMOOR Original Classe futon set is designed to take your traditional sleeping experience to the next level by giving you the full kit that you need for comfortable and healthy floor slumber.
Features
The EMOOR set comes with a pillow, comforter, and shiki mattress. All three solutions that come with your set are designed for portability and convenience. Hence, you can easily fold them up and store when you don';t need to use them.
Ideal for apartments, cars, temporary housing, and dormitory use, the EMOOR Original Classe mattress is crafted using high-quality cotton fabric. Additionally, the firm pad can help to support your back, while the outer fabric provides extra padding and comfort where you need it most. Although this pillow-like futon looks soft at first glance, it';s actually a lot firmer than it appears.
Like many of the Japanese futons available on the market today, the EMOOR is 100% cotton. A material that would be appreciated by people who suffer regularly from allergies and sensitive skin. Unfortunately, the product isn';t washable, so you';ll need to use covers to keep the futon clean. Additionally, there are quite a few inches of cushion for people who aren';t used to Tatami or Shiki sleeping. Thus, it may require additional padding at first.
One major problem with this particular futon is that there are two creases in the bedding that leave ridges underneath your body when you sleep. An issue that can be annoying for some customers.
Pros:
Great for traditional back support
Ideal for places with limited space
Full set of products included
High-quality materials used throughout
Great for travel
Cons:
Very thin, and perhaps too firm for some customers
Creases can cause discomfort during slumber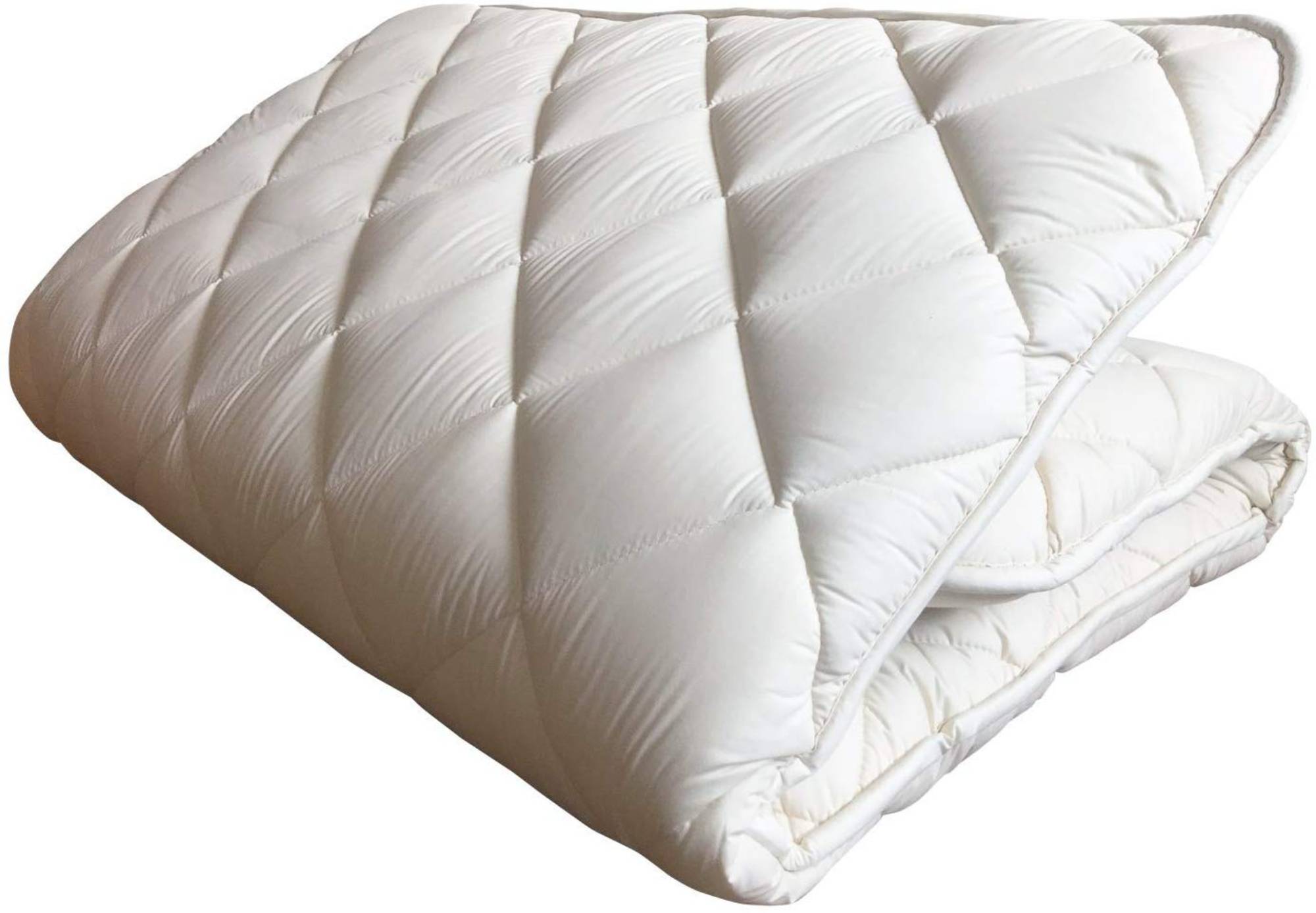 Overview:
Filling: Polyester
Cover: Cotton
Size & Dimension: Twin XL – 38 x 83 inches
Another excellent example of a traditional Japanese futon mattress, this FULI Japanese bed is actually made in Japan and sent through to the USA. Thus, you know that you';re getting the same kind of quality that the standard Japanese customer expects when investing in Japanese futons.
Features
This fantastic Tatami or Shikibuton option will change the way that you experience your nightly sleep, with a comforting yet firm experience.
According to the reviews that we read, it';s one of the most authentic traditional futon mattresses on the market. It offers the unique firmness that many Japanese consumers rely on to keep their spine in proper alignment. If you like firm support or you need the help that comes from snoozing on the floor to improve your posture, then you';re going to love the features of this FULI traditional mattress.
However, there';s not a lot of cushion in this futon. Also, many of the reviews suggest that if you';re used to resting on beds from the Western world, it'll be challenging to sleep on the futon every day. This is quite a hard bedding option, so it might not be something that you can get used to straight away. Instead, you might prefer it as a temporary bed when your back is causing you extra discomfort.
Pros:
Lightweight, compact, and easy to store in any space
Sweat-wicking and fast-drying mattress
Compact compression packaging
Made in Japan and shipped to USA
Cotton fabric
Cons:
Polyester stuffing might not suit those with allergies
Very firm and won';t suit all sleepers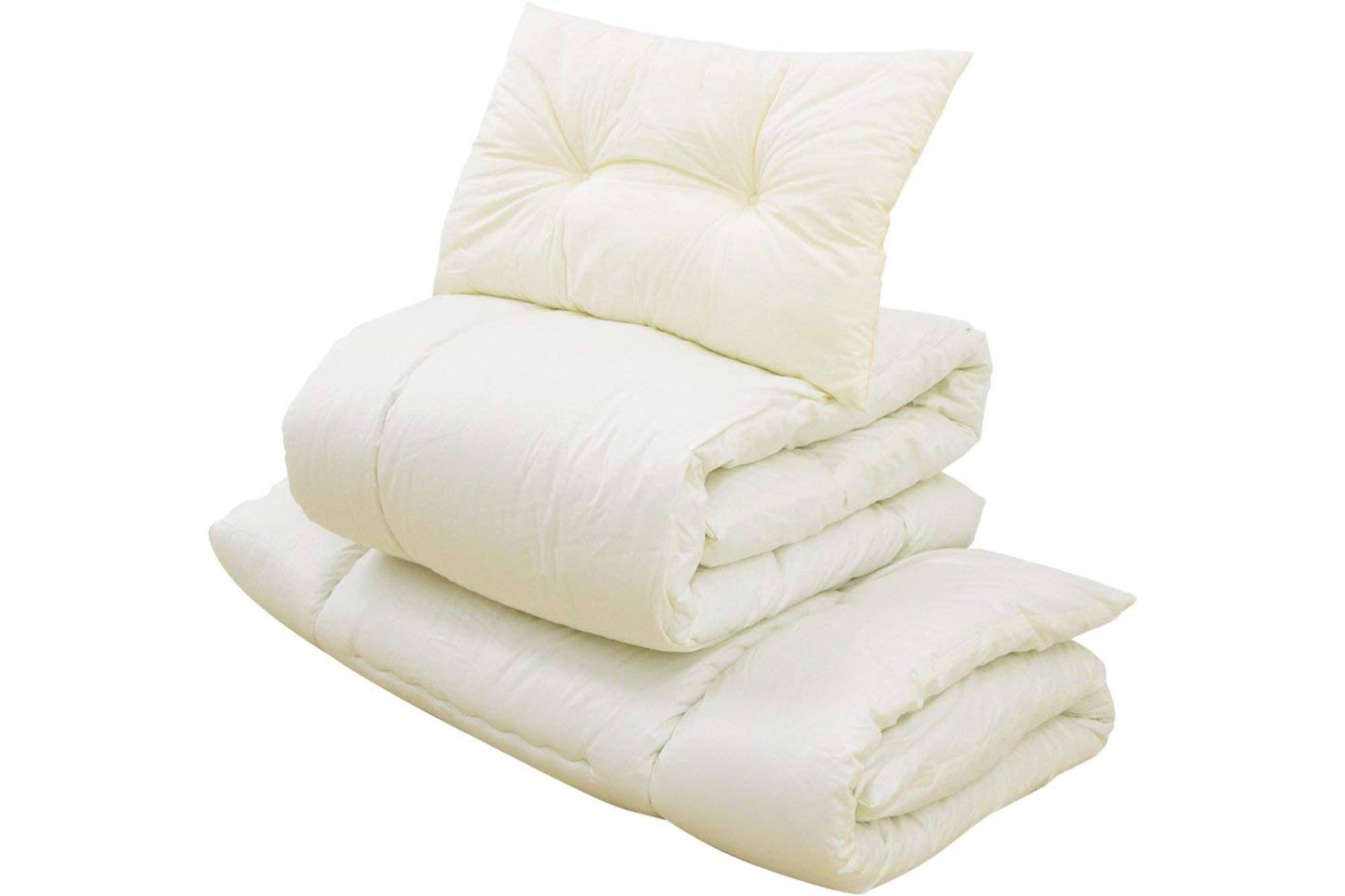 Overview:
Filling: Polyester
Cover: Cotton
Size & Dimension: Compact Twin – 37.41 x 76.80 inches
This is a fantastic twin size Shiki futon from EMOOR, designed for people who are ready to explore the benefits of sleeping Tatami style.
Features
The EMOOR compact set includes a futon mattress, a pillow, and a comforter, to give you everything you need for a unique night';s sleep. What';s more, like the other Japanese futons that we';ve looked at so far, this product has been designed to deliver a lightweight and convenient experience. Hence, it';s easy to store in any available space.
Whether you decide to fold your futon or roll and store it in a closet, you';ll always have additional comfortable bedding available when you need it most. Notably, this is a compact twin-size mattress, which means that it';s a lot smaller than the Twin size you';re used to in America. The chances are that this bed will only be big enough for a single person. Additionally, the manufacturers say that it might not be thick enough to use directly on the floor.
The futon is only a couple of inches thick, which means that heavier people will easily sink to the hard ground below. Although there are some benefits to sleeping on the floor, you';re not likely to love the experience if you';re used to resting on an American mattress. It might be a good idea to use this mat on top of a foam mattress topper instead. Additionally, according to the reviews that we read, it';s worth noting that you will need to cover the futon with sheets to keep it protected from stains and sweat.
Pros:
Excellent for portability and storage
Lightweight and compact design
Excellent high-quality materials
Made according to traditional standards
Cons:
Not suitable for use on the ground
No extra comfort features for people used to Western mattresses
Overview:
Filling: Cotton
Cover: Cotton and Memory Foam
Size & Dimension: Twin – 39 x 80 inches
The MAXYOYO Japanese futon is a kind of Tatami mat that uses a 100% cotton cover to give you a more luxurious sleeping experience even when you';re on the floor.
Features
Like some of the other futons created according to Japanese design, this bed will require about 2-3 days to fully decompress when you receive it. Therefore, make sure that you give the mattress plenty of time to air out.
The thickness of the mattress is a lot better than some of the other Tatami options that we';ve looked at so far. This sleeping pad features nearly 17 cm of thickness. It implies that you';ll have an experience which is a lot similar to the beds and futons that you';re used to in the western world, for a price that you can afford. Additionally, there';s a middle layer of memory foam included in the mattress to encourage a softer and more supportive sleep.
To give you even more from your purchase, the MAXYOYO company also provides a host of extras with your futon. The perks include a canvas bag where you can store your mattress, and a dust-proof cover perfect for keeping your futon in excellent condition. You can roll this mattress up as a floor cushion or use it as a bed every day. Moreover, you';re unlikely to have as much trouble getting used to it as you would a typical Japanese futon.
Although this option isn';t as traditional as most, it is a lot softer and comes at a great price point. On the downside, because of the extra cotton and foam, the bed can soak up a lot of sleep during the night. Additionally, you might find that there';s a bit of an unusual smell to your futon mattress when you first get it in the post, but this should air out naturally over time.
Pros:
Much thicker and plusher than other mattresses
Features the benefits of Western and Japanese mattresses in one
Additional padding and memory foam included
High-quality materials used throughout
Compact and easy to store
Cons:
Absorbs a lot of extra heat
Not as compact as some mattress options
Can have an unusual smell
Overview:
Filling: Cotton
Cover: Cotton and Memory Foam
Size & Dimension: Twin – 39 x 80 inches
Another popular option from the MAXYOYO brand, this folding mattress is available in a range of sizes, from Queen size to Twin and King. If you';re looking for a unique sleep experience combining traditional Japanese futon materials and design with memory foam and cotton batting, this could be the bed for you.
Features
The MAXYOYO can be easily rolled away and stored when you';re not using it. Although, it does take up quite a few more inches than some of the other futons and mattresses we';ve looked at so far.
This Japanese futon also comes with a dustproof cover and a canvas storage bag. Hence, you can rest assured that all the features of your new mattress will stay in excellent condition when your mattress is in storage, even for a long period. For an affordable price, you';ll get a mattress that';s packed full of inches of foam and cotton for excellent support and firm comfort. Additionally, the thickness of the futon is around 17cm, which means that you get a lot more plush comfort than you would get from some of the other best Japanese futons on the market today.
If you';re looking for all the best features of Japanese futons including compact design and portability, then this could be the best Japanese futon for you. It's a sleeping mat that you can use every night. With 100% cotton cover, you can utilize this product as anything from a sleeping floor mat to a floor cushion and a temporary mattress. Additionally, MAXYOYO offers excellent customer service, and replacements or refunds if you';re not happy.
However, the dust cover is a little flimsy than some of the customer reviews would have liked. Moreover, this product is still quite a bit firmer than other mattresses in the Western world. Nonetheless, it';s an excellent mid-way point for beginners looking into comfortable Japanese mattresses.
Pros:
Extra thick Japanese futon with foam and cotton interior
Inches of pillow softness throughout
Features a dust protection sheet and bag for storage
One of the easier to get used to Japanese futons available
Range of sizes available
Cons:
Still firmer than other mattress options
Quite a flimsy dust futon cover
Absorbs a lot of heat
Overview:
Filling: Cotton and Polyester
Cover: 100% Cotton with Anti-Slip Gel Fabric at the Bottom
Size & Dimension: Single – 32 x 79 inches
The REDCAMP Japanese futon mattress topper is designed to be used either as a single snoozing environment or as an addition to your existing mattress. Sophisticated and elegant in appearance, it has a convenient design that';s perfect for rolling your bedding away when it';s not in use.
Features
The REDCAMP Japanese futon is designed to look and feel amazing, whether you';re using it every day or you want something that you can take with you on the road while traveling. The cotton filling will help to protect you from any pesky allergies while giving you the luxurious softness that you want. There';s also polyester included within the cushion pad to allow for extra durability.
Created for those who love extra-firm resting surfaces, the REDCAMP futon is 1.2 inches thick, which means that you may find it too thin if you';re using the product on its own without any additional bedding. However, this topper could be an excellent way to bring an old mattress to life or add extra comfort to a less than perfect slumber.
Like most Japanese futon mattresses, the REDCAMP also benefits from being completely foldable and portable. When you';re not using it, you';ll be able to easily find a space for your topper in any cupboard or nook.
Pros:
Attractive and lightweight design
Easy to store
Cotton filling
Comes in a variety of sizes
Works well with an existing mattress
Cons:
Very thin
Not ideal for those who like softer sleeping surfaces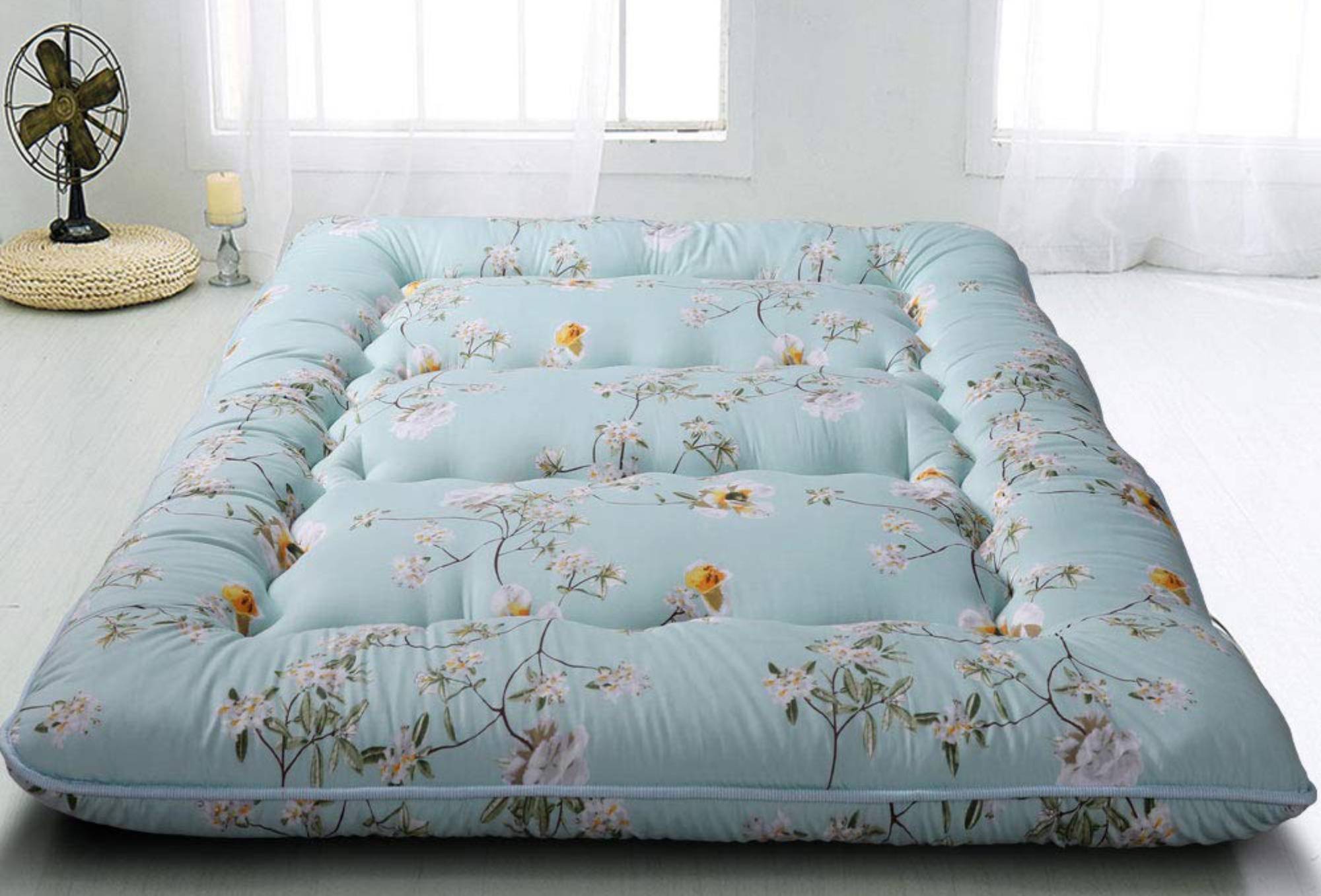 Overview:
Filling: Cotton
Cover: Cotton and Memory Foam
Size & Dimension: Queen – 60 x 80 inches
Finally, we come to one last Japanese futon options from the MAXYOYO sleep brand.
Features
This rustic floral mattress comes with a 100% cotton cover, for those who want protection from allergies and discomfort. Additionally, like many of the other futon mattress options from the MAXYOYO brand, there';s also a dust-proof cover and a canvas storage bag included. Hence, you can protect your mattress when it';s not in use.
Available in a range of size options from Twin to Queen size, the MAXYOYO Japanese futon even comes with a selection of designs to choose from. So, you can find a bed that you love in a style that suits your needs. What';s more, like most of the best futon mattresses that we';ve covered so far, this pad also comes with the convenience of being rolled to suit your preferences. You can even fold it into three parts. Furthermore, you can use this as a guest bed, a mattress when you go camping, or like other futons, you can roll it up into a sitting area.
Like many of the other Japanese futon purchases that we';ve looked at, you will need to give the MAXYOYO mattress a few days to air out when you first receive it. This is to allow the futon to gain a few inches of extra support and expand to its full frame. On the plus side, there is a 30-day warranty included with extra-friendly customer service, in case you have any problems.
One downside of this particular futon is that it is a little heavier than some of the other options on the market. Therefore, you might not have as much of an easy time carrying it with you from one location to another. Nonetheless, it';s still great to sleep in.
Pros:
Excellent night of sleep
Convenient and compact mattress with versatile use
Extra inches of supportive comfort
One of the more plush futons we';ve seen
30-day guarantee
Cons:
Quite heavy and difficult to move around
Cover isn';t great quality
Do Japanese Folks Still Use Futons?
The simple answer to this question is yes, absolutely. There are plenty of people around Japan who prefer the spine alignment benefits of sleeping on a futon. Not only are these products excellent for eliminating muscle and joint pains, but they';re great for convenience, too.
Traditional futons, known as 'Shikibuton mattresses', are very slim and lightweight. They';re designed to be rolled into cushions and out of the way when not in use. This ensures that people in the more compact areas of Japan can avoid taking up too much space with King-sized beds and large mattresses.
However, not everyone will be well-suited to spending every night on a Japanese futon. Traditional Shikibuton beds are nowhere near as thick and luxurious as the spring and memory foam mattress options that we have in the Western world. Meaning, if you';re used to sleeping on a typical spring or memory foam bed, you';re probably going to have a hard time getting used to a Shikibuton at first.
Are Japanese Futons Comfortable?
This is a difficult question to answer, as it';s highly subjective. A lot of Japanese people love sleeping on their futons instead of beds that we have in the Western.
However, if you asked someone who had never slept on a Japanese futon before whether it was cozy, they';d probably tell you no''. Shikibuton beds take some time to get used to. They';re not designed for the same luxury and opulence that we expect from our beds in the US. Instead, these mattress alternatives are made for convenience and health. They';re intended to help with spine alignment and muscular support. Additionally, a Japanese futon can be an easy option for people who want an extra sleeping space in their home but don';t have a lot of extra space.
Is Sleeping on a Japanese Futon Good for Your Back?
Futons come in many different shapes and sizes.
Some of the futons available on the market today are sofas that fold down into beds when you need a surface for a visitor to sleep. Japanese futons are a little different these are slimline mattresses that are intended for regular use.
The primary benefit of a Japanese futon or Shikibuton bed is that it';s intended for better back health. Just like sleeping on hard ground is good for posture and spine alignment, sleeping on a thin pad with plenty of firm support can help to get your back in good shape, too. However, not everyone will benefit from this kind of sleeping position. If you';ve had specific injuries to your lower back or spine in the past, then you might find that a Japanese futon doesn';t give you enough malleability for your body to sink properly into the cushion. The best thing you can do is speak to a doctor or a professional to ask about the kind of sleeping surface that would be most beneficial to your back.
Can You Sleep on a Futon Every Night?
Unlike the US futons that fold from sofas into beds at a moment';s notice, Japanese futons aren';t designed for temporary sleeping solutions. These futons can replace the other mattress that you might have been using until now, to give you the extra support and comfort you need.
Many of the best Japanese futon products are designed specifically for use every night, so you can use them as regularly as you like. At the same time, you can fold your mattress or keep it somewhere safe and bring it out only when you need an extra bed, too. It';s completely up to you.
Like with any mattress, choosing a futon that you can comfortably sleep on every night will require you to think carefully about the elements you need in your bed to ensure a good night';s sleep. For instance, you might need your mattress to include some memory foam padding for extra cushioning. Other people will require a 100% cotton construction to protect them from allergic reactions. You might even consider that the best futon mattress is one that';s easy to clean.
Choosing the Best Japanese Futon
There';s no one-size-fits-all strategy in choosing the best Japanese futon. A futon is just another kind of mattress or bed, which means that, like finding the best mattress, you';ll need to consider your personal preferences carefully. Understanding how you sleep and how you want to adjust your sleeping patterns, for better health and comfort, will assist you in choosing the best futon mattress.
Our favorite futon among the options that we';ve looked at so far is the Luxton Home Japanese Shikibuton. This state-of-the-art mattress is designed to be lightweight, convenient, and comfortable, too. Although it is quite thin compared to some of the other futon mattress choices that we have it could be the best way to get a real feel for what it';s like to sleep on a traditional futon from Japan.
Good luck finding your ideal alternative to the standard spring or memory foam mattress, with your very own Japanese futon.
Additional Resources