We may earn a small commission if you buy something via a link on this page. This doesn't impact our rankings or cost you extra. See
our advertising disclosure
for details.
A mattress topper is an additional removable layer of comfort and support that takes the form of an extra cushion. It's called a topper because it's usually laid on top of the mattress while others are placed below the bedsheets. There are different types of mattress toppers, with each type depending on what type of material they are made from.
Naturally, if you want to feel the most comfortable with plenty of space to spare for whatever reason, you'd want the biggest-sized mattress available, which is the King size. And to match such a generous size, you'd need a King size mattress topper. Getting the best King size mattress toppers to depend on your budget and preferences. Not everyone has the same choices, so you need to know what type of sleeper you are and what level of comfort makes you feel comfortable.
This guide will help you determine the different factors you need to know before you purchase a mattress topper.
10 Best Selling King Size Mattress Toppers With Comparison
Top 10 Best King Size Mattress Toppers Reviews
LUCID is one of the many go-to brands when it comes to beds and mattresses. With several sizes to choose from, you have a wide selection of products that can suit your style and budget.

Features
The sizeable and plush gel memory foam from LUCID adds an extra layer of comfort to enjoy that offers softness and conformity to your body's shape for a more relaxing sleep. The feeling of sinking deeper on a soft, plush foam can ease the tension and relieve pressure points in your body.This is a feature you can't experience in thinner mattress toppers.
Memory foam toppers tend to be warmer than most types because they are known to trap absorbed heat. However, this can be remedied by infusing a cooling gel material that absorbs the heat from the sleeper and then distributes the heat around until it escapes into the air from the open pores.
The superior airflow design of the LUCID 4-Inch Memory Foam King Size Mattress Topper makes more breathable than most conventional memory foams. With its ability to conform to the body's shape, this mattress topper is perfect for side sleepers as it eliminates pressure points during sleep.
LUCID offers a 3-year warranty for this product to assure quality and customer satisfaction.
Pros
The price tag is within an affordable range
4 inches of plush and conforming comfort
It is infused with an advanced cooling gel to provide temperature regulation
Its design has improved airflow and breathability
It comes with a 3-year warranty period
Cons
Back and stomach sleepers may find it uncomfortable
It has an off-gassing smell fresh out the box
Specializing in bedroom sheets and high-quality bath towels, ExceptionalSheets offers five-star hotel quality yet stylish products with budget-friendly options.

Features
This fiber mattress topper from ExceptionalSheets uses a high-loft, breathable, and durable cluster fiber filling, called Revoloft. This fiberfill mimics the feel of goose and duck down without the inconveniences such as allergies and poking. Not only would you get the high breathability and cloud-like softness that is sought from feather mattress toppers. You also get uninterrupted sleep at night, thanks to the hypoallergenic property of this fiberfill. Furthermore, it's compatible with innerspring, latex, or memory foam mattresses too.
The Polysoft cover is made from a blend of polyester and cotton to maximize comfort. It is highly resistant to dust mites, bacteria, and allergens so that everyone can enjoy using this mattress topper. This cover has a 160 thread count with a double-needle baffle box stitch to prevent the fill from leaking and shifting. It also has a deep pocket fitted skirt that can fit mattresses up to 18 inches thick.
Not only is this mattress topper 5-star quality, but it is also laboratory-tested and certified safe by Consumer Product Safety Commission 16 CFR Party 1632 standard. If the affordable price isn't enough, ExceptionalSheets also offers a 30-day money-back guarantee if you're not satisfied.
Pros
Premium quality for an affordable price
It has an 18-inch deep pocket fitted skirt
Revoloft feels like an authentic goose and duck down
It's hypoallergenic and does not use flame retardant chemicals
It comes with a 30-day money-back satisfaction guarantee period
Cons
Has a tendency to become lumpy after machine wash
It's prone to folding, and some sleepers may find it uncomfortable
Pure Green is a registered trademark line of Natural Latex Foam by Sleep On Latex. Sleep On Latex has quickly become the largest retailer of latex mattress products in the US.They partnered with a Sri Lankan factory to provide premium quality products at the best prices.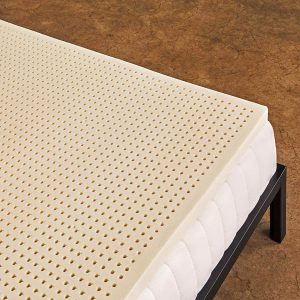 Features
The Pure Green Natural Latex Mattress Topper by Sleep On Latex is designed with precision. This provides pinpointed support and better comfort to make a highly conducive sleeping environment. This latex foam mattress topper is 2 inches thick and has soft but support surface with a firmness rating of 20 ILD, so it falls between moderately firm and soft. It also has a density of 4 lbs per Cubic feet.
This latex mattress topper provides excellent comfort and support with reliable conformity to your body's shape, giving you therapeutic benefits as you sleep. In terms of breathability, it is heat neutral; body heat won't be absorbed, and it won't affect the firmness of the mattress due to an increase or decrease in temperature. Usually, latex foam mattress toppers do not make beds cooler, but having a 2 or 3-inch mattress topper can serve as an excellent buffer between your body and warm memory foam.
Pure Green Natural Latex Foam Mattress Topper has a high durability rating, and it is one of the most durable bedding material in the world. It is even more durable than polyurethane foam. If you're looking for a mattress topper to last you a lifetime, then look no more.
Pros
It has an affordable price range
Made with a superior production process
Has an extremely high durability rating for a bedding material
It is highly breathable
It is soft yet supportive
Cons
It has a chemical odor fresh from the box
Stomach sleepers might find this uncomfortable to sleep with
Stylish and functional, these are the two main characteristics of the products offered by ViscoSoft. They provide products that provide luxurious comfort and therapeutic benefits at prices not too hefty for your wallet.

Features
The ViscoSoft Memory Foam Mattress Topper is designed to provide relief for body aches and eliminate pressure points that make it uncomfortable to sleep with. This memory foam has a 3-inch thickness, and it prevents "sinking" when lying on top of it. This is thanks to the specialized design of this mattress topper that offers counter-resistance to your body weight to keep your spine aligned.
Aside from offering true weight support that evenly distributes the sleeper's weight all across the foam, but it also eliminates motion transfer than can disturb you or your partner when you sleep together.
The porous design of the ViscoSoft mattress topper has a Temp Smart ventilated core that also allows it to disperse the trapped body heat. This is distributed and regulated by the infused cooling gel within the memory foam. This keeps the foam well-ventilated and cool enough for a comfortable and relaxing sleep.
This mattress topper comes with a removable and washable bamboo-rayon cover. This elegant, smooth, and hypoallergenic mesh cover is highly breathable, and it is also equipped with adjustable non-slip elastic straps to keep your topper attached to your mattress. ViscoSoft also offers a 60-day no-hassle, money-back guarantee with a 3-year warranty period.
Pros
It has true weight support and prevents sinking
Designed to be well-ventilated and provide temperature regulation
It comes with a removable and washable bamboo-rayon cover
Designed to eliminate motion transfer
It comes with a 60-day money-back guarantee and a 3 year warranty period
Cons
It's quite expensive
It can be uncomfortable for side sleepers
KARRISM aims to provide high-quality products that excel in both functionality, design, and longevity. Their mattress topper is not only designed to provide extra comfort but also as a layer of protection for your beloved mattress against stains and other damage.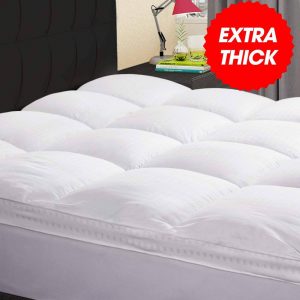 Features
This extra-thick fiber mattress topper is only around 2 inches in thickness. Still, it has a more compact filling that makes it thicker than most regular mattress pads. The filling is made with ultra-plush snow down alternative fill that feels just as good as goose or duck down without the allergens. These are arranged with a true baffle box design and will not shift during use to maintain a consistently soft and comfortable surface all around. This design also helps resist tearing and shifting of the filling when washed by machine.
The outer cover is made with 100% cotton with a 400 thread count. It feels soft and smooth as well as gentle to the skin, thanks to cotton being hypoallergenic. It also feels comfortably cool thanks to its natural breathability. It comes with a deep elastic pocket that can fit mattresses 8 to 21 inches thick.
This mattress topper can be washed easily by using cold water and set to tumble dry on low. Fluffing it up after tumble drying it helps maintain its loft and softness for future use.
Pros
It's cheap and affordable
Its outer cover is made with 100% cotton with a 400 thread count
It has a deep elastic pocket to fit mattresses 8-21 inches thick
Has 50% more thickness compared to regular mattress pads
Easy to clean and maintain
Cons
It's not as thick and conforming as foam mattress toppers
Careful washing should be observed to prevent cases of tearing
Combining classic and contemporary designs, D & G THE DUCK AND GOOSE CO brand adds flair and sophistication to the room. Functional and elegant, the products aren't limited to just goose and duck down, or feathers but other types of materials are also used in their vast collection of products.

Features
This 2-inch thick mattress topper is filled with 1400 gsm premium quality down alternative filling to make it super plush and soft. Its unique channel-weave construction provides its high breathability making it efficient at regulating the flow of air and temperature of the surface. The 2-inch loft of its square shape stitching adds to the comfortable and relaxing experience. It is expertly sewn to prevent the filling from shifting and maintain an even, lofty surface. It comes with anchor bands for a secure fit to any mattress 6 to 22 inches thick.
Unlike memory foams and synthetic latex foams, fiber mattress toppers do not give off a chemical smell, not even fresh from the box. Its outer cover is made with soft microfiber, and the topper is entirely washable. It is easy to machine wash and dry, making it easy to maintain. Being able to keep it clean and hygienic improves its lifespan as well.
D&G THE DUCK AND GOOSE CO offers a generous ten-year warranty period for this product.You can rest assured you'll be given a decade's worth of support for this product.
Pros
It has an affordable price tag
As soft and fluff as goose or duck down but minus the allergens
It is equipped with anchor bands that allow it to fit up to 22-inch mattresses
Easy to wash and dry
Comes with a ten-year warranty period
Cons
Careful washing must be observed as it is prone to lumping
It can be too soft for heavier sleepers
Milemont is a brand specializing in cheap and affordable memory foam products. Their products show a simple yet stylish design topped with functionality for comfort in your bedroom.

Features
This 2-inch gel-infused memory foam mattress topper is designed to help regulate temperature to make a comfortable and conducive sleeping environment for the sleeper. The infused cooling gel beads and open-cell design give it better breathability than most memory foams, making it less likely to trap heat longer. It has hundreds of evenly distributed ventilation pores for better airflow.
This topper provides both cushion and support. Memory foams are designed to contour to the body's shape, and this eliminates pressure points that could disrupt sleep. Side sleepers would especially love this since it is designed to contour to their body shape, and it relieves pressure points.
The Millemont Gel Memory Foam Mattress Topper is a cheaper alternative and solution to get when you wanted to replace your old mattress. Instead of throwing it away, you can simply fix and make adjustments by adding this topper. Not only is it cheap, but it's also easy to install and remove. Furthermore, Milemont offers a 5-year warranty for this mattress topper.
Pros
Very cheap and affordable price
It is surprisingly more effective and comfier than other pricier products
It has better ventilation and temperature control than other memory foams
It works great for side sleepers
It comes with a 5-year warranty period
Cons
Back and stomach sleepers may not find this adequate
It does not come with a cover included
Premium quality at flexible price options is what EASELAND brings to the table. Though they may offer fewer products, this brand gives priority to quality and satisfaction. The superior quality they take pride in their products can be shown with how premium this pillow top mattress topper feel and look.

Features
If you're dissatisfied with your current mattress, a cheaper solution would be getting EASELAND's Pillow Top Mattress Topper. It uses a 30 oz down alternative filling to add a layer of softness on top of your firm mattress. This is a far cheaper and cost-effective option than discarding your old mattress and buying a new one.
This mattress topper is as gentle to your skin as it is to your budget. Its outer fabric is made with 100% cotton with a 300 thread count, making it soft, breathable, and moisture absorbent. And with cotton's natural hypoallergenic property, you don't need to worry about allergies. It has box stitching design to prevent the filling from shifting around. It also has a deep pocket design that can make it fit up to 21-inch mattresses. Thanks to its 130 GSM single-track elastic fabric, it becomes slip-resistant, allowing it to keep snug and tight to your mattress.
It is very easy to wash under a gentle wash cycle. It can tumble dry it quickly at a low temperature. Just keep in mind never to use bleach.
Pros
Very affordable price for a premium quality mattress topper
Uses down alternative filling
Its outer fabric is made with 100% cotton with a 300 thread count
It's very soft and comfortable
It has a deep pocket design that can fit mattresses 8 to 21 inches thick
Cons
It can be too soft for heavier sleepers
Not quite as fluffy as other toppers
Classic Brands is a trusted brand when it comes to top-quality furniture and bedding. From bed frames, furniture, and mattresses, Classic Brands deliver premium yet inexpensive options in the market so that everyone gets to enjoy quality comfort at a budget they can afford.

Features
What sets the Classic Brands CoolGel Memory Foam Mattress Topper apart from the rest is the unique patterned design of the topper. It is specifically designed to contour to the body and provide therapeutic benefits. Both side and back sleepers should be able to rest thanks to the unique design of this memory foam topper comfortably. Certain spots of this egg crate design have a corresponding pattern specifically aimed to relieve pressure points and produce a relaxing sleeping surface. This design also facilitates better airflow to keep a cool sleeping surface.
This 3-inch gel-infused memory foam is CertiPUR-US certified and has natural antimicrobial properties. The open-cell structure of the memory foam is self-ventilating, and it has more pores than conventional memory foams. It is also resistant to allergens, dust mites, and molds, making it overall hygienic and hypoallergenic.
It comes with a removable, machine washable zipper mesh non-slip cover, which prevents the topper from shifting. If the affordable price doesn't cut it for you, Classic Brands also offers a 3-year warranty period.
Pros
It's cheap and affordable
Unique design contours to specific parts of your body
Designed to be self-ventilating and facilitate optimal airflow
Includes a removable machine washable cover
It comes with a 3-year worry-free warranty
Cons
It doesn't stay in place as efficient as toppers with deep pockets
It has an off-gassing smell fresh out of the box
JEARY is a new brand that offers an affordable selection of functional yet fashionable products in the market. This brand prides itself on being committed to providing quality products with budget-friendly prices and outstanding customer service.

Features
The JEARY Snow Down Alternative Mattress Topper is filled with snow down alternative fill that mimics the softness and cloud-like feel of goose or duck down or feather without the risk of getting allergies. It is overfilled with 4D spiral fiber to make it super fluffy and comfier.
Not only is the fill breathable and cool, but its outer fabric also complements it well. It is made with 100% polyester fabric that offers better breathability than premium materials like Egyptian cotton. It rivals its quality in terms of softness and durability as well as being skin-friendly. Pure polyester fabric also retains shape longer than cotton. This outer cover can protect against pet dander, stains, and sweat. It is also fully machine washable and easy to maintain. Not only would this improve its lifespan, but you get to keep your bed hygienic and fresh.
It comes with a deep pocket that can accommodate 8 to 21-inch mattresses to give an excellent, snug fit and keep the topper in place on top of your mattress.
Despite its super affordable price, JEARY also offers a 100% satisfaction guarantee. Not many companies even do this, so it's surprisingly note-worthy that you get something for cheap with a full refund guarantee if you're dissatisfied with the product. As if that's not tempting enough, it's also one of the highest-rated King size mattress toppers in the market.
Pros
It has the cheapest price tag on this list
Premium quality comfort at a super affordable price
The outer cover is made with durable and soft 100% polyester
Has a deep pocket that can fit up to 21-inch mattresses
Easy to clean and maintain
Cons
It's quite thin so it may not be suitable to "fix" mattresses that are too firm
It feels more like a mattress cover than a mattress topper
Different Types of King Size Mattress Toppers
The type of a King size mattress topper is usually classified by the type of material used to make it. As far as materials are concerned, there are five common materials used to create mattress toppers. With that said, the following are the types of King size mattress toppers to be discussed below:

When it comes to all-around comfort, this type of mattress topper is the most versatile, and it provides all the benefits you're looking for in a mattress topper. Benefits include an extra, comfortable cushion for the sleeper. It also offers relief of pressure points that prevent and reduce joint and muscle pain. The mattress also helps with temperature regulation to disperse heat and cool down the body. It is durable and sturdy able to last you up to 20-30 years lifespan. Most importantly, it is hypoallergenic.
There are three types of latex mattress toppers: natural, synthetic, and blended. Latex with 100% natural components is also among the most hygienic types since it is resistant to mildew, mold, and bacteria. It is also the best in terms of quality of softness and overall benefits.
The downside, however, is that this type of mattress topper is usually more expensive than other types.
Memory Foam Mattress Topper
This is the most popular type of mattress topper due to its ability to contour with the body shape of the sleeper, eliminate pressure points, and provide other therapeutic benefits. This type also reduces the inconvenience of tossing and turning, which wakes up the sleeper in the middle of the night.
The downside to this type of mattress topper is that it can cause discomfort for the sleeper by being to warm. This is due to memory foams' ability to absorb heat but being unable to dissipate trapped heat as efficiently as other types.
Also known as a featherbed, this type is made from duck or goose feather or down. This type of mattress topper enjoys its share of popularity because of its fluffiness, softness, and being lightweight. It's very breathable and has excellent temperature regulation, so it helps the sleeper feel cool in summer and warm in winter.
What this type is lacking most notably is that it's not hypoallergenic. It also has a thin density and poor pressure point relief.
Like the feather mattress topper, this type has impressive breathability and temperature regulation. However, unlike the former, the latter is hypoallergenic. Because it is purely organic and does not use chemicals, it is free from toxic smells, unlike memory foam mattress toppers.
Its downsides include being unable to reduce motion transfer, which could be very inconvenient if the sleeper has a partner that is also sleeping in the same bed. You will also need to continually shake or fluff it to maintain its loft.
Also known as a fiberbed, it exhibits similarities with the feather mattress topper. Its benefits include reduced pressure points, no toxic chemical smell, excellent temperature regulation, having low weight, and being hypoallergenic. The best advantage this type could offer is that it is usually the cheapest type of mattress topper in the market.
Significant drawbacks include inefficiency at reducing motion transfer, a constant need to fluff it to maintain its comfort, and it can become lumpy after machine wash.
Key Features To Look For When Buying A King Size Mattress Topper
When looking for the ideal King size mattress topper, there are a lot of factors to weigh in. Regardless of budget, the following features should be taken into careful consideration:

To make sure you get your money's worth, you should take note of how durable the mattress topper is. Knowing what type of mattress topper is durable and which ones aren't, makes a huge difference most especially if you use it a lot.
However, some mattress toppers of the same type are more durable than the rest, so it's essential to also keep a keen eye on the build quality of every product.
It's a great inconvenience to your sleep when you're feeling hot and flushed. Getting a mattress topper that has well-ventilated features or made using highly breathable materials can make a huge difference in your comfort. The breathability of a mattress topper is also influenced by how dense it is, so it's essential to pay heed in regards to a topper's density as well.
The thickness of mattress toppers depends on how much adjustments you'd want to make for your mattress. If you have a firm mattress and you want something more conforming to your body's shape, you might want to get a thicker memory foam mattress topper. For minor adjustments, thinner mattress toppers usually do the trick.
The higher the density, the better the support a mattress topper can provide. It also aids in delivering closer conformity to the sleeper's body shape. Having a higher density means that it has more material in a given area or measurement and fewer air bubbles, as opposed to thickness.
You should take note that using high-density mattress toppers come with the inconveniences of sleeping on a hotter and noisier sleeping surface. It usually comes with a chemical odor that you need to air out for a few hours or even days.
As an extra, removable layer of cushion, mattress toppers can be used to fix the comfort level of the mattress you currently have without the need to buy a new one. Knowing what type of sleeper you are is essential so that you won't make the mistake of choosing the wrong firmness or softness. Both back and stomach sleepers usually prefer medium to medium-firm firmness, while side sleepers prefer sleeping on soft to medium-soft.
It is essential to know if you have skin sensitivities. Materials such as latex and feathers can cause skin allergies to some people. These types of mattress toppers will cause inconveniences if you find out you're actually allergic to those materials. If you're unsure, it's always a safe bet to choose hypoallergenic options.
Easily one of the most overlooked key features in some products, maintenance determines how easy it is to clean and keep the mattress topper hygienic. Some types of mattress toppers are not machine washable, so you have to know what recommendations the seller or manufacturer suggests for its maintenance.
Some mattress toppers also come with a cover while some do not. Memory foam and latex types do not come with a lid but you can use your bedsheets instead. Wool, feather, and fiber mattress topper types usually come with a fabric cover and can be used with or without a bedsheet.
The lifespan of the mattress topper is significantly higher the easier it is to clean and maintain it.
Frequently Asked Questions
Is there a need to put a mattress cover or bed sheet on top of a King size mattress topper?
This depends on the type of mattress topper. Some latex and memory foam mattress toppers come as unprotected and uncovered cushioned toppers for your mattresses. Not only would this feel uncomfortable to use when they're uncovered, but it would also make them more prone to damage. Therefore, it's advisable to use a cover or sheet for these types of toppers. However, for mattress toppers that are protected with covers, it is a matter of preference if you want to use a cover or not.
Why is there a smell on my mattress topper, and how can I get rid of it?
This is a reaction known as "off-gassing" that occurs commonly on memory foams and synthetic latex foams. This happens when volatile organic compounds break down and release gas. The foul smell usually subsides after a day or a few. The process can be sped up by putting the topper out in the sun for a day or two and then let it expand entirely before using it.
Why is there no smell on 100% natural latex mattress toppers, but there are is a chemical smell for synthetic or blended latex ones?
Natural latex doesn't produce off-gassing because they are completely 100% natural, unlike its synthetic and blended variants that contain chemicals.
Is it advisable to flip the mattress topper once in a while?
Unlike mattresses, there is no need to flip the mattress topper. You may do so if you like, but it is unnecessary or can't be done with some toppers. However, you can rotate it once in a while to prevent it from sagging. This is because an uneven surface can form from prolonged use when you sleep exclusively on one particular part of the surface.
Conclusion
A King size mattress topper can help solve your sleeping problems without replacing your mattress. It also provides various benefits, such as providing an extra layer of comfort for you and an extra layer of protection for your mattress. It can also provide your favorite mattress with an even longer lifespan.
Budget and types aside, what makes the best King size mattress toppers are your preferences. Knowing what type of sleeper you are is just the tip of the iceberg. There may be conflicting key features you're weighing in a mattress topper in regards to the type. Still, it all comes down to prioritizing needs. Fortunately, this detailed guide narrows down the key features to help you discern for yourself the ideal topper for your King size mattress.
Additional Resources