We may earn a small commission if you buy something via a link on this page. This doesn't impact our rankings or cost you extra. See
our advertising disclosure
for details.
Loft beds are the perfect solution for homes that don';t have enough floor space for a full-sized bed and other furniture. These days, homes are becoming smaller. With the rise of housing costs and the prevalence of housing alternatives such as condominiums, many people are now struggling to decorate their less spacious homes. Thankfully, we can find the best loft bed for kids today that will make better use of vertical space, so that the square footage is maximized. It is an ideal choice not just for smaller single-family homes but also for apartments, rentals, and condominiums.
The market isn';t lacking in the best loft beds for children. When you go to furniture stores, you can find an array of loft beds of different sizes and styles. We can help you choose the right ones that your kids can enjoy using for many more years to come. We will assist you in identifying the loft beds that suit your needs and your budget.
Top 10 Best Loft Beds For Kids Reviews
1. DHP Junior Twin Metal Loft Bed
Create a fun space that your kids will never grow tired of with the help of this loft bed from DHP. One thing that sets the DHP Junior loft bed apart from the others is its slide feature. It can double as a play area for the kids, so the room can become both a sleeping and a playroom at the same time. The slide does require more floor space, so it might not be ideal for smaller rooms. However, if your kids have a semi-large bedroom, consider getting this one.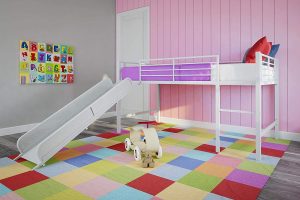 The entire DHP Junior loft bed stands 43 inches tall and has a width of 41.4 inches and a length of 77.5 inches. The upper bunk bed has a height of 11.4 inches. The slide, when installed, sits 98.5 inches away from the farther end of the loft bed. The upper loft bed has a weight limit of 200 lbs., ideal for the growing needs of children, and can even be until your child';s early teenage years.
This DHP Junior loft bed has a built-in ladder, which is good because it is sturdier than the ones that you just hang to the side of the upper loft bed. If you have particularly rambunctious children, this safety feature is a better option. The metal slats for the upper bunk bed also have fasteners in the middle to prevent the metal frame from caving in.
For extra safety, there is a guardrail that covers the entire length of the bed. You can fit a twin-sized mattress in here. You can add a study table and chair under the bed. Small shelves can also fit in this low loft DHP Junior model.
Pros
Affordable but sturdy design that can last for years
Weight limit of 200 lbs
Easy to assemble even on your own
Good craftsmanship, welded joints are clean
Rail for the slide has rounded metal for extra safety
Cons
Some parts of the bed are angled
Slide can reverberate when used
---
2. Storkcraft Caribou Solid Hardwood Twin Bunk Bed
Modern and utilitarian, it';s hard to find anything wrong with this twin bunk bed from Storkcraft. It does what it is meant to do, which is to provide more space for small rooms. It features two bunk beds, which can fit twin mattresses each. The upper loft bed has a surrounding guard rail to keep the occupants from toppling over. Each bed has a weight limit of 225 pounds, which will make this an ideal choice even for adults.
These loft beds are made from rubberwood. It is a kind of material that is denser compared to other synthetic materials. This material also stands the test of time. Compared to pine wood, it is even more durable. In the future, if you move to a bigger space, you can still use the bunk beds separately. The manufacturer made the settings configurable in case the users want them as two separate twin beds.
What is unique about this loft bed is its fastening system. All the parts can be connected and disassembled with ease. The 4-step ladder secures to the side of the upper bunk bed with ease and doesn';t take up a lot of floor space when installed diagonally. Each step also feels solid and sturdy.
You can choose from 4 different color options, each color fitting for different styles. The espresso is a more classic design, but if you are looking for something more appropriate for a child';s room, go for white, grey, or blue.
Pros
Easy to build even for people who are not handy
Feels solid and durable, with a total weight limit of 450 lbs
Looks great and has a classic design suitable for a girl';s or a boy';s room
Bed comes with good color choices for kids'; rooms
Cons
Doesn';t accommodate mattresses thicker than 8 inches
Quite heavy
---
3. WE Furniture Grey loft bed
Right off the bat, this loft bed will strike you as classy and minimalistic. It has straightforward loft bed functions but you have the option of getting the twin work station where it comes with a work table under the bed. It';s a convenient study loft bed to have since you no longer have to buy an extra table. That bottom space can be converted into a study area or an office. It even comes with open shelves and fittings for an under-shelving unit.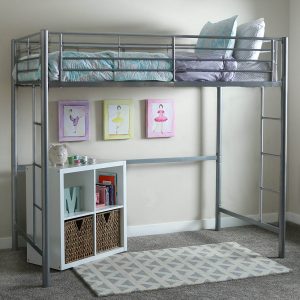 This bed has a dimension of 71 x 79 x 42 inches, just right for smaller rooms. It is made from powder-coated steel that is the perfect choice for a kid';s room because it is resistant to scratches and damage. You can get this silver, white, or black to match the existing décor of your child's room.
The top loft bed features an integrated guardrail that encompasses all the edges of the bunk bed. While most bunk beds only have one ladder, this one has two built-in ladders on both sides of the bed.
Everything you need is already in the package. It does require some assembly but should be done with ease. If you have a power tool, you can set it up in no time. The top loft bed also comes with a supportive rail, so you don';t need to get an extra foundation to prevent the mattress from eventually sagging into the slats. The loft bed itself has a metal frame. However, the shelves and the desk that comes with the Twin Workstation option is made from high-quality MDF material.
Pros
Chic and stylish, great even as your child turns into a teenager
More color options
Durable and sturdy loft bed frame with a built-in ladder on each side
One of the best loft beds for grade school or college students
Upper loft can hold the weight of 2 adults
Cons
Stairs have thin slats, which can be painful to step on with bare feet
Needs to be braced against a wall to minimize rocking
Assembly can take a long time
---
4. Dorel Living Brady Twin Over Full Solid Wood Kid's Bunk Bed
A more expensive option of this loft bed. It features a twin-sized bed on top and a full-sized loft bed at the bottom. This can be easily converted into two separate beds in case you get more square footage. Both beds can accommodate the needs of growing kids. The top bunk bed should be used by children 6 years of age and older but the bottom loft bed can be used by younger kids.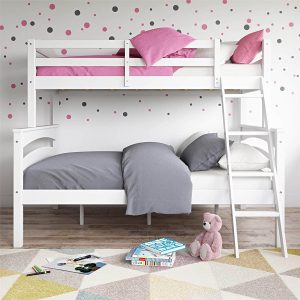 The entire bed measures 79.25 x 69.5 x 64.75 inches and has an overall weight of 123.2 lbs. The top bunk bed has a weight limit of 165 lbs. while the bottom loft bed can accommodate up to 250 lbs. of weight.
This solid wood bunk bed has an upper loft bed with a full rail for increased safety. The 4-step angled ladder can only be installed on one side of the upper bunk bed. Both beds feature supportive slats so that you don';t have to spend more money on box springs. However, you will have to get coil spring mattresses for them according to the manufacturer';s specifications. It comes in classic colors that ensure this loft bed will never go out of style. The full size loft bed below even has nice curbed detailing on both sides.
Pros
Well designed and classic look
With a twin loft on the upper and a full size loft bed at the bottom
Straightforward assembly
Quite sturdy, bunk beds have a total weight limit of 415 lbs
A lot of color options
Cons
More expensive than others
Not made from the best quality of lumber
---
5. DHP X-Loft Metal Bunk Bed Frame
Create a unique but comfortable space for your child. If there is no room for both a bed and a desk in your child';s room, get this one instead. It is a piece of two-in-one furniture that features a loft bed at the top and a desk at the bottom.
The modern design of this loft bed makes this a great choice for people who don';t like bulky furniture. It has a streamlined look, great for making spaces look bigger. The metal frame still does an adequate job in supporting the upper bunk bed, which has guard rails on all sides for extra protection. A diagonal built-in ladder is integrated to make reaching the top loft bed easier. It comes in a silver color option as well for those who are looking for a more industrial look. The design is so thoughtful and flexible that it doesn';t just have to be delegated to a far corner of the room. It can also be a centerpiece.
This also comes with its own mattress. The 6-inch mattress is a coil futon that has a CertiPUR-US certification. You can be assured that this is safe for your child to use as it doesn';t emit harmful VOCs so common in foam mattresses today. It is also devoid of phthalates that can harm your child';s health. It has not been treated with harmful metals and chemicals like mercury, lead, TCEP ad PBDEs as well. The mattress feels soft and looks luxurious with its tufted cover made from microfiber material.
Pros
Sturdy and well-made metal bed
Looks beautiful in modern rooms
Thoughtful and functional design
Affordable price
Can be installed even by non-handy people
Cons
Instructions for assembly are not helpful although it is easy to figure out on our own
The metal ladder can get hot during the day
---
6. South Shore Loft
If you are lacking in storage space, you should get this loft bed. The top portion is a bunk bed with solid wood framing and the bottom is a storage area you can use to hide all the random clutter there is in your child';s room. The low loft bed can also accommodate a Twin-sized mattress and has a weight limit of 250 lbs.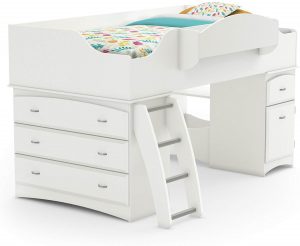 There are storage units all around the bottom area. There is a compartment unit with one drawer, and adjustable shelving system found behind the door. You'll also find two shelves that are open for displaying books. The storage unit and the chest can be interchanged to customize it to the needs of your little one. It is flexible enough that you can change the ladder installation as well.
Everything about this is dainty and well-made. The handles are made from a stainless nickel-metal material that caps off the classic look of the bed. This material can also stand the test of time. You can also choose from the white or the Morgan Cherry color.
This low loft bed is also eco-friendly. It has been crafted from laminated particle panels, a kind of environment-friendly material that is known for its durability. To back your purchase up, the manufacturer even includes a 5-year limited warranty, so you don';t have to worry about the repair or replacement costs.
Pros
Beautiful bunk bed
Offers plenty of storage options
Can help reduce the clutter in your kid';s room
Easy to assemble and doesn';t require additional tools
Comes with a long warranty
Cons
Quite expensive
Ladder rungs are made from a plastic material that might not accommodate more weight
---
7. DONCO KIDS Twin Tent Loft
Your kids will have a great time using this low loft bed that comes with a fort and a slide. The upper bunk is used as a bed and the bottom part comes with a tent that will turn into your kid';s very own fort. Encourage imaginative play with this inexpensive bed from Donco. You might not have trouble waking your child up in the morning anymore. Your kid will look forward to sliding down the loft bed the moment she wakes up.
This low loft bed is made from solid pine wood, which is a less expensive building material that can still last for a long time. The exterior surface of the material has a wax finish that prevents scratches and other damage from setting in. With the slide, the width of the loft bed is 91 inches. You can';t switch the slide to the other side. It';s just set on one side unless you come up with the configurations yourself.
Your purchase also includes slats for the upper bunk bed base. It doesn';t need a box spring, so you can use the mattress directly on top of it. This loft bed comes in white only but you can choose from different colors for the tent. It comes in navy blue, camouflage print, red and zebra print colors, so you can create the space your kid will love.
Inside the tent, it is spacious enough to add some more kids' furniture such as a table and a chair or shelves for a kid's small library. There are endless ways to transform it.
Pros
Kids love the cubby house underneath
Beautifully designed low loft, need not worry about the ceiling height
Feels sturdy and lasts for a long time
Tent material is sturdy
Spacious under the bunk bed, can fit a lot of things under it
Cons
Takes up a lot of footprint because of the slide
Built-in ladder has 2 steps only with an upper step that's a bit awkward to get up on
---
8. Home Accent Furnishings New Twin Over Loft Metal Bunk Bed
If you value simplicity over other things, you will love this utilitarian piece from Home Accent Furnishings. This loft bed features clean and straight lines. The twin bed sits over a loft area. The loft area has a height of 55.5 inches plenty of space for your kids to put random things here. This can be turned into a play area or as your kid grows older, it can be used as a study area. It';s spacious enough to accommodate shelves and a table.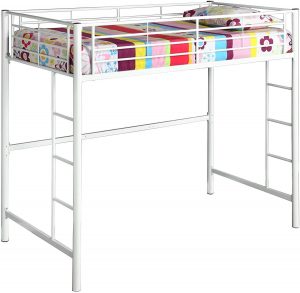 It is made from a stainless steel material with a white paint coating. The joints effectively support up to 250 lbs. of weight. It has an overall size of 80 x 42 x 71 inches. The entire product weighs just 80 lbs. since it is thinner. It can be installed even if you are the only one doing it since it isn';t as heavy as other loft beds out there.
The manufacturers also made sure it is designed with safety. The rounded rails can prevent accidents while there is an integrated ladder that stays in place. Guardrails are also installed all around the bunk bed to prevent falling. There are also 4-step ladders on both sides of the bed. you can choose to climb up on the left or the right side. This also gives the loft bed more flexibility when it comes to choosing which side you will put the pillows on.
Pros
Well-made bed that does its purpose
With built-in ladder on each side
Sturdy and stays in place
Looks just like the picture
Minimalistic design that doesn';t take up plenty of space
Cons
There is no cut out for the ladder – can be difficult to climb over the guardrail
The ladder rungs can be uncomfortable for a child';s feet
---
9. Discovery World Furniture Twin Over Full Loft Bed
One of the most versatile loft beds for kids you can invest in is this one from Discovery World Furniture. It is chock full of features that you and your child will love. First, it has a Twin-size upper bunk bed protected by a guardrail. You can get to it via a built-in ladder. It towers over a loft bed that can be transformed into a sitting or a study area or can be used to insert an extra bed. The extra full-size loft bed comes with rolling casters. You can set it up to a different part of the room or put it right under the loft bed.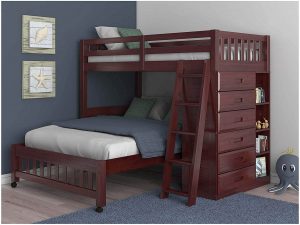 Beside the ladder, there is a chest unit that can be used as extra storage space. It comes with 6 drawers the size similar to that of dressers and 4 open shelves to display books and other accessories. The chest draws are already pre-assembled.
The beds are mattress-ready. They have a metal slat system that has a weight limit of 250 lbs. for the upper twin-size bed and 180 lbs. for the lower bed. There is also a metal slat that runs on the center of the beds for more support.
This bunk bed is quite expensive because it is made from a high-quality material solid pine wood, to be exact and boasts of a classic Merlot finish. It has also met all standard requirements for your peace of mind.
Pros
Beautiful and excellent craftsmanship
Rolling casters are great
Easy to assemble with a total weight limit of 430 lbs
Materials are good quality
Good customer service
Cons
Stairs can be a bit slippery
Big and bulky
---
10. DHP Adobe Loft Bed with Desk
Maximize your small space with the help of this study loft bed from DHP. This 80 x 57.5 x 72 inches loft bed is just right for a kid';s room and can easily transition well over the teenage years of your child. It is a great investment for families who are on a tight budget.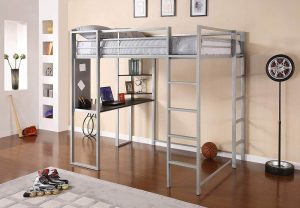 The upper bunk bed can accommodate 300 lbs. of weight, which is more than what many upper bunk beds offer. They traditionally don';t go over the 250 lbs. weight limit. The bottom of the bed is a loft that already comes with a sturdy desk that can hold up to 50 lbs. of weight. The side railing also features triangular open shelves to store your kid';s art supplies or any other knick-knacks. There is even enough room to set up separate shelving units.
We like the strategic design. There is a 4-step ladder in front and at the farther back area for easier access. The all-metal design makes this sturdy and supportive. It doesn';t wiggle even when kids play on top of it. The guardrails are also higher than standard although there are some sharp edges that might require some childproofing. Get this in silver or black color to punctuate the style and look of your child';s room. The design is versatile enough to transition into a teenager';s room.
Pros
Stylish and simple loft bed with desk
Durable and has a sturdy metal frame
Spacious underneath the bed, can fit more accessories
Big enough for bigger kids and teenagers
Clear instructions for installation
Cons
Desk area tends to be a little dark. Some extra lighting is required.
You should only use 6-inch mattresses
---
Why Do You Need Loft Beds for Kids?
There are many benefits to have a loft bed for kids. First, it';s a great way to save space. If you have a small bedroom or just one bedroom for multiple kids to share with, using a loft bed is the best solution. It gives a chance for your kids to have their own beds while still sharing the same room. It doesn';t just save space, it also fosters a good relationship since they are spending a lot of time together.
Loft beds are now also becoming increasingly stylish. They make a good design statement in the room, especially those with plenty of space underneath. There are also those that come with an empty bottom bunk that you can fill out with toys or use as a reading nook or a sitting area. Some bunk beds already come with an integrated table and some built-in shelves. They can make way for easier organization, so that clutter can be contained in just one place.
When there are more shelving and storage units, it is much easier for the kids to learn how to clean up and place their stuff back to where they took it. It encourages Montessori-style learning.
Different Types of Loft Beds
With the creativity of manufacturers today, there is now a multitude of loft beds for consumers to choose from. If you are in the market for a new bunk bed, here are the types of loft beds you might come across: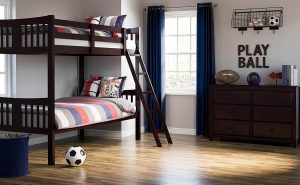 Standard Loft Bed
The standard loft model consists of a bed on top and some sort of storage space underneath. It can be an empty space you can customize to fit your needs or it can come already with accessories such as a built-in table and integrated shelves. This is a great choice for those who don';t have plenty of room for other furniture. It can also be an ideal option for growing kids as it can work even until your child goes to the teenager stage.
Triple Loft Bed
The triple loft bed usually has an L-shaped design. It looks like a typical standard loft bed but with another bed extension on the side of the upper bunk bed. The lower part is used as storage and may even come with built-in shelves or cabinets already.
Mid Sleeper Loft Bed
This is not your typical loft bed because the upper bunk bed sits lower so that it looks like the bunk bed is sitting on drawers and shelving. The bottom space doesn';t have enough room for other things but it usually comes with built-in storage such as cabinets, open shelves, and stairs with drawers.
Play Loft Bed
Just like what its name suggests, this loft bed features play elements such as a slide on one side and a play area at the bottom. There can be some nice features in it such as fabric casing that will make the loft bed look like a fort or a castle. It can be a cubby house and a loft bed in one. Loft beds can be differentiated when it comes to materials as well. Here are some of the materials used for loft beds:
Stainless Steel
This is a common material used for making loft beds. They are sturdy and resistant to damage and infestation. This type of loft bed can last for years. However, make sure you get those with clean welded edges and with rounded steel guardrails to avoid bumping on something sharp. Some people might find a need to put pool foam over the steps because they can be uncomfortable. A metal ladder can get hot in the summer season, too.
Hardwood
This is made from a hardwood material that is stronger and better than MDF materials out there. They can last for years and give a classic look to the loft bed. They might be safer to use as well since hardwood is softer than steel. If you like a classic look in the loft bed and prefer a material that is more natural, get this one.
These are just some of the types of loft beds you can find today.
Advantages of Using Loft Beds for Kids
On the fence about buying loft beds? Here are some of the advantages you might want to consider: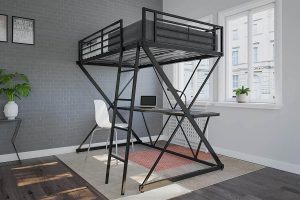 Loft beds can be an ideal solution for homes that don';t have plenty of room for multiple furniture pieces. If you have a limited area, you would want to use a loft bed to maximize the amount of space you have. For smaller homes or condo units, a loft bed can be an ideal piece of furniture to use.
You can also use a loft bed if you have a lot of kids. They can share the same room but still have their own privacy by getting separate beds.
It can make a space look and feel more creative.
There is no doubt that loft beds can enhance a room's overall appearance. This furniture is a design point by itself, so you don';t even need other things to fill up the room. If you are buying a bed with a loft-style, you can easily use the space under the bunk bed as a sitting area or decorate it to serve as a reading nook for your little one.
It can help keep clutter at bay.
Let';s face it. Little ones can make a lot of mess. It can be frustrating for parents to keep on organizing their clutter. The key to avoiding this is by providing enough storage and shelving units for them to store their stuff. If they know where to put their things back, they can keep their room organized and clean.
It can encourage imaginative play.
The bottom part of the loft bed can be used as a fort. There are those that come with tents but if not, your kid can just set it up into a fort using things you already have at home such as blankets. Camping under the bunk bed? Which kid won';t say yes to that, right?
It is more cost-effective.
Rather than buy an expensive bed and then a storage or study desk, get yourself a loft bed integrated with these features. There are many well-built loft beds out there that won';t break the bank.
It can encourage independence in kids.
This is a kind of bed that can spark independence in your kids. Those with a study table and storage units can encourage kids to take care of their own things and organize their own stuff. It also encourages Montessori-style learning where they are able to reach the things they need with ease, so it fosters independence.
Key Features to Look for When Buying a Loft Bed
Make sure you get the best loft bed that your money can buy. Here are some of the factors and features you need to keep in mind to make sure you are getting a good one: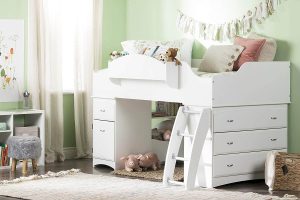 It';s important that the loft bed will work in the existing design of the room. If you don';t want to spend money buying new accessories or painting the wall over with a new color just to match the loft bed, buy one with a design that will work in your space. Many have a universal appeal that will work with any theme and appropriate for any gender.
Check the functionality as well. Try looking at your various options out there and plan your space well. Look for a design that will work with the existing appearance and make sure it won';t cut off the flow of your space.
the same when shopping for toddler beds, make sure that the furniture is safe to use. Check the sides and avoid those with sharp edges. Look for beds that have rounded edges to avoid accidents. It should comply with all the requirements of safety organizations when it comes to best bunk beds.
Also, make sure the materials used are safe. They should not emit harmful gases that can be inhaled by your little one. There should be no loose objects that can cause strangulation, too.
Check the size specifications before buying. Don';t just consider how much space it can take up, also find out how tall the bed is and the ceiling height. If it is too high, it can feel constricting for the person using the upper bunk bed.
When buying one with a slide, also find out the amount of space it can consume. The slide is inclined, so it can take up more footprint.
Flexibility and Versatility
You would want to look for a loft bed that can grow with your child. You don';t want to throw away the loft bed when your child reaches the teenage stage. It should be versatile enough to be converted into a single bunk bed.
There are now bunk beds that you can easily disassemble and turn into two individual beds. You can also opt for a loft bed with an upper bunk bed and a work or a study space underneath it. That can make it a more versatile sleeping surface that will function well even when the needs of your child changes.
Check the materials used. Is it a kind of material that can last for years? If it is made from wood, make sure it is a solid wood material, so it is more resistant to wear and tear. For metal loft beds, check the hinges and the joints. Are they welded properly? Do these areas have a clean weld?
Also, check the ladder. Does it connect to the bunk bed properly? If it wobbles, there could be a safety issue with the bed.
Price is also an important factor to consider. There are a lot of affordable ones out there. The simpler it is, the less expensive it might be. If you have some more money to spare, it is ideal to get the solid wood ones that have storage features on the side and underneath it.
Frequently Asked Questions
Here are some frequently asked questions about loft beds:
How old should your child be before he/she can sleep on the upper bunk bed?
Ideally, your child should be older than 9 years old before he or she is allowed to occupy the upper bunk bed. Many young kids are still quite undisciplined when sleeping, which can lead to accidents and them toppling off of the bed. Bunk beds have guardrails but that might not be sufficient for unruly or overexcited kids who might treat the bed as a play area. You know your children best, so make sure you assess their habits and find out whether they are mature enough to use the upper loft bed.
Can adults use loft beds?
Yes, adults can use loft beds. Upper bunk beds usually have a minimum of 250 lbs of weight capacity and have a twin-size specification for mattresses. That should be good for average-sized adults. Since loft beds have ample space at the bottom for a desk and storage units, adults will find this a great solution for their storage needs.
Loft beds have been used for hotels, cruise ships, RVs, and boats, so there is no harm in using it as well in your home if you need more sleeping space for adult users. Just make sure it can handle the extra weight and it is made from a material that can last for a long time.
Can the top bunk of a loft bed fall?
The good news is the incidence of top bunk beds falling are few and far in between. It is unheard of given how many loft beds are well-made today. In fact, most of the loft bed-related accidents are due to children falling from the upper bunk.
For your peace of mind, follow safety practices. Don';t use the upper bunk for other purposes aside from sleeping.
Conclusion
Loft beds are definitely a good addition to a kid';s room. It is versatile and does a great job of maximizing a small space. It offers a lot of benefits that you can';t get from a regular bed. If you need a reliable loft bed, make sure you check out our suggestions above and find the one that works in your space and fits your specific needs at home.
Additional Resources